Few local races have attracted as much national attention as the Los Angeles District Attorney race. The New York Times has described it as the most important D.A. election in the country. 
Incumbent D.A. Jackie Lacey is seeking a third term in a hotly contested battle in which her main opposition is former San Francisco D.A. George Gascón. Last week, the Courier ran an exclusive Q&A with Lacey. This week, Gascón provides the Courier with a counterpoint to Lacey's responses. 
BHC: Lacey describes herself as a reformer who has implemented change without negatively impacting public safety. She also cites effective efforts to address homelessness, substance abuse and mental illness in the community. Aren't those strong arguments for her re-election?
Gascón: Lacey appears to have a different idea of success than do the rest of us. She has opposed virtually every criminal justice reform initiative in the past decade and sends people to state prison at a rate that is 25 percent greater than the California average per capita, and four times that of San Francisco. Despite this, violent crime has spiked 30 percent during her tenure in L.A. County, and 55 percent in the city of L.A., while it has gone down across the state, including under my administration in San Francisco. 
The increases in L.A. occurred despite budgeted expenditures for the L.A. District Attorney's office having increased by 35.71 percent, from $330,055,578.68 to $447,930,000 during this same time period. The over-reliance on incarceration, government's most expensive intervention, has also wreaked havoc on budgets. 
You argue that not only has Lacey failed to implement change, she's also opposed criminal justice reform. Please explain what you mean by that. 
Lacey has opposed every criminal justice reform initiative in the past decade: Realignment; Proposition 47, which reduced simple drug possession for personal use (not dealing) from a felony to a misdemeanor; Proposition 57, which limited the ability to prosecute kids as adults; Proposition 64, which legalized recreational marijuana, and SB-10 which eliminated money bail. In the meantime, she supported expediting the death penalty (Proposition 66) and has put more people on death row than the states of Georgia, Louisiana, Mississippi, Tennessee and Virginia combined, and all were people of color. 
Lacey states that her office is engaging in effective efforts to address the homelessness problem. What solutions do you propose? 
The idea that Lacey has led a successful effort to address homelessness is an absurd claim. First, being homeless isn't a crime, so the D.A. isn't succeeding at anything unless she is criminalizing homelessness. What is a problem that falls within the D.A.'s realm is individuals who commit crimes who have behavioral health issues, like mental illness and substance abuse. If you need any indication of how severely Lacey has failed in this realm look no further than the L.A jail, which is the largest mental health institution in the world with 30 percent of its occupants suffering from behavioral health issues.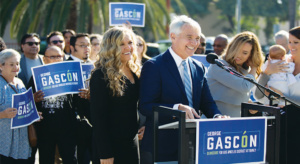 Lacey describes her leadership in the field of mental health as one of her proudest accomplishments. Explain your criticism. 
Lacey talks about mental health services, but her deputies are told to object to pleas to mental health diversion on sight. Her mental health program has a budget lower than the budget for office supplies. And in first four months of 2019, she diverted a total of 26 people to mental health services. 
She's very good at doing press conferences and throwing out wonderful concepts. But when you look behind the curtain, there's nothing there. Lacey continues to utilize the failed policies that defined the '80s and '90s, and it's holding L.A. back from addressing the quality of life crisis that is so evident on our streets. 
Describe what your approach would be in dealing with mental health issues, homelessness and the criminal justice system. 
First of all, it's important to realize the strong nexus and correlation between individuals experiencing homelessness and behavioral health issues. Lacey's singular focus on punishment has exacerbated our homelessness crisis. This is because individuals who are incarcerated with mental illness deteriorate in custody. And, due to the low-level nature of the offenses they tend to commit, they frequently get out before receiving treatment. You cannot punish this population into submission, just like punishing someone for being homeless doesn't magically create a home for them. As Peter Lynn, the Los Angeles homelessness agency director recently said to the New York Times, 'There is probably no more single significant factor than incarceration in terms of elevating somebody's prospects of homelessness.' An arrest and short jail stay often means an offender loses the job they have, and the scarlet letter of a criminal conviction keeps as many as 8 million Californians in a paper prison, impeding their ability to get a job or housing. 
I believe reforming and reducing incarceration creates more humane and socially responsible approach to public safety. 
Are there other key areas that illustrate how your philosophy about criminal justice reform differs from Lacey's? 
When you talk about reform, she's fought every single effort. Even things like expunging marijuana records she's resisted. At the same time, she keeps sending people to death row, even after the Governor imposed a moratorium. She keeps sending juveniles to adult prisons. 
She likes to bring up her Conviction Review Unit. Lacey indicated on TV that freeing an innocent man, Ruben Martinez Jr., was her 'proudest accomplishment.' She exclaimed, 'I can't tell you how emotional it was, and how right it felt.' This statement is as fascinating as it is troubling and shows how low the bar has sunk under her watch. Lacey received personal notice from homicide detectives as early as 2012 that there was an innocent man in prison. Despite this she left Martinez in prison until roughly the same time that she became a self-proclaimed progressive: the days following my entrance into the race. All the unit ever did was to review that case. It's embarrassing and unethical. 
Lacey recently brought criminal charges against Harvey Weinstein in connection with alleged actions that took place in Beverly Hills. You have criticized her for acting too slowly in connection with this case and those of other alleged sexual predators. 
Lacey's sex assault task force has allegedly looked into 40 cases since its formation two years ago. She charged no one until she chose to charge Weinstein on the day before his trial began in New York. That suggests she is more concerned with self-preservation than obtaining justice for Harvey Weinstein's victims. There is absolutely no justifiable reason to wait two years to move forward. And in an effort to score political points she has aided Weinstein's defense and increased the chances that another alleged powerful sexual predator will escape accountability. This is the height of incompetence, and it's what happens when prosecutors allow politics to inform how they exercise the authority of the state. 
Lacey has come under criticism for not being aggressive enough in prosecuting police misconduct. Do you think this criticism is warranted? 
The L.A. Police Union is spending $1 million to defeat me because they know I will actually hold them accountable. They've given Lacey one million more reasons to keep looking the other way. Take the fatal shooting of Brandon Glenn, for example. Even the former Chief of Police, Charlie Beck — who has endorsed me in this race — said Lacey should have charged the officer in question. She didn't because she is in their pocket. And that presents a threat to all of us. 
Contrast that to San Francisco, where I created a Blue-Ribbon Panel to investigate a troubling culture in the Police Department following two separate racist and homophobic text message scandals involving more than a dozen officers. The San Francisco Police Department is making many of the recommendations made by the three-judge panel. 
How do you counter the fact that unlike you, Lacey has 30 years of prosecutorial experience and has tried nearly 100 cases? Doesn't that give her the leg up? 
Angelenos aren't electing a trial attorney – they're electing an executive to lead the office. I've led major organizations, overseeing the 9,000 men and women of the LAPD as Assistant Chief, before serving as Chief of Police in Mesa, AZ and in San Francisco, all before my two terms as District Attorney. It is fantastic that she has good trial experience. She should go back to the courtroom. This election isn't about hiring a trial lawyer. It's about hiring an executive to run the largest District Attorney's office in the country. She's failed in every area. She also has a huge problem with sexual harassment and cronyism in her office. They keep settling cases. 
With so many serious issues confronting this office, why are you willing to take it on at this time in your life? 
When I announced my retirement from San Francisco, so many people in L.A. County started reaching out, asking if I would please consider running for D.A. So many are fed up. So, that's the reason. I'm very passionate about Los Angeles. I grew up here, raised a family here and started my career here in the LAPD. By the time I left, I was running operations, which is the biggest job other than chief. Then I went on to become the Chief of Police of two cities. I have a long history of being someone who actual delivers on public safety and crime reduction. 
What I hope to do is balance community safety for all while being mindful of the social and economic impact of incarceration on the poor and people of color. I'm hoping to bring the brand of work that I've done elsewhere to enhance community safety here in Los Angeles in a thoughtful and humane way.