The captivation of different scents and how they affect the brain has been studied, documented and debated for centuries. As the famous saying goes, "You're never fully dressed without perfume," but perhaps your heart is also not fully engaged either. 
With Valentine's Day upon us, we decided to speak with Matthew Mileo, a fragrance connoisseur, about the connection between different scents and love. How certain notes inspire feelings of love, emotion, infatuation or obsession. 
While studying for degrees in biology, chemistry and psychology at Binghamton University, Mileo was obsessed with skincare products. He would analyze ingredient lists of various beauty brands and challenge their claims. After graduating, he merged his two principle interests, chemistry and cosmetics, by embarking on a decade-long career at Chanel, including being an in-house fragrance expert. 
Mileo finally realized his dream of formulating a luxurious yet 100 percent botanical skincare line of his own inspired by indigenous ingredients from around the world, such as Corsican golden immortelle flowers. The MILÈO brand was conceived when he discovered the scientific research surrounding Oud. As the Earth's rarest ingredient, Oud is scientifically proven to not only repair cellular damage, but also to regenerate and protect cells from toxicity, optimizing the way skin functions. Oud was even studied to kill off aggressors that mutate healthy cells, like cancer. Coincidentally, Mileo's aunt was undergoing chemotherapy treatments that destroyed her usually vibrant skin. So, enriched with the knowledge of Oud's immunity benefits, alongside his own personal motivation, Mileo started developing a line of products with this rare, super healing ingredient. The result? Aunt Joell reclaimed her skin's vital glow, smooth feel and healthy appearance. Brightly, the world's first Oud skincare line was born. 
Next, it was time to create a scent. His latest elixir, La Rose De JoEll, elicits feelings of love and devotion from its heady mélange of berry florals and sensuous resin, just in time for the most romantic day of the year. 
Mileo has traveled around the world to share his belief in the benefits of living a healthy, clean and green lifestyle, for both the individual and the planet. "One of my goals in creating a skincare line was to utilize pure botanical extracts not only for their powerful skincare benefits, but also for their effect on mood and emotion." 
"It's well documented on how smells and scents can affect the human brain," Mileo told the Courier. To that end, he spent two years researching mood and emotion disorders in a psychobiology research laboratory, and was fascinated by how smells can evoke strong emotional reactions. "Our olfactory receptors, which translates smell to our brain for which it is to be deciphered, are directly connected to the limbic system which is thought to be where our emotion stems from."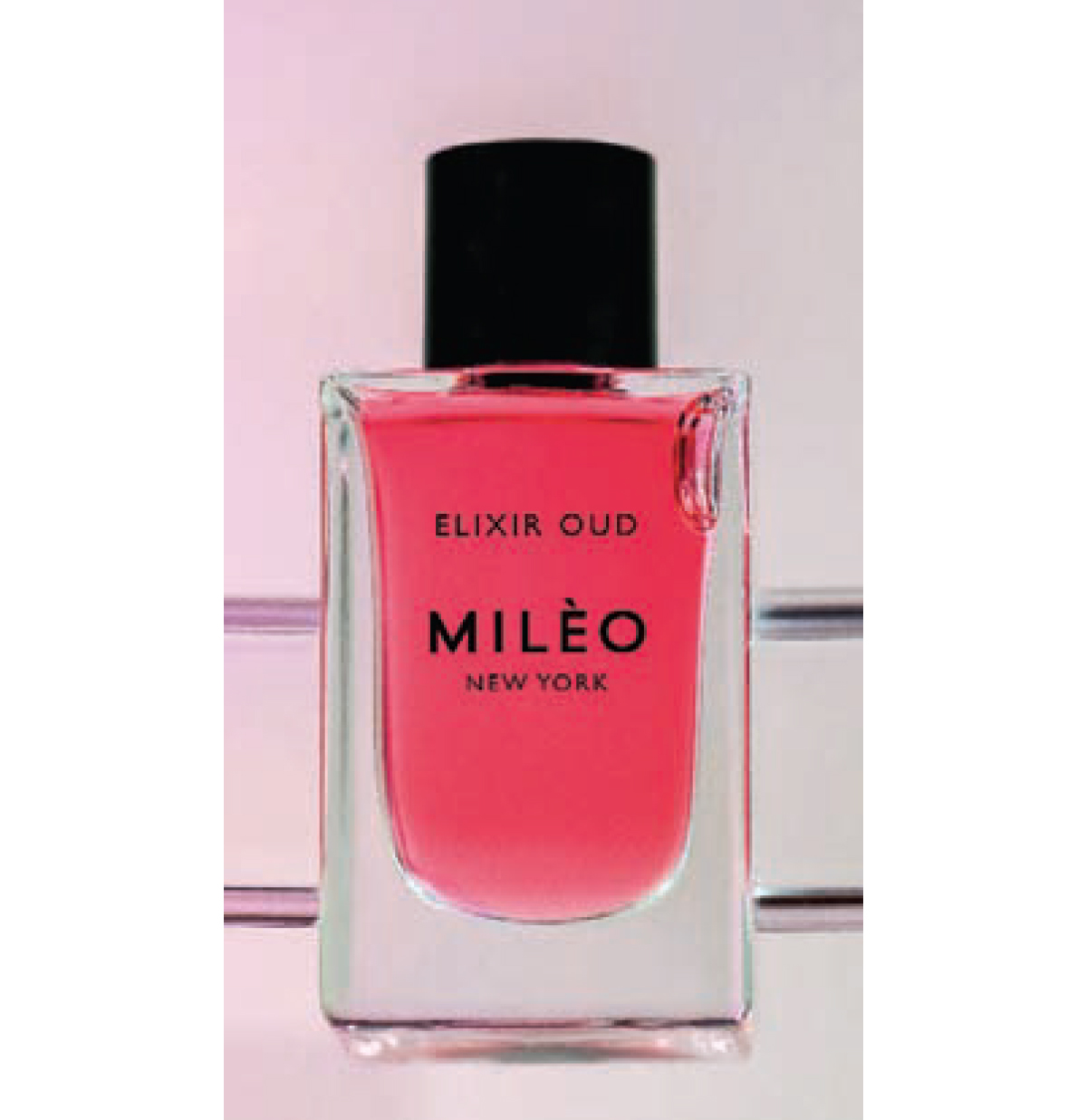 "Aromatherapy from botanical extracts utilize this fact by aiding the management of our human emotion. Mood-altering notes and aromas that entice one's sensuality are comprised of many ingredients that dance together to create one effect on the human brain." 
For example, "Notes of tuberose, gardenia, ylang, jasmine, and magnolia flowers are highly spirited, complex, and simultaneously robust and feminine to create what the brain translates as euphoric, joyous, sensuous, and attractive. Certain emotions can be guided by an arrangement of notes that ultimately transcribe to your brain what emotion is most likely to arise." 
For feelings of love and emotion, "The rich, sparkling middle note of rose complement the powdery notes of mimosa, violet and jasmine, and the ethereally sweet white ginger lily, represent the innocence and devotion of love," confirmed Mileo. "Deeper emotions of like obsession and infatuation are captivated by mystical sandalwood, tropical ylang, sweet vanilla, and exotic floral orange blossom, which capture the animalistic and sensuous emotions they exude." 
So, it appears that if you want your sweetheart to fall deeper in love, or just lure your latest infatuation, maybe drop the chocolates, forget the flowers and opt for a unique lingering scent. 
WHERE TO FIND OR CREATE YOUR OWN ORIGINAL SCENT 
The Scent Bar on Beverly 
Yes, you can find Tom Ford and a few other top department store brands but you will also discover rare, boutique scents that you can't get anywhere else in town at this tiny store that looks like a private atelier. "A lot of our customers tend to be more serious perfume people and they are obsessed," said Steven Gontarski the "King of selecting scent" and store manager. The bounty ranges from Italy to France starting at $200 dollars up into the thousands for a rare oud, but they also carry a sought-after brand called Rogue from the unlikely town of Whittier. Created by a chef and self-taught perfumer, don't judge a bottle by the odd locale. "It was inspired by a vintage perfume Mitsouko from Guerlain," said Gontarski. "Perfumes from that time period [1919] are so complex, dense and they are so sophisticated." If you'd rather play it safe, they also sell lovely candles. 
The Four Seasons Hotel at Beverly Hills 
Located just off the hotel's main entrance, tucked away in a tiny jewel box filled with bottles is Krigler. This 5th generation, hand- crafted, French perfumer, Ben Krigler, will have you swooning over scents and stories of famous fans of the products from Grace Kelly to JFK. They can also custom-make a fragrance just for you or a candle that also doubles as a body lotion after it's melted. The brand's scented candle Charming California 215 and the revival of Subtle Orchid 10 fragrance (originally created in 1910) – are both must-haves for your Valentine and will last into the spring and summer months.