Calling all Hollywood movie and memorabilia buffs from the 30s through the 50s. Celebrated British-born designer Martyn Lawrence Bullard has just unveiled his latest boutique hotel project near the historic Whitley Heights area of Hollywood. 
The Prospect lies behind a red and black Regency style door and is a true 24-room fantasy hideaway. Every accommodation is named after stars that once lived in the area from Vivienne Leigh to Judy Garland, Brando and Bacall. 
"You are in real old Hollywood," said Bullard, who has been named one of the world's top 100 designers by Architectural Digest and is a permanent fixture on Elle Decor's A-List. "Everybody lived in and around here, so we gave each room a star with a little bit of flavor from that person, 
but mostly it's a nod to a movie they starred in. The Greta Garbo room is a nod to "Mata Hari" which she won the Oscar for just down the street in the Chinese Theater." 
The 1938 property, owned by PRG Hospitality Group, was once an apartment building and sits just above Hollywood Boulevard near iconic Musso & Franks and the Dolby Theater where the Oscar ceremonies are now held. Whitley Heights was founded in 1919 and was the first celebrity compound in Los Angeles. Cecil B. DeMille has his studio nearby and Bullard knows a great deal about this area. The prolific designer – who counts Cher, Ellen Pompeo and the Kardashians as clients, still owns a home in the area where Rudolph Valentino, Gloria Swanson and William Faulkner once lived. "On my little cul-de-sac we had Barbara Stanwick, Cole Porter, Tyrone Power and Douglas Fairbanks, Jr.," he said. 
The nearby apartment buildings were once homes to Marilyn Monroe and James Dean to name a few. "All of that flavor informed what was to happen here," said Bullard. "We wanted to capture that by working off the architecture and Hollywood Regency style and playing off the fact that this is really the place where the celebrity community exploded." 
"I wanted to make the place fanciful and I wanted to give it some old school Hollywood, to touch on where we are but make it quirky," he said in the lobby dotted with gold metal palm tree statues custom made in the South of France. "I'm honoring the great designers of that period Billy Hanes, Tony Duquette and a bit of Elsie de Wolfe and Dorothy Draper. Everything here is taken from that era, the palm trees and faux bamboo furniture."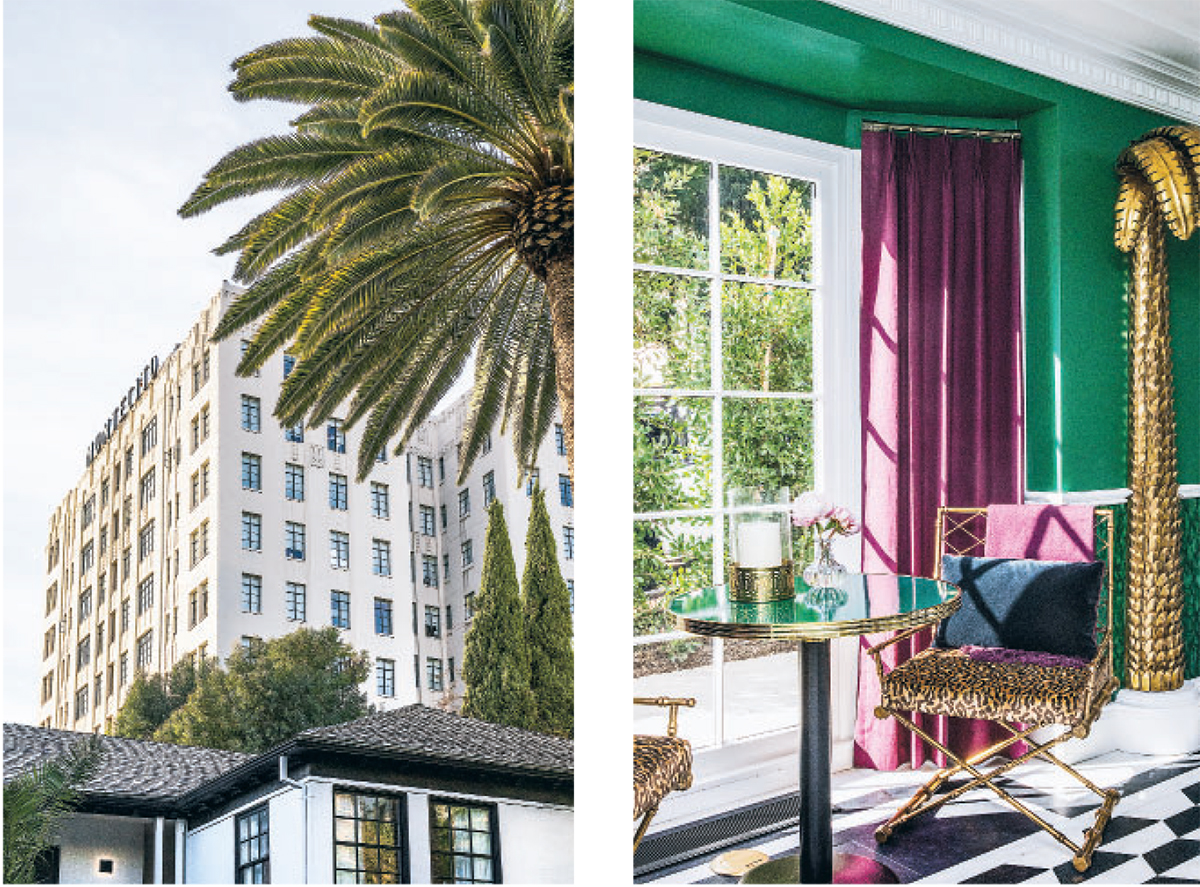 "Can you imagine this in a year?" Bullard is pointing to the central courtyard patio with a giant anchor palm tree shooting through the sky near surrounding buildings and budding foliage. "I insisted that we keep those palms trees because they are such an integral part of Hollywood and such a moment for the space," confirmed Bullard. "We had the landscapers do a completely crazy lush garden. This whole thing will soon be covered in greenery with beautiful antique lanterns." 
One can just imagine lounging during the summer with a glass of rose reading a script. The back part of the property holds a few larger rooms and one has a secret garden.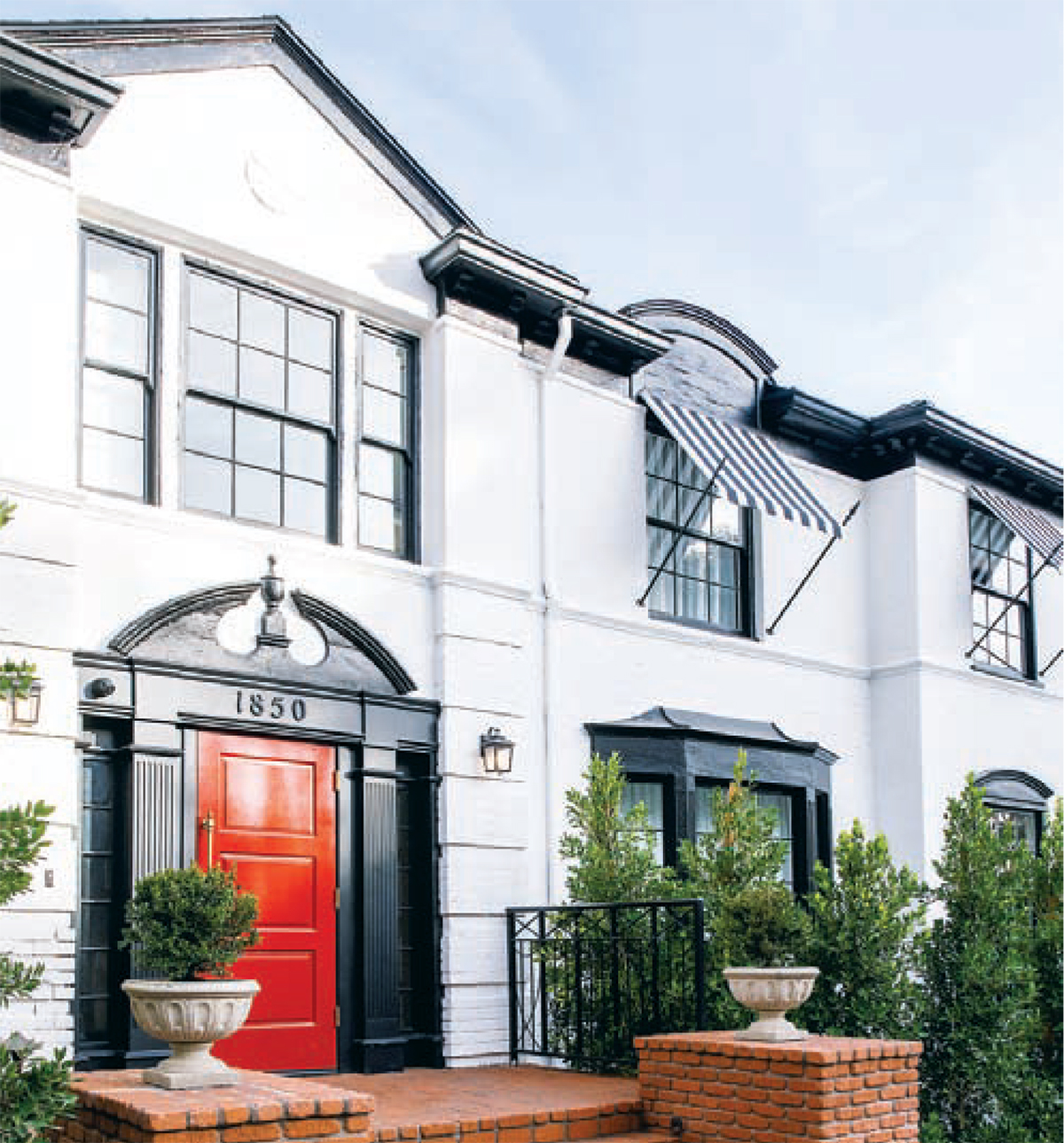 "Sense of place to me is the most important element for a boutique hotel. The reason why you go there is you want to know where you are and experience it," he added. 
Bullard has done just that with rooms paying homage to the golden era of Tinseltown greats. "This hotel was all about capturing old Hollywood and that vibe and feeling like you're in the midst of it all. You know that actors and struggling writers have lived in these buildings. Madonna used to live in the top floor of the Montecito building across the street with her brother Christopher," he said. 
"It's had an amazing history and still creating an amazing history," added Bullard. During the opening weekend, some of the cast and team from the multiple Oscar- winning film "Parasite" stayed at the hotel. "I loved Parasite," said Bullard who is a member of the Academy. "It's brilliant, twisted and quirky." 
Everything in the rooms was copied from the original including the old-fashioned telephones. "We've gone completely camp and bananas, but I didn't want things that felt cheesy." 
Filled with old black and white film studio stills, the team spent an entire year on e-Bay scouring for old artifacts and memorabilia such as the vintage "Hollywood Reporter" magazines that have been framed. The original art was sourced at flea markets and mostly French 40s impressionist and cubist collages. 
What you will also find in the rooms consists of four-poster beds flanking Bullard's wallpaper collection aptly titled the Hollywood Palm Collection. Each room has a large marble bathroom and dressing areas, but the hidden fitted closet mini-bars are a stand-out personal touch. And according to Bullard, "Carpet is having a renaissance." So, he decided to just go for it with kitschy- cool wall-to-wall zebra and leopard prints. "Normally, I'm not a carpet person but in the right use, it can create a real addition to the design. With the upstairs rooms, it made sense for the noise level." 
Five of the rooms at the Prospect, including the Cary Grant room, have kitchenettes for the long-term guests. They already have a ten-day booking from a DJ who is working nearby. "There are no boutique hotels in this area," said Bullard. "There is a big W and The Roosevelt nearby." 
While they don't have a restaurant, you can have breakfast in the lobby delivered every morning from Tartine bakery. When you need to venture out, the hotel also has a partnership with the NeueHouse and the Hudson Brothers who own many cool clubs and restaurants in the area from No Vacancy to Dirty Laundry. 
With the sexy, sophisticated, old school vibe, you just might want to order-in. "Many rooms have vintage items and for me to make each room feel different, we sourced a lot in Palm Springs and some of the old vintage stores in Silver Lake. We bought vintage lamps, side tables, coffee tables but each room is completely different and a collected vibe. I think you can only do this in a boutique hotel," confirmed Bullard. "Hotels, particularity boutique hotels, have to have an air of fantasy and if you can give them some sex appeal too, you have a winning ticket." 
Up next for Bullard, who has recently designed The Hotel California in Santa Barbara, The Sands in Indian Wells and Casa Laguna in Laguna Beach – to name a few, is a Paso Robles boutique hotel. He is also putting the finishing touches on the Four Seasons Residences just behind the Doheny property, which will be ready in June. "It's very modern all my walls in the lobby are floor to ceiling back-lit onyx. The furniture is a mix of mid-century and designer pieces. 
It's a completely different look and vibe. I like to change everything up," he confirmed. The residences will take over a whole city block with 65 units, ranging from $5 to $70 million for the penthouse. 
Bullard, who now resides behind the Chateau Marmont in West Hollywood, has his own Martyn Lawrence Bullard Atelier– a lifestyle shop under his office space on Melrose that sells all of his exclusive fabrics and furniture to the public and trade. The store also showcases some rare finds in the wallpaper and fabric genres from new talent around the globe from Palms Springs to Johannesburg. "I love that I have it here in West Hollywood. It's the hub of everything," he says. 
The award-winning designer also has a new lighting line coming out at Highpoint, North Carolina in October. "I love doing lighting it's the finishing jewelry to a room. It's like putting your earrings on," he said. "It also creates the ambiance for everything, and it can make or break a space." 
According to Bullard, the biggest mistake people make when decorating a home or even just a room is not installing a dimmer switch. "It's that 20 bucks that you really should have spent!"