The Courier has obtained exclusive new details about One Beverly Hills, the 17.5-acre project planned for the City's western gateway. The coveted site includes the Beverly Hilton and Waldorf Astoria Beverly Hills, the former Robinsons-May department store at 9900 Wilshire Boulevard, and the Unocal gas station on Santa Monica Boulevard. The parcel is now unified under single ownership for the first time in 100 years. 
The plan filed this week on June 29 will now take the site into the next 100 years. 
One Beverly Hills integrates the existing two hotels with a new, 42 all-suite ultra- luxury hotel with 37 residences; two residential buildings with 303 residences; a four-story pavilion with boutiques and casual dining replacing the garage along Santa Monica Boulevard. It also includes 10 acres of open space, of which 4.5 acres will consist of publicly accessible botanical gardens, sculpture gardens and pathways. An additional 3.5 acres of gardens and pathways are available for residents and hotel guests. 
The plan also includes enhancements to the Beverly Hilton entrance, pool, and conference facilities. 
"It will offer life changing experiences," said Beny Alagem, CEO of Alagem Capital Group and owner of both the Beverly Hilton and Waldorf Astoria Beverly Hills. He is developing One Beverly Hills with Cain International, the privately held real estate investment firm that purchased a stake in both hotels two years ago.
Alagem and key members of his executive team spoke at length to the Courier about One Beverly Hills and its many innovative details. It's a story that is first and foremost about Alagem's long-held vision for the site. 
"I bought the Beverly Hilton in 2003 and our dream was to integrate the property, but I was not able to do that," he told the Courier. 
Indeed, the 9900 Wilshire property has for decades been a separate parcel from Alagem's. In recent years, the Beverly Hills City Council has approved residential and hotel development on both lots. In 2016, then-owner of 9900 Wilshire, China's Dalian Wanda Group, obtained City approval for two residential towers and a hotel. But soon thereafter, Chinese government pressure forced Wanda to unravel its global real estate empire.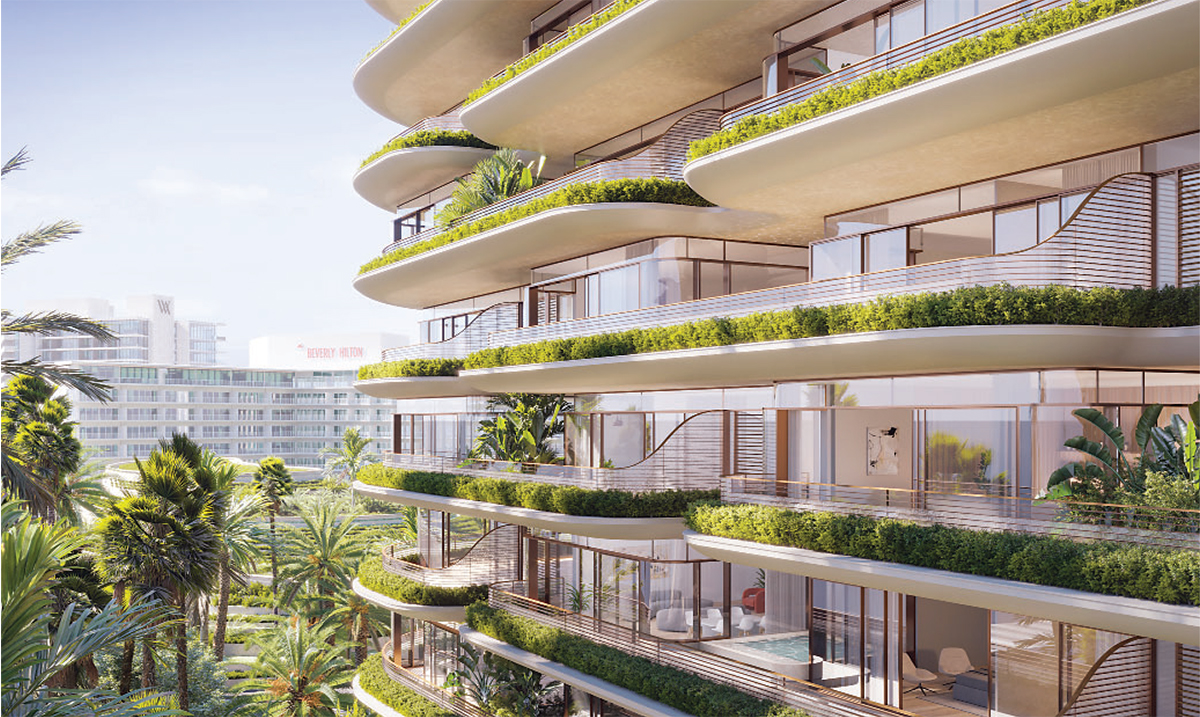 Alagem purchased the one-time rival site in 2018. 
"In 2019, we added the gas station. Now we have 17.5 acres together, which is incredible to have in an urban area like ours, especially in Beverly Hills. The vision is truly to integrate the two pieces of property and bring them to the same way they were historically, all together," he noted. 
At the turn of the 20th century, the tract that is now the dynamic corner of Wilshire and Santa Monica Boulevards was farmland. In the early 1920s, it housed a nursery that supplied the palm trees and other vegetation that eventually created the City landscape. 
"We're transforming the old gateway into Beverly Hills into something exceptional. Something beautiful with iconic gardens and lots of residential and also integrating technology into living spaces that was engineered much before the pandemic hit us," Alagem told the Courier. 
An intensive selection process led to the choice of Pritzker Prize-winning London- based Sir Norman Foster as the architect of One Beverly Hills.
"This 17.5 acres is deserving of top-notch architecture, so we held a competition amongst ten architects from around the world. We spent four months with all of them. I visited their locations. It was amazing to see Foster + Partners, with 1500 architects working under one roof," said Alagem. 
The portfolio of Foster + Partners includes the ring-shaped Apple Park, Apple Inc.'s headquarters in Cupertino; 30 St. Mary Axe in London, known informally as "The Gherkin;" the Hearst Headquarters in New York City and the Art of the Americas Wing at the Museum of Fine Arts in Boston. 
Fusing Architecture and Landscape 
Sir Norman Foster describes One Beverly Hills as a "fusion of architecture and landscape." The site's origins, he said, provide a deep connection that informed the decision in the master plan to devote so much acreage to sustainable gardens. 
Celebrated local landscape architect Mark Rios has created and will oversee the garden design. 
"Our landscape architect is a resident of the City and an incredible person," said Alagem. 
In many ways, the entire One Beverly Hills project is a paean to the natural beauty and lifestyle of California in general and Beverly Hills in particular. Nowhere is that more evident than in the nine Rios-designed botanical gardens. The distinct zones will include native and cultivated plants, water features and a sculpture garden, along with more than one mile of public pathways and trails. 
As pointed out by Alagem Capital Group Consultant David Nelson, "The whole concept of an urban oasis goes back more than 100 years to [Beverly Hills master planner] Wilbur Cook's vision of a garden city." 
Public access to One Beverly Hills and its gardens is one of the more unique features of the plan. The previously utilitarian Merv Griffin Way separating the two main parcels will be "covered up" by a landscaped platform. The resulting pedestrian-friendly expanse will connect the project's major components, providing usable space that previously didn't exist. 
Plans call for a new stoplight at Merv Griffin Way and Santa Monica Boulevard, which will also see the addition of a third westbound lane. And the Wilshire Boulevard entrance to Merv Griffin Way will be realigned to Whittier Drive, all in an effort to improve the congestion that often plagues the Wilshire/Santa Monica intersection. 
"We are building a whole carpet of greenery on the property. The architecture is extremely elegant, delicate and it creates a greenery that comes from the ground all the way to the balconies, blending in with the greenery of the [Los Angeles Country Club] golf course," said Alagem, describing an aerial view of the project. 
Clearly, the two residential towers of One Beverly Hills are the most striking landmarks of that aerial view. Located near the southwesterly property line, the buildings feature curved, receding forms and soft edges marked by white balconies. The taller of the two is the 32-story Santa Monica Building, housing 162 units. It is located nearest to Century City in the site's southwesterly most corner. The 28-story Garden Building holds 141 units. 
Technology and Design 
"We wanted to emphasize healthy living, capturing views and great weather from morning to sunset. No building like this exists here," said Alagem. 
The use of the latest (and in some cases prescient) technology is another touchstone. Even before the COVID-19 pandemic, project designs incorporated electrostatic filtration and dedicated ultra-pure filtered air for each residence; a reverse osmosis filtered water system; keyless and proximity-sensing doorways; and pre-call and touchless elevator controls via mobile apps. Sustainability goals include LEED1 Platinum and WELL2 certification from Leadership in Energy and Environmental Design and the International WELL Building Institute, respectively.
"Sustainability in building also means, 'how do we achieve net zero greenhouse gas emissions?' Those 600 trees we will plant will eliminate a lot of carbon dioxide," noted Alagem Capital Group Vice President David Alagem. 
Greywater irrigation systems, green rooftops, electric vehicle charging stations and recycled, low embodied carbon and low toxicity materials are additional features. 
Conservation efforts aside, perhaps the most noteworthy aspect of the towers is the view between them. 
"Normally, if you look at buildings anywhere in an urban area, the distance is probably 50 to 70 feet. Ours are 200 feet apart. They were purposely designed so that wherever you are, you will see these beautiful view corridors," noted Alagem. 
The two residential towers stand some 170 feet away from another major component of One Beverly Hills, a new ultra-luxury hotel and residences. Connected to the towers by the covered Merv Griffin Way, the hotel will feature 42 all-suite luxury rooms, 37 residences and a fine dining restaurant. 
The 10-story hotel will sit near the northwest corner of the site, along Wilshire Boulevard. But it will be set back 60 feet, behind a landscape of trees and a public sculpture garden.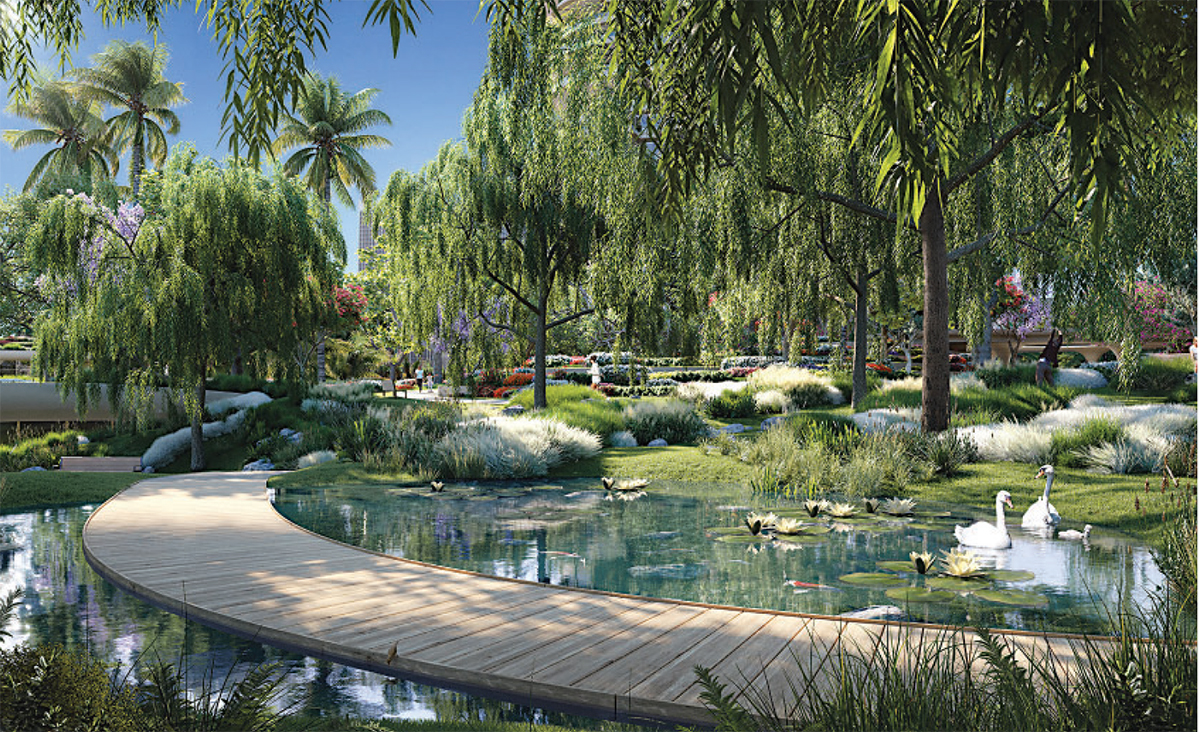 Hilton Enhancements 
The iconic Beverly Hilton will also undergo some renovations as part of the One Beverly Hills plan. The existing parking structure at Merv Griffin Way and Santa Monica Boulevard will be razed to build a four-story building open to the public. It will include boutiques and a casual dining pavilion open to the gardens. 
Additionally, the existing Conference Center will be rebuilt on Wilshire Boulevard. The new structure will feature tiered terraces and will also be recessed from the road. It will include a new restaurant with outdoor space and lobby bar. Upgrades are also planned for the International Ballroom, the hotel pool and cabanas, and the arrival driveway and motor court. 
The Road Ahead 
Alagem Capital Group President Ted Kahan sees One Beverly Hills as "a chance to keep the Beverly Hills brand alive and fresh." 
He points to ongoing transformations of Century City, Santa Monica and Downtown Los Angeles. "Rodeo Drive was very innovative when it started. But it's been here for over 50 years," said Kahan. 
"Of course, there is fear of change. There always is," he added. 
Alagem is no stranger to the vicissitudes of public opinion. His selling points now for One Beverly Hills are multifold. 
First of all, the entirety of the project (including new underground parking) falls within the limits of the already entitled 1.375 million square feet. A proposed new Overlay Specific Plan will adhere to the overall approved density and land uses the Specific Plans allow. 
"We are not asking for one additional square foot of building. We are taking and just moving the pieces. It is very important to understand that this property went through an environmental impact report, the City officials know it very well. Both properties went through extensive studies the last 10 years, so there is nothing missing," said Alagem. 
In addition to thousands of construction and new full-time jobs, Alagem's team cites estimates from real estate economics experts regarding the project's fiscal impact over the next 30 years. Those projections include some $27 billion in local spending; $2.3 billion in total taxes and fees; plus $79 million in new revenue for schools. That's much more, in fact, than previous development plans under separate ownership of the main lots would have rendered. 
In essence, the whole is now greater than the sum of its parts. 
"The project is also committed to make a significant contribution to the City's Affordable Housing Trust Fund and to work with the City to assure the production of affordable units in Beverly Hills," said Kahan. 
Alagem adds: "When I acquired the [Beverly Hilton] hotel, it was important to bring it back to the sense of luxury that it used to have. We invested $85 million and renovated every corner of the hotel. We completed this in 2007. In 2008, we got approval for 110 units of residential on our property and a 170-room hotel. The Waldorf Astoria 
opened in 2017. This month we celebrate three years since we opened. It's been an incredible success for the City and for us. I think we are also the largest taxpayer in the City," said Alagem. 
In terms of a timetable for One Beverly Hills, Alagem won't venture a guess. But, he's invested years in the site before. 
He's no doubt willing to do it once again. 
Additional reporting by Lisa Bloch