After decades of sitting vacant, the City's eastern entrance is finally poised for a beautiful rejuvenation. This is the first public glimpse at plans proposed by the Beverly Hills Land Company for a park-like creative office campus adjacent to our civic center. Lot 12 is located at 9320 N. Santa Monica Boulevard and is bounded by Santa Monica Boulevard to the north, Civic Center Drive to the west and south, and Beverly Boulevard to the east. Originally home to the railroad which opened in 1909, the site has sat unused since the 1970's. Despite other portions of the railroad being repurposed through the years, most notably to create the "Santa Monica 5" City parking lots between Beverly Drive and Linden Drive, this parcel has remained untapped for current needs.
Specifically designed to help the City attract and retain desirable media and entertainment companies, the Beverly Hills Creative Offices project will create a new gateway to Beverly Hills and transform Civic Center Drive. It reflects the continuing commitment of the three longtime Beverly Hills families who purchased the Beverly Hills Land Company in late 2014, to helping their hometown thrive. The families of Lyn Konheim, Stanley Black, and Bob Barth have a widely known history of great commitment to the community for generations, focusing their time and resources toward supporting local organizations. For decades these families have been contributing to our City, while creating and restoring its most beautiful buildings. "We believe this is a unique opportunity to enhance Beverly Hills' legendary history of attracting entertainment and creative business to the City," shared Lyn Konheim about the project's inspiration. "I care deeply about our City's rich history and preserving its future."
Overview of Beverly Hills Creative Offices
Beverly Hills Creative Offices will address a huge need in our City, a hole in the Beverly Hills office market. Creative media and entertainment companies are searching for boutique workspace-of-the-future environments with the highest quality indoor-outdoor spaces. This plan presents 11 jewel box-like buildings set amidst more than an acre of open space. Lush landscaped courtyards separate each, highlighting their individual architectural identities, telling a unique story of timeless elegance. Terraces abound as the overall design captures the essence of Beverly Hills style, celebrating both the classic traditional and most forward-thinking modern architecture of the City.
The site is framed at the east and west ends by buildings designed in a European style reminiscent of the best traditional architecture in Beverly Hills. These flow into a variety of modern, timeless buildings that emphasize the beauty of their natural authentic materials with light-filled, airy, spacious offices that appeal to the most cutting-edge creative businesses. The boutique scale of the entire campus, with a low floor area ratio and heights of three and four stories, will fit seamlessly with the surrounding businesses.
The striking underpinning of the site is its verdant park setting, designed by internationally recognized landscape architecture studio Hocker. Their approach is superbly showcased here with inviting spaces that are simple and restrained, beautiful and engaging, all while cultivating a strikingly contemporary aesthetic.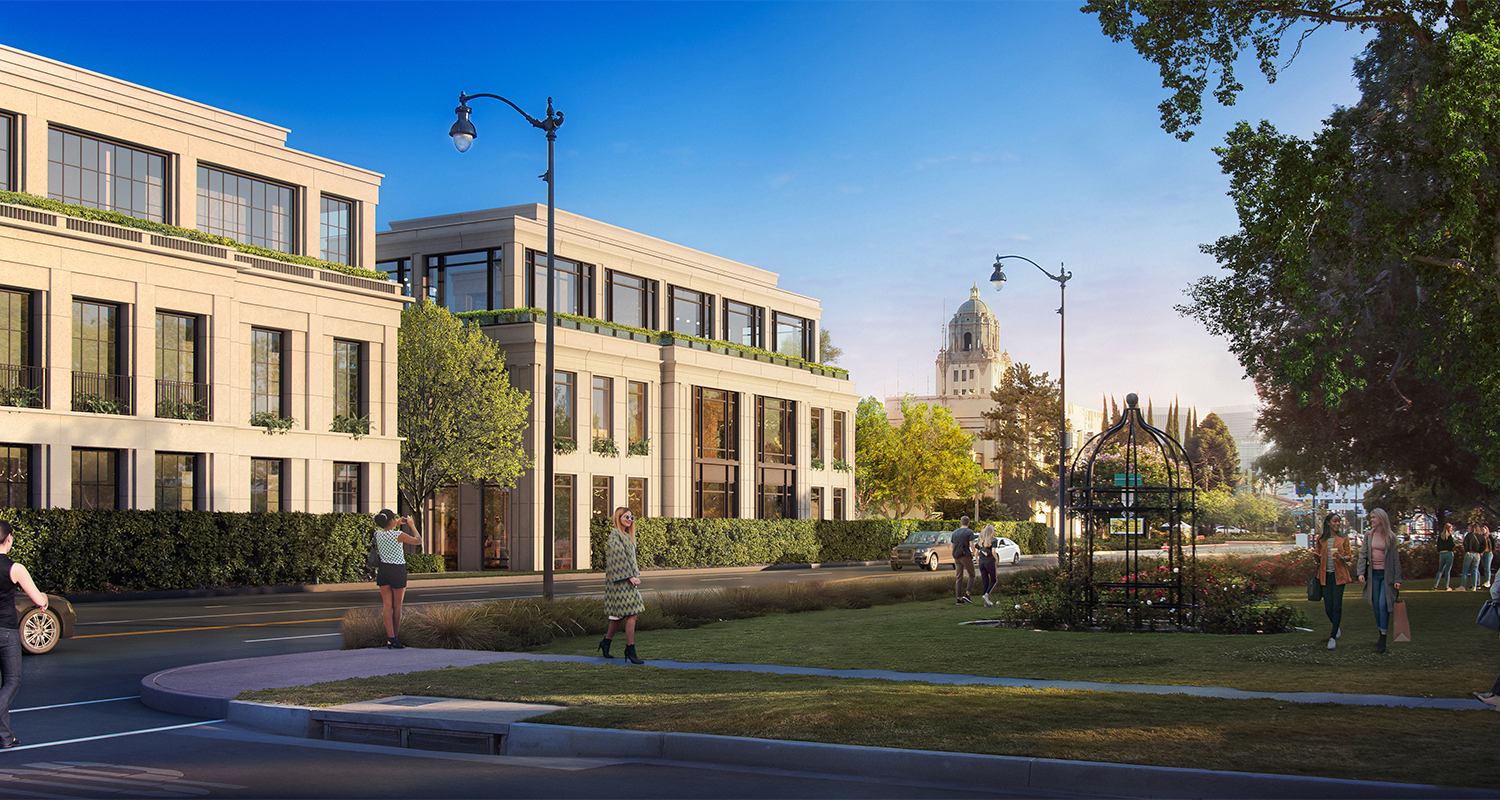 Gensler Architect
Beverly Hills Land Company has assembled a highly accomplished team to transform this site, helmed by the world-renowned architectural firm Gensler. Gensler has a unique and profound role in shaping cities, and a future for those cities centered around the human experience. By adopting new technologies that connect people and places, Gensler is focused on improving the human experience and reinventing how people experience connected cities. Their award-winning projects have garnered acclaim the world over.
Drawing on aesthetic inspiration from designer Waldo Fernandez, Andy Cohen has brought this dynamic concept to life. In his role as Co-CEO, Cohen is one of the key contributors to what is acknowledged by its peers to be the most admired and largest architecture firm in the world. He leads Gensler's commitment to making a better world, and has employed the latest and most advanced environmentally sensitive design to minimize this project's energy use and carbon footprint so it will achieve "LEED Gold" status.
Economic Benefits
BHCO will help attract and retain desirable entertainment and media companies, whose employees will support the local businesses within walking distance of the site.  The project will also generate substantial business license taxes for the City, which will support vital public services including first responders.
As an additional public benefit, the Beverly Hills Land Company proposes to convey ownership of approximately 2.55 acres of land to the City. This vacant land includes the triangle meridian on Santa Monica at Doheny, along with what is commonly referred to as Lot 13, bounded by Santa Monica Boulevard and Civic Center Drive and stretching from Beverly Boulevard to Doheny Drive. The City will be able to use this land at its discretion for any number of public uses, including a beautiful park with an iconic ceremonial gateway to the east.
The Process
The City approval process will be quite lengthy, and both the Beverly Hills Land Company and the City will engage the community for public input repeatedly throughout. As with other proposed projects, the City will prepare a comprehensive Environmental Impact Report, followed by several public hearings. This proposed project, like many others, will require a General Plan amendment, a Specific Plan to establish key development standards, a Vesting Tract Map, and a Development Agreement to memorialize public benefits, including conveying ownership of Lot 13 and the meridian triangle to the City.
The City review and approval process can take up to two years, with multiple public hearings held by the Planning Commission and by the City Council. Once that process is completed, the project's design is then reviewed by the Architectural Commission. Following commission review and approval, construction drawings will be created and submitted for review by the Building Department. After Plan Check completion, building permits will be issued and soil cleanup will commence pursuant to a workplan that will be approved by the California Department of Toxic Substances Control. Then the project construction would begin.
The partners of Beverly Hills Land Company are dedicated to approaching the entire process with broad inclusivity and complete transparency. The project team will be doing extensive community outreach to ensure that everyone is informed and involved through each step. Updates will also be posted on the project's website, www.bhcreativeoffices.com, and the project team is available for comments and questions by email at info@bhcreativeoffices.com and by phone at 310-975-3112.