City of Beverly Hills | News | Real Estate
Residents Oppose Proposed Senior Housing Facility Near Roxbury Park
"People view it as one neighborhood," described Los Angeles resident Cheri Lewis, who has lived two blocks from Roxbury Park since 2004.
BY Laura Coleman July 10, 2020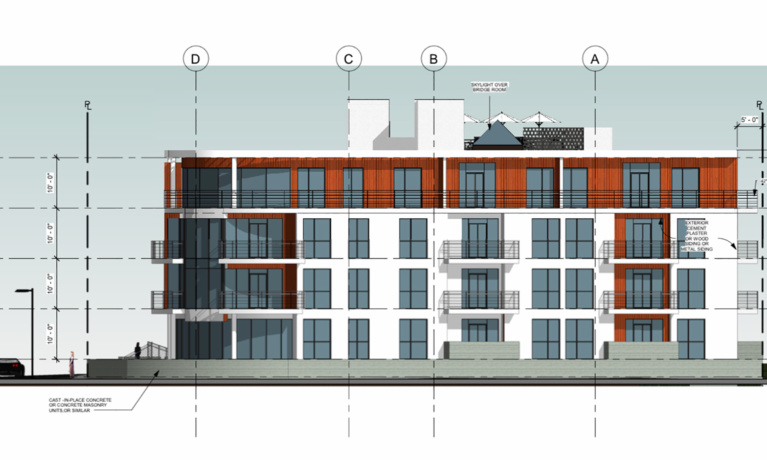 Reading Time:
3
minutes
Just a stone's throw from Roxbury Park, a proposed eldercare facility at 1122-1136 S. Roxbury Dr. is once again drawing concern from some neighbors, but not all. On July 7, the South Robertson Neighborhood Council (SORO) Land Use Committee voted 4-1 in support of the project.
The proposed 57-unit project, which is in the City of Los Angeles, was originally scheduled to be heard by the Department of City Planning on July 22. However, City Planning Associate Michelle Carter told the Courier that the hearing is being postponed.
"The date of the hearing will be sometime in mid-August with the correct amount of assisted living units, which is 15," said developer Leonard Rosenblatt, a Beverly Hills resident for over 50 years who helms the Beverly Hills-based Rosenblatt Properties founded by his father. "There will be another notice given out with the 500-foot radius when the date is certain."
When heard, it will mark the second time the proposed senior living facility goes before the department according to Rosenblatt, who told the Courier the previous iteration had just one assisted living care facility.
"We have changed this thing considerably," he said. "It's more of a higher-end senior housing project. In my opinion, this is going to be the nicest senior housing project."
As listed on the now defunct "Notice of Public Hearing" letter sent to property owners and occupants within a 500-foot radius of the project, the proposed facility had a total of nine assisted living care units and 48 units for independent living.
The 73,500-square-foot proposed high-end senior facility, which will include a multiplicity of amenities, including a pool, solarium, gardens and yoga studio, will take over four parcels currently occupied by four existing two-story residential buildings, each with four units. "I call it an island. It's the only undeveloped site on that corner," Rosenblatt said.
Beverly Hills resident Sandy Richman, who has lived near Roxbury Park for the past 17 years, credits the neighborhood's residents with having stopped the project last time it went before the Planning Department in August 2019.
"People view it as one neighborhood," described Los Angeles resident Cheri Lewis, who has lived two blocks from Roxbury Park since 2004.
"It's a heavily trafficked area and this would add hundreds more people who are coming here on a daily basis," Lewis told the Courier. "When the City of Los Angeles wants to encourage elder care facilities, this is not what they want to do. It's not appropriate for this neighborhood. It's too big for this neighborhood. He just wants to push it through under the guise of saying it's good for old people."
After getting the approval of both the SORO Land Use Committee and the entire Board the last time he tried to develop the project, which now includes 113 parking spaces on-site, Rosenblatt said the City denied the project and subsequently denied it on appeal.
Both Lewis and Richman said there was staunch neighborhood opposition.
"It is unfortunate, but only residents 500 feet of the project are notified of the proposed hearing," Richman told the Courier. "The consequences of this construction and ultimate impact of the project will affect many more residents and they too should be able to have a say in the decision."
While Beverly Hills doesn't have jurisdiction to govern the project's development, City Planning Ryan Gohlich said the City may once again submit a letter to the City of Los Angeles about the project identifying areas of study or concern, as it has done in the past.
"We generally do not take strong decisions on projects unless directed to do so by the City Council," he told the Courier. "We monitor projects that are in surrounding areas around Beverly Hills and depending on the scope of the project we do submit comments."
Rosenblatt downplayed the concerns of neighbors, stating: "Mostly it's negative because they don't like change."
"I'm looking to do something really beautiful that maybe my wife and I will move into one day," added Rosenblatt, who last developed a senior housing project in Encino 40 years ago with his father.