After a holiday weekend of BBQ's and over indulging – or maybe this has been the case since the March stay at home order – you might want to research a few healthy meal plan options. Dozens have hit the market over the years from Hello Chef to Green Chef,  but most require home cooking once the product box arrives. Fortunately, there are several new concepts on the market that don't require you to lift a finger, and they can also be delivered right to your door for a family dinner, virtual meeting or cocktail hour.
Probiotic Labs, Inc. launched VitaBowl and VitaJuice on July 1. The pre-made nutritional meals are designed to nourish and heal on a cellular level, taking calories, sodium, salt and sugar into consideration for each dish.
Co-Founder, CCO and Chef Christopher Arellanes hails from the kitchens of Eleven Madison Park and Per Se in New York.
The specialized menu is available online www.vitabowl.com/ and on-demand with dietary restrictions and personal needs from diabetes to high blood pressure, post-chemo and other conditions taken into account.
"It's a lifestyle and quality of product in a plant based-style that no one has really seen before," Arellanes told the Courier. "We are not just another salad bowl."
The menu spans ingredients from India, Korea, California, Mexico and the Mediterranean while utilizing global superfoods such as moringa leaf, matcha powder, jackfruit and monk fruit sugar that doesn't fall on the glycemic index level.  Other antioxidant ingredients are used to reduce inflammation in the body, promote a healthy gut, and boost both mood and immune systems.
"We use the whole plants with no waste," he said. And, while COVID-19 might have slowed them down a bit, the team is in the process of securing other superfoods from around the world for future recipes. And, they are not stopping there but planning to grow the business to reach schools, gyms, grocery stores and hospitals.
"Our ultimate goal is to be backed by health insurance and we are beginning clinical studies," Arellanes told the Courier. The team of scientists, doctors, nutritionists and tech gurus – one of the founders is Silicon Valley entrepreneur Charles Michael Yim who invented the Breathometer, which measures alcohol content on your smartphone – to integrate this meal plan into hospitals and assisted living facilities.
Equally important to the group is the non-profit arm they are developing for people suffering financial hardships due to the pandemic and can't get affordable and nutritious meals, especially children.
Look for soups, snacks, VitaBaby and VitaKids coming soon to the menu offerings.
"People like to cook at home but during this pandemic, people just want to keep it easy and have healthy food come to them," said Arellanes.
Another local brand getting into the game is sbe Entertainment Group, which has added Plant Nation to their recent ghost delivery-only concepts under the C3 (Creating Culinary Communities) subsidiary of the company.
The menu is centered around plant-based cuisine, but they have also created alternative options with vegetarian dishes using cheese and dairy products. Selections include not only healthy salads and grains, but also pizza and a vegan version of Sam's Crispy Chicken sandwich.
"Vegetarian and vegan food has gone mainstream – we developed Plant Nation to show our guests how we use modern culinary techniques to create a memorable and seemingly indulgent experience for our guests," said Chef Heierling. "We love sharing Plant Nation's inventive dishes and innovative partners with our community – whether they're plant-based, or not."
Plant Nation is available for order on delivery platforms such as UberEats, Postmates, DoorDash, GrubHub, and Caviar.
The healthy meal box delivery trend has even crept into corporate America. Chef and founder of California based Nybll, Kristen Thibeault, created a corporate catering company that specializes in home delivery for groups hosting virtual meetings and conferences along with Fortune 500 companies from BuzzFeed to Netflix and championship sports teams.
Nybll Connect will deliver the same dinner or special care package for groups or families who want to dine together while apart. Specializing in business meetings, brainstorm sessions or special events, the 24 rotating menu options range from plant-forward, super-charged power breakfasts, mid-day wellness breaks with superfood snacks and even individual quarantini's for happy hour. The menu offerings are shipped overnight and broken down by length of meeting from under three hours to an all-day collaboration that includes stretch break bands and pick-me-up bites.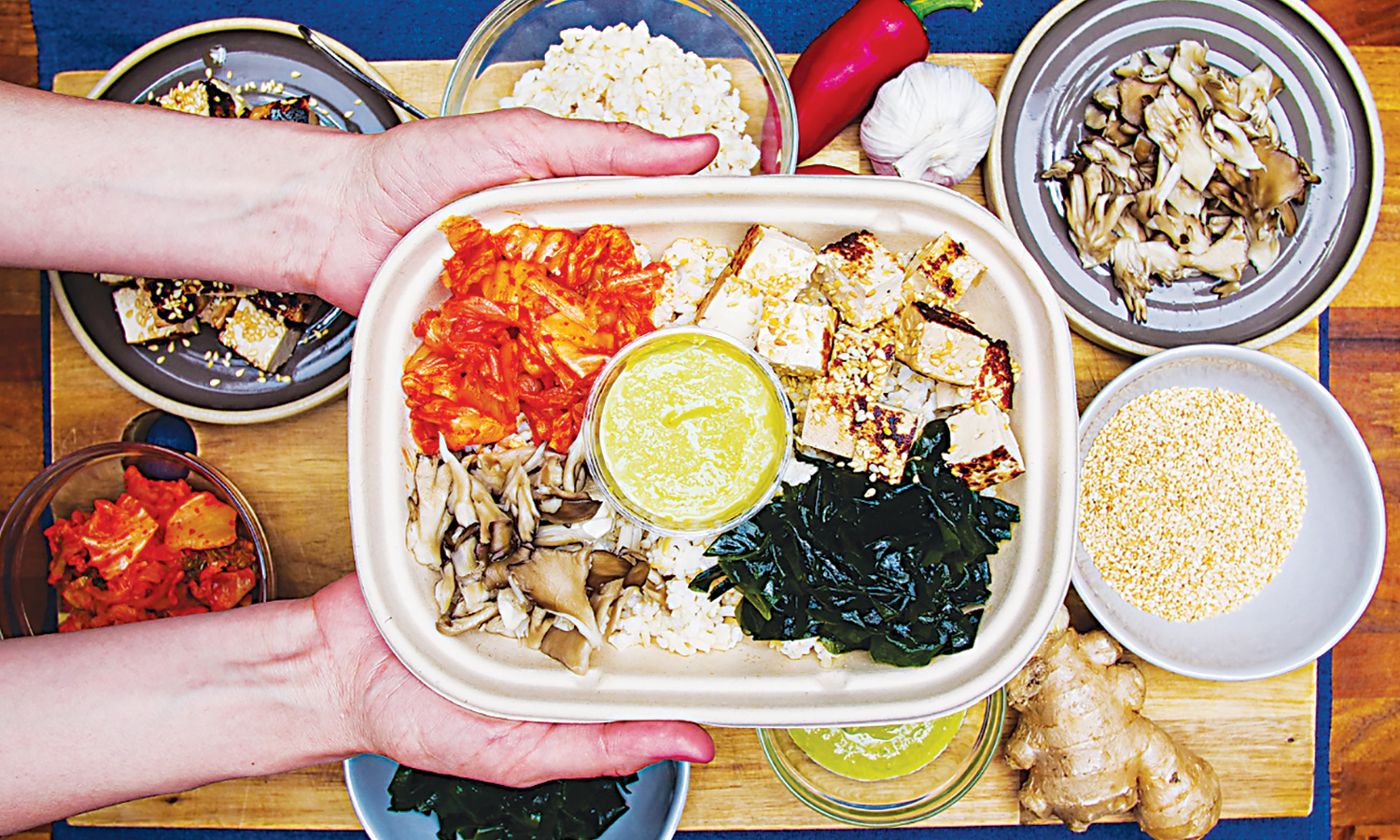 Additionally, with every purchase, Nybll gives back, supporting those who are food insecure through its charitable arm, The Patra Project. For more information, visit https://www.nybll.com/virtual-catering/.
If you would rather drink your nutrition but find juicing too sweet, Bonafide Provisions is a new California company making bone broths, soups and keto broths that are a comforting solution. CEO and Clinical Nutritionist Sharon Brown created flavors from organic beef, chicken and turkey that help support immunity, brain function and joints, along with nourishing hair, skin and nails.
"Bone broth provides collagen and amino acids which support the gut lining and immune system. Up to 85 percent of your immune system is in your gut and bone broth supports the immune system by feeding these cells," Brown told the Courier.
She cautions to steer clear of some juices that are loaded with fruit sugar. "Sugar in any form can shut down the immune system for up to three hours, so when trying to build immunity, sugar should be avoided at all costs.  Instead of adding fruit sugar to smoothies, add a ½ cup of bone broth. You won't be able to taste the broth, and you will reap the benefit of the immune-boosting, no-sugar properties it offers," she said. You can find the broths at Whole Foods and Bristol Farms and also for delivery from www.bonafideprovisions.com/.
For a drink with a kick that also keeps sugar content in mind, Owl's Brew is a new line of craft cocktail mixers made from fine tea and botanicals for healthy summer cocktails. The goal here is not deprivation, but how to enjoy drinks with less sugar.
The founders, Jennie Ripps and Maria Littlefield, are tea experts. Ripps is a tea sommelier who has worked on beverages programs for Momofuku and Soho House to name a few. Their concoctions are not just mixers but ready to drink cocktails made with 100 percent real ingredients.
Ripps and Littlefield believe that, "Liquor is a Trojan Horse for sugar and chemicals." Their latest creation, Boozy Matcha is blended with real pineapple and chamomile, is gluten-free and vegan with no added sugar and only 110 calories.
According to Ripps and Littlefield, "Matcha contains 127-times more antioxidants than green tea and is known to boost metabolism and increase energy. Antioxidant-rich, it has anti-aging properties and is excellent for the skin and can now be enjoyed at happy hour too." More details available at https://www.theowlsbrew.com/home.