With many top chefs around town closing fine dining restaurants recently from Ludo Lefebvre to José Andrés and Joachim Splichal, some of the hotels, legacy eateries and newer chain concepts are revamping to lure in customers with COVID-19 patio regulations in place.
One such example is the Peninsula Hotel, which has reimagined its ground floor flagship Mediterranean restaurant into Le Petit Belvedere.
Taking advantage of a spacious patio off the former Belvedere dining room, the new eatery features classic French fare by Executive Chef David Codney. "I did Paris fashion week two years ago in a partnership with the Peninsula Paris and we wanted to bring some of that back home, since people can't really travel right now," Codney told the Courier.
While the signature charred Caesar remains on the menu, new standouts include chicken crepes with wild mushrooms, steak au poivre, crab croquette salad and a fluffy souffle for dessert. This type of cuisine has been sorely missed in this neighborhood since Thomas Keller's Bouchon Bistro closed on Canon several years ago. "I'm not trying to reinvent the wheel," said Codney, "I just want good simple food. People need to get out of the house and have something to look forward to right now. You realize what a small community it is."
Le Petit Belvedere has also embarked on a Champagne partnership with Laurent-Perrier where every evening at 8 p.m. the diners will engage in a complimentary toast to make up for some of the lost celebratory moments since the COVID-19 shutdown.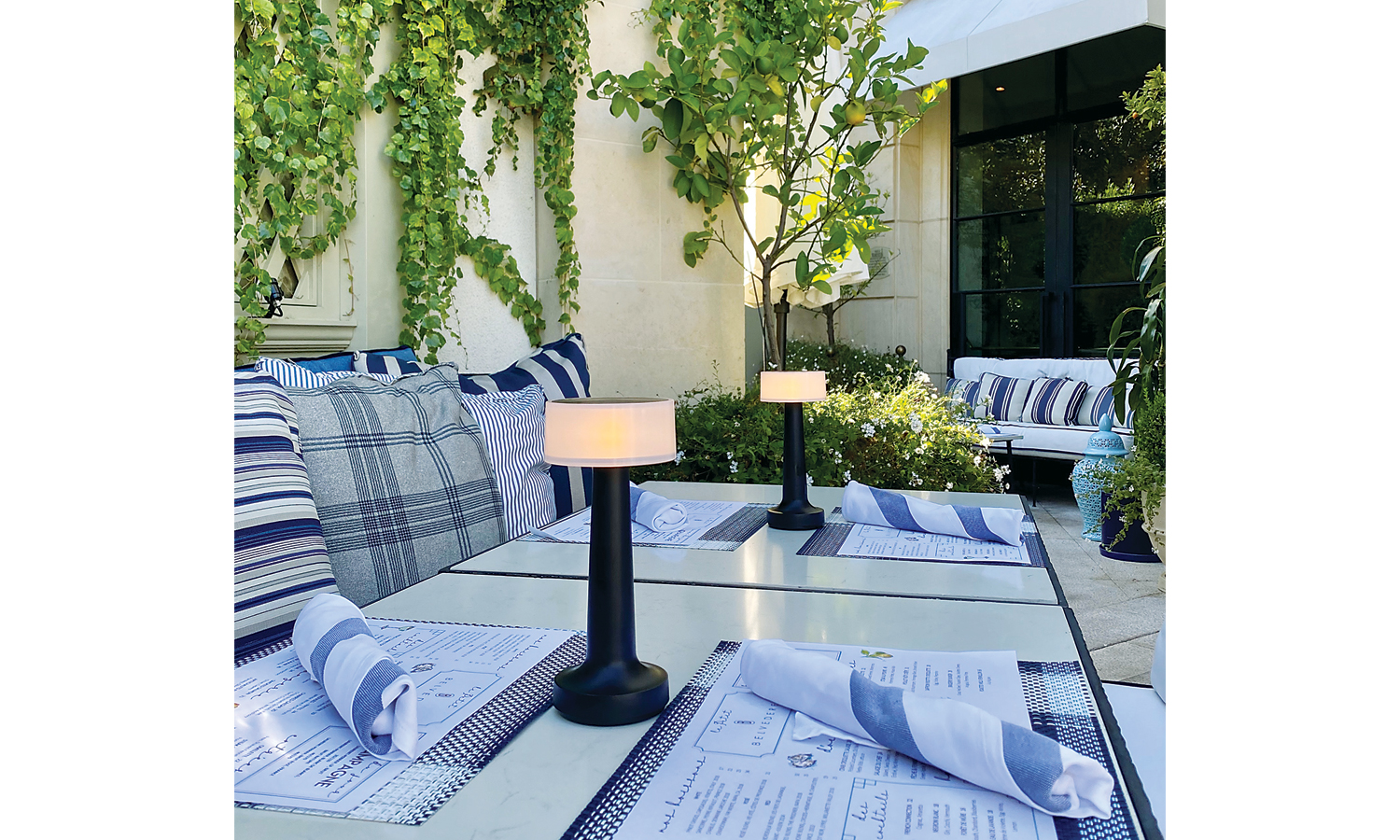 Currently, the entrance to the new restaurant is through the lobby but the team is installing a walk-through art gallery in the old Belvedere dining room so guests can enter while viewing museum-quality works. The LOVE sculpture, the hotel's second piece by Robert Indiana, was just installed on the terrace this week, which should go well with the piped-in retro-French 60's music. "Why didn't we do this four years ago?" quipped Codney.
The Beverly Hills Hotel has also recently engaged in a new alfresco collaboration with fine art photographer Gray Malin. Cabana One has been redesigned by Malin in a partnership with Serena & Lily to revamp the poolside space with a pink and white striped canopy, coastal California furnishings and a nod to the iconic design and history of the hotel with CW Stockwell's signature Martinique banana leaf wallpaper, first installed in 1949.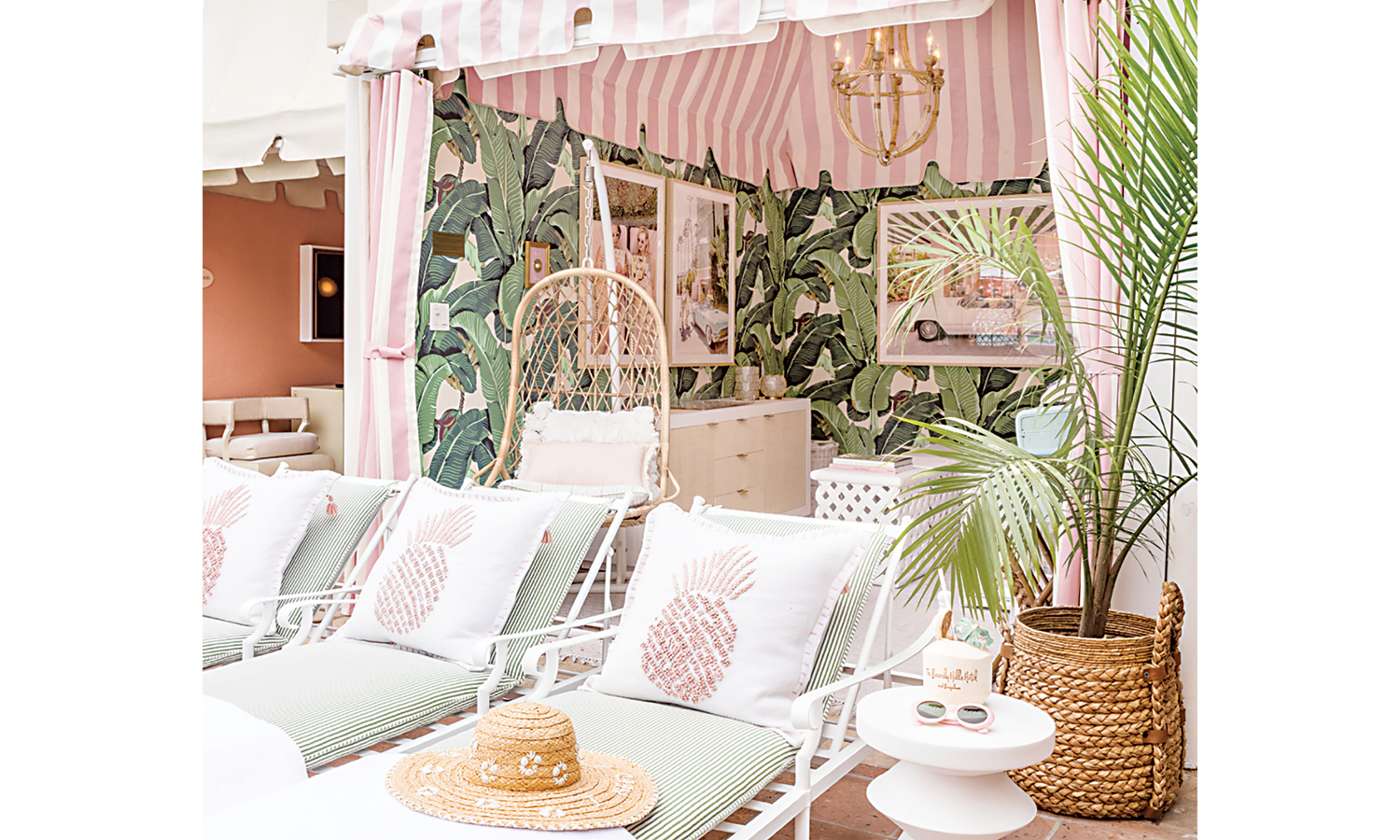 In collaboration with Nocking Point Wines, Malin also launched Getaway Rosé on Aug. 1, an all-day wine for summer picnics, relaxing poolside, or simply dreaming of your next getaway. This Provence-style blend of mourvedre and syrah is not on offer at the hotel yet, but hopefully in the near future.
Il Fornaio is celebrating 40 years on Beverly Drive this year. The local favorite has added cool foliage lined plexiglass pods outside of the restaurant, creating a European sidewalk dining experience with the same great food and service.
Manager Maria D'Auria, who hails from Rome, has worked at this location for 20 years. "We thought of safety first but we can seat almost the same number of people as before. Everyone loves it because they feel safe and protected," she told the Courier.
The Sugar Factory is blessed with ample patio seating designed by Gulla Jónsdóttir (who also designed the Kimpton Le Peer) on the top floor of Westfield Century City. This Vegas and San Diego hot spot was scheduled to open in March and was sidelined after the COVID-19 shut-down. While you can order grilled lobster tails and steak, stick with the fun finger foods such as mini-rainbow bun burgers and the outrageous spiked milkshakes after an afternoon of shopping.
On the same floor of the outdoor mall, Eataly has launched a "build your own gin & tonic" on their rooftop Terra restaurant. For the summer menu, you pick the gin from a classic style or contemporary botanical flair, and the tonic with unique flavors such as yuzu, elderflower, and grapefruit. Then choose from fresh herb garnishes like rosemary, sage, and thyme along with seasonal fruit or cucumber for a customized creation. Their mixologists suggest pairing your cocktail with wood-grilled dishes like the pesche e burrata or a shareable Wagyu Tomahawk Ribeye aged 45 days from Snake River Farms.
On La Cienega, The Silver Cart Terrace at Lawry's debuted on Aug. 4, offering an outdoor dining experience for the first time in its history. Hours are Tuesday through Sunday, 4:30 to 9:00 p.m. and takeaway continues on those same days from 3 to 7 p.m.
The Sofitel is reopening its newly designed Cattle & Claw patio on Aug. 13. The alfresco eatery is now cash and contact-free with the famous 10 oz. burger, lobster roll and vegetarian options. Aidan Demarest is back in action with Riviera 31 cocktails starting at $8 with DIY decoration kits. "We will add bands and DJs the minute the Governor says we can," said Demarest.
Until then, private cabana packages for groups up to six can and spend the afternoon with crafted picnic baskets, wine, cheese and charcuterie platters to share.
Just a few blocks away, E.P. & L.P. has taken a new section of their open-air rooftop space (originally intended for an outdoor movie theater) and opened Las Palmas featuring food and drinks inspired by Tulum. The Yucatan flair includes lobster quesadillas, carne asada skewers and aguachile.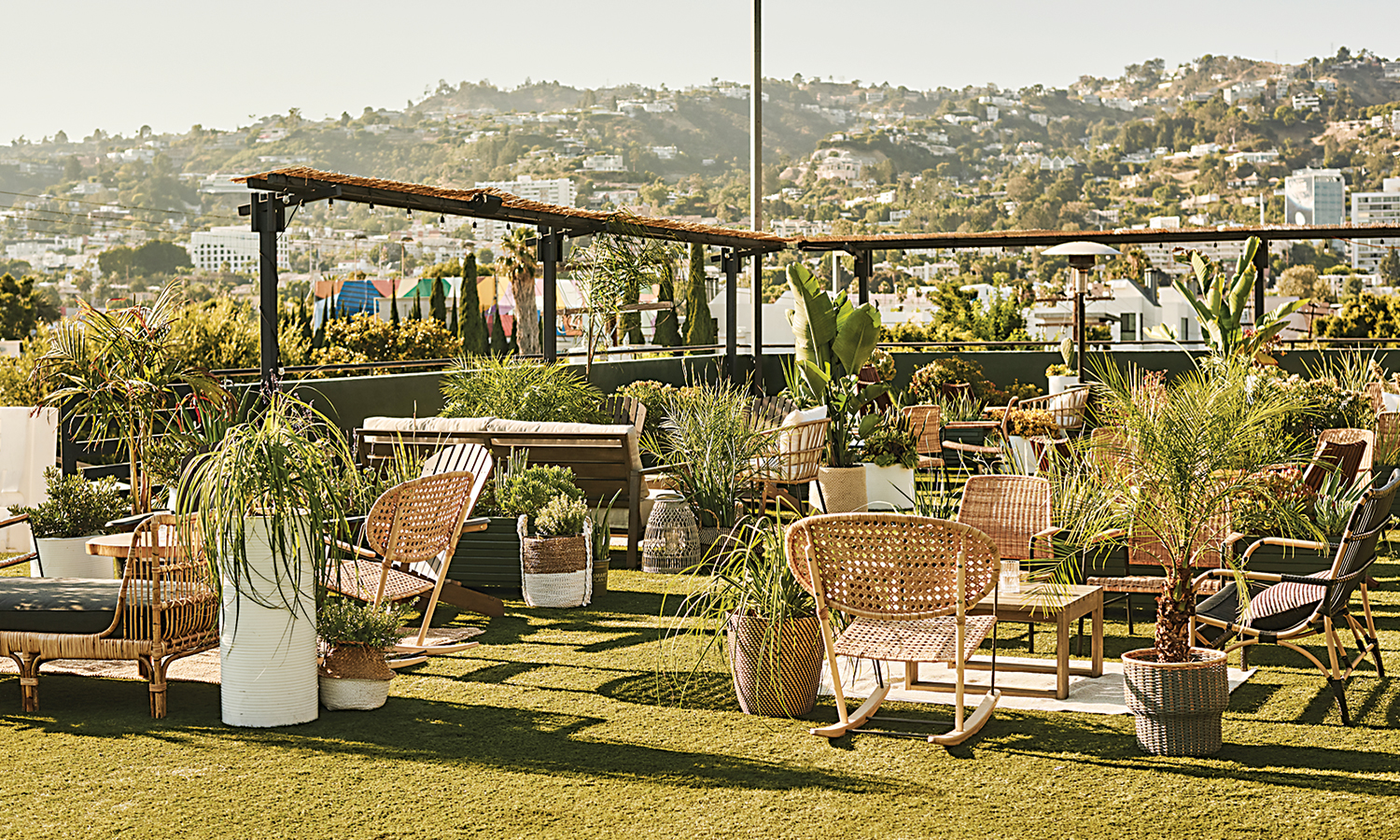 Changes are also in the works at a Westside institution, The Brentwood. Owner Bruce Marder is flipping the concept into an upscale Mexican eatery, Baja Norte.  Marder made his mark decades ago with a similar style of cuisine at Rebecca's in Venice and the West Beach Café before Capo in Santa Monica became a mainstay.
If you're missing Chef Michael Fiorelli's cooking at Olivetta on Melrose, just take a drive down Sunset towards the Palisades to The Draycott, Marissa and Matt Hermer's California brasserie. Fiorelli is now culinary director of the restaurant and has added new dishes on the dinner and brunch menus from Weiser Farm's toybox melon and prosciutto to seared Diver scallops atop creamless creamed corn which can be ordered on the outdoor terrace, on the Palisades Green or for curbside pick-up.
Melina Mezaf from ink. and Broken Shaker has been appointed as the beverage director. She oversees the cocktail program, which includes the weekend Lawn Libations stand with made-to-order mason jar cocktails or a bottle of wine to consume on the Green between brunch and dinner, 3 to 5 p.m. on Saturdays and Sundays.