In a pandemic, everyone is needy.
That's the rationale behind a new program rolling out at the Beverly Hills Unified School District (BHUSD). All children in the City aged 18 and under are now eligible to receive free meals from the district's Cafe@BHUSD. It doesn't matter whether the recipients are enrolled in BHUSD schools or not. Drive-thru pick up is available at the high school, on the corner of Durant and Moreno Drives, from 2:30 – 4:30 p.m. on Tuesdays and from 8 – 10 a.m. on Wednesdays.
Spearheaded by the United States Department of Agriculture (USDA), the free meal distribution will last as long as BHUSD is physically closed due to the COVID-19 pandemic.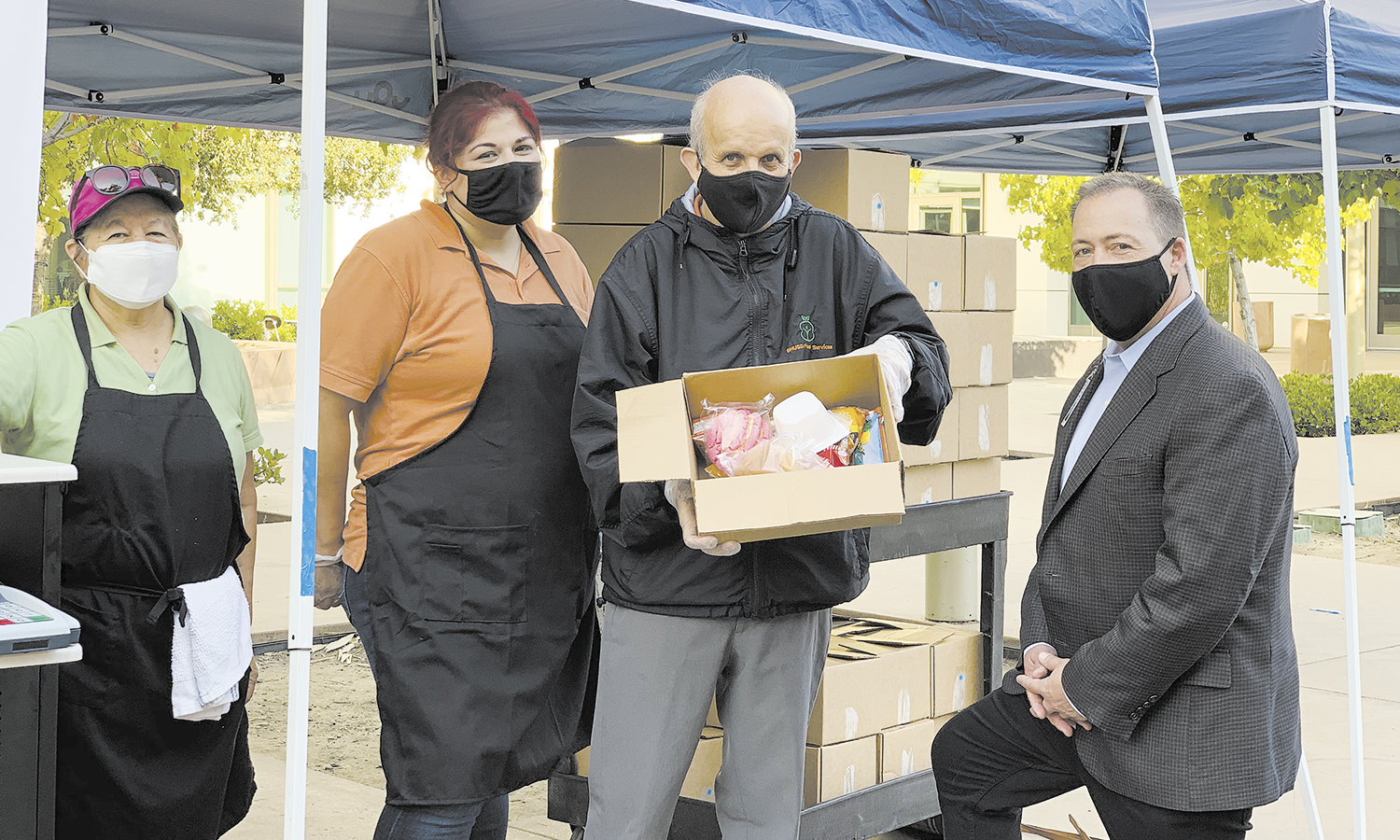 "It's an extension of the current program I was running at the beginning of the school year," BHUSD Food Services Director Heather Oyamo told the Courier. "Previously, I had to charge kids based on income. Approximately 600 students district-wide are eligible for free and reduced lunches. Now, we're getting federal funding to extend the summer feeding program. It's important to realize that the district is not paying for this at all," she said.
According to Oyamo, the logistics of the program are straightforward.
"We can feed any child under the age of 18. The child does not need to be present. No ID is required from the parent. You simply tell us how many children are in the household. Families can pick up the meal kits for their children once a week. They receive a week's worth of entrées that can be frozen or refrigerated or stored at room temperature, as well as fresh fruits and vegetables, and milk for each child," said Oyamo.
BHUSD Superintendent Dr. Michael Bregy was on hand at the meal kit distribution this week.
"We are delighted to be able to offer at no charge an abundance of fresh, healthy produce for all Beverly Hills children! There are few positives from this pandemic but being able to support our greater Beverly Hills community, not only our own students, but every child in this way is very rewarding. I congratulate our Food Services team led by Heather Oyamo for being able to so quickly create this opportunity," Bregy told the Courier.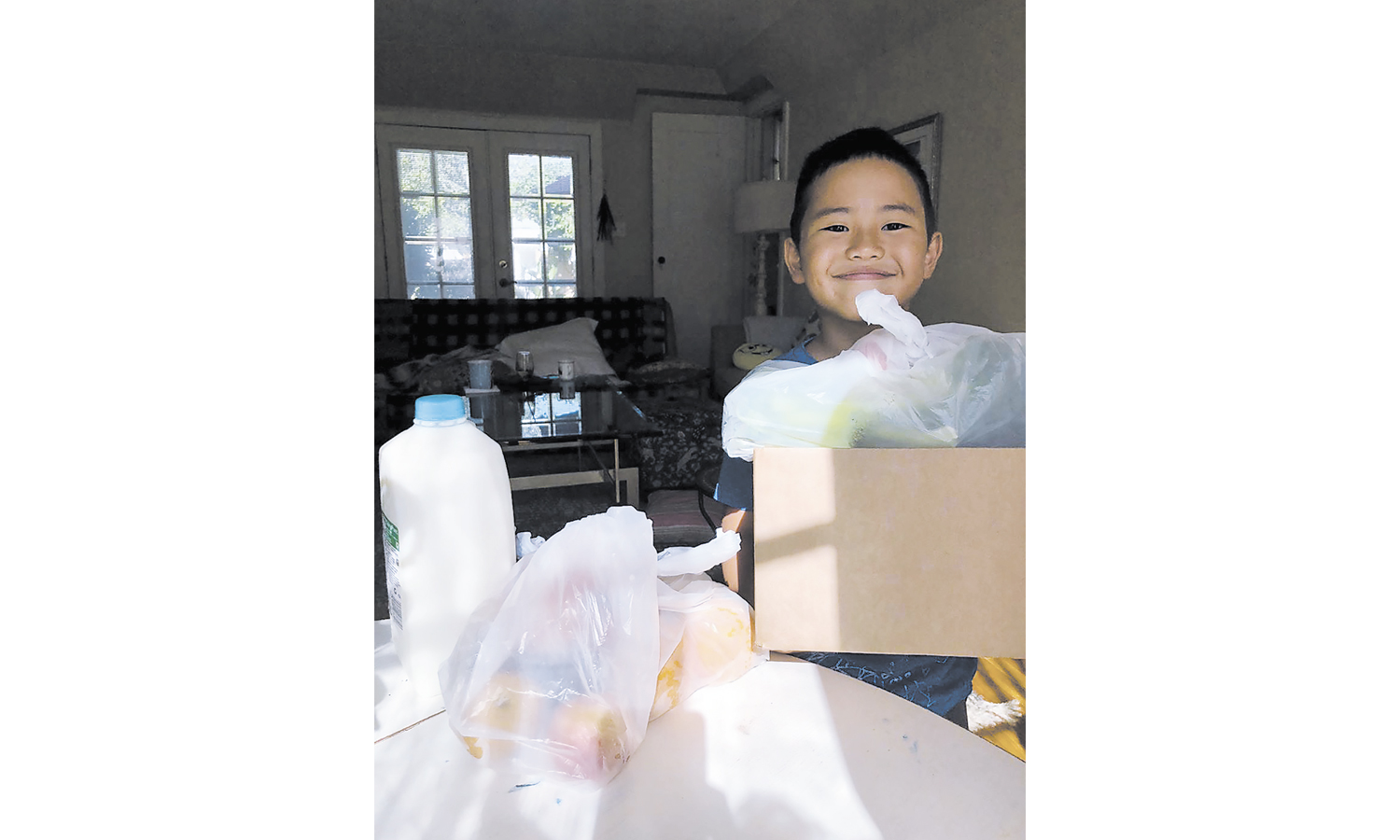 While menus are simple at the moment, Oyamo is working to improve them.
"It's real important for parents to know they get fresh fruit, veggies and milk. This week, I had broccoli, celery and fresh corn. The produce comes from the USDA. I also have snacks, such as graham crackers  and string cheese," said Oyamo.
"The best thing is that we have frozen items that kids can heat up themselves. Everybody gets cheese pizza that can be heated in the microwave. Kids love this stuff. It helps the parent when their child can be independent and do something for themselves. When kids are at home all day, they're hungry all the time," Oyamo added.
The weekly distribution option is more convenient for parents than previous daily pick-ups.
"This morning we received a whole package of food for a week. We have been getting groceries mainly by delivery since the pandemic, but it takes delivery fees and service fees. We are simply so grateful for this free meal program by BHUSD," Risa Yamaoka told the Courier. Yamaoka's son Sean is a student at Horace Mann Elementary School.
She added that the meals not only provide nourishment, but comfort for Sean.
"The individually packed food reminds him of school cafeteria food.  It brings him fun memories of sharing food with his classmates. He gets very excited to eat those, and that makes me happy," said Yamaoka. For more information and a list of menus, visit www.bhusdfoodservices.org.