While patios and parklets have been keeping some restaurants and bars in business during COVID-19, some newly reopened and refurbished rooftops around town have also been offering a different view for a day or night out.
There have been positive changes at the Kimpton La Peer Hotel that include Olivetta restaurant on Melrose. Thanks to "Olivetta on Holiday" you can now dive into Executive Chef Michael Fiorelli's signature pasta dishes poolside at the hotel and wood-fired pizzas, along with specialty cocktails from Melina Meza on the private rooftop. The residency will run Monday through Saturday from 6 p.m. until midnight until at least the end of October.
Teaming up with the neighboring hotel seems the right move for the brand until indoor dining is back on track in L.A. "Our Olivetta site on Melrose Avenue, unfortunately, doesn't allow for ample outdoor dining, which is what L.A. restaurant operation guidelines require for right now," co-owner Marissa Hermer told the Courier. "We wanted to offer our loyal guests a respite from the world – if only for cocktails and dinner–and have a responsibility to keep our restaurant family employed."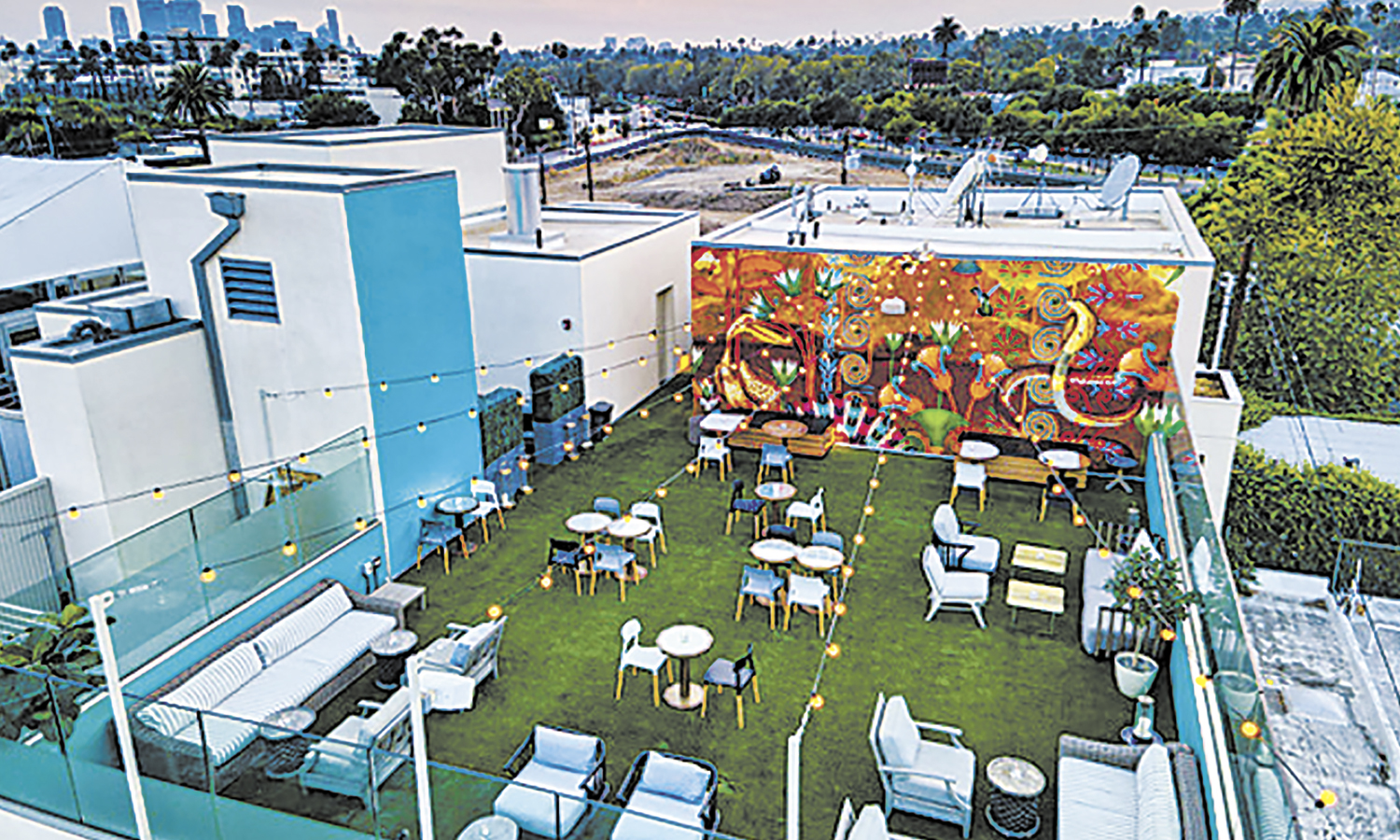 The team was also able to transport and recycle all of the indoor furniture designed by Tom Parker at sister restaurant The Draycott and the original Olivetta, and reuse it outside at the hotel. As you lounge on one of Parker's mid-century inspired sofas, savor a dirty bleu martini with Grey Goose vodka and bleu cheese infused dry vermouth; a yuzu G&T or the healthy tinged tequila and rainbow carrots with Casamigos. Pizza options include a simple tomato pie with Sicilian oregano; shishito peppers with rosemary ham or the exotic duck egg with pancetta potatoes. Don't skip the olive oil, chocolate chunk cookies with sea salt before you take the elevator back down to the lobby.
Héritage Fine Wines on Canon Drive might not be hosting fetes with John Legend playing his piano in the main lounge anytime soon but owner Jordan Andrieu has opened a new Mediterranean restaurant-lounge on the roof.  Here you will find a view of City Hall along with comfortable sofas and small tables evoking a St. Bart's beach vibe serving cheese, charcuterie and mezze with silver buckets of rosé wine and Champagne. "Members" opened in August and has been word-of-mouth so far but this "secret" spot is already so popular, you need to book two weeks in advance. If this sounds like your kind of scene, DM their Instagram page (@members_bh) for a reservation and hope for the best.
French bistro Avec Nous, on the ground floor of the Viceroy L'Ermitage on Burton Way has opened an annex on the rooftop just steps from the pool area. The al fresco restaurant is open from Wednesday through Sunday for breakfast, lunch and dinner. Now you can enjoy your eggs Benedict or caviar service with panoramic views of Beverly Hills, Hollywood and downtown L.A., and you might just catch a micro-wedding terrace celebration on your way to dine.
If smokey mezcal margaritas are on your mind, and you like the idea of cocktails that give back, Madre Oaxacan & Mezcaleria (with three locations in L.A., including West Hollywood), will be in residence at Terra every Thursday in September.  The rooftop lounge at Eataly Westfield Century City, is serving three of Madre's most popular cocktails to go along with the restaurant's Italian fare from 5-9 p.m. A portion of the proceeds from each drink sold will be donated to Restaurants Care, which provides financial relief to restaurant workers all across California.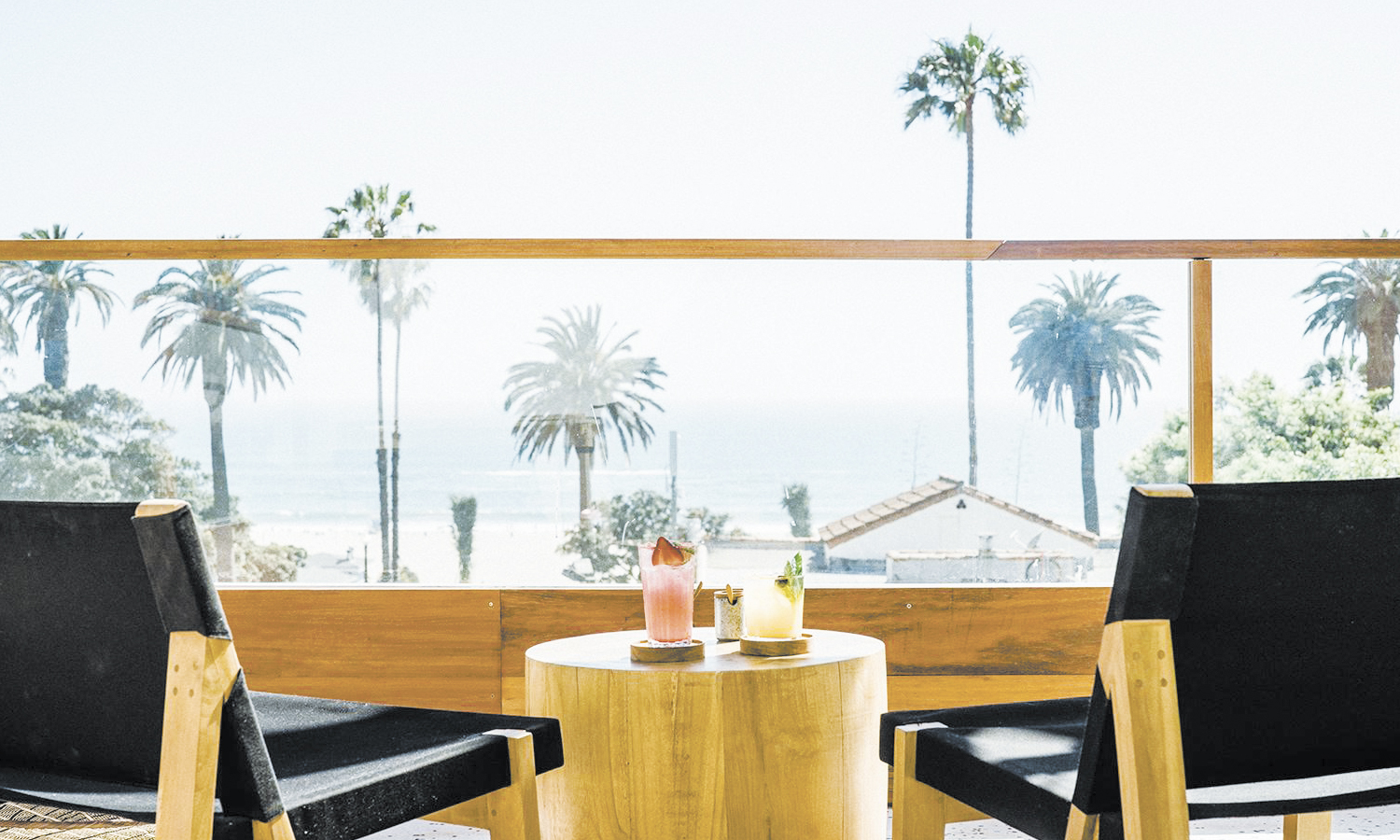 "Mezcal is one of the finest spirits in the world and people should be introduced to it in the right way with the correct selection," Madre owner Ivan Vasquez told the Courier. "I have made it my responsibility and passion to do this because I care about the culture and history behind the spirit. With this pop-up, we are reaching a new demographic and the more people that learn about mezcal and develop an appreciation for it, the better."
Up on Sunset Boulevard, Harriet's Rooftop of the 1 Hotel West Hollywood reopened a few weeks ago with a new menu for light bites and cocktails at sunset, dinner and weekend brunch from executive chef and Bravo "Top Chef" contestant Chris Crary. Expanded items include California and spicy tuna rolls, selections from the grille with Mediterranean chicken skewers, and Mahi Mahi fish tacos.
The h.wood Group owned and operated venue still preserves the values of an old-fashioned cocktail lounge designed by John Sofio of Built, Inc., (The Nice Guy and Delilah) and draws inspiration from the decadence of the 1920s, with white tassel lamps, striped booths and marble accents.
"Our new outdoor dining options paired with the unparalleled panoramic views of the Los Angeles skyline is an ideal setting for both hotel guests and locals alike," Crary told the Courier. "We welcome reservations, which are required, and have recently seen a lot of bookings come through Angelenos enjoying a staycation at the hotel."
If your rooftop fantasy includes a morning view of the beach, Èlephante in Santa Monica is now open daily at 9 a.m. for brunch seven days a week. Some new menu items curated for this special occasion are ricotta hotcakes, banana bread and even a breakfast pizza. Since this new menu continues to 3 p.m. they have added canestri pasta with vodka sauce and a juicy burger.
Owner Nick Mathers, also of The Eveleigh restaurant on Sunset, took over the 2nd Street rooftop over the Laemmle Cinema in Santa Monica in 2018 and it's been a top westside nightlife and dinner spot ever since. The restaurant was named after the Arco dell'Elefante, a beautiful elephant-shaped rock structure just off the coast of Pantelleria–the island off the coast of Southern Italy and Tunisia which served as the inspiration for the food and décor. Relax on the deck made of Brazilian tiger-wood any time of day for a true ocean view and dreamy escape during these times.