It may seem as though personal care services are beginning to reopen steadily but indoor activities are still extremely limited, or prohibited due to COVID-19 restrictions. This includes gyms, spas and estheticians. Fortunately, many local companies are taking their brands up to the open-air rooftops where exercise, pampering and socially distanced wellness activities are not canceled.
While hair salons can now open at 25 percent capacity, and you might be thrilled to reunite with your stylist, many of the other beauty industries are still left in the lurch.
Spring Place in Beverly Hills has decided to hold some pampering pop-ups on their rooftop space on Wilshire Boulevard. The first one in September was with Flybrow guru Suzie Moldavon, who started the business by making "office calls" to tame the brows of busy working women all over town. It was such a success that they have already booked the next event for Sept. 23, and more will follow in October.
"Since women don't go to their offices anymore, we've had to come up with new ways to still be in varied neighborhoods all over LA.," Moldavon told the Courier. "We've had to pivot and adapt as rules and regulations in the beauty industry have dictated. We've found new partners with similar clientele and a desire to try to reinstate some sort of self-care and 'normal' back into people's lives," she said. www.flybrow.com/
Hot 8 Yoga, with branches from Pasadena to Santa Monica, has been holding virtual classes during the COVID-19 fitness shutdowns, but has started offering outdoor classes since late-August in locations including Beverly Hills.
The instructor-led, 60-minute group classes are physically distanced on outdoor terraces. They are still providing mats, towels and all the props to clients, but you must bring and wear a mask at all times. Book a single class or commit to a package of five to ten outdoor sessions. For more information on the Wilshire location schedule in Beverly Hills contact info@hotyoga.com.
Speir Pilates of Santa Monica was set to open its second studio in West Hollywood this past March on Santa Monica Boulevard and King's Road. Now you can work out on one of their five rooftop machines overlooking the Hollywood Hills with owner Andrea Speir, who is also an instructor.
Kickstart your day with reformer classes or wind-down with a sunset evening class. "We wanted it to be very spaced out," Speir told the Courier, "So there is a distance of 7 feet between machines. You're on our own little island so it's very safe."
Even with the unhealthy air-quality of late, Speir has not seen much of a slow-down as none of the classes take place in the middle of the day. "We have actually been selling out about two weeks in advance," she said. "This is a great way to be back in the community again with human connection and interaction with a safe distance." www.speirpilates.com/
To work out a few of those kinks from all the new exercise classes, The Peninsula Beverly Hills has been offering rooftop massages, along with highly coveted manicure-pedicures, in cabanas. Anyone in town is welcome to book, including non-hotel guests through spapbh@peninsula.com.
And, the hotel has been experiencing so many guests who want to work from the rooftop cabanas, they have updated services in place that includes Wi-Fi, and Apple TV where guests can connect their laptop and have a mini-meeting, take appointments, give small presentations with up to four people. Cabanas run $450 during the week and include a non-alcoholic stocked fridge and on-demand waitstaff from the Roof Garden restaurant.
Known for networking with powerful women from Diane von Furstenberg to JLo, The Allbright women's members' club has recently reopened their West Hollywood location, along with the newly redesigned outdoor rooftop space by lauded "Architectural Digest" 100 designer Brigette Romanek.
Overlooking Melrose Place and the Hollywood Hills, the space will supply the backdrop and stunning views for yoga, sound baths, cooking and cocktail masterclasses, workshops, and dining on spicy tuna wonton nachos or vegan poke bowls with watermelon.  The club has also just launched a new wellness center, Dr Refresh, that will include vitamin drips and other facial services and cosmetic treatments.
Prospective members can visit the club and check out the programming before signing up or you can opt for a free two-week trial digital membership to check out the weekly activations. www.allbrightcollective.com.
Tennis anyone? The Luxe Hotel on Sunset Boulevard has opened its tennis courts, on the upper level of the parking structure, previously for guests only, to the public. According to executive manager Sarah Clark, "I have had a few tennis instructors also use the tennis court to bring their own clients to train them."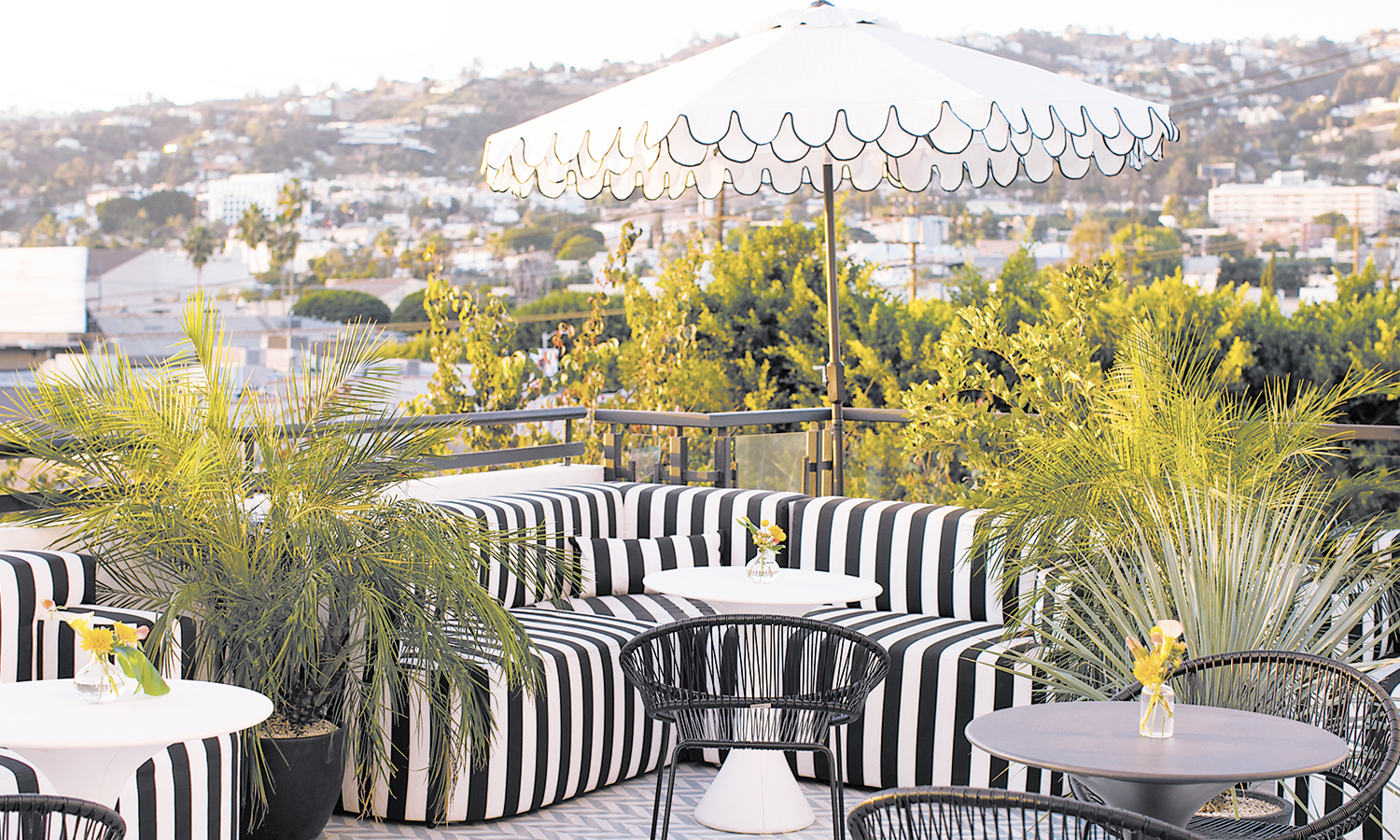 You can also arrange a class with Natural Pilates of Brentwood who has set up their outdoor studio in the parking lot with tents. "It's a beautiful and welcoming atmosphere that their clients and our guests have really enjoyed," Clark told the Courier. "They are also hosting a yoga retreat in October."
For something a little more entertaining on the upper level, the Luxe Sunset is also offering monthly date night or family night movies for up to 25 cars. You can order food on your cell phone and have it delivered,  from popcorn and candy to cult favorite Pizza Wagon of Brooklyn, lobster rolls, Caesar salad, cocktails or wine.
"With every movie we show, we curate the menu and create a memorable experience with fun treats and small takeaways," said Clark. "This has been a popular neighborhood activity, and where else can you go in your pajamas for a night out?"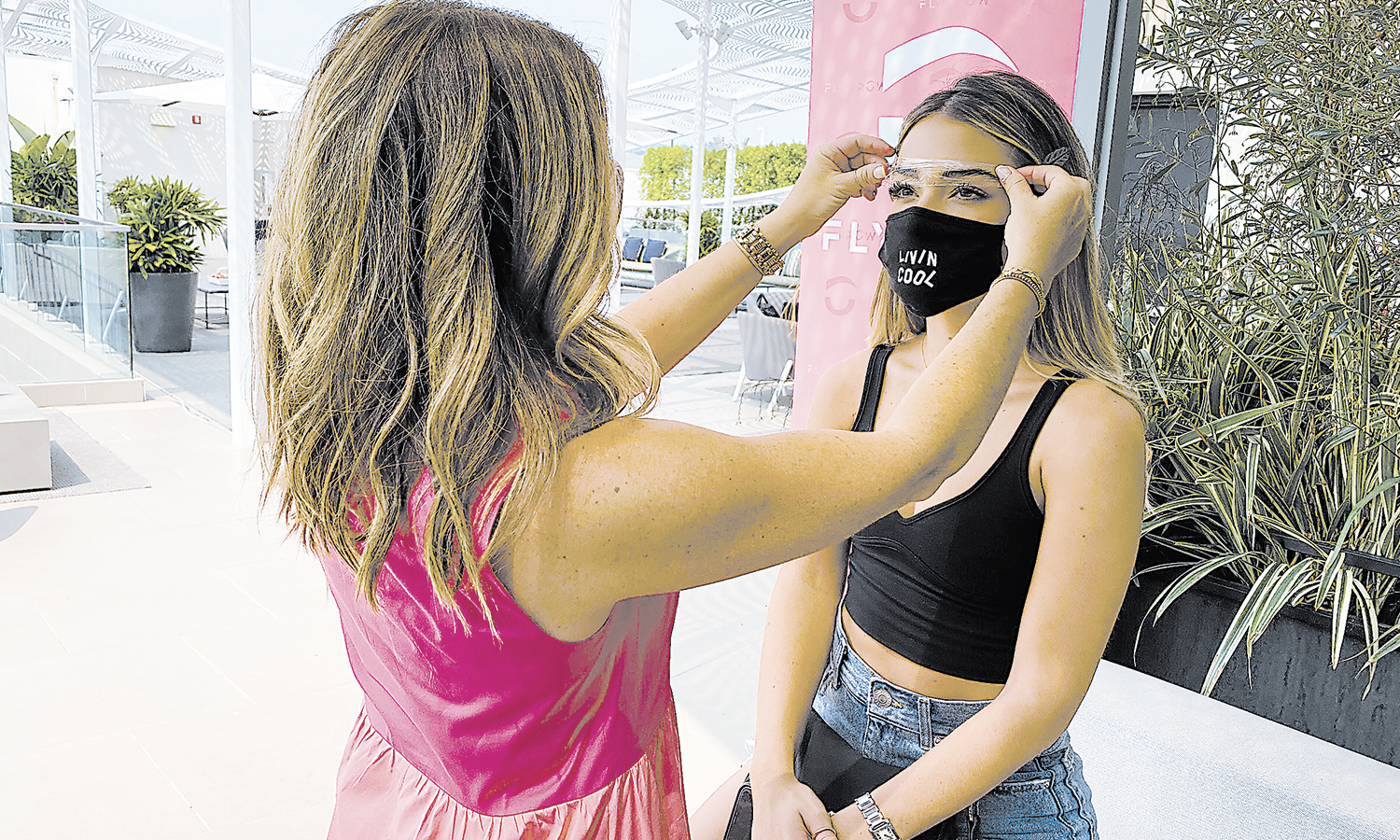 For Pilates on the Westside before a little shopping or lunch, The Studio (MDR) has set-up on the roof of the PLATFORM in Culver City.
The classes started at the end of August and will be ongoing until further notice. "The Studio (MDR) doors have been closed since March 15th due to Covid-19," co-founder and CEO Lisa Solomon told the Courier. "State and County guidelines are now allowing fitness studios to open outdoors, so we were very excited for the opportunity to partner with them. We have our regulars and many new faces filling up the classes, which is very exciting," she added.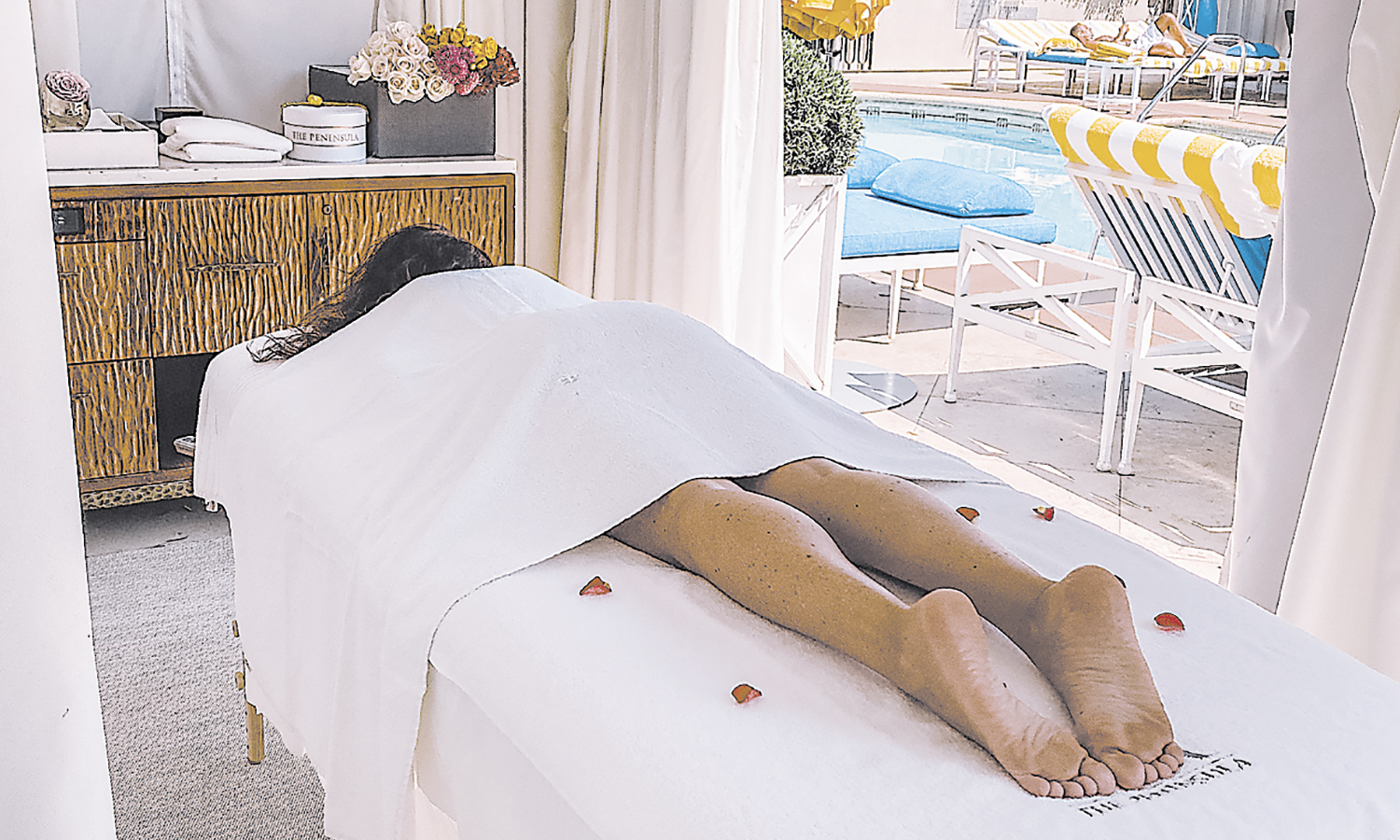 Classes are 45 minutes seven day a week from 7 a.m. to noon and with high demand, signing up beforehand is highly recommended. "We have smaller machines than we do in our normal studios.  Microformers vs. Megaformers, which work perfectly with the outdoor setting and are 8 feet apart to adhere to social distancing guidelines. Clients still get the signature (MDR) Lagree workout but in an open-air setting."  www.thestudiomdr.com
If you're planning to attend any of the L.A. Design Festival installation kicking-off on Sept. 24 at the ROW in DTLA, the outdoor complex is also offering morning yoga classes on the roof with a cityscape view from Sanctuary Fitness. https://sanctuaryfitness.com/
And, if you are missing your weekly Soul Cycle spin classes, newly formed SoulOutside offers options at Santa Monica Place and Olive Street downtown L.A. locations. www.soul-cycle.com/soulconnected/souloutside
For an overnight rooftop getaway, The Beverly Wilshire will be reopening on Oct. 1 and has set a new bar for a glamping staycation on its expansive rooftop. Accessible through a wrought-iron staircase off the Veranda Suite, a 10-foot-tall tent awaits complete with a Four Season's queen-size bed, a crystal chandelier and fur rugs. This romantic escape above Rodeo Drive includes a fireplace on the terrace for sipping cocktails before the eight-course meal with Ossetra caviar and wagyu beef, followed by 24-karat gold s'mores or a Champagne flight. Greet the morning sunrise with a private yogi-session that can also be arranged on the private terrace. Only in Beverly Hills.