Red Carpets, press junkets, award shows and production schedules have all changed. But, fashion abides. The Courier spoke to two of the town's hottest stylists about trends, predictions and adapting to the new normal. 
When life as we knew it came to a screeching halt in March, Mariel Haenn figured out a new way of working. 
Haenn and her partner Rob Zangardi have created iconic style images for the likes of Jennifer Lopez, Gwen Stefani, Hailee Steinfeld, Cara Delevingne, Ciara, Rachel McAdams and Lily Collins, among others. 
For J Lo alone, the duo styled campaigns this year for Versace, Coach and Guess; her acclaimed film role in "Hustlers" and Super Bowl halftime performance, which garnered 100 million viewers. They collaborated with Donatella Versace on Lopez's studded leather bodysuit, chaps and pink skirt, and did the wardrobe for the entire halftime show. The feat involved 230 costumes in six minutes. 
The skill at transforming clients into fashion icons has earned Haenn and Zangardi a spot on the Hollywood Reporter's prestigious "25 Most Powerful Stylists" list for several years in a row. In March, the publication named them one of "Hollywood's Top 10 Power Stylists of the Decade." 
Haenn told the Courier that although life now is different, the show must go on. 
"We have clients that were supposed to be on worldwide press tours. Lily Collins is doing a show for Netflix about fashion called 'Emily in Paris.' We were all super excited to be doing the press junket. But, now she's doing it via Zoom. So, that's a letdown. But, it's part of the reality we all are adjusting to," said Haenn. 
The red carpet is what Mikiel Benyamin misses most during the pandemic. 
The 26-year-old stylist, who also goes by Maikeeb, is known for his high-fashion streetwear aesthetic. The trade press has fawned on him as a wunderkind and for good reason. When he moved to the U.S. from his native Egypt at age 11, he spoke more Arabic than English. By his early twenties, he was working with Cardi B, gaining instant acclaim for her "Bodak Yellow" video. 
"Right now, we have a situation where there is definitely no glam in the red-carpet sort of way. But we have shifted to digital. When premieres take place or when one of my girls have movies or TV that they're doing, the promotion has all shifted online," Benyamin told the Courier. 
Awards shows–a fashion mainstay of the fall and winter–remain uncertain. 
"A few music awards shows are on the books, and other shows have been pushed back. I don't think anyone knows yet how the big shows are going to proceed," said Haenn. 
The Sept. 21 virtual presentation of the Emmy's met with mixed notices but did score a few hits, fashion-wise. 
"It was really nice to see the ladies and gents who decided to keep the usual glam of the night. Tracey Ellis Ross, Zendaya, and Regina King we some of my favorites and I'm also proud to call their stylists friends. Not all decided to go for the glam, but it was also nice to see people's family and home as the backdrop of the evening," added Haenn. 
She noted that production in general is picking up, albeit in a limited manner. 
"We've shot a few music videos, shot a few campaigns. Everyone needs to get tests and wear a mask," she said. 
Some superstar clients continue to work steadily, with small crews and no live audience. Other clients are appearing on TV from home, so their "look" must focus on the waist, up. 
"Oversized blazers and shoulders and shirts are trending, but that's not the best for doing waist up. So, I'm finding interesting tops and beautiful earrings for my clients' press junkets. I said to one of them that earrings are the new shoes, because now that is what's completing the outfit," said Haenn. 
She is fitting her clients in a socially distanced manner, as well. 
"We're doing Zoom fittings, or dropping off racks of clothes, then the client will mark where they have to be adjusted. We pick them back up to do alterations. It's a remote way of styling," said Haenn. 
Overall, she finds that mindfulness is the mantra of the moment. 
"I think the feeling with all stylists and their clients is that no one wants to be too over the top," said Haenn. "Not too glam. We're keeping in mind what's going on in the world. Everyone is also more aware of how much they're consuming and how much they spend. When we do a shoot now, instead of me, my partner and assistants, the production size is much smaller. Fewer people are involved, with less contact."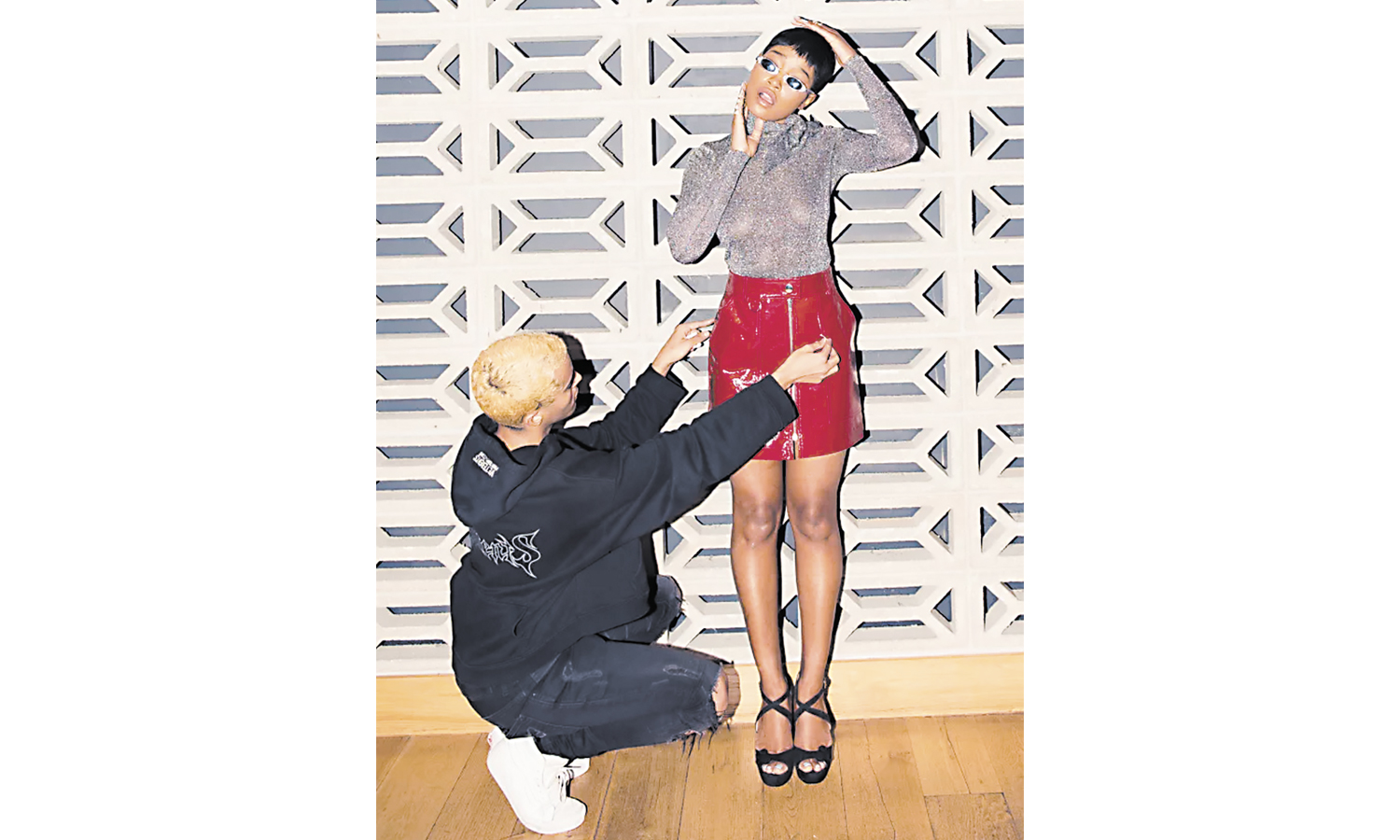 "Fashion goes on," she said. "But, it's much more important to acquire items that will stand the test of time now. You want to have good pieces in your closet. You don't want to buy anything too trendy." 
Haenn added, "Imagine if you bought a bunch of trendy things at the beginning of the year. You'd have nowhere to wear them now." 
Benyamin says his clients don't want to be seen as partying these days anyway. 
"My clients don't want to be associated with anything irresponsible or unsafe. The paparazzi still follow them around constantly. Every one of my girls wears masks, even if just picking up coffee," he said. 
Of course, celebrities can set fashion trends even when simply picking up coffee. And online sites that follow celebrities in their day-to-day life have surged during the pandemic. 
"Social media is the only way to see what people are wearing when there are no red carpets or live events. It's all about Instagram right now. It can set immediate trends," said Benyamin. 
Hot at the moment, he notes, are quilted gold chain bags by Bottega Veneta and South of France summer looks from Jacquemus, the fashion label with prints that recall classic French cinema. 
"Jacquemus designs are always so anticipated. His mini bags have been just recreated this season. Instead of all leather, they are using new shapes and fabrics that will be extremely popular," said Benyamin. 
And, this season's statement pieces come in small packages. 
"Louis Vuitton has just come out with a special jewelry piece in earrings and small chain necklaces. It's called the LV Volt. Everyone who is a top tier girl is wearing it on Insta," said Benyamin. 
He defines "top tier" as Kylie Jenner, Hailey Baldwin, plus his own clients, actress-singer and "Hustlers" co-star Keke Palmer and actress Bella Thorne. 
"Something else that just came out is another must. MCM thigh-high boots. Mary J. Blige just wore them in New York, and they made a really big splash," said Benyamin. 
For her part, Haenn is always on the lookout for up and coming designers. 
"That's how we keep our clients on the cutting edge. Sally La Pointe is a favorite. She does polished business dress-up and also casual clothes. Her color palette is incredible. She's a good fit for Jennifer Lopez because she does full monochromatic looks," said Haenn. 
For this fall, Haenn says suiting is popular, with different silhouettes. 
"Suits with flair using typical fall materials, but a little bit more shine are big. Bulky sweaters and oversize are also happening this fall. And everyone has gotten so good with faux fur," said Haenn. 
Both Haenn and Benyamin always have their eye on legacy brands that reinvent themselves creatively. 
"Some brands are incorporating a style and aesthetic that is way trendier than what they were previously known for. Look at Coach. It maybe isn't on everybody's list of hot brands, but it's important to pay attention to things that aren't what we expect," noted Haenn. 
"Stuart Vevers (Executive Creative Director) at Coach has launched the ( Jean-Michel) Basquiat collaboration. They did a really good job. The pieces are classic. Stuart did an amazing job incorporating Basquiat, whose work as an artist was so incredibly well-known. And their coats and outerwear are so luxurious," said Haenn. 
For Benyamin's clients, wearing vintage is one of the biggest trends in the last six months. 
"The top tier girls that I style are really into vintage Chanel right now. Chanel swimwear. Chanel tops, two-piece mini dresses. Vintage Dior is also huge, especially anything from the John Galliano era," said Benyamin. 
"What is so cool now is that the biggest classics are making a revival. In the last six months, Dior saddle bags, any color, have made the biggest comeback. They were a classic of their time, and the brand is reproducing them," said Benyamin. 
Dior's kidney-shaped Saddle Bag was the IT-girl accessory in the early 2000's thanks to Sarah Jessica Parker's "Sex and the City" character Carrie Bradshaw. Interest resurged after Beyoncé was spotted wearing one a few years ago. Dior decided to bring back the bags in 2018. 
"Gucci has also gone in a very specific direction, as has Balenciaga," said Haenn. They have both figured out a more streetwear look. It's all about coming out with a hot new bag, T-shirts or sunglasses. They've found ways to stay modern."
Both Haenn and Benyamin felt bittersweet about New York Fashion Week, which was held virtually last week. "The virus happened in the midst of them creating these collections. It was interesting to see who stuck to more casual wear, because people are staying at home," said Haenn.
"If you're in this business, you go to Fashion Week. 
Normally, my girls would all be in the front row. It's always good to see the designers we've worked with for years, and talk about our favorite looks, said Benyamin. 
Instead, he caught up virtually, taking in shows by Christian Siriano, Christian Cowan, (a Cardi B favorite) and MONSE (the luxury label founded by the Creative Directors at Oscar de la Renta). 
"Traveling to Fashion Week, especially to Milan or Paris, was always such a fun part of this business. But, in a blink of an eye, it was taken away," said Benyamin. 
"We have adapted, though. There have been some red carpets in Europe, but they're quiet. Only select people fly in. Everything else is online," he added. 
"Everybody's fashion needs are so different right now," observed Haenn. "But the truth is, everyone is still going to be interested in designers and what they are showing in their next collection. People will always look to fashion as a way of escaping the fact we're unable to dress up and go many places right now."