Beverly Hills has unexpectedly become a central hub of protest in the last five months. While some protests seem to target the community for its wealth and privilege, other demonstrations seem unconnected with the City itself. Since civil unrest broke out following the death of George Floyd in Minneapolis, reigniting the Black Lives Matter movement and sending tens of thousands of Angelenos to the streets, Beverly Hills has seen looting, civil disobedience, rallies, and marches on a near weekly basis. During this time, the City has halted enforcement of its usual regulations regarding parades and assemblies.
But on the precipice of Election Week, the Beverly Hills City Council has amended its Urgency Ordinance to include new provisions on assemblies in the City. Concluding a marathon seven-hour Regular Meeting that started on Oct. 27 at 7 p.m. and went until 2  a.m. the next day, the Council placed new restrictions on large gatherings in the City that will go into effect on Nov. 4. The ordinance includes restrictions on the time and place assemblies can happen.
"We have tried to draft an ordinance that attempts to balance the first amendment rights to demonstrate with the physical and fiscal impacts on the police department and the City," said City Attorney Laurence Weiner.
The ordinance designates three locations as "favorite assembly locations" where crowds of less than 500 could demonstrate without a permit or a fee. These include Beverly Gardens Park between Crescent Drive and Rodeo Drive, La Cienega Park, and the west side of City Hall adjacent to Crescent Drive.
The ordinance also addresses the matter of residential protests, which the City experienced over the summer. In response, the City adopted regulations that limited assemblies in residential neighborhoods after 9 p.m. and before 8 a.m. The current ordinance takes these rules a step further, limiting such gatherings starting at 30 minutes after sunset or at 7 p.m., depending on which comes first.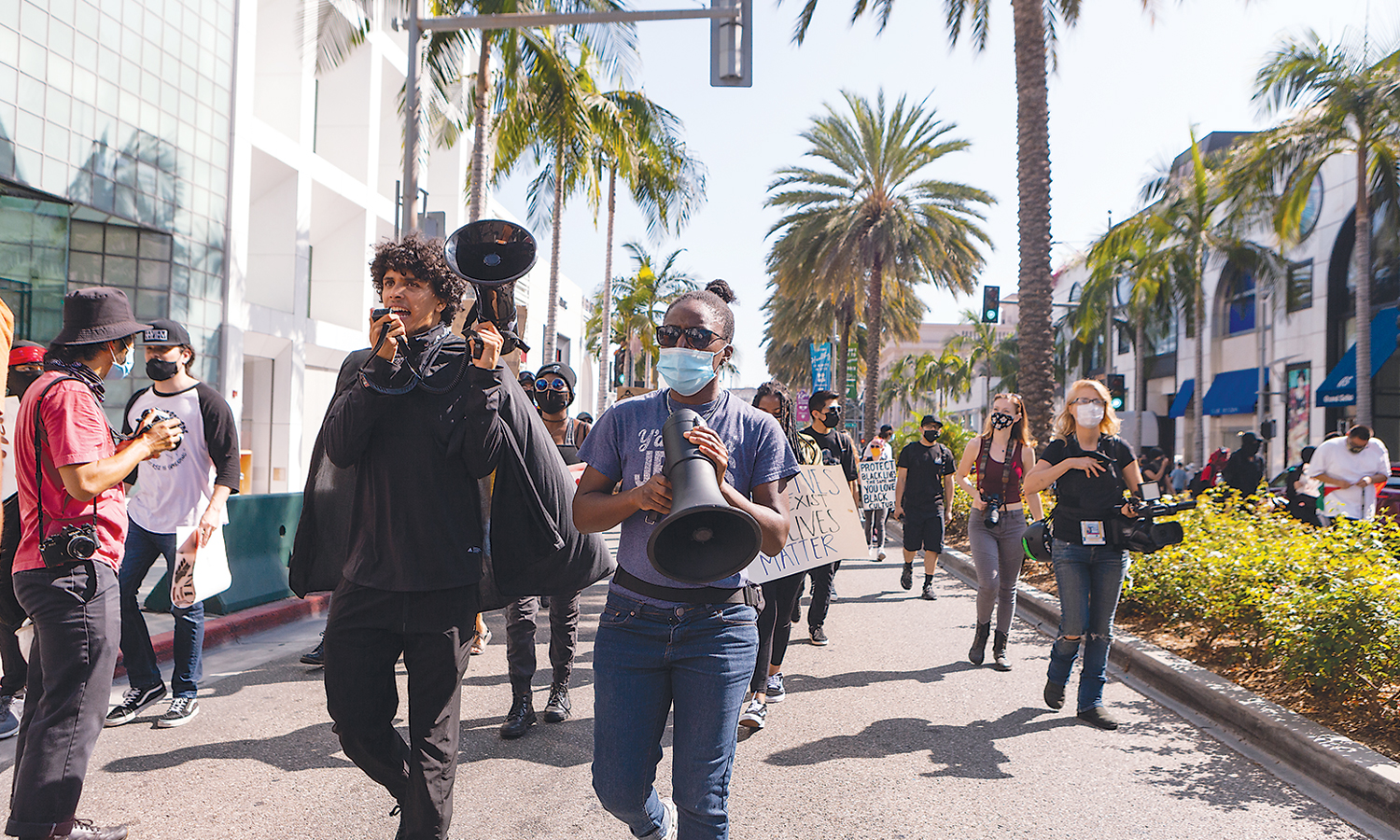 "It's our responsibility to help make our community feel safe and our residents feel safe," said Councilmember Lili Bosse, voicing support of the earlier cut-off time. "In my mind, there's no reason whatsoever that we should be having anybody protesting in the residential areas at all."
Weiner cautioned that earlier limitations would make the ordinance more susceptible to legal challenge. Even if someone had not been subjected to the ordinance, they could launch a "facial challenge" to the ordinance, he said. "Someone could say, I cannot protest the way I want to protest because of this ordinance, because of x or y or z," he said.
"My instinct is, and I've talked to an awful lot of people about this, and they're nervous," Councilmember Dr. Julian Gold said. "And I think that anything we can do that is protective, is something we ought to do. I personally would be willing to take the chance that this would be challenged."
The ordinance additionally prohibits protests that target a specific home or residence in the City and "proceed solely in front of that residence for a period of more than 15 minutes."
If an organizer underestimates the number of attendees the first time they hold a demonstration, the City will give them a pass. But if that same organizer neglects to apply for a permit the second time, Weiner said the City would enforce the ordinance.
Beverly Hills Police Department (BHPD) Interim Police Chief Dominick Rivetti said that the ordinance gives law enforcement useful tools to deal with any potential demonstrations going forward. With the ordinance, BHPD officers will have the option of declaring an unlawful assembly and clearing out crowds before any violent incidents, he said. "If we have to make arrests, we'll make arrests," he told the Council.
"The strategy that we have is trying to get people to voluntarily comply with the ordinance and comply with doing things in a lawful peaceful manner," said Rivetti. "But when they violate the law, then it becomes an unlawful assembly and then it switches over to a different situation where we can…disperse the crowd."
The ordinance includes new prohibition on items at assemblies, including skateboards; shields made of metal, wood, hard plastic, or glass; lasers; and gas masks or similar respirators. The ordinance also prohibits "any length of plastic or metal pipe, rod, or other object greater than one foot (1′) in length or greater than one-quarter inch (¼") in its thickest dimension." This would seem to apply to flag poles as well, of which there are no shortage at the weekly Freedom Rally.
The permit application forms are currently available online. Parties can book locations in advance without limitation, though Wiener said that the City could revisit that arrangement down the line.
The Pro-Trump "Freedom Rally" held on Oct. 24 drew its largest crowd to date of 2,500, by BHPD's estimates. The rally occupied the entire space of Beverly Hills Park and the City anticipates an even larger turn out on Oct. 31.
Councilmember Bosse raised the issue of what happens if two groups vie for the same space. Weiner explained that the City would try and accommodate both groups in the same area, as they have done in the past. When Beverly Gardens Park has seen counter protesters arrive in opposition to the Freedom Rally, the City has cordoned off the two groups on either side of the park.
"But ultimately, if someone else is occupying the space, and all the space is occupied, there's not really going to be anywhere for them," Weiner said. "I don't anticipate that happening. That's a possibility, I suppose."
A counter protest is currently scheduled to take place at Beverly Gardens Park on Oct. 31.