The holidays are upon us and yet we are still immersed in social distancing. In fact, we are not even supposed to mingle indoors with people outside of our household. With that in mind, and maybe a throw-back to dressing-up and playing fort in the backyard as a kid, luxe party tents are having a moment.
At some point in the past decade, all of us have huddled inside a large tent for a wedding reception. Now, the concept is taking on a more intimate scale. Personally curated tents are a new way of catering and entertaining during COVID-19.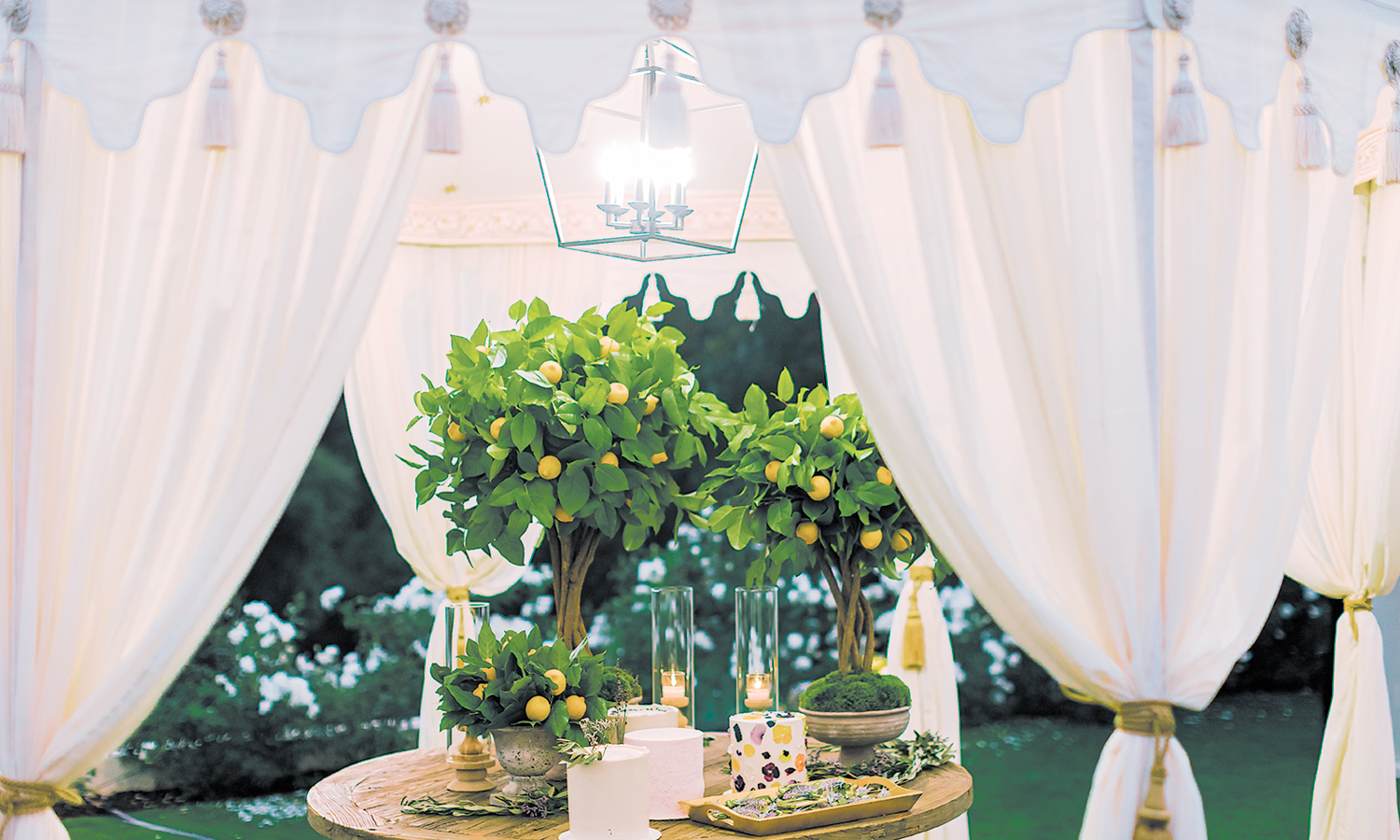 Raj Tents co-founder Maurice Walsh has been one of the leading tent providers for the past 15 years in Los Angeles, from Hollywood industry events to weddings by David Tutera. The pandemic brought larger scale events to a halt for Walsh's business, even outdoors.  "Since venues are history for now," he told the Courier, "small groups including micro-weddings in clients back gardens, is how weddings [and events] have been happening since this past summer."
The events include smaller, more sophisticated luxury tents, along with a collection of Indian and Moroccan boho lounge furnishing elements, lighting and lamps. "Most of the time my clients want to furnish my tents with suitable lounge furniture for their event," he said.
His Beverly Hills clients are now partying under small canopies at much smaller gatherings. "Instead of large-scale installations for a birthday party for 40 to 120 people, the events under my canopies are now with six to 12 guests," said Walsh. Raj Tents prices begin at  $950 per day and more information is available at www.rajtents.com.
WonderTent Parties actually launched in 2017 with a simple request for a sleepover. Owner Trish Healy and her husband had just fostered a 13-year-old-girl through non-profit charity Kidsave that connects older youth with families. After the teen requested the overnight stay with her friends, the company was born by initially offering glam, five-star, at-home sleepover and glamping experiences for kids and adults.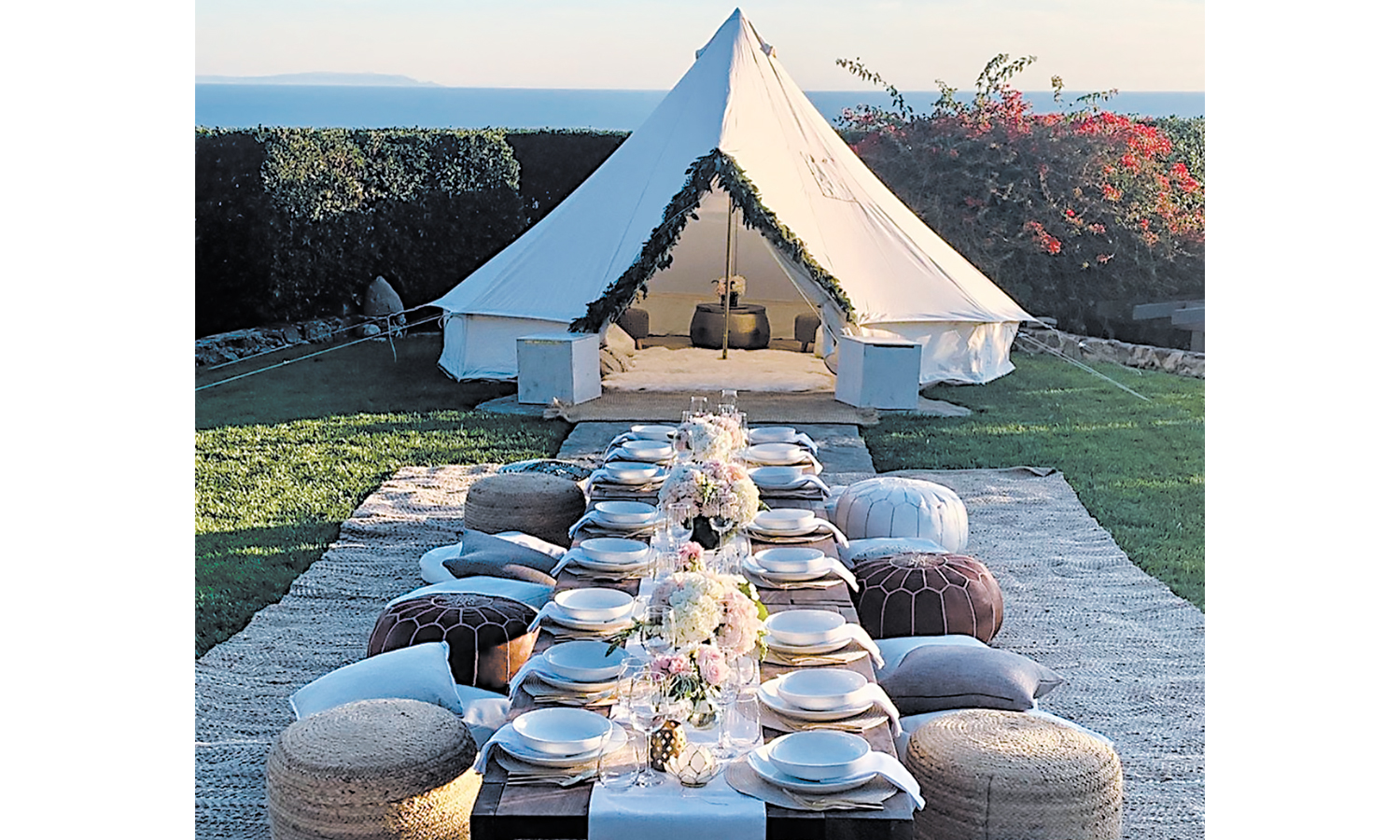 "Once lockdown opened up again, we introduced a series of socially distanced experiences such as the Picnic Circle, Dining Circle and Movie Circle that allowed for small groups of friends and family together safely while still getting to enjoy that connection everyone misses," Healy told the Courier.
The latest collaboration was partnering with celebrity chef Curtis Stone, transforming the rooftop terrace area of his new venture, The Backyard at Picnic Society by Gwen at the Grove. "We've extended the [tented] offering to deliver the experience to people in their own backyards with our beautiful dining experience or intimate Picnic Circles and Curtis Stone's amazing food," said Healy. "Aussies love a good picnic too so it's in my blood," said Stone. The team is currently working on creating specialty menus for unforgettable Friendsgiving, Thanksgiving and Christmas gatherings, either fully catered or in a picnic-basket.
As a way to honor her daughter's spark of inspiration, Healy created the "Good InTent" initiative, which donates a portion of the proceeds from each WonderTent Parties event to Kidsave to support the great work they do.
Healy also partners with a range of caterers to help people find the right fit for their celebration and budget. And clients can always enjoy their own food with the brand's dining setups.
"No matter what is happening in our city and the world, small groups are still wanting to come together in a safe and positive way," said Healy. "We want to make what has no doubt been a challenging year for everyone one that can still hold a little wonder."
Stone and his team wanted to create a safe and convenient way for individuals to find solace in the shared experience of simply enjoying a meal together. "The world has changed in recent months, and so has the way that we enjoy food and come together," said Stone. "I began thinking back to the stories of early 19th century gatherings of 'picnic societies' in Europe.  With good food and the right company, you can really make anywhere in the world your restaurant."
WonderTent Parties experiences start at $300 per table of six and can be booked at wondertentparties.com.
As a response to COVID-19 and the slowing of the restaurant industry, private chefs Manouschka Guerrier and Natalie Romero formed The Lemons Theory from the old adage "when life gives you lemons, make lemonade."
The business was launched just a few months ago after a birthday picnic on the beach with friends who hadn't seen each other in six months.
Those friends and colleagues, many from the entertainment industry, now gather with colorful cushions scattered on lawns with umbrellas for shade, and under lace tepees with Moroccan leather footstools.
Even though the teepees retain heat, there won't be as many beach picnics once winter arrives. The company will increase their movie night offerings, with one already planned in November at popular cocktail bar Employees Only in West Hollywood.
No matter the backdrop, every set-up from The Lemons Theory includes masks for the guests, hand sanitizer and social distanced spacing achieved by smaller tables, different tents and separate blankets if needed.
Other perks include individual smores stations and fire pits. Space heaters, a standard offering from party planners,  can also be ordered. For an upcoming event in the Hollywood Hills, a masseuse is also on the menu, along with safety measures. "This is a way for people to gather and get together now but we need to be cognoscente of not hosting a super spreader event," confirmed Guerrier.
"We decided to take a backseat as chefs and to get the food from restaurants we love in the geographical locations of our events," said Guerrier, who was a cast member on the Food Network's "Private Chefs of Beverly Hills," and has clients from Drake and Ariana Grande to Selena Gomez.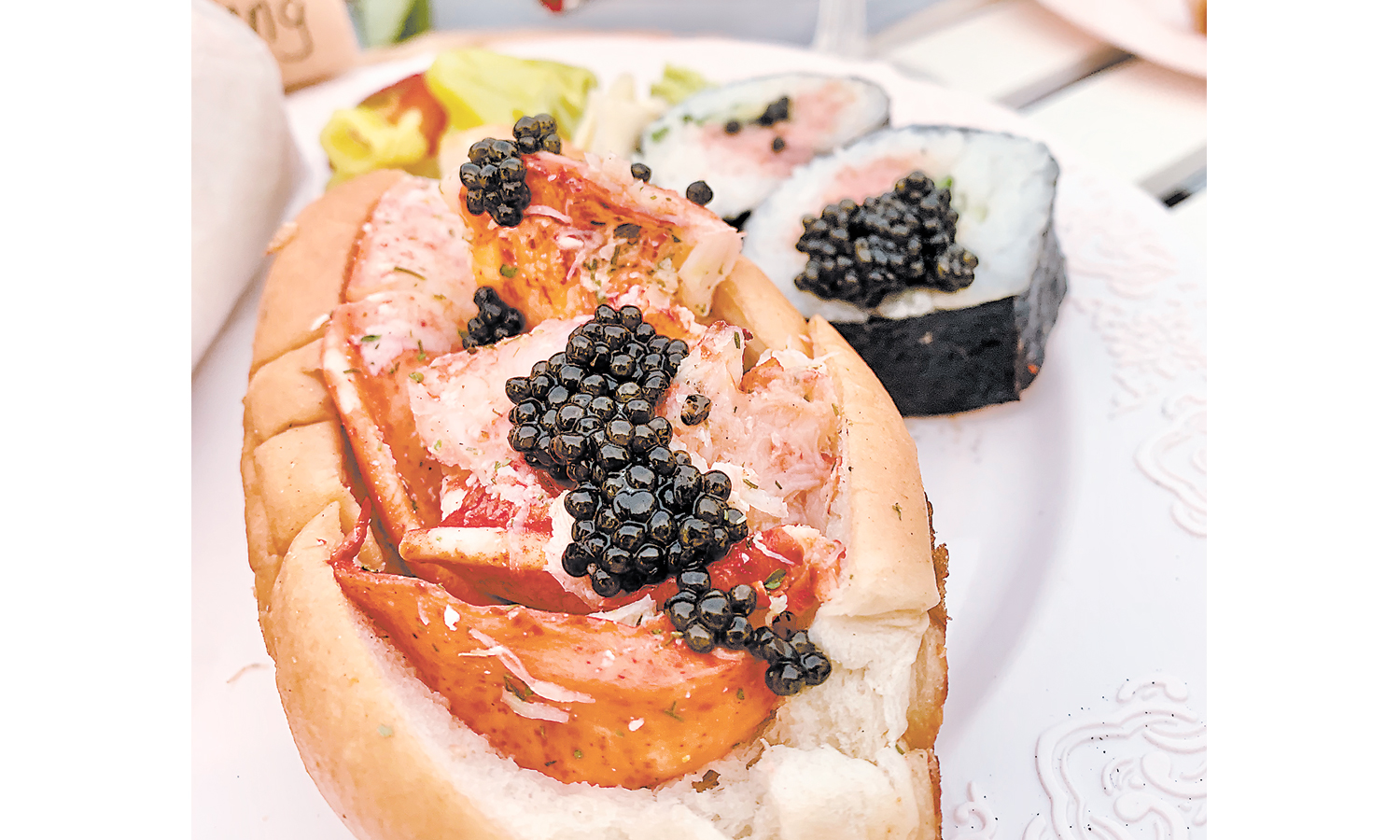 "People trust our palate, and they discover new restaurants," added Guerrier. Some of the restaurants and ghost kitchens they frequently support include Vietnamese from Phorage, sushi from Sugarfish, Secret Lasagna, Roe Caviar, healthy fare from Kreation Organic and even Cannabis Cuisine by Chef Andrea Drummer (formerly of Lowell in West Hollywood.)
When they do cook, Guerrier makes food from her Haitian roots that honor her grandmother while Romero focuses on grazing boards with the city's best charcuterie, vegan cheese, pickles, olives with French lemonade flowing and bundles of fresh flowers to top off the table settings.
Clients can also bring their own food to the party but Guerrier designs the look of the event, whether it's for a date night, movie night, baby or bridal showers. Their latest event was a fall-friendship gathering of college friends who hadn't seen each other in seven months.
And, they are eliciting a range of emotional responses from these gatherings as well. "There has not been one single event, where someone is not crying at the end because they are so happy, grateful or overwhelmed," said Guerrier. "It's an amalgamation of everything that's going on from the setting, weather, food and friends, and it's pure joy." Packages start at $125 per person, with more information listed at www.thelemonstheory.com/.
If you're feeling adventurous  this holiday season, the Courier has recently discovered that the glamping tent on the roof of the Beverly Wilshire was purchased from Shelter in the Bay Area. https://shelter-co.com/. So, you can order your own tent and put together a family fete for yourself, but it still might be best to call in a professional. Either way, you might find yourself saying "pass the gravy" on Thanksgiving from your backyard
this year.