Sir Ringo Starr is a global icon. Undeniably one of the greatest drummers of all time, Ringo connects and comforts the world with his music, his art and his unifying message of peace and love. Knighted by the Duke of Cambridge, Prince William bestowed the honor on Ringo in March of 2018 for his "services to music." With his unique style, Ringo transcends the boundaries of generations, cultures, countries, and political and religious beliefs by spreading his message through his artistry and his philanthropy. As a City and as a community, we are blessed that this world renown ambassador of peace and love chooses Beverly Hills to be his home.
Richard Starkey, a lad from Liverpool, was born on July 7, 1940 in his parent's home in Dingle, on Madryn Street. Four years later, his father, a bakery worker, left, abandoning Richard and his mum, Elsie. Life was further challenged when Richard was diagnosed with several illnesses due to complications from an appendectomy and tuberculosis resulting in extended convalescent stays in children's hospitals. This is where he first realized he loved drums. The staff would come around the hospital with a variety of instruments for the children. Richard would not participate unless they gave him a drum. About the same time, his mother remarried Harry Graves, who encouraged Richard's interest in music.
A few years later, Richard was introduced to skiffle music, music played with substituted household objects, and was invited to join a band called the Eddie Clayton Skiffle Group.  At age 17, he received his first real drum kit for Christmas, a right-handed player kit, even though he was left-handed.
Rory Storm and the Hurricanes was his next band. Against his parent's wishes, he forfeited college, at Riverdale Technical College, when the band was offered a three-month gig at the Butlins holiday camp in Wales. In Liverpool, his friends called him "Rings" because he wore a lot of rings on his fingers. He took a liking to the name and started answering to Ringo Starkey. Eventually he felt the name did not fit quite right. He dropped the "key," added an "r" and Ringo Starr was born.
While playing with Rory Storm's band in Hamburg, Germany in 1962, he received a call from Brian Epstein, the Beatles manager. Brian wanted to know if Ringo could fill in for their drummer, Pete Best, the next night. Ringo was booked, but offered the following Saturday. On stage that night, the instant the band began to make their sounds, Paul looked at John and at George about the drummer playing behind them.
They nodded to each other; they knew "he's there," confirming Ringo's position as the Beatles drummer going forward.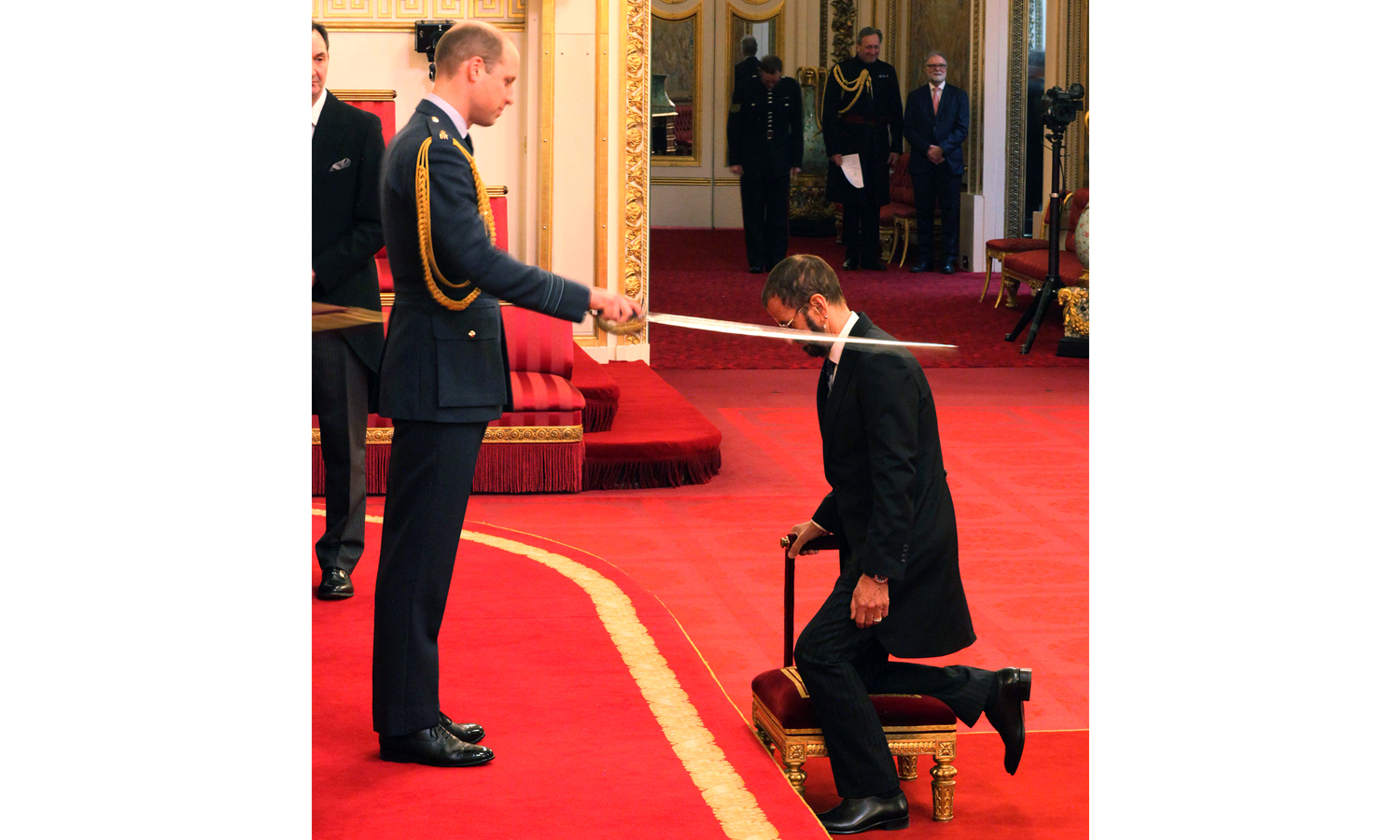 In February of 1964, during the Beatles first trip to America, 73 million viewers watched them on the Ed Sullivan Show, a moment in time that changed the music world forever. But the fanfare did not affect these four small town Liverpool boys as they shared two hotel rooms for the entire American trip. "I love Ringo" lapel pins were the best-selling Beatles merchandise. And the Ludwig drum company quickly boosted sales to 13 million after Ringo displayed the American company's logo on his bass drum during the Ed Sullivan performance. Today, Ringo's gifted gold-plated Ludwig Super-Sensitive snare drum is exhibited at the Metropolitan Museum of Art in New York.
In 1971 after the Beatles broke up, Ringo began his unprecedented run as the first solo Beatle to score seven consecutive top 10 singles including: "It Don't Come Easy," "Back Off Boogaloo," "Photograph" and "You're Sixteen (You're Beautiful and You're Mine)."
In addition to being one of the world's brightest musical luminaries as a singer, songwriter, drummer, collaborator and producer, releasing 18 solo studio albums to date, he is also a talented actor, author, photographer and painter. He is proud of his many awards and honors including: an Academy Award, an OBE Officer of the Order of the British Empire award, a Daytime Emmy nomination, as well as a BAFTA nomination and a star on the Walk of Fame. He has won nine Grammy Awards and has had 27 Grammy nominations. Most of his album titles reflect his life philosophy such as: "Choose Love," "Give More Love," and "Stop and Smell The Roses." In June of 2013, the Grammy museum opened "Ringo: Peace & Love," a record-breaking attraction and the first major exhibit to focus on a drummer. In September of that year, Ringo was awarded the prestigious French Medal of Honor, being appointed Commander of Arts and Letters in recognition of his musical and artistic contributions. Among his vast acting roles, he is probably most pleased to have starred in 1981 in "Caveman" with the beautiful actress Barbara Bach, with whom he fell in love and married.
Ringo is the father of three children, Zak, Jason and Lee Starkey, from his first marriage to Maureen Cox, and the stepfather of Barbara's children, Francesca and Gianni. Add grandfather and great-grandfather to the portrait of his growing family and it's easy to see why Ringo is very proud.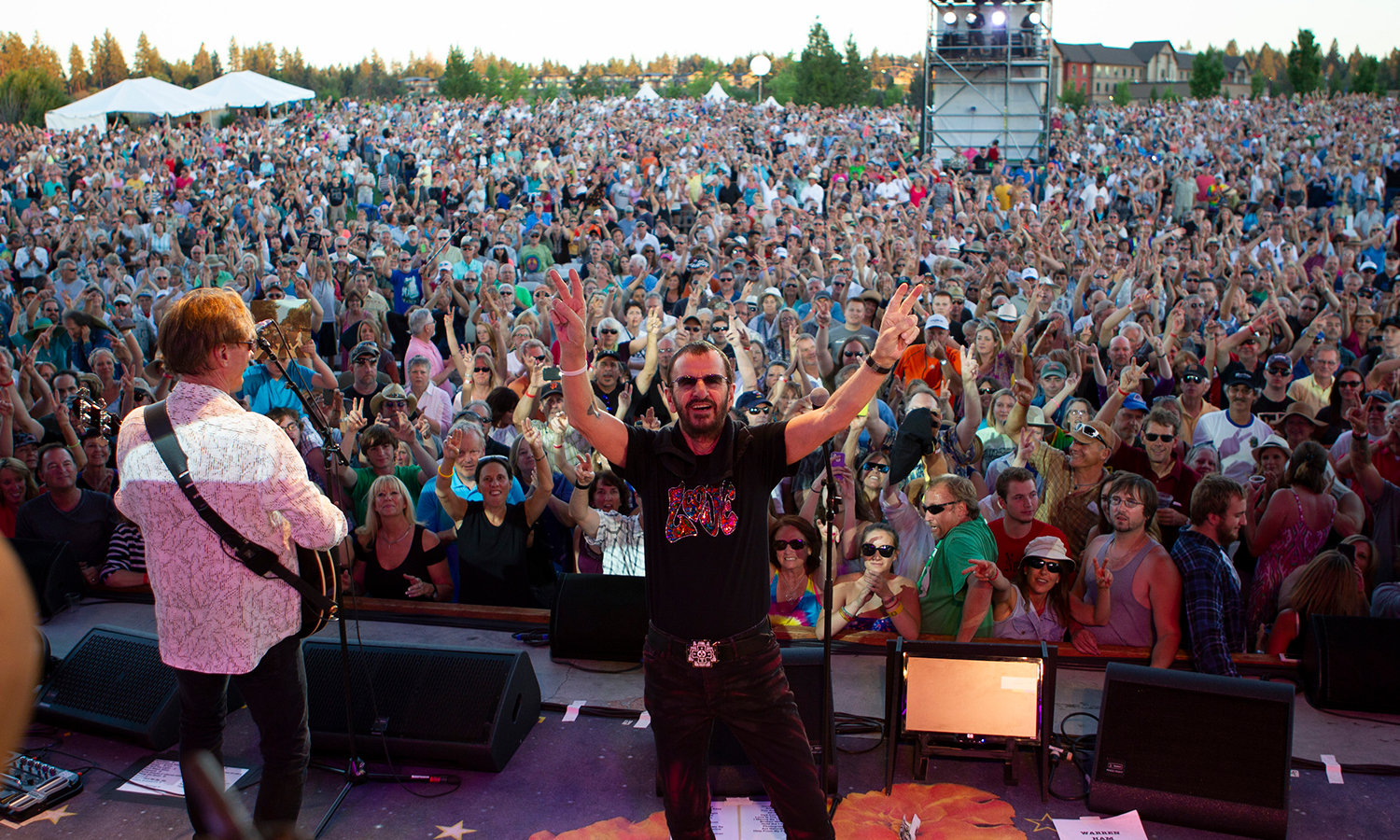 He's often asked, "Where were you the day John was murdered?" "In the Bahamas on holiday," he shares. Ringo was stunned and devasted as everyone was around the world. He immediately flew to New York to see what he could do. But, of course, there was nothing.
Ringo has shared that the Beatles once were offered 50 million dollars for one 25-minute reunion gig. Sadly, it never happened.
When asked what would he have been, if he didn't make it as a drummer? He answers, "A drummer." He knew at 18 "this is going to be my life." Known for his distinctive drumming sequences as they are near impossible to duplicate, he attributes it to his emotional style. His drum fills are also remarkable. Most often one can listen to a Ringo drum part without the music and still identify the song.
Behind his recognizable shades are Ringo's penetrating blue eyes. He exercises regularly, calls himself a vegetarian and enjoys taking walks in the neighborhood. A student of Jainism, an ancient religion from India, he meditates daily and believes "that the way to enlightenment is through absolute focus on peace and love and non-violence towards all living things."
On a personal note, before the pandemic, from our Courier offices we often watched the droves of people and happy awe-struck school children drawn to Ringo's hand sculpture in Beverly Gardens Park. Their magnanimous reactions were always a sight to behold.
We happily celebrate Ringo's one-year anniversary of his artwork, a gift to our City, and applaud his keen awareness of a hand gesture, adopted in 1969, that universally conveys the importance of his healing message. It's timeless and essential in our world today.
Following his "Knighthood" investiture, on the grounds of Buckingham Palace, Ringo shared with the British news services, "It's an honor actually. It means it's a recognition of what I've done in music and in life." When the interviewer brought attention to the embossed insignia on the box encasing the highest-ranking Order of the British Empire award, "Sir Richard Starkey, Beverly Hills, California," Ringo shrugged, "That's where I live!"
Those who know Ringo well share that beyond his extraordinary talent, he is easy going, quick witted, passionate, straight forward, funny, and generous. Most importantly, he follows his heart in everything he does.
We are very fortunate that between his philanthropy work, his time spent painting, his authoring another book due out this Christmas, and his days creating new music in the studio, he was able to carve out the time for this rare conversation.
John Lennon got it right when he wrote the song in your honor. Ringo, you are "The Greatest."
As an iconic musician of the 20th and 21st centuries, you can live anywhere on the planet. We are honored that you have chosen Beverly Hills as your primary home and your community for the past 28 years. What is it about Beverly Hills that you like, that you "love," and that you connect with?
I love California – and I always have. From my first visit here – I just loved Los Angeles and California. The warmth, the sun, the light and the attitude, it is so great, this casual laid back and easy-going lifestyle.   
The world renown rock 'n' roll photographer Henry Diltz shares "our two biggest senses are hearing and seeing. Music and photography go together." He believes you are "a really good photographer with a unique eye."  Within your photography portfolio, there seems to be a fascination with objects, animals, people, flowers, moments in time, and peace and love signs. You once said "I love to laugh. And my art keeps me entertained." As the co-writer of "Photograph," a song about the power of the image, please tell us about your love for taking pictures?  And can you explain and cite an example or two?
I have had a camera since the sixties and I love taking photographs. I take images of anything that attracts me – I've got a whole series of just empty plates, and the funny and interesting patterns after a meal that can be randomly left behind.
As a beacon of philanthropy, you, along with your wife Barbara, have founded the Lotus Foundation. All proceeds of your art work are donated to: substance abuse, cerebral palsy, brain tumors, cancer, battered women and their children, homelessness, and animals in need. It's an incredible act of generosity and compassion. 
Barbara and I founded the Lotus Foundation so we could give back and support as broad a range of causes and charities as possible. All my proceeds from my art work and my books go to support the Lotus Foundation.
Is there one story you can share about how you have been inspired to help the world in this gracious way?
Yes, I remember seeing something from WaterAid, and how many people do not have access to clean water. Something so basic that everyone needs to survive.
If nothing else, every single person on this planet should have clean water to drink. I've been supporting WaterAid since.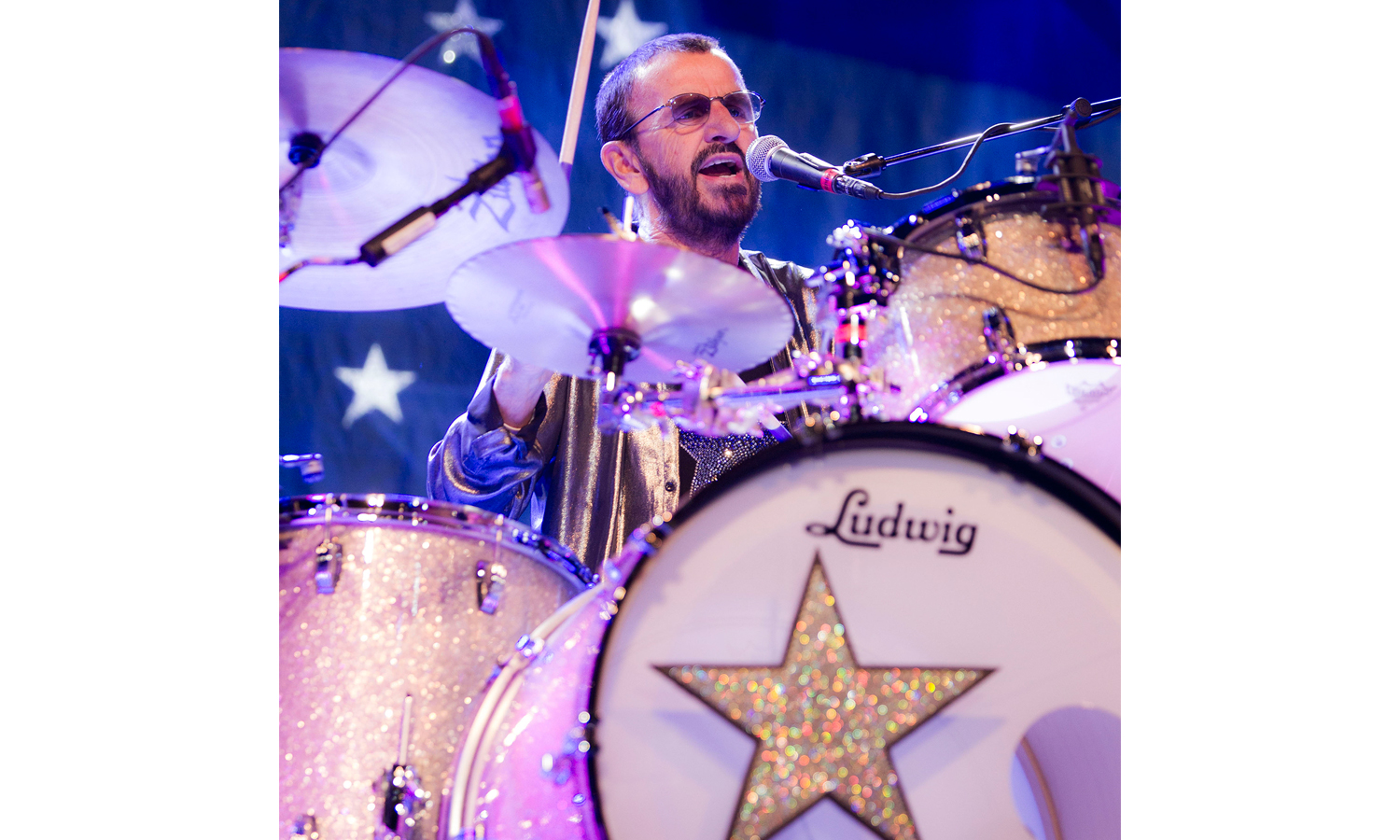 It is known that you are predominantly left-handed, and yet you always play on a right-handed drum kit. Obviously, it hasn't impacted your "perfect beat." Are there any drawbacks such as the challenges of a roll? And why haven't you rearranged your kits to make it easier for you?
I learned on a right-handed kit but lead with my left hand. I wouldn't rearrange the kit or do it any other way. That's how I learned and it's just the way I play.  The fact that I am left-handed makes it weird because I can't roll the way most do from a snare to a tom tom. I have to come at it backwards. And I could never work a fill out—it comes with the emotion of a song. That's also part of my style—I am an emotional player and I always follow the emotion of a song.
From afar we see a deep loving connection between you and your beautiful wife, Barbara Bach Starkey, your life's partner of 39 years. Might you share something special about the love of your life?
I fell in love with her the first time I saw her at LAX, her boyfriend was putting her on the plane when we were on our way to film 'Caveman' in Mexico. It took two months, she tortured me for two months, but we did get together and we are still together today. I don't know any secrets—all I can tell you is that I love Barbara and I am blessed she loves me.
You started Ringo Starr And His All Starr Band more than three decades ago. With a medley of talented musicians moving through the band, including a performance with Paul McCartney as well as his appearances on your solo albums, the All Starr Band is still going strong today. How did the idea for this band come to you? And how do you go about making your choices as you change up the musicians?
I began the All Starrs in 1989 when my lawyer got a call asking me to put a band together. It was my first tour and my time playing sober. I was really nervous but just opened up my phone book and started calling all my friends—and everyone said yes!!! There were 11 of us on that stage including 3 drummers!!! I've been putting All Starr bands together ever since and last year we celebrated our 30th year playing at the Greek nearly 30 years to the day that I had the first band there.  How far out.
Paul has never played in the All Starrs—the only time he joined us was to surprise me for my 70th birthday at Radio City Music Hall. That was a great time.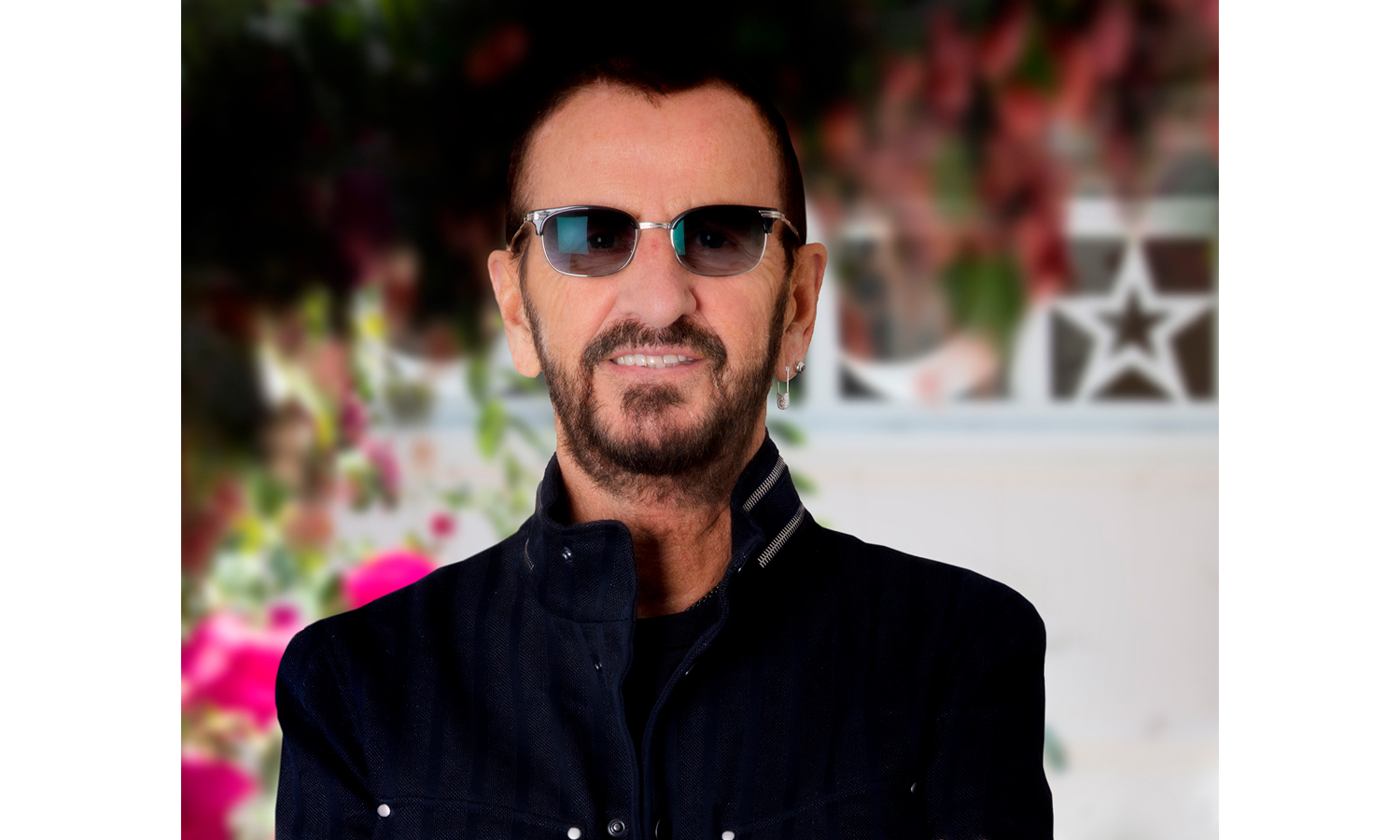 What music do you listen to in your home? For uplifting, energizing moments? For calming moments? For some damn good music moments?
I listen to everything and like to put my music setting on random. I feel blessed I love all music—ok, nearly all music—from country to classical.
Today any person with a sound mixer can make a recording that would have cost thousands of dollars to produce in a studio in the past. Has technology taken over too much of the music making process? Or has this development provided new pathways for creativity? What are your thoughts?
Technology has been great for me because now I can record at home. I have a studio right in the house and I've been making music all through this pandemic. You used to have to go the recording studio. Now I can just go to another room and then pop back and have a tea break with Barbara.
You give credit to John Lennon for starting the Beatles down the path of "peace and love," and yet you have made it incredibly relevant today. What inspired you to push this message? What drove you to want to connect the world years later with these words?
The Beatles always promoted peace and love and I've been doing it ever since.
The holidays are supposed to be happy times shared with family and friends filled with love, good cheer and peace. But with COVID, we are challenged by the simplest forms of connecting, communicating and sharing happiness.  You've said in the press that you are staying close to home. How are you and your loved ones navigating through these difficult times?
It's a global pandemic and we are getting through it like everyone else. Thank God for the internet so we can stay in touch with our friends and family who we cannot go see. I send peace and love to everyone having a hard time or feeling lonely. It is a tough time, but we all have to get through this together. Stay home, stay safe and wear a mask.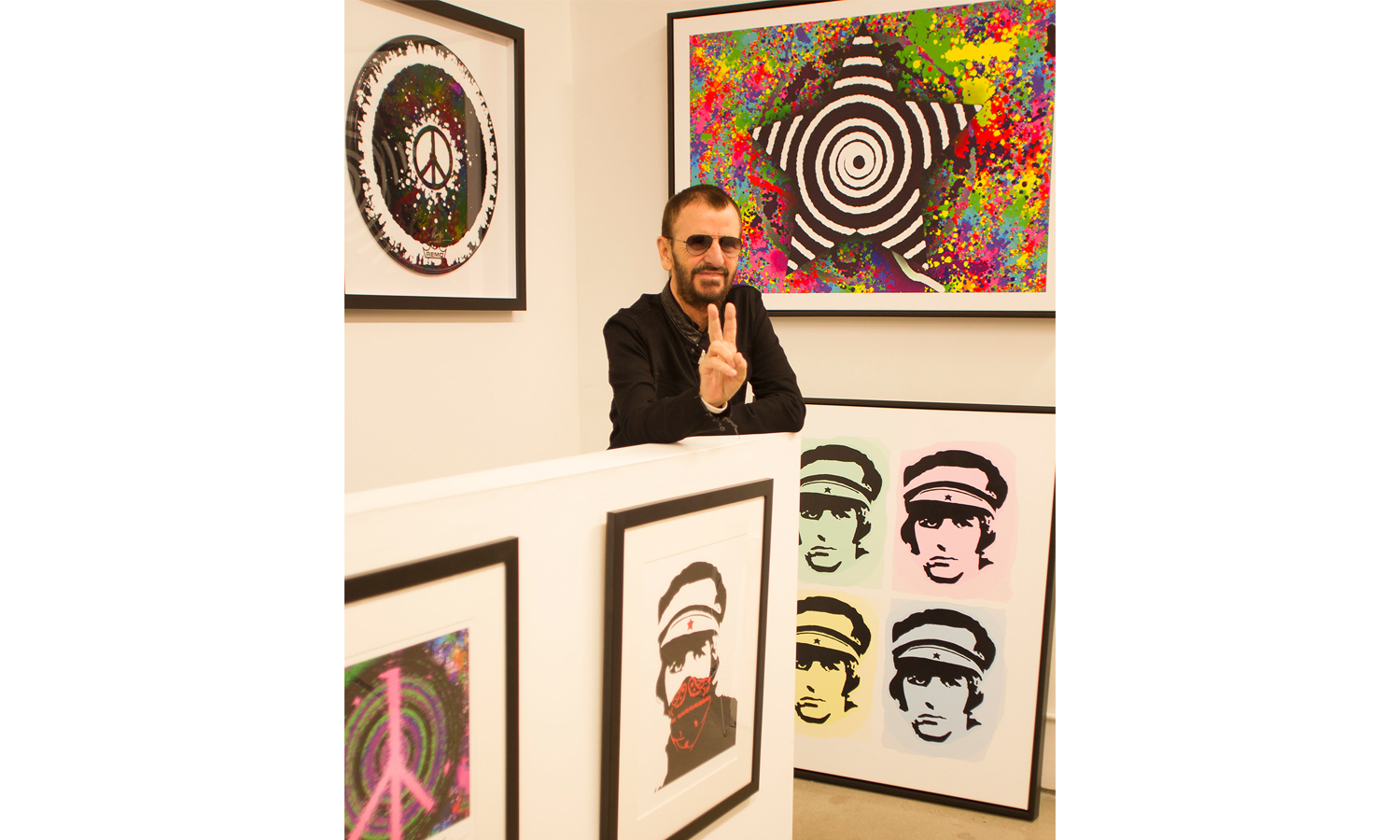 A few weeks before your birthday in 2008, a journalist asked you what you wanted as a gift. What did you say?
In 2008, I was asked what I wanted for my birthday. The idea just came to me—that at noon your local time on July 7, my birthday – where ever you are, if you want to, say, think or post "Peace and Love." I decided to invite fans to join me on the streets of Chicago in front of the Hard Rock, and we have been doing it ever since.
This birthday gift became a tradition. But this year, your 80th , it was a virtual star-studded celebration.  The stream raised money for a number of organizations including the Black Lives Matter Global Network for the fight to "end all this racial violence," as well as the David Lynch Foundation, MusiCares and WaterAid. During the event, you said, "Black Lives Matter. Stand up and make your voices heard." As an ambassador of peace and love, please share with us your hope going forward?
We had big plans for this year, my 80th, but as you know, everything changed with the pandemic.  We didn't want it to pass without doing something. Putting together "Ringo's Big Birthday Show" seemed like the best way to not only have a bit of a party but also to raise some money and do some good too. Barbara and I also went down to the Beverly Hills Park on July 7 and at noon we stood in front of my Peace sculpture to say "Peace and Love." (wearing our masks of course!)
You were a unifying healer through your music and artistry during the civil unrest in our country more than 50 years ago. This was never more evident than when the Beatles, during their famous 1964 tour, refused to play before a segregated audience in Jacksonville, Fla. We are now living through it again. Is history repeating itself?
Have we learned from our mistakes? What are your observations? What can we do differently to make us better as a society?
All each of us can do is stand up for what we think is right and treat people with peace and love and lead by example. I've never understood treating people differently because of the color of their skin. The Beatles didn't stand for it then and I still don't.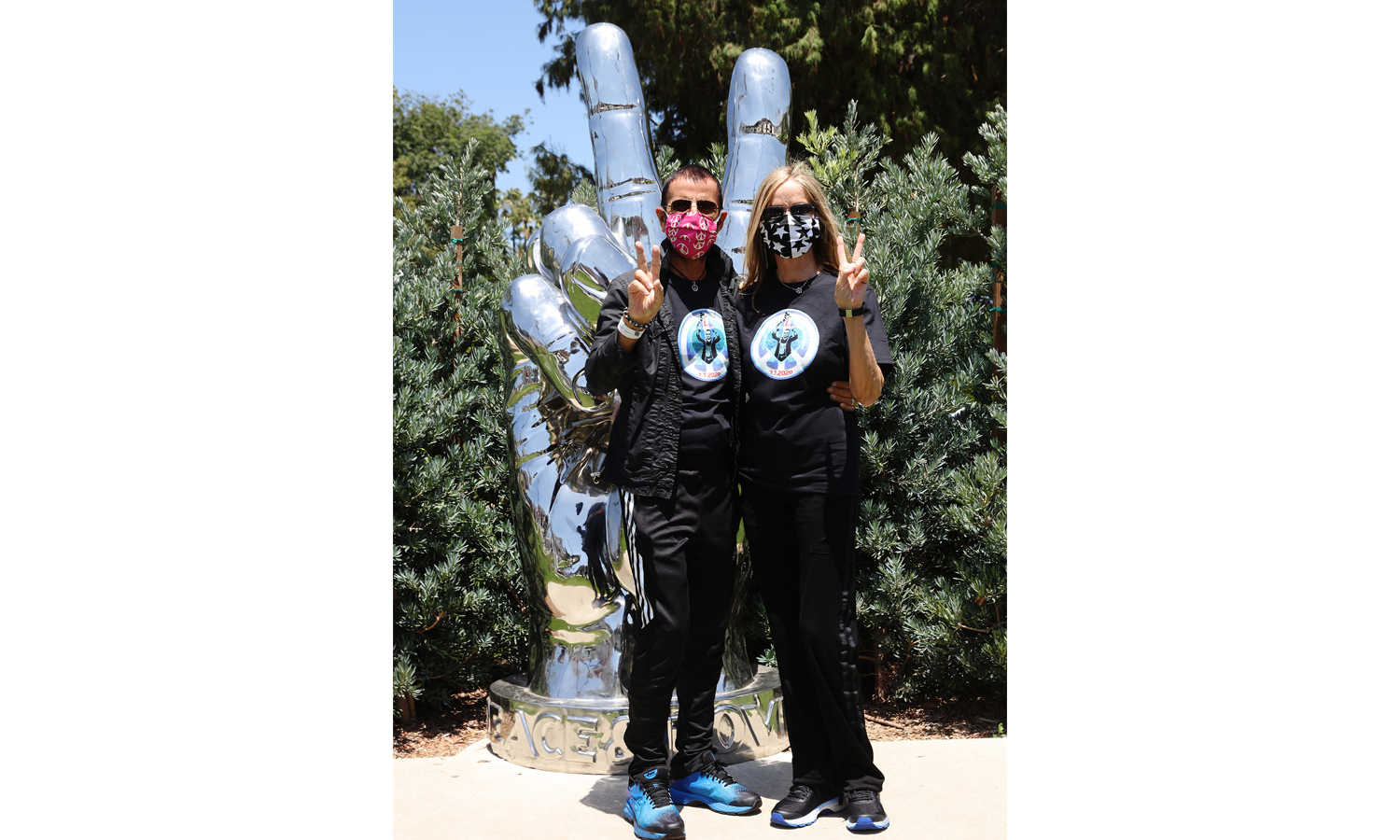 What is your hopeful message to our youth and all generations about the future?
PEACE AND LOVE
Ringo, it's an honor and a unique pleasure, to have had this experience, to hear your unifying thoughts during these challenging times and to gain insight through your historical, artistic lens. From one Beverly Hills resident to another, thank you for leaning in, for caring about our community, for sharing your "style" and your commitment to humanity, and most importantly for giving your "words of wisdom."
With admiration and appreciation,
LISA T. F. BLOCH