Videos and images have surfaced showing a local Beverly Hills business owner at the insurrection at the U.S. Capitol on Jan. 6. A video posted on social media shows Gina Bisignano, owner of Gina's Eyelashes and Skincare and a regular at the Beverly Hills Freedom Rally, exiting the Capitol building through a broken window and apparently encouraging people to enter the building. The events of the day left five people dead, including a member of law enforcement, and left a host of questions in its wake, including: How did a Beverly Hills esthetician with celebrity clients end up at a violent incurson of the nation's Capitol?
After more than two hours of interviews with Bisignano this week, the Courier has tried to piece together the answers.
"Be there, will be wild!" President Donald Trump tweeted on Dec. 19, urging his followers to come to the nation's capital on Jan. 6. Bisignano, like thousands of the President's most devoted supporters, heard the call. She grappled with whether to go before pulling the trigger two weeks before the day, ponying up $1,000 on airfare and a hotel. She said she felt called upon by Trump to travel to D.C. to change the outcome of the election, which she believes was stolen. "Trump said, patriots, go to D.C.," she told the Courier. "If enough patriots got together to rightfully assemble and put pressure, chant and cheer like we do, they would think, 'Okay, we the people–we the people are speaking.'"
Before the last few months, Bisignano was best known for her meticulous brow work and voluminous, natural-appearing eyelash extensions. Her Yelp reviews, devoted clientele, and busy schedule attest to a deft touch cultivated over decades in the beauty trade. "Gina is not only a sweetheart and your friend, but she is an expert!" one reviewer wrote in 2015.
But since 2016, Bisignano became increasingly concerned with things she saw on the internet–allegations of a nefarious, global web of child molesters and pedophiles in the highest echelons of government and elite society. The claims struck close to one of her greatest concerns, abortion, a practice she abhors as a Christian. As election season progressed and the country became ensnared in COVID-19, Bisignano would join fellow Trump supporters in the streets of Beverly Hills nearly every Saturday to call for an end to pandemic related restrictions, the reelection of President Trump, and the exposure of the Deep State that opposed him.
She experienced a new form of notoriety in December after a "reopen L.A." protest at the home of County Department of Public Health Director Barbara Ferrer. There, a neighbor captured her repeatedly using a homophobic slur in a video that subsequently went viral, getting picked up by TMZ and other outlets. She later apologized for the language, but by that point, people had discovered her Yelp page and labeled her a "Karen."
Finding support among the community of self-described fellow patriots, many of whom had connected and bonded at the Freedom Rally, she continued to demonstrate for Trump and then against the election results. So, along with at least one other regular from the Freedom Rally, Bisignano went to Washington.
In D.C. on Jan. 6, Bisignano woke up at 7 a.m., put on her Chanel boots and a Louis Vuitton sweater, and left to hear speeches from some of her favorite political figures–the nouveau célèbre brought in by Trump's anti-establishment wave. Before the headline speaker, the President himself, she got separated from her group, who told her they planned to "storm the Capitol."
"I said, 'Don't you want to do Trump's speech?' And they go, 'No, we're going to the Capitol now.' So, I separated and went to Trump's speech," she said. "And I'm like, I didn't know we were storming the Capitol. I should have dressed different."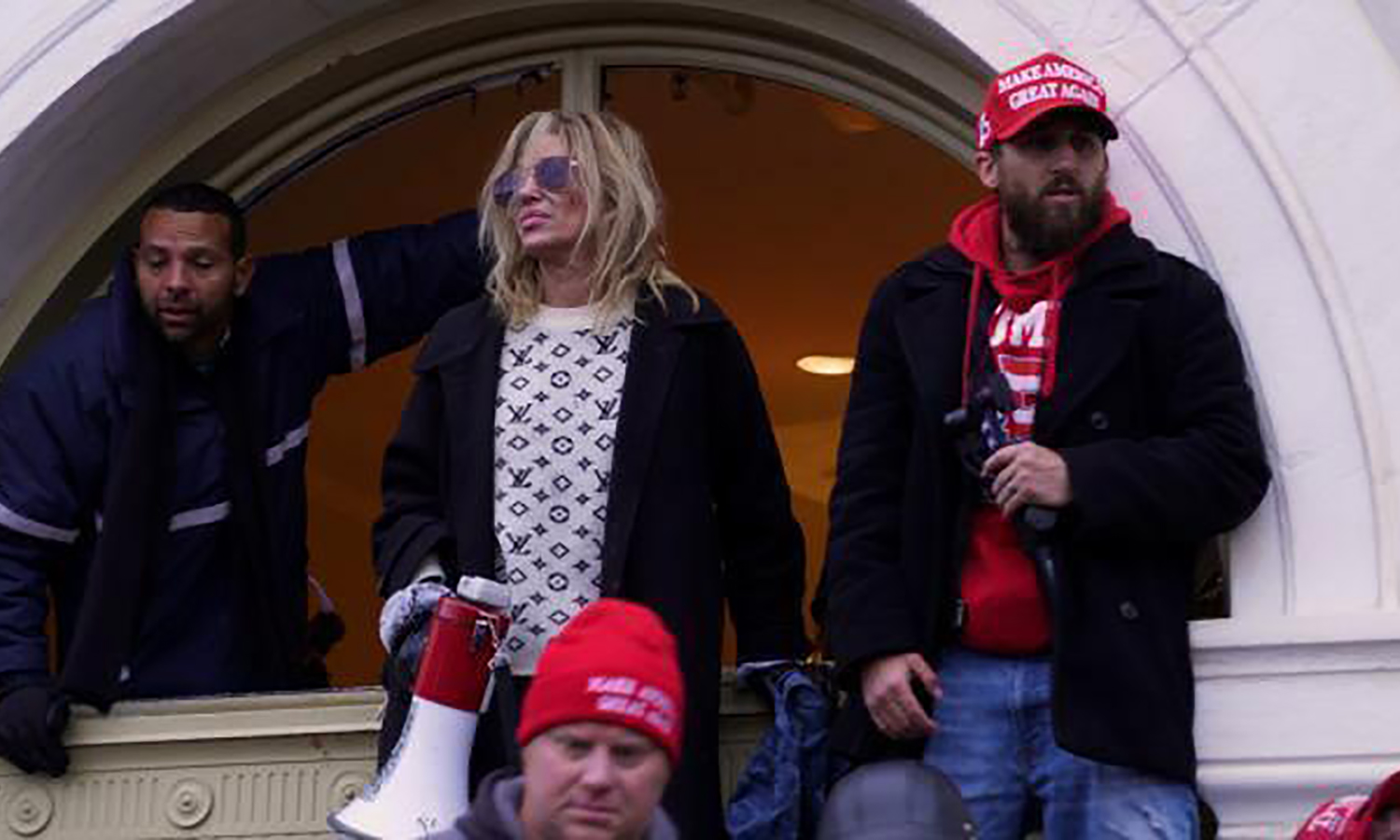 After Trump's speech, Bisignano joined the throngs of supporters in doing what the President exhorted: "We're going to walk down Pennsylvania Avenue," Trump had said, "and we're going to the Capitol." Bisignano marched near the front of the procession, she said, as the vastly outnumbered Capitol police shrank away from the advancing mob. At the facade of the building, things turned hectic, she recalled, when police deployed tear gas. Video shot by Bisignano and reviewed by the Courier shows Trump supporters and even a member of law enforcement without a gas mask coughing through clouds of white smoke.
Nonetheless, they advanced, reaching an entrance on the west side of the Capitol building. There, a seemingly endless stream of rioters entered the hallway, forming a de facto scrum to push back Capitol police. As police used pepper spray and batons, fresh bodies circulated into the hallway to take the place of the injured and incapacitated. One man yelled "Traitors" after an officer sprayed a few bursts of pepper spray at the crowd.
The rioters began to chant "Shield wall" as they turned stolen police shields against the officers and shot back with pepper spray of their own. Bisignano filmed herself briefly at that moment, standing a few feet above the crowd on a ledge in the hallway. Then, as captured in a video shot by the investigative outlet Status Coup, the scrum began pushing forward, yelling "Heave, ho!" in unison. Police became compacted in the confined hallway, with one officer getting trapped between the shield-wielding Trump supporters and a metal door. In a horrifying series of moments, the officer let out agonized cries as the crowd heaved forward, crushing him. Word soon traveled through the crowd to cease the push, giving the officer time to extract himself.
Soon after this, Bisignano sought shelter on a ledge below a window on the outside of the building. A man wearing a green helmet with Trump stickers on it began to smash the window with a baton. Others pulled him away before he could shatter the glass, eliciting cheers from the crowd who had labeled him "antifa." Another man soon took his place and pushed the glass out of its frame with a fire extinguisher, a moment captured by photographers. Around this time, Bisignano said she was hit with pepper spray for filming on her phone. People started to climb through the paneless window and into the Capitol, including Bisignano.
Bisignano described the environment as a "war zone." She acknowledged that she went into the building but said that she was experiencing a panic attack and needed to find somewhere safe. "I couldn't breathe. I was having a panic attack. I needed air. Every time I opened my eyes, they were burning. My mouth was burning. Everything was burning, and I couldn't breathe."
Bisignano, whose mascara had plainly run in photos, said she only remained inside for a few minutes to catch her breath and document what was happening.
Bisignano characterizes her role that day as a passive one. She was armed with nothing more than a cellphone and occasionally, a borrowed megaphone. A few videos reviewed by the Courier, however, show Bisignano taking more of an active role than she suggests. In one video, she encourages others to enter through the broken window and into the Capitol. "We need Americans," she calls out as she exits the building. "Come on guys. We need patriots. You guys, it's the way in."
"Who's in there?" A man's voice asks.
"Everybody. Come on, let's go."
As the cellphone camera pans over the throngs in front of the Capitol, a man standing on the ledge beside Bisignano and brandishing a crowbar shouts, "If you have a weapon, then you need to get your weapon."
In another video circulating on social media, Bisignano stands on the same ledge with a megaphone. "Everybody, we need gas masks. We need weapons. We need strong, angry patriots to help our boys, they don't want to leave. We need protection," she calls out.
"We the people are not going to take it anymore. You are not going to take away our Trumpy-bear, you are not going to take away our votes and our freedom that I thank God for. This is 1776 and we the people will never give up. We will never let our country go to the globalists. George Soros, you can go to hell," she adds.
Feet away from her as she speaks, a man in a gas mask swings a baseball bat against the riot shield of a police officer blocking the entrance to the Capitol. Another man sprays a fire extinguisher at the blockade of officers.
"I was caught up, I was scared, I was excited," Bisignano told the Courier. "A guy said to say that over the megaphone. I don't even remember saying it." She also said that there was fighting going on in the crowd, which she attributed to "antifa and BLM."
"We were being beat up by other people," she said.
Since Jan. 6, law enforcement has begun searching for individuals involved in the day's events, combing through social media and appealing to the public for tips. The FBI and Department of Justice have launched a "24/7, full-bore" investigation into the riot with plans to file hundreds of chargers in the coming weeks. According to acting U.S. Attorney Michael Sherwin, the probe will look at charges ranging from "simple trespass" to "felony murder and even civil rights excessive force investigations."
After people began commenting on Bisignano's Yelp page with photos of her in D.C. and even a link to submit tips to the FBI, she decided to call the FBI proactively.
"She couldn't do my lashes last week because she was too busy being a white supremacist terrorist at the insurrection attempt on 1/6/21," one recent comment reads.
"I was being portrayed on Yelp as a terrorist," she said. "I wanted to clear my name. Everyone in Beverly Hills knows I'm not–I am a Christian."
Bisignano said she called the FBI on the morning of Jan. 12, but was placed on hold and had to go to work before she spoke with anyone.
She has grown increasingly worried about legal ramifications and personal danger, at first insisting she had nothing to worry about because "I didn't do anything," to worrying that she could serve time. Already, Bisignano said that she is receiving threatening phone calls.
"My life is over, I'm going to jail," she said in tears. "I'm going to lose my son."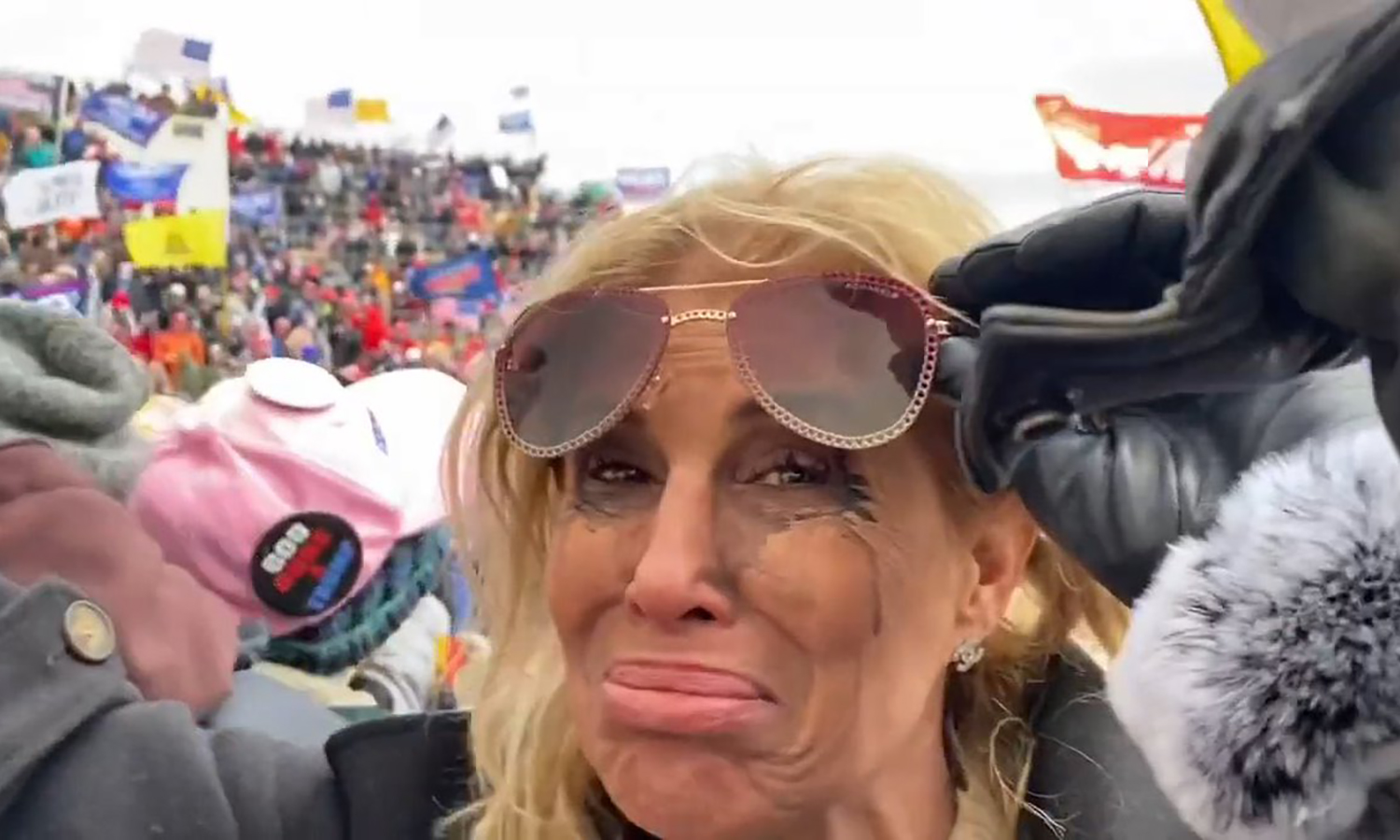 Share Post