If fashion took a global roadshow, Rodeo Drive would surely be a stop. In the case of the "Louis Vuitton Men's Temporary Residency," Rodeo Drive is not only a stop, it is the final stop of a tour that has transfixed the fashion world since mid-2020. The city will enjoy a unique version of the installation when it debuts on Feb. 5 at 468 N. Rodeo Drive.
The upcoming residency will mark the second time the French luxury house has created a must-see experience at the northern end of Rodeo Drive. First came "Louis Vuitton X," the temporary art and retail project open for five months in 2019 that drew both large crowds and extensive international press. The Louis Vuitton Men's Temporary Residency will be in place a much shorter time–it closes in early March–but promises to be every bit as engaging. It also comes with a narrative six months in the making. Hailed in the fashion press as one of last year's most memorable experiences, the Courier has exclusive details about what to expect when it arrives here. In a nutshell: expect nothing ever seen before.
Designed to showcase the Louis Vuitton Men's Spring-Summer 2021 Collection, the installation's showstopper is a bright red shipping container "entrance." The shipping container motif continues on the ground floor, as a backdrop for 1,600 square-feet of retail space. Exterior details of the activation include vinyl window coverings as well as giant inflatable balloon characters,  a leitmotif of the entire project. Onlookers – even those stopped in their cars – will be able to share the experience digitally, courtesy of Snapchat codes affixed to the building. Additional details about the project will be provided in subsequent issues of the Courier.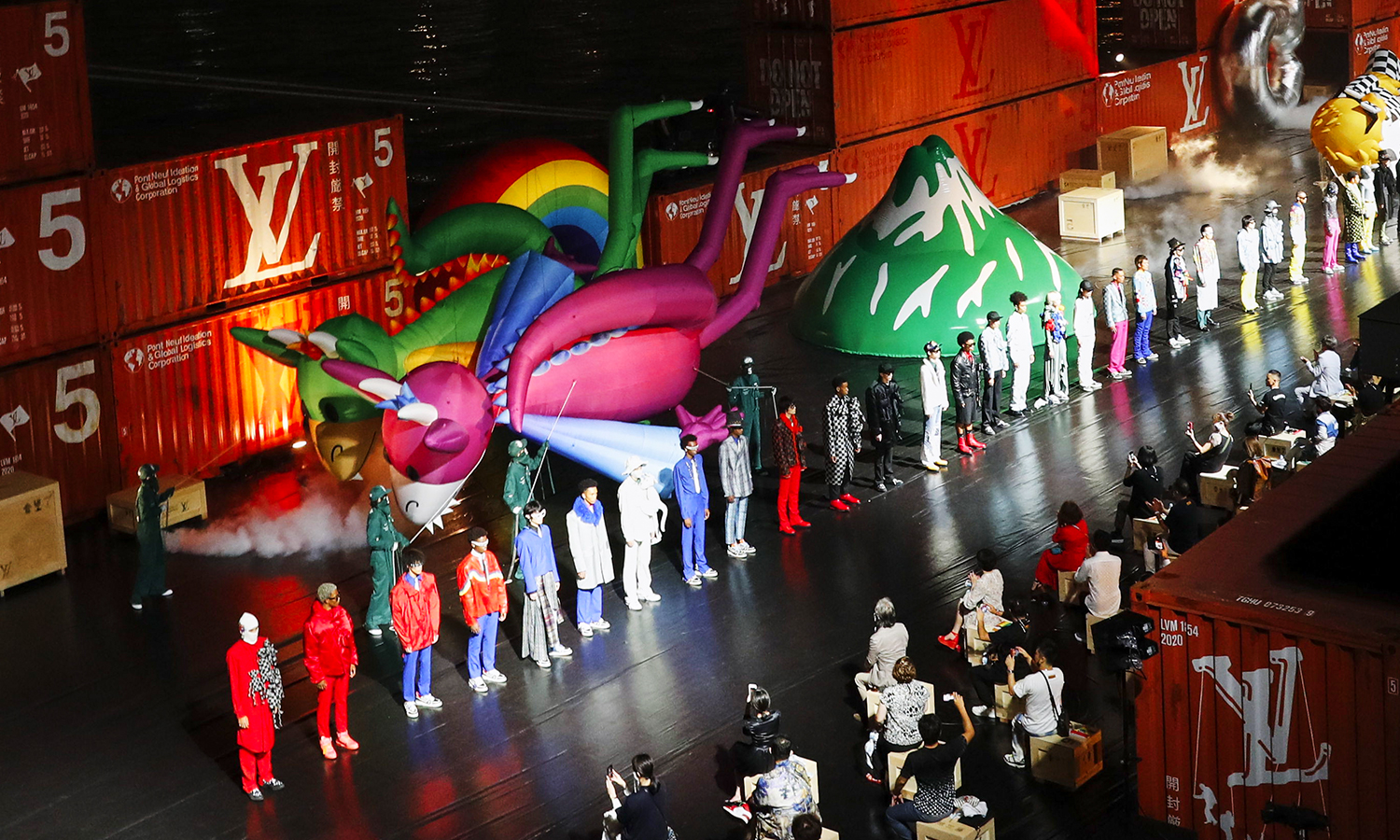 City Support
The Beverly Hills City Council has already given the Louis Vuitton Men's Temporary Residency a green light. The Council approved requests for expedited special event and building permits, and also waived provisions of the city's sign ordinance at its Jan. 12 Regular Meeting.
"During these most challenging times, it is inspiring that Louis Vuitton will once again bring an innovative and creative global happening to our city. This out-of-the-box exhibition incorporates all safety COVID-19 protocols while it showcases our city at the forefront of trendsetting and vision," Councilmember Lili Bosse told the Courier. The Rodeo Drive Committee (RDC) had previously bestowed its support for the installation.
"This exciting pop-up will add to the visual allure of the street and draw new visitors," said RDC President Nicola Cagliata, in a letter of support.
Of course, the maisons of Louis Vuitton Moët Hennessy (LVMH) are long-standing fixtures in Beverly Hills and Rodeo Drive. In addition to Louis Vuitton, the luxury conglomerate operates retail spaces in the city for brands that include Rimowa, Loro Piana, Fendi, Celine, Christian Dior, Bvlgari, Berlutti, Sephora, Hublot and Tag Heuer.
With the Louis Vuitton Men's Temporary Residency in Beverly Hills, the company winds down a story that is outwardly playful, yet inwardly profound. Symbols abound in the vision of Louis Vuitton Artistic Director Virgil Abloh, some more nuanced than others.
On the surface, the shipping containers are not a far stretch for a company whose roots go back to the trunk manufacturing business. Louis Vuitton has been synonymous with luxury travel for almost two centuries. But, in 2020, the pandemic brought travel to a halt, upending traditional fashion weeks in Europe.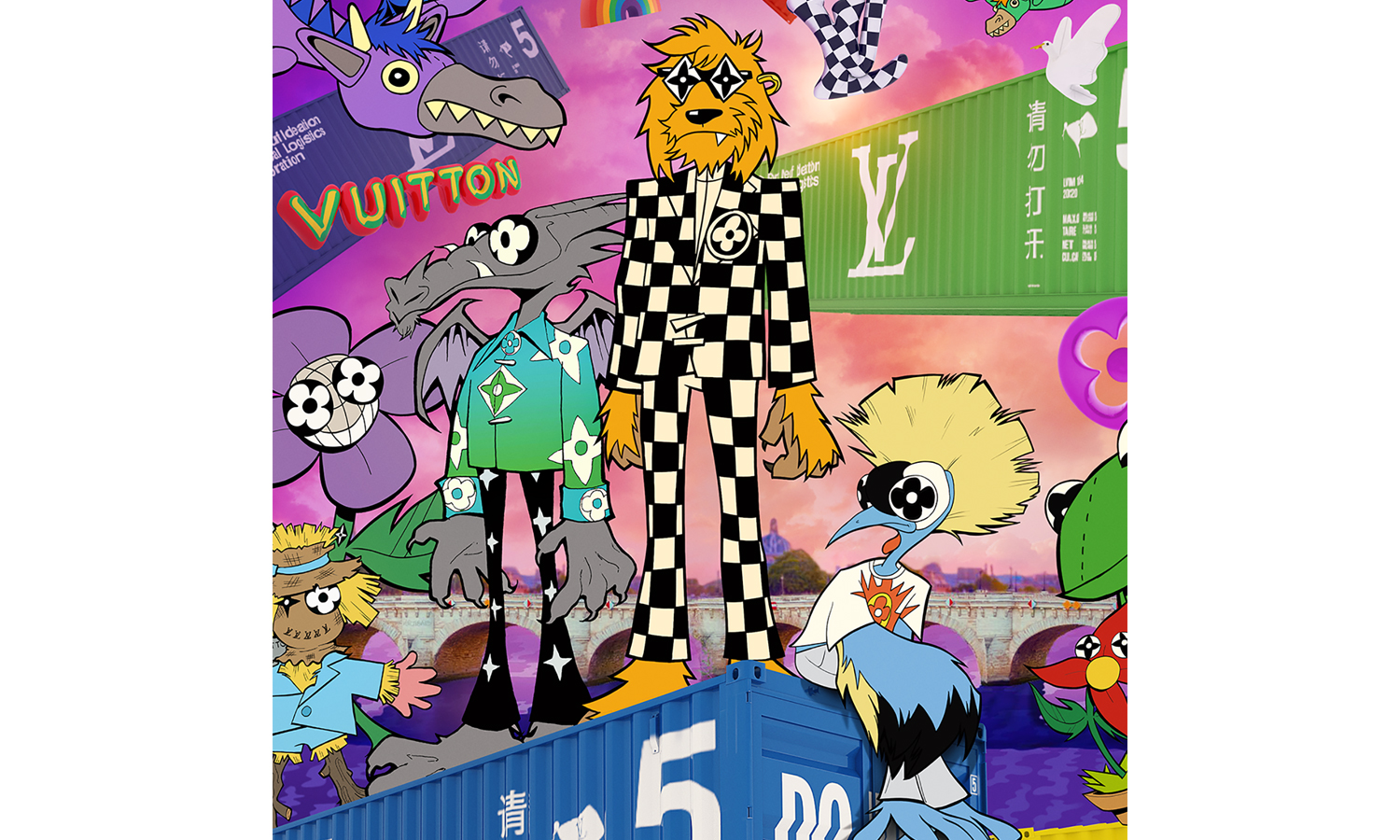 Zoooom with Friends
When Men's Fashion Week in Paris was canceled last June, Abloh saw it as a chance to bring fashion to the people.
"Instead of the doom and gloom, sort of panic approach, I looked at it like, 'Oh, this is the new frontier that we've been asking for in fashion,'" Abloh told WWD in July. "We're in a new era. I feel like this is the pandemic of 2020 with the hard stop between fashion as it was before, and I'm interested in this sort of investigation."
Abloh moved forward digitally, creating a short film called, "The Adventures of Zoooom with friends." The combination live-action, animated work introduced a cast of animated characters inspired by Abloh's trip to a Parisian toy store.
The vividly colored coterie, including a purple dinosaur, a dragon, an orange dog named Joe, a unicorn named Zip and various bird-like creatures spend Paris fashion week engaged in (at times psychedelic) antics across the city. Many are adorned in the signature black-and-white checkered suits, bell-bottoms, brightly hued jackets and retro-looking tees that mark the Spring/Summer collection.
The film closes with live-action shots of workers at the ancestral Paris home of the house's founder. The men pack up LV trunks laden with finery into a shipping container. Before the doors of the shipping container close, however, the animated Zoooom with friends gang manages to stow away. They set sail on a colorful barge from the Seine to the sea, on a fashion adventure that will eventually take them to Shanghai, Tokyo, Miami and finally, Beverly Hills.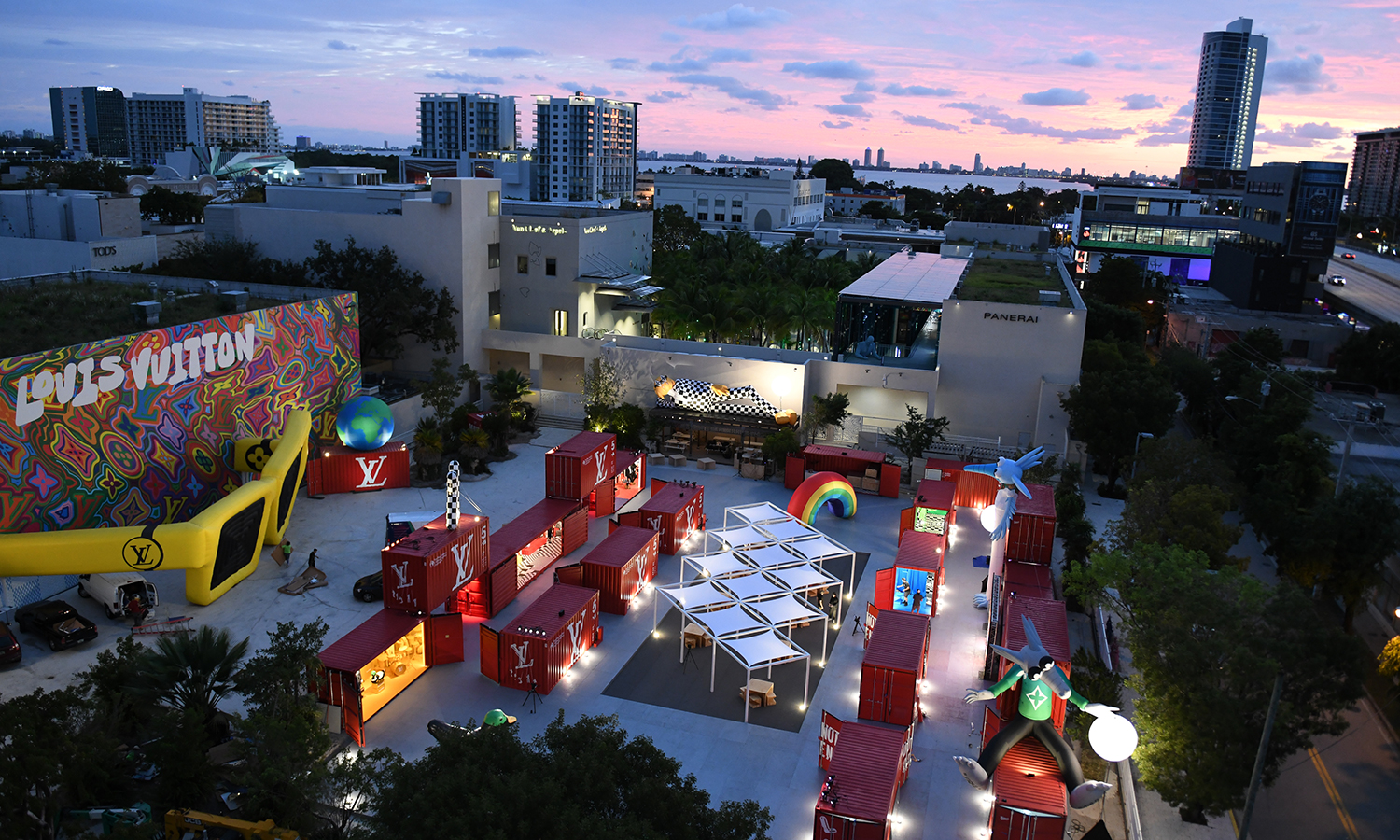 Egalitarian Message
The notion of taking the collection to an audience rather than the audience coming to the collection is Abloh's way of "embracing the global community of Louis Vuitton," according to the source material released with the collection. It also adds an egalitarian message that has marked Abloh's tenure at Louis Vuitton.
Born in Illinois to immigrants from Ghana, Abloh is the first American of African descent to be artistic director of a French luxury fashion house. He has a degree in civil engineering from the University of Wisconsin-Madison and studied architecture at the Illinois Institute of Technology.
Abloh first gained notoriety as creative director for Kanye West. He subsequently launched the luxury streetwear label Off-White (a favorite of Rihanna and Beyonce), and collaborated with Nike. Abloh joined Louis Vuitton in 2018, and the same year was named one of Time magazine's 100 most influential people in the world. The Men's Spring/Summer 2021 Collection (aptly named "Message in a Bottle") is Abloh's fifth for Louis Vuitton. Accordingly, the numeral "5" appears as a prominent creative element thereof.
In a "manifesto" published last summer, Abloh reiterates a commitment to "continue to hire diverse candidates, financially support BIPOC (Black, Indigenous, and People of Color) and LGBTQ+ causes, shed light on BIPOC-owned companies and LGBTQ+ individuals, work on public-facing initiatives featuring BIPOC role models and LGBTQ+ and will assist organizations promoting a more inclusive workforce."
As Abloh told Vogue last September, "I'm very much cognizant of the time that I couldn't get into fashion shows myself, cognizant of my friends going to Paris and I couldn't go because I couldn't afford a plane ticket. I was just watching [fashion shows] via social media and through my friends."
Now, every fan of fashion can have a front-row seat in what Abloh hopes will be a cultural exchange. Moreover, the fantastical animated stars of Zoooom with friends are meant to serve as more than mere entertainment. They "represent a fundamental belief in inclusivity, the core of the French House's approach to menswear," according to collection source materials.
Indeed, the Zoooom with friends crew plays a prominent role throughout the journey.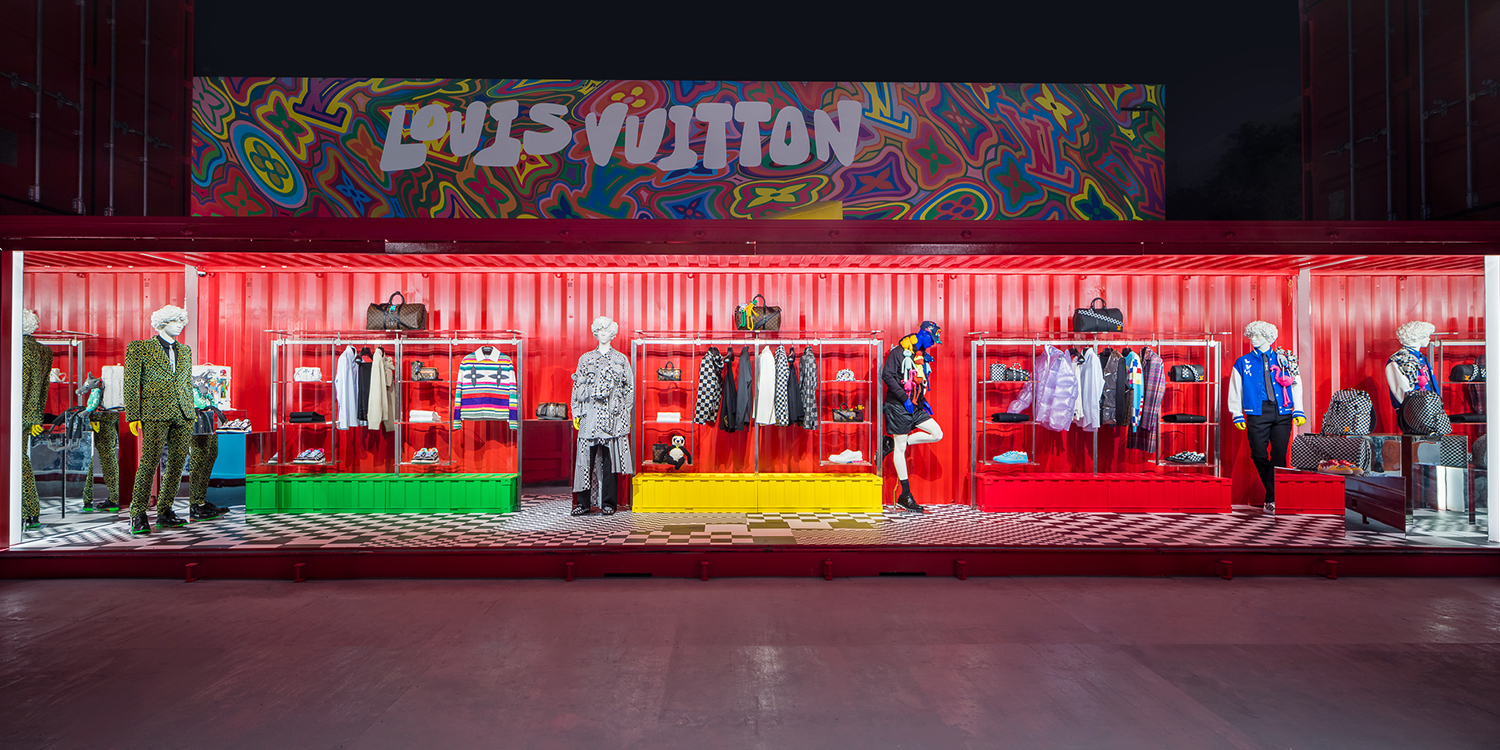 Passage to Asia
After "setting sail" from France in July, the Zoooom crew "resurfaced" in August in Shanghai, the first of two Asian venues to hold in-person debuts for the collection. Actually, Zoooom with friends had transmogrified into huge inflatable balloon creatures. They maintained a looming presence on the live runway shows at the port of Shanghai and on the roof of Tokyo's International Cruise Terminal. Both shows were livestreamed around the world.
Inflatable iterations weren't the only form of shape shifting for Zoooom with friends. The runways in Asia were full of bags, garments and accessories integrating the characters into designs. Some items featured plush Zoooom figures attached to them. A lexicon for the collection described this process of "Zoooomification" as a "three-dimensional technique of integrating the Spring-Summer 2021 characters of Zoooom with friends into garments and accessories, effectively adorning and animating pieces. Conceived during the lockdown-fueled digitalization of the world in 2020, Virgil Abloh employs this technique to make fashion 'jump through the screen.'"
In addition to the characters, another central theme of the collection is "upcycling." Utilizing the mantra, "No season is an old season," Abloh defined his Upcycling Ideology as "a set of anti-obsolescence ideas to counter overproduction, waste and the culture of disposability." A new Upcycling Signal Logo will attach to reconditioned pieces.
At Sea Once More
After a successful run in Asia, the traveling "Message in a Bottle" installation ventured off to sea again. The collection made its North American debut with a Temporary Residency at the Miami's Design District's Jungle Plaza. Described by the Miami Herald as one of the "crown jewels" of Art Week, the residency included bright red shipping containers and the giant Zoooom with friends balloons. Document Journal described the installation as "part runway, part P.T. Barnum performance, replete with the accoutrements of modern technology in an experiential fashion show that activates AR, Snapchat, and QR codes that allow visitors to partake in, and take away from, the traveling show in the form of unique sharable content."
The activation folds up in Miami on Jan. 25. It then travels once again, this time by land. A caravan of the now-emblematic shipping containers will head west. The residency debuts on Rodeo Drive at the same time the "Louis Vuitton: Walk in the Park" public experience winds down in Paris. The Paris residency on Rue du Pont Neuf and the Louis Vuitton Maison Vendôme contains both physical and digital elements, including the chance to interact with the Zoooom characters and augmented reality experiences through the LV app that will also be available for users worldwide on Jan. 22.
Here in Beverly Hills, the Louis Vuitton Men's Temporary Residency will be bound by  state and Los Angeles County Department of Public Health Orders. At present, those orders mandate a reduction to 20 percent capacity based on square footage. The space will be open to the public and utilize a reservation system for entry. The Courier will publish exclusive details regarding early access for readers in future issues.
For a month, at least, the installation will provide Beverly Hills with a colorful reprieve from the lingering pandemic and political disarray. It's also an opportunity to experience a moment in fashion history. "This is my invitation to move forward together with awareness, hope, and determination. You are witnessing unapologetic Black Imagination on display," said Abloh.