Gina Bisignano, 52, one of the Beverly Hills residents facing charges related to her actions at the Jan. 6 Capitol riot, has been ordered back into federal custody after a judge issued an emergency stay of her release. The federal judge further ordered Bisignano transported to Washington, D.C. "for further proceedings on the Complaint filed against her."
Bisignano and two other Beverly Hills residents, John Strand, 37, and Dr. Simone Gold, 55, were arrested over the Martin Luther King Jr. Day holiday weekend by the FBI, with assistance by the Beverly Hills Police Department, pursuant to federal charges filed in Washington, D.C. They appeared in U. S. District Court for the Central District of California in downtown Los Angeles on Jan. 19. Both Gold and Bisignano were released on bail, although Bisignano's release has been stayed.
"The magistrate here in Los Angeles on Tuesday afternoon set bond for Bisignano, which we objected to on behalf of our colleagues in the District of Columbia," United States Attorney's Office Director of Media Relations Thom Mrozek told the Courier. "Later that evening, prosecutors in D.C. obtained a stay and a detention order from a judge in D.C."
Bisignano, Strand and Gold each have close ties to the Beverly Hills Freedom Rally, the weekly pro-Trump demonstration that has taken place since July. In a story in the Jan. 15 issue of the Courier, "Beverly Hills Salon Owner Recounts Her Actions in D.C. Riots," Bisignano spoke about her role in the failed insurrection. In fact, the FBI's Statement of Facts for Bisignano, compiled by a member of the Bureau's Washington Field Office's Joint Terrorism Task Force, cites reporting by the Courier. The Courier conducted extensive interviews with Bisignano in the week after the attempted insurrection, in which she admitted to entering the Capitol, but claimed that she was escaping the throngs of rioters.
"BISIGNANO told the news outlet [Courier] that she filmed herself at the Capitol building, during the time when rioters had stolen police shields and were deploying pepper spray on the officers," according to the statement filed in federal court. "BISIGNANO also admitted entering the Capitol building itself through a window, the glass of which had been broken by another rioter."
The investigations into the Jan. 6 violence at the Capitol are being prosecuted by the U.S. Attorney's Office for the District of Columbia. Nearly 90 cases have been filed against defendants residing across the country. Federal rules require that following an arrest, or surrender, defendants must make a first appearance before a district court magistrate/judge where the arrest takes place.
Bisignano faces charges of civil disorder; destruction of government property; aiding and abetting; obstruction of an official proceeding; restricted building or grounds; and violent entry or disorderly conduct. Gold and Strand have been charged with entering a restricted building or grounds, violent entry and disorderly conduct.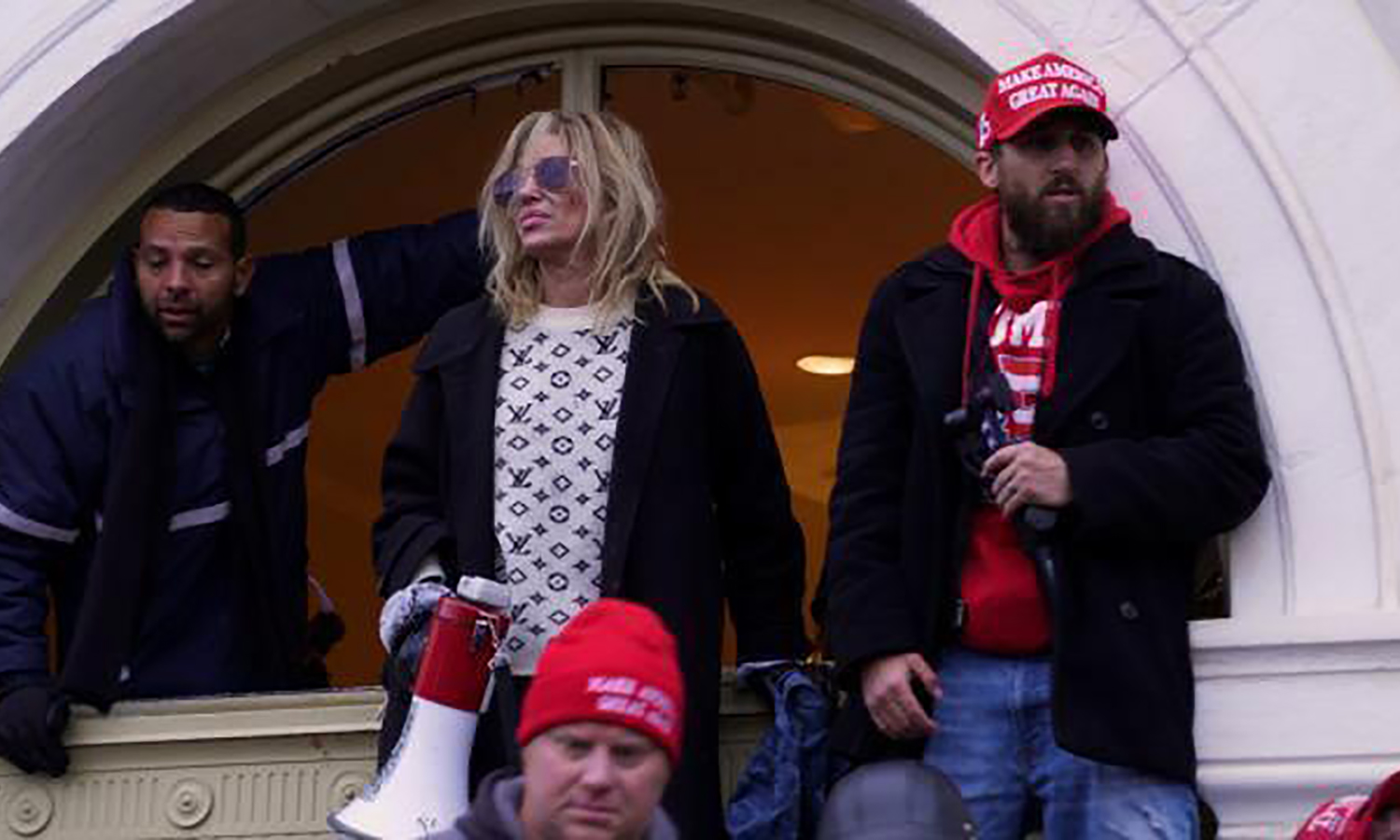 "I got caught up. I didn't do anything to hurt anybody," Bisignano, owner of Gina's Eyelashes and Skincare, told the Courier prior to her arrest. She went to the Capitol after President Trump called on his supporters to attend a rally on Jan. 6. "If enough patriots got together to rightfully assemble and put pressure, chant and cheer like we do, they would think, 'Okay, we the people–we the people are speaking.'"
Bisignano told the Courier that she had not committed any acts of vandalism or violence, decrying the violence that left five people dead, including a member of law enforcement. But in footage reviewed by the Courier, a woman who appears to be Bisignano can be seen throwing a water bottle in the direction of law enforcement as Trump supporters try to push through a blockade of riot police. "We need new people," she shouts to the crowd as police deploy pepper spray on the rioters.
Like Bisignano, Strand and Gold also heeded Trump's call, according to federal officials. Strand, the communications director for the Freedom Rally, describes himself on his personal website as a model and actor, with IMDB listing credits for the reality TV show "Vanderpump Rules" and the comedy show "Tosh.0." Gold, a medical doctor criticized for promoting misinformation about COVID-19 and the Coronavirus vaccine, has also attended and spoken at multiple Freedom Rallies. She confirmed to the Washington Post that she had gone into the Capitol with other rioters but insisted that she did not participate in or witness any violence.
All three appeared for their hearings on Jan. 19 at the Edward R. Roybal federal courthouse in downtown Los Angeles. The judge hearing the cases, United States Magistrate Judge John E. McDermott, granted bail for Gold and Strand, setting it at $15,000 and $20,000 respectively. While Gold left the courthouse that day, Strand did not find someone to guarantee his bail bond until later. A spokesperson for the U.S. Attorney's Office still had not seen release paperwork by the morning of Jan. 21.
But in Bisignano's case, the U.S. government came down hard, recommending that she should not receive bail and should remain in detention. "The defendant participated in a violent riot that was designed to prevent the United States Congress from certifying the valid, true results of the 2020 presidential election. So, to say that her alleged crimes were dangerous, not just to the community, but to American democracy and the rule of law itself, is an understatement," said Assistant U.S. Attorney Will Rollins.
Rollins even cited Bisignano's espousal of conspiracy theories as evidence for her "flight risk and dangerousness," telling the judge, "She's not likely to obey any pretrial release restrictions, because she doesn't believe in the legitimacy of the United States government, the rule of the law, or basic democratic process, and her sincere belief in conspiracy theories and the absence of rational evidence-based decision making show that she is extraordinarily unlikely to accept the legitimacy of this Court's orders, any federal law enforcement–especially those after a new administration takes over tomorrow–or obey any terms of pretrial release."
"That was a very colorful speech," rejoined Craig Harbaugh, Bisignano's attorney. "It is clear that Ms. Bisignano was present at a large-scale protest that was set up, not by anti-government forces, but by the President of the United States," he said.
"I think both sides have overstated things," said Judge McDermott. "I think the government is trying to make an example of Ms. Bisignano and trying to make her out to be a traitor. I also don't like the argument that she did it because of President Trump."
McDermott imposed $170,000 bail on Bisignano. She left the courthouse later that night but was back in custody on Jan. 20. Gold has a virtual hearing in Washington, D.C. on Jan. 21 at 1 p.m. and Strand will appear for a pretrial hearing in L.A. on Feb.1. As of press time, Bisignano's next appearance is not listed on the court docket.
Many other members of the Beverly Hills Freedom Rally who attended the attempted insurrection remain out of custody as of now. But according to FBI Spokesperson Laura Eimiller, more arrests could be in the pipeline. "We can't rule out other investigations, but they are being done out of Washington, D.C. We only served the warrants for them," she told the Courier. She added, "We aren't interested in peaceful protestors."