Soon after regional stay-at-home orders were lifted by the state, Los Angeles County announced that restaurants could resume in-person outdoor dining operations as of Jan. 29. For restaurant owners and their staff, an industry devastated by the restrictions and closures, the news is nothing short of a lifeline. In a year marked by uncertainty, restaurateurs are exuberant as they prepare to reopen again–hopefully, for the last time.
"Frankly, especially for restaurants, it's going to take years to dig out of this debt," Beverly Hills Chamber of Commerce CEO Todd Johnson told the Courier. "I would encourage people, if you feel safe enough, to get out and go eat and support our local businesses who have been just truly hanging by a thread, if that. Get some fresh air, start thinking that life is going to be back to normal again. We're starting to move in the right direction and the glass is definitely half full."
Beginning in mid-March of 2020, at the onset of the pandemic, restaurants were ordered to close and pivot to only take-out and delivery. On May 29, following the county's directive, indoor and outdoor dining operations resumed under new guidelines, including face masks, social distancing and limited capacity. On July 1, Gov. Gavin Newsom ordered the immediate closure of all indoor dining in Los Angeles. For the over 70 establishments in Beverly Hills already offering outdoor seating and dining, moving all operations outside in line with the Governor's newest order was relatively easy. For others without the luxury of outdoor dining space, the City's OpenBH initiative allowed businesses to temporarily expand their services to adjacent areas such as parking lots and the public right of way. On Nov. 25, in an effort to curb the county's surge in COVID-19 cases and hospitalizations, the Los Angeles County Department of Public Health (Public Health) announced another round of dining restrictions, prohibiting all in-person dining out at restaurants, breweries, wineries and bars.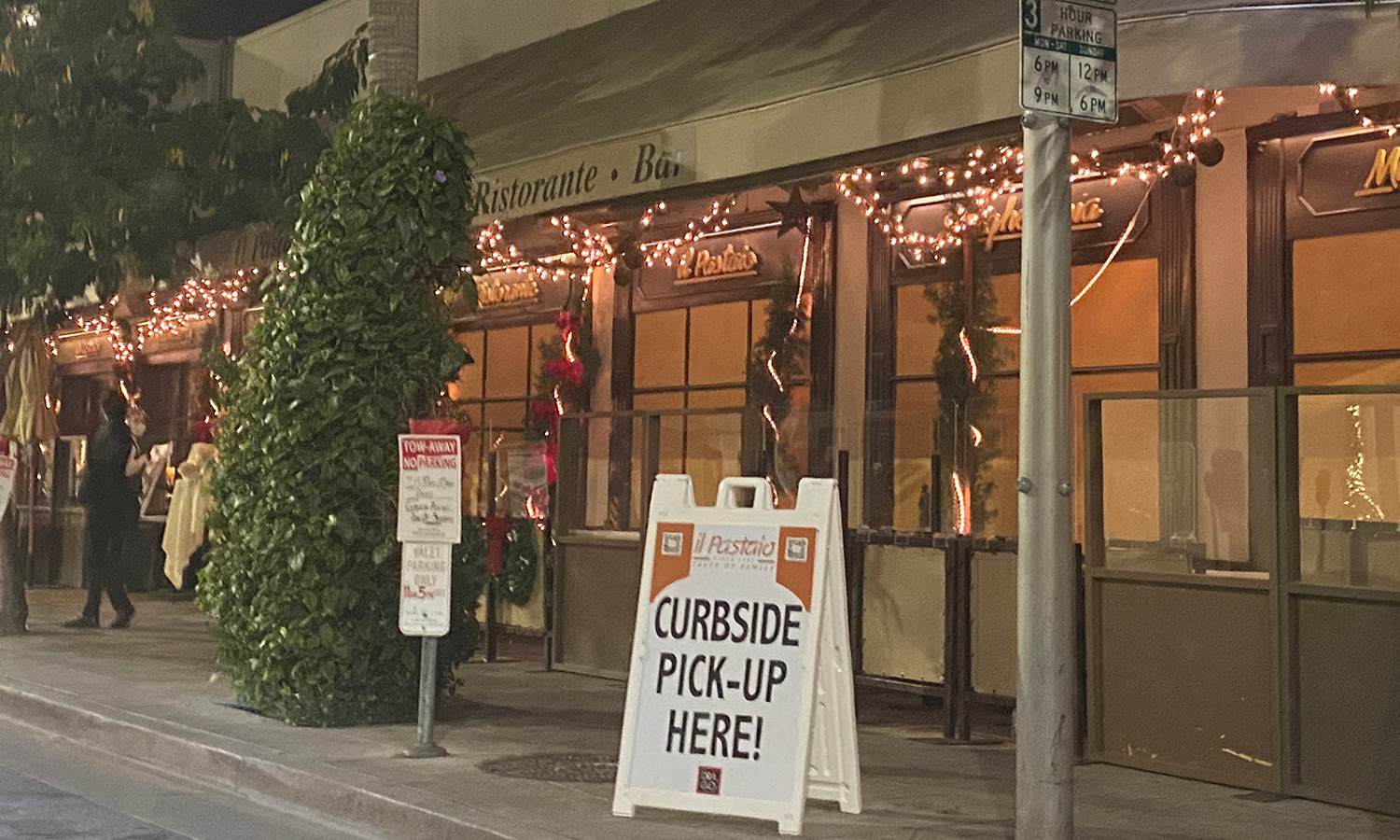 The most recent closures were met with resistance, prompting local officials, legislators and businessowners to speak out. Legal action was attempted in the hopes of repealing the ban, citing hundreds of thousands of jobs at stake and a lack of scientific evidence to support and justify the move. The Beverly Hills City Council went as far as exploring the possibility of creating a City Public Health Department.
The new County-wide Health Officer Order is expected to contain requirements similar to the previous one, with occupancy limits and masking mandates for all staff and patrons. "This won't be the end all and the save all, but it's sure a heck of a lot more than what they've been getting now. So, it's a step in the right direction," said Johnson. Public Health has also rescinded the hours of operation restrictions for non-essential businesses.
"We are, of course, ecstatic," Barbara Lazaroff, Co-Owner and Co-Founder of SPAGO Beverly Hills told the Courier. "I think after being restrained for so long, the public is excited to dine out again. Since our phone lines opened up on Wednesday, they've been ringing non-stop. We're completely booked. We turned away a lot of requests for reservations because we are starting a little bit slower than we normally would have. We're starting up again and we're bringing in staff and we want to make sure the kitchen is geared up. Because we don't want to overwhelm the kitchen, we actually turned away a couple of hundred reservations." When ordered to close in November, SPAGO had to let go of over 160 staff.
Lazaroff underscored that caring for the health and safety of the public is more than a priority, it's "engrained in the DNA of all hospitality workers."
"Another reason we're waiting till Saturday to open is because everybody was tested for COVID-19," Lazaroff said. "We are continuing our practice of testing every single employee, from people answering the phone to the valets, to people washing the dishes, the frontline, the waitstaff, the bus boys."
"We are cautiously optimistic, as any restaurant owner would be, in this uncertain time," Adam Rubin, co-owner of Croft Alley on Brighton Way, told the Courier. "I know many restaurant owners are frustrated given the ups and downs but, ultimately, we just couldn't be more excited to serve the community that has supported us throughout this entire year. Our patio is here to stay, and we hope everyone enjoys it."
Since the launch of OpenBH, the City has allowed restaurants to expand their outdoor operations via parklets. Johnson is recommending that the City extend the permits for these parklets to at least the end of the year, if not permanently. The matter is expected to go before the City Council next month.
"I believe that these outside parklets are going to be here for some time," Johnson told the Courier. "Everyone that lives in California pays that one big weather tax because we have the best weather, and we should be taking advantage of this. And we've always been trying to get nightlife into our city, and I think this will bring that. With more outdoor dining, the streets will be packed and that'd be great."
With the promise of more vaccines on the horizon, restauranters are optimistic. "I think by shutting down restaurants two months ago, it certainly didn't stop or slow down the pandemic," Johnson said. "If anything, that increased it. I don't think at this point these guys are worried thinking, 'Oh, we're going to be shut down again,' because I think we're in a different state than we were 30 or 60 days ago."
"The whole hospitality industry, we're a family," Lazaroff told the Courier. "So as a whole group, we worked together to try to reopen outdoor dining, we are in this together and now we're in together with combined joy."
On Jan. 28, the City Council approved a proposal from SPAGO to construct a temporary outdoor dining tent in the cul-de-sac area on North Canon Drive. The tent would be at the roundabout, located in the intersection itself of Canon Drive and Clifton Way.
"The City Council has been so gracious and extraordinary with meeting the needs of businesses and the residents," Lazaroff told the Courier. "Before moving forward, we are of course first reviewing this with the stakeholders, and we want to be respectful of everyone in the neighborhood. There are still some contingencies to work out, but we are tentatively moving forward."
The proposal was first presented during a Jan. 6 Beverly Hills City Council Liaison Meeting for the Rodeo Drive Special Events Holiday Program Committee.