City of Beverly Hills | Fashion | Retail
Louis Vuitton Men's Temporary Residency Arrives in Beverly Hills
When it became clear last year that fashion weeks would not go on as usual, global brands vied to outdo each other virtually. None incorporated as imaginative a means as Louis Vuitton Artistic Director Virgil Abloh.
BY Ana Figueroa February 4, 2021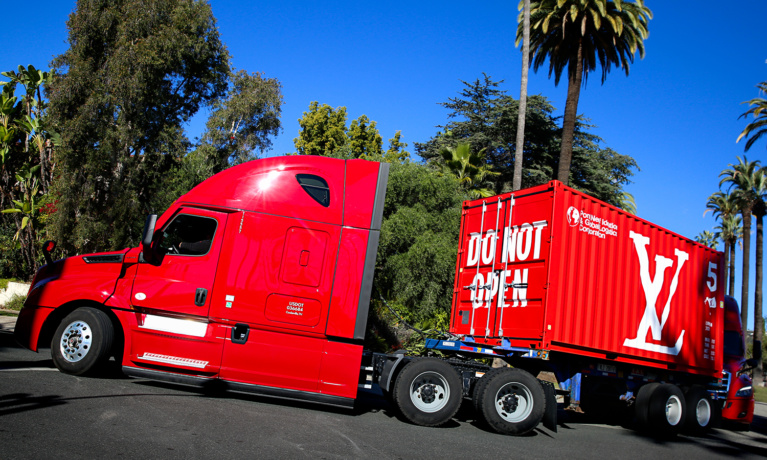 Reading Time:
4
minutes
The much-anticipated Louis Vuitton Men's Temporary Residency is here, and it couldn't have come at a more auspicious time. Beverly Hills has come alive in the past week, as outdoor dining returned after a two-month stay. Sidewalks are busy, spirits are high and the Louis Vuitton installation at 468 North Rodeo Drive is a celebratory backdrop. The Temporary Residency comes to Beverly Hills as the last stop in a global rollout. Its raison d'être is the Louis Vuitton Men's Spring-Summer 2021 Collection, a sensation in its live show debuts in Shanghai and Tokyo last summer. The livestream of the Shanghai show alone garnered 1.1 million views on YouTube, proving that despite a pandemic, the fashion show must go on.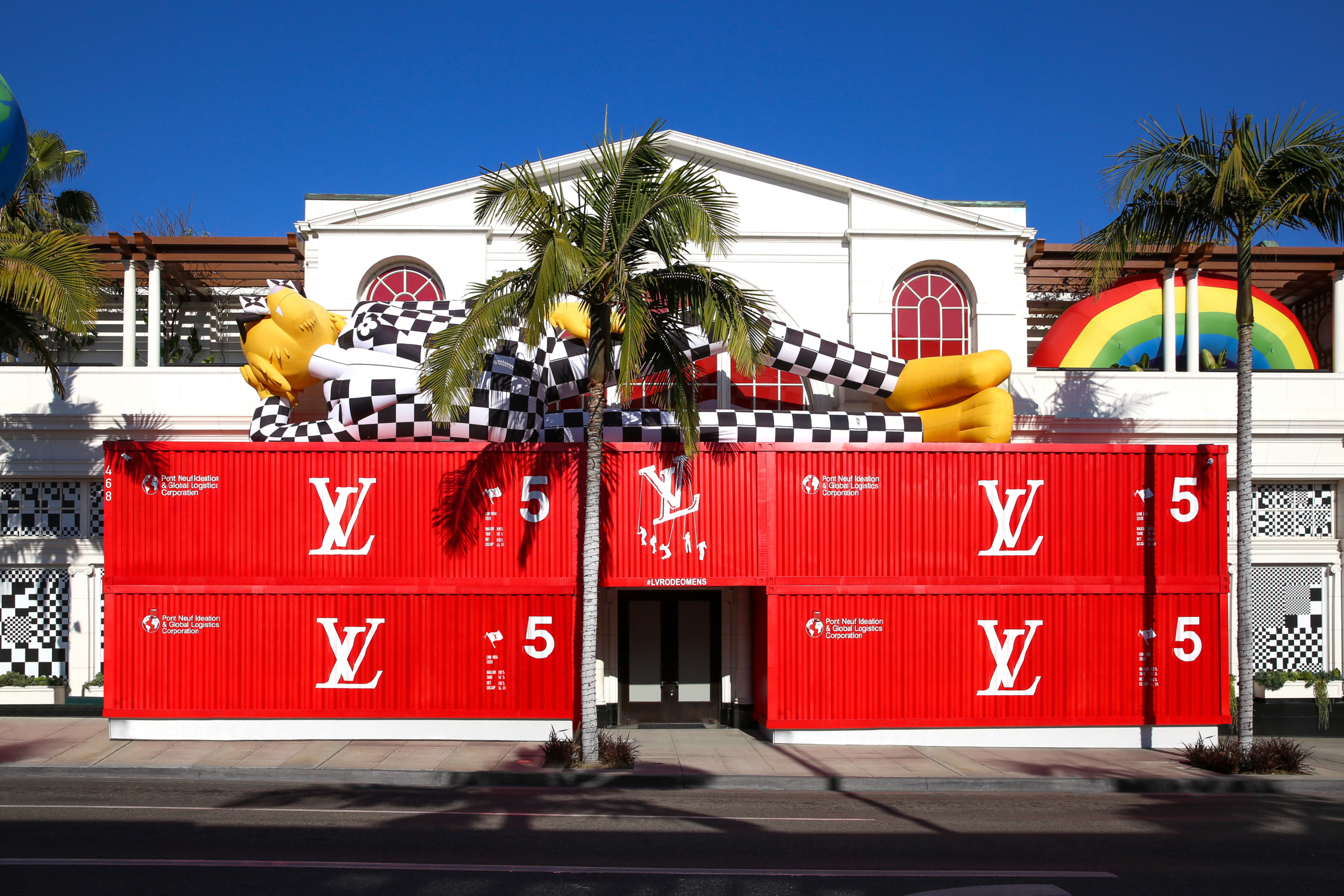 Spotlight on Rodeo Drive
The Louis Vuitton Men's Temporary Residency is enlivening Rodeo Drive with a bright red bespoke "shipping container" façade, black and white patterned window coverings and giant inflatable cartoon-like characters (explained below) hovering above the entrance and on the roof. The installation is expected to generate the same level of attention as the wildly successful "Louis Vuitton X" exhibit that celebrated Louis Vuitton's legacy of artistic collaborations. That activation was in place for five months in the same space in 2019. Alas, the Louis Vuitton Men's Temporary Residency will be in Beverly Hills only through early March. And current Health Orders dictate a 25 percent maximum occupancy level at any given time. Fortunately, one needn't be inside to enjoy everything the Temporary Residency has to offer. QR and Snapchat codes on the exterior walls allow bystanders to  interact with animated characters and generate shareable content. More surprises await inside, as discovered by the Courier during a sneak preview before the official Feb. 5 opening.
The 1,600 square-foot retail space stages the Louis Vuitton Men's Spring-Summer 2021 Collection in  red shipping containers, which will be available for purchase. On the floor, black and white tiles are arranged in hypnotic patterns. An entire wall is taken up by a video screen playing a permanent loop of "Menswear Moments" from current collections. Inside the containers, displays feature jackets, sweaters, shirts and bags in vibrant blue, orange, yellow and green. The collection's edgy "cartoon" mascots are visible as designs embedded on bags and accessories, even serving as stuffed toys affixed to some pieces. As set forth in more detail in the Jan. 15 Courier Exclusive ("Louis Vuitton Men's Temporary Residency Heading to Beverly Hills"), the characters came to life during the early days of the pandemic.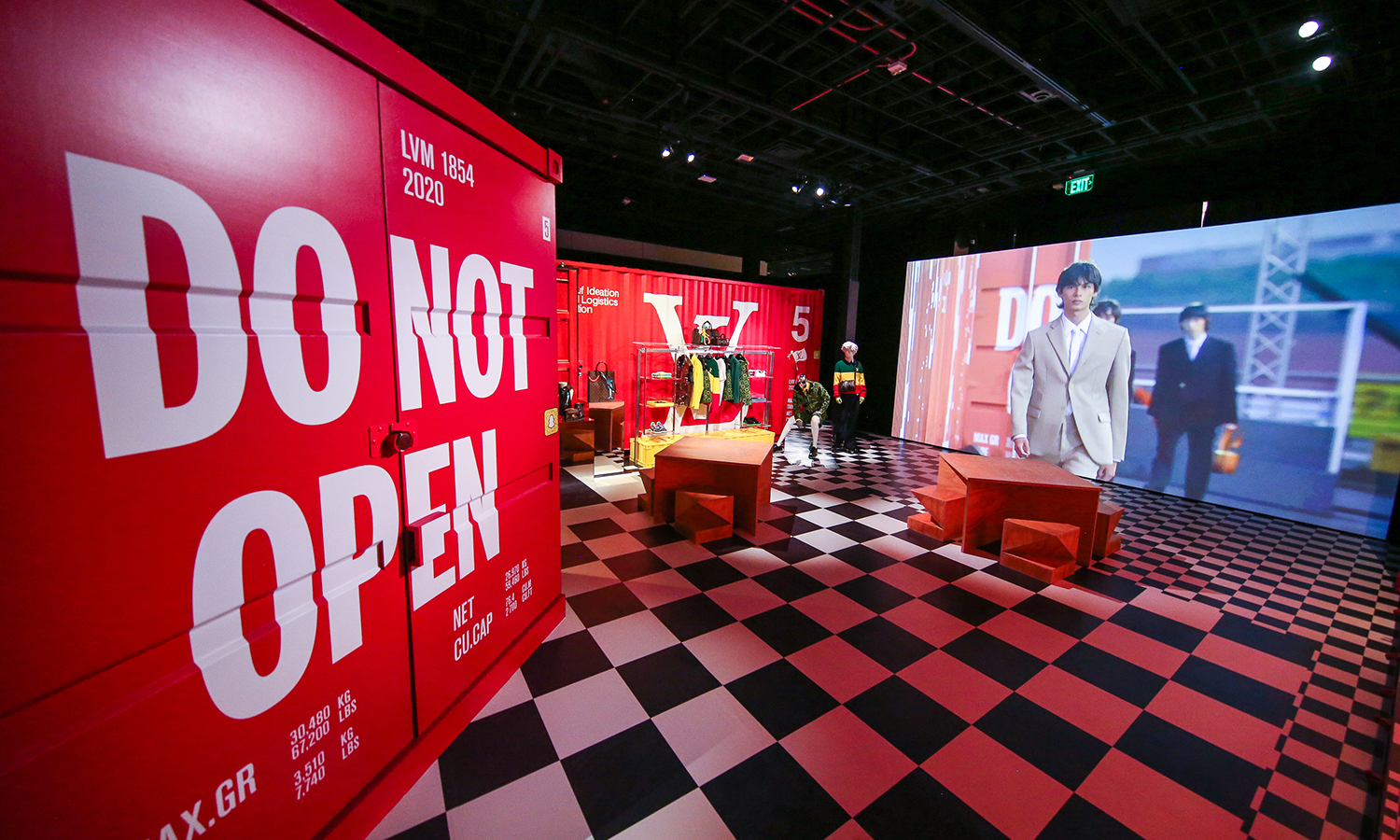 The Journey's Origins
When it became clear last year that fashion weeks would not go on as usual, global brands vied to outdo each other virtually. None incorporated as imaginative a means as Louis Vuitton Artistic Director Virgil Abloh. He debuted a short film at Digital Fashion Week in Paris in June 2020, entitled "The Adventures of Zoooom with friends." Part animation, part live-action, the film introduced a surreal but laid-back cast of animated characters. Their ranks included Joe, the huge, anthropomorphized orange dog reclining at the building's entrance. Joe's signature look includes a mod suit and a set of shades in the familiar black and white checkered patterns that are emblematic of the collection. Joe's cohorts include a birdlike creature, as well as a unicorn, a green dragon, purple dinosaur and a big, smiling flower, among others.
In the film, the disparate crew sets out for adventure in Paris. They then hop aboard a barge loaded with shipping containers carrying signature Louis Vuitton trunks. Presumably, the Spring-Summer 2021 collection has been packed inside. The collection was given the name "Message in a Bottle," a fitting ode to the theme of venturing out into the unknown. In the summer of 2020, the same could be said of every industry, not simply fashion.
A few months after the film's debut, the Zoooom with friends characters resurfaced in the live runway shows in Shanghai and Tokyo. This time, however, they took the form of giant inflatables. The gang next appeared at a Temporary Residency at the Miami Design Center in December. That activation disassembled and traveled to Beverly Hills in a truck caravan of—what else—bright red shipping containers.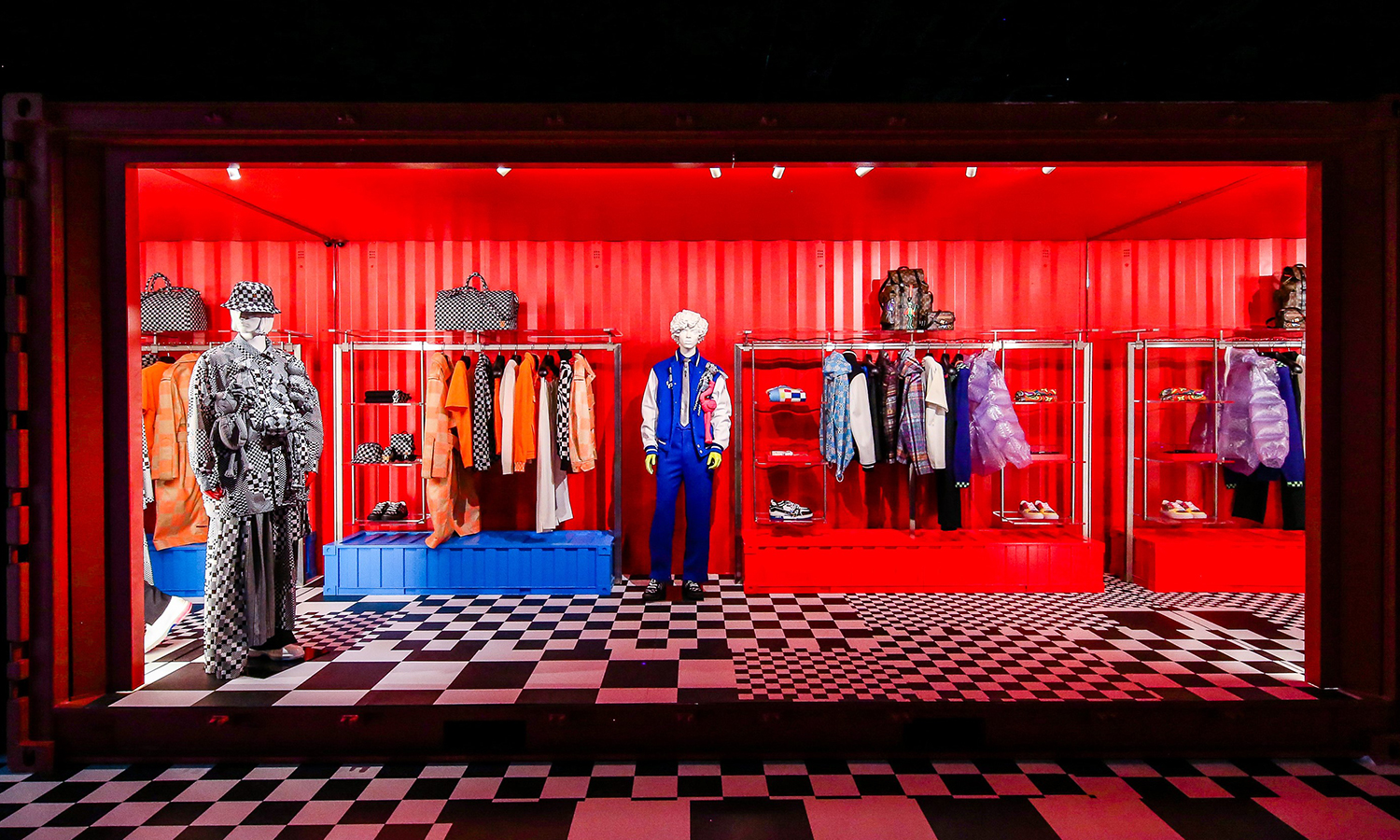 The Collection
The Chicago-born Abloh is the first African American to head a French luxury design house. He is outspoken on issues of inclusivity, diversity, and the need to set examples for others. One of the central themes of his Men's Spring-Summer 2021 collection involves the timeliness of fashion. As such, the collection invokes four methods of upcycling: new looks made from recycled material, looks repeated from the Fall-Winter 2020 collection, looks freely created by the studio during the lockdown using recycled material and new looks created from existing ideas. It is a serious through-note in a collection that is above all, a whimsical amalgam of several different influences. As WWD noted in a September 2020 review of the Tokyo runway event, accessories included "hats reminiscent of Johnny Depp's Willy Wonka and sunglasses that recalled the device worn by LeVar Burton in 'Star Trek: The Next Generation.'"
Abloh credits the Ghanaian heritage of his parents as well as visits to a Parisian toy store as inspiration for the "puppets, patterns, palette and accessories" found in the collection. Glancing around the Rodeo Drive installation, it is easy to see the connection. The fashion press last year credited Abloh with brightening up an otherwise subdued time with his playful designs. The same can be said about the Louis Vuitton Men's Temporary Residency on Rodeo Drive.