A federal grand jury for the District of Columbia has indicted Beverly Hills resident Gina Michelle Bisignano on seven charges related to her conduct at the Jan. 6 Capitol riot. Bisignano, along with two other Beverly Hills locals, became one of the scores arrested by federal authorities in the aftermath of the incursion. Along with living in Beverly Hills, she also owns a local business, Gina's Eyelashes and Skincare. Bisignano faces years in prison if found guilty.
The grand jury charged Bisignano with Obstruction of an Official Proceeding, Aiding and Abetting, Civil Disorder, Destruction of Government Property, Entering and Remaining in a Restricted Building or Grounds, Disorderly and Disruptive Conduct in a Restricted Building or Grounds, Engaging in Physical Violence in a Restricted Building or Grounds and Disorderly Conduct in a Capitol Building.
Bisignano and two other Beverly Hills residents, John Strand, 37, and Dr. Simone Gold, 55, were arrested over the Martin Luther King Jr. Day holiday weekend by the FBI, with assistance by the Beverly Hills Police Department, pursuant to federal charges filed in Washington, D.C. They appeared in U.S. District Court for the Central District of California in downtown Los Angeles on Jan. 19. Both Gold and Strand were released on bail. Bisignano was granted bail in her initial hearing, but a D.C. judge stayed her release on appeal.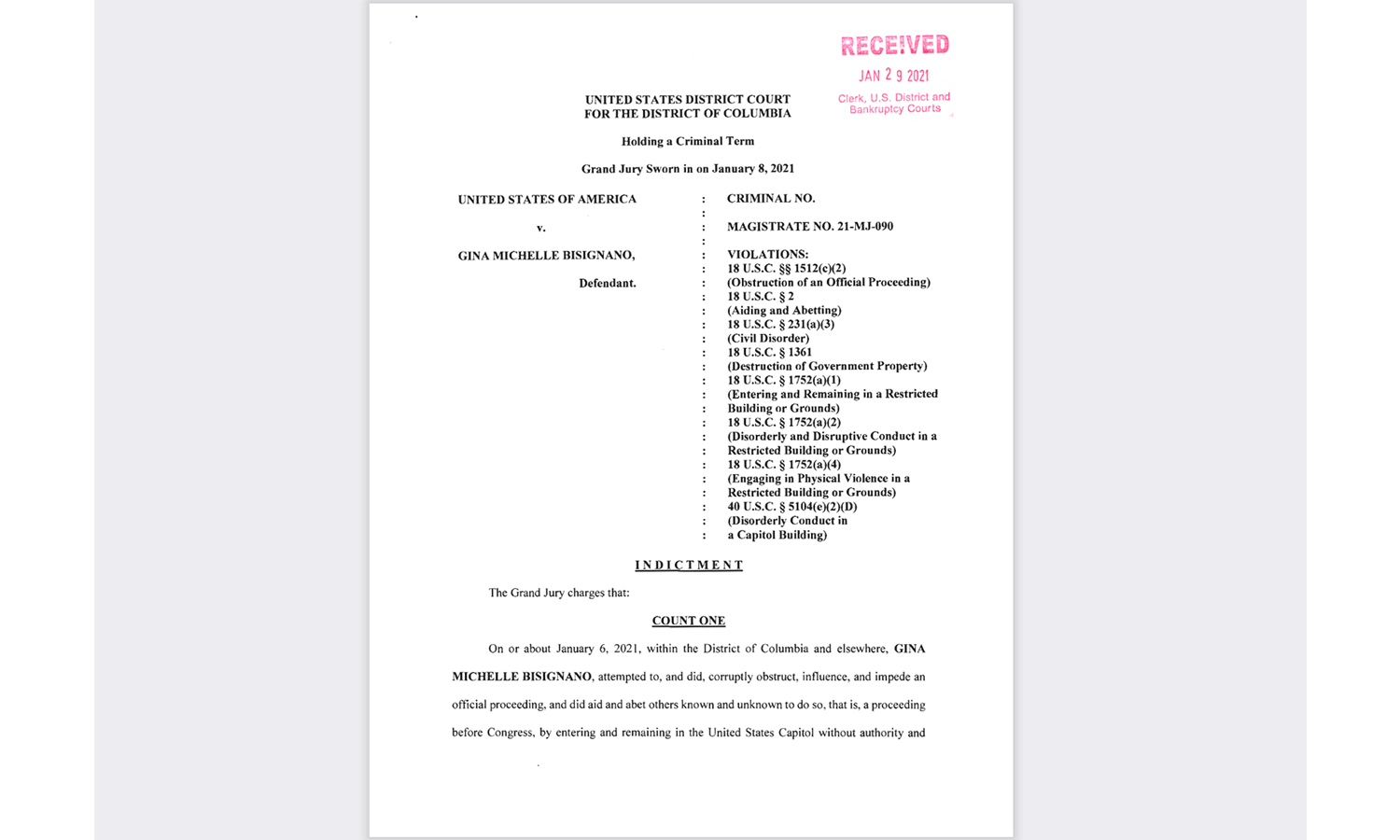 "The magistrate here in Los Angeles on Tuesday afternoon set bond for Bisignano, which we objected to on behalf of our colleagues in the District of Columbia," United States Attorney's Office Director of Media Relations Thom Mrozek previously told the Courier. "Later that evening, prosecutors in D.C. obtained a stay and a detention order from a judge in D.C."
Bisignano appeared in court on Feb. 4, U.S. Attorney's Office for the District of Columbia Public Affairs Specialist Shelia Miller told the Courier. She could not give more information on the nature of the hearing by press time. Close friends of Bisignano have told the Courier that she has retained the services of a lawyer in D.C. While the court has ordered Bisignano transported to D.C., she currently remains in detention in California, according to U.S. Marshals spokesperson Lynzey Donahue.
Bisignano, Strand and Gold each have close ties to the Beverly Hills Freedom Rally, the weekly pro-Trump demonstration that has taken place since July. Many other regular attendees of the rally also went to the Capitol. While they remain out of custody as of press time, many of them are persons of interest for the FBI and the D.C. Metropolitan Police.
According to the FBI's Statement of Facts for Bisignano, she originally came under scrutiny after the Bureau received at least six tips identifying her as a participant at the riot. In one video widely circulated online, Bisignano even shares her first and last name, her city of residence, and her Instagram account.
In a story in the Jan. 15 issue of the Courier, "Beverly Hills Salon Owner Recounts Her Actions in D.C. Riots," Bisignano spoke about her role in the failed insurrection. In fact, the FBI's Statement of Facts for Bisignano, compiled by a member of the Bureau's Washington Field Office's Joint Terrorism Task Force, cites reporting by the Courier. The Courier conducted extensive interviews with Bisignano in the week after the attempted insurrection, in which she admitted to entering the Capitol, but claimed that she was escaping the throngs of rioters.
"BISIGNANO told the news outlet [Courier] that she filmed herself at the Capitol building, during the time when rioters had stolen police shields and were deploying pepper spray on the officers," according to the statement filed in federal court. "BISIGNANO also admitted entering the Capitol building itself through a window, the glass of which had been broken by another rioter."
"I got caught up. I didn't do anything to hurt anybody," Bisignano, owner of Gina's Eyelashes and Skincare, told the Courier prior to her arrest. She went to the Capitol after President Trump called on his supporters to attend a rally on Jan. 6. "If enough patriots got together to rightfully assemble and put pressure, chant and cheer like we do, they would think, 'Okay, we the people–we the people are speaking.'"