On Feb. 2, the Beverly Hills City Council held a regular Study Session during which a proposal detailing plans for two temporary outdoor dining tents and subsequent street closures in front of Spago and Nusr-Et restaurants was discussed. Nusr-Et is a new steakhouse helmed by Turkish chef Nusret Gökçe, known globally as the "Salt Bae." At issue is the city's current OpenBH program, which allows businesses to temporarily extend their services to adjacent areas such as parking lots and the public right of way by acquiring a Special Event Permit to include street closures and tent structures. Currently, there are 104 businesses in the city participating in the program. The proposed temporary outdoor dining tents and street closures in front of Spago and Nusr-Et, respectively, would include restricted public access to the sidewalks, to Wilshire Boulevard and the Canon mural wall.
"This is a perfect example of our community working together," said Councilmember Lili Bosse, a liaison for the Rodeo Drive, Special Events and Holiday Program Committee. "It really is something that we should all be very proud of. When we had our liaison meeting, there were a few loose ends that needed to be tied, and the direction that we had given was to reach out to neighboring businesses, to work with MTA, to make sure that the traffic control plan had no significant impacts, and to maintain the U-turn and the valet. With all of that being said, they accomplished all that and more. So, we as the liaison wholeheartedly supported this and feel very excited about having this in our city. We feel very strongly that we need to continue to partner with our restaurants and help them."
In addition to the baseline request of installing a temporary outdoor dining tent at both 176 and 184 North Canon with the closure of the street in front of the restaurants, the City Council is being asked to consider the waiver of applicable fees, including the street closure fee and meter revenue, and that the city absorb costs related to traffic circle equipment and staff time.
The Council also considered whether to condition approval of the building permits with prior approval by the L.A. County Department of Public Health (Public Health). However, in this, Nusr-Et requested that they be granted the ability to install the tent without Public Health approval at the same time as Spago.
"Nusr-Et is in somewhat of a catch-22 situation in that they cannot get approval for their temporary structure until they have Health Department approval for their brick-and-mortar actual physical structure," Laura Biery, marketing and economic sustainability manager, said. "So in order to not disrupt the street and the traffic flow, and have additional impacts due to construction twice, they would like to have the ability to construct their temporary tent at the same time as this temporary tent is constructed, full well knowing they are accepting the risk that they may or may not receive Health Department approval, and that they will not be able to receive their OpenBH permit or inhabit the tent or do any type of outdoor dining until that Health Department approval has been granted."
The fourth and final item presented for consideration was that the project be reviewed with the applicants and Council liaisons roughly six months from the installation of the tent. "Applicants have requested that these projects be up for the full duration of any pandemic restrictions," Biery said. "That's any type of percentage restrictions or spacing restrictions on outdoor or indoor dining to allow them to get the full return on investment of these temporary tent structures." At the meeting, representatives from both restaurants were there to answer questions from council.
Neighboring businesses called in during public comment to express support.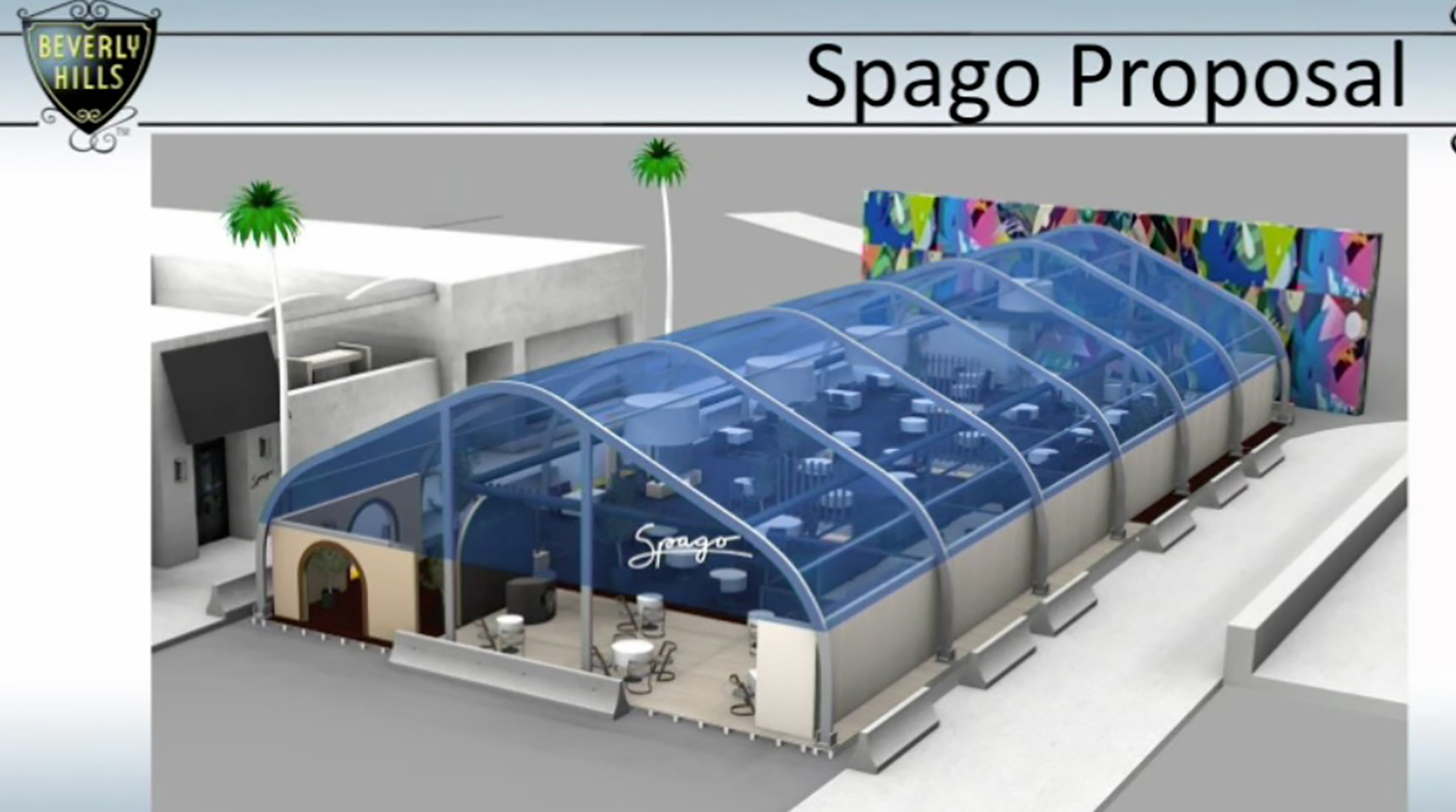 The tent proposed by Spago can accommodate over 100 guests, and the temporary structure will be the closest to the Canon mural wall, directly in front of the restaurant's existing brick and mortar building. The proposal was first presented during a Jan. 6 Beverly Hills City Council Liaison Meeting for the Rodeo Drive Special Events Holiday Program Committee. "Guests will be spaced safely, with an overhead blue tent to allow for circulation ventilation and airflow that is recommended by health experts," Magdalena Davis, Special Event and Filming Coordinator, said. "There's also indoor electrical heating from a power system inside the restaurant. Two non-connecting walls are now allowed by state and county health departments, and the final plans turned into staff will reflect that."
The California State Health Department has released updated guidelines, stating that two walls and a roof may be constructed for outdoor dining tent structures, as long as the walls be non-contiguous. While city staff have submitted both the proposed tent plans to Public Health for review, the agency has not yet provided their approval, but have confirmed they are in the process.
While the launch date for Nusr-Et has been pushed back, the steakhouse hopes to open temporarily in an outdoor fashion so as not to delay the entire opening of the restaurant. The tent proposed by Nusr-Et can seat up to 60 guests and would also be situated in front of their brick-and-mortar location. "The seating capacities that you see before you for both tents are based on health department approval," Davis said. "It's worth noting that the Nusr-Et group is working to obtain a health permit sign off for their actual brick-and-mortar restaurant location so that they may then receive review and approval for this temporary expansion."
The fiscal impact for the proposal is approximately $12,000. Costs associated with traffic control measures, including signage, safety equipment, and Metro mitigation fees will be absorbed by both restaurants.
When asked by Councilmember Julian Gold how Spago would handle crowd control, the general manager, Steve Scott Springer, responded.
"There's a two-layer check-in system where you get checked into the front, and then a station where your temperature is taken, and we ensure that you have a mask before you enter the space. And then there are dots on the ground where we separate each of the parties together. And then we also control very carefully the amount of covers that we take and that the arrivals are staggering. We've become pretty skilled at crowd control and keeping everybody safe. That's a big priority for us, as I've said many times here. This is our method of getting back to normal, so we embrace these requirements. I want to keep everybody safe and employed."
"There is unanimity in terms of the request for the tents," Mayor Lester Friedman said. "In terms of the waiver of the fees, I think there's unanimity on that issue. The condition that the health department issue the permit for Spago prior to the building permit, and not the same for Nusr-Et because of the pickle that they're in. I think we're in agreement with that. Obviously, the opening will be dependent upon the Department of Public Health issuing the permit."
Mayor Friedman added: "I think that in good conscience, it will be up for at least six months, plus whatever other period of time is necessary."