City of Beverly Hills | Health | Wellness
Shortages and Local Frustrations Over Vaccine Distribution
"I'm explaining to people that it makes sense that they would have it at the Forum or Dodger's Stadium and places like that, where they can get a lot of people lined up and do 3 or 4,000 a day," he told the Courier. 
BY Samuel Braslow February 11, 2021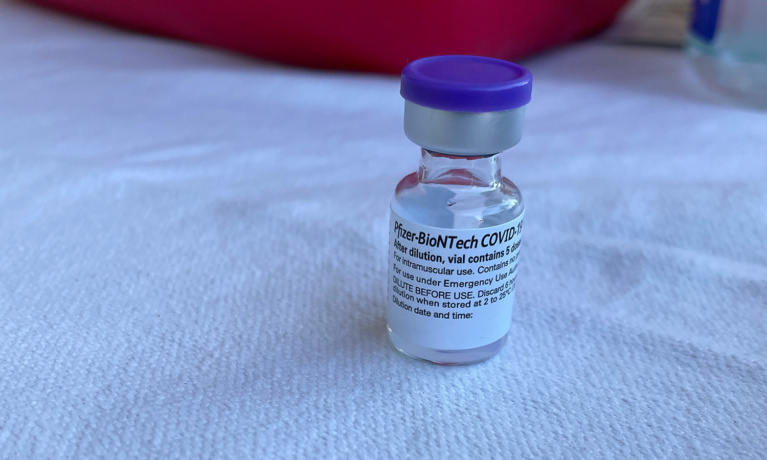 Reading Time:
5
minutes
The call came over the grocery store's PA system around 7:50 p.m. on Sun. Feb. 7. "Anyone interested in the COVID-19 vaccine, come to the pharmacy." One shopper on his way out froze in place, swiveled on his heels and ran. He sprinted down aisle 11, past the Glad paper plates, by the Famous Amos chocolate chip cookies and to the pharmacy counter. He breathlessly said the word "vaccine" before the pharmacist handed him a double-sided form to fill out and then escorted him into a windowless back room. There, the pharmacist filled up a syringe with Moderna's new vaccine and injected the much-coveted liquid into the healthy 27-year-old's arm. 
While this individual would normally not have qualified to receive the vaccine for many months, the pharmacist explained that a few missed appointments that day had left them with extra doses they were loath to waste. But serendipity makes for a poor vaccine distribution plan. Over a month into vaccination efforts, even those who qualify for the vaccine have had trouble getting one as Los Angeles County reports shortages in vaccine supply. In Beverly Hills, pharmacies that have signed up to distribute the vaccine say they continue to wait for shipments without a clear idea of when they might arrive. 
"We get probably 10 to 15 calls a day at each of our locations from our patients asking for the vaccine. And, unfortunately, it's very disappointing to consistently tell them that we don't have any updates and we're not sure when it will be, but it won't be anytime soon," Ben Kadkhoda, a pharmacist at Encore Pharmacy on North Roxbury Drive, told the Courier. Six other pharmacies that spoke with the Courier echoed Kadkhoda, saying they did not have the vaccine and did not know when they would receive their shipments. 
Local pharmacies fall lower on the list of the county's vaccine distribution strategy, which prioritizes "mega" sites like the Forum in Inglewood, Six Flags Magic Mountain in Valencia, Cal State Northridge, the Fairplex in Pomona and the L.A. County Office of Education's Downey Education Center. Only two locations in Beverly Hills currently offer the vaccine, the Rite Aid on Canon Drive and the Rite Aid on North Bedford Drive. 
According to Kaitlyn Ross, a pharmacist at the Canon Rite Aid, the pharmacy is inoculating about 20 people a day. This is why Herb Glicksman, the owner of Herb's Pharmacy on Wilshire Boulevard thinks it makes sense to prioritize the mega sites over smaller locations. Herb's Pharmacy does not plan to distribute the vaccine. 
"I'm explaining to people that it makes sense that they would have it at the Forum or Dodger's Stadium and places like that, where they can get a lot of people lined up and do 3 or 4,000 a day," he told the Courier. 
But even with that operational advantage, large vacillations in vaccine shipments have forced many mega sites and other centers to restrict distribution to those receiving their second dose only. The county received a shipment of 133,575 vaccines on the week of Jan. 4, which rose to 193,950 the following week, before falling to 168,575 the week after. The uncertainty has led the Los Angeles County Department of Public Health (Public Health) to set aside 55 percent of this week's stock for second doses.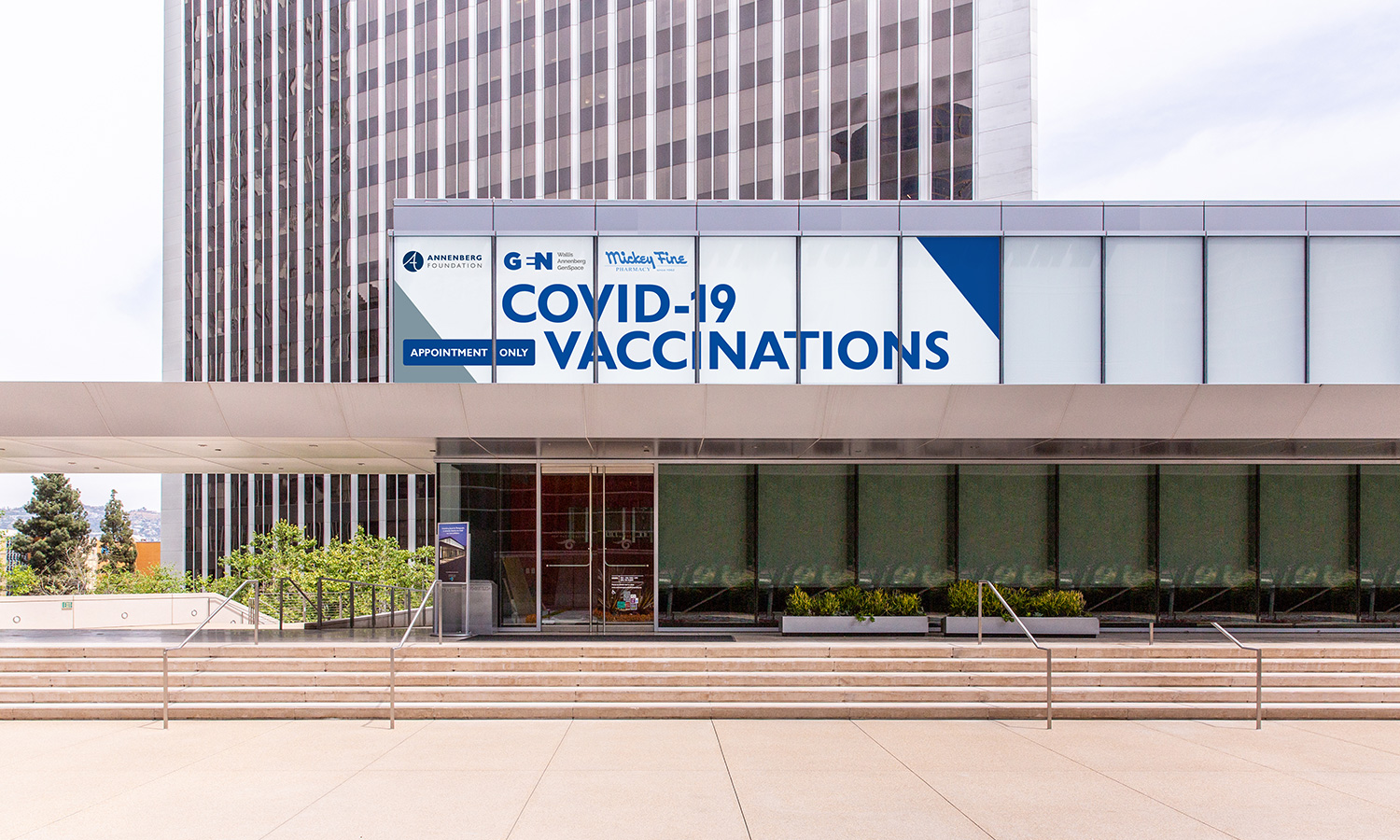 "Starting on [Feb. 9], due to short supply of vaccines from the state, county sites will be administering second doses only for the remainder of the week," Public Health announced on Twitter. The policy impacted the Pomona Fairplex, the Forum, the County Office of Education, Cal State Northridge, the Balboa Sports Complex, and El Sereno. Cedars-Sinai has also limited visits at its Beverly Center drive-through clinic to those receiving their second dose.
Dodger Stadium continues to distribute first doses. But in a possible indication of confusion over the rapidly shifting rules, Feb. 9 saw the mega site uncharacteristically empty with thousands of unclaimed appointments. 
Dodger Stadium has encountered other issues lately as well, with protesters disrupting operations at the facility for about an hour on Jan. 30. A group of 50 demonstrators marched up Academy Road with signs decrying public health measures and declaiming misinformation on the vaccine. In response, officials with the Los Angeles Fire Department (LAFD) closed the gates to the stadium grounds, temporarily halting traffic. While LAFD Public Information Officer David Ortiz said that the protest only delayed vaccinations by 30 minutes, the Courier observed multiple vehicles leaving the line during the closure. 
"We vaccinated everybody that was in line," Ortiz told the Courier.
According to the organizer of the protest, Jason Lefkowitz, LAPD had ample notice of the protest. "I am furious that the demonstration took place in my district, which has been devastated by the pandemic," L.A. City Councilmember Gil Cedillo told the Courier. 
Los Angeles Police Department (LAPD) Chief Michael Moore promised to arrest future protestors for harassment and intimidation at vaccination sites. Lefkowitz, however, plans to return to Dodger Stadium on Feb. 13, according to a flyer he shared on the messaging app Telegram. 
The rocky vaccine rollout comes as Los Angeles discovers more cases of new COVID-19 variants. On Feb. 9, Public Health confirmed five additional cases of the U.K. variant, B.1.1.7., bringing the total to eight. Though a drop in the bucket compared to the more than 1 million total cases detected in the county, the novel variant transmits 50 percent more easily, according to current estimates. Officials predict that B.1.1.7 will become the dominant strain in the United States by the end of March. Studies have shown that the currently available vaccines are effective at combating the new strain, though not as effective against variants first identified in Brazil and South Africa. No other variant has yet been detected in Los Angeles County. 
While Public Health has located large scale distribution centers in the east of the county where the virus has hit hardest, Beverly Hills' senior community may see some relief closer to home soon. The Annenberg Foundation and Mickey Fine Pharmacy have partnered together to launch a vaccination center catering to those 70 years and older. The distribution site will operate out of the old Annenberg Space for Photography, which saw the closure of its final exhibit in March 2020 due to COVID-19. 
"Our seniors have suffered a wrenching toll in this pandemic," said Annenberg Foundation CEO Wallis Annenberg in a statement. "In many cases, they were the first affected and the hardest hit, and we must act now. We all want this to be a new season of hope and immunity for seniors–here in Los Angeles and across the country."
"I'm truly honored and grateful to be able to change lives and help people get back to their life," Mickey Fine co-owner Gina Raphael told the Courier. "This is a coming together moment so that we can help the community and get our lives back," she says.
The center will not open until it receives vaccine stock from the county. Raphael says that they are in touch with county officials, but do not have a firm date of when that may be.