Community News
WeHo to Close Robertson on Weekends
"We know that our businesses and our visitors and our residents are responsible, and they want to do the right thing," D'Amico said at the Feb. 16 Regular Meeting.
BY Samuel Braslow February 18, 2021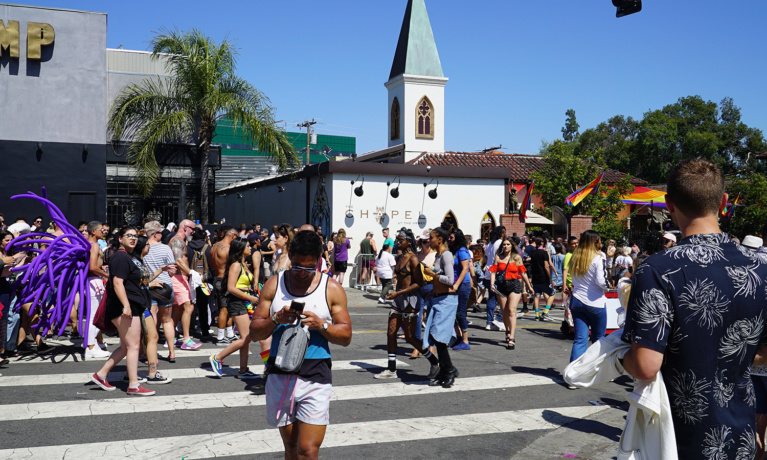 Reading Time:
3
minutes
The West Hollywood City Council unanimously passed a resolution at its Feb. 16 Regular Meeting that will reshape nightlife and weekend life on Robertson Boulevard for at least the next three months. The city will exclude vehicles on Robertson Boulevard from Santa Monica Boulevard, the epicenter of West Hollywood's Boystown, to El Tovar Place, right before Melrose Avenue. The stretch will be closed for pedestrians, bicyclists, and outdoor dining from 6 p.m. on Saturdays to 2 a.m. on Mondays starting on April 1.
Councilmember John D'Amico, who co-sponsored the motion with Councilmember John Erickson, argued that the mix of high foot and vehicle traffic left pedestrians vulnerable. But more immediately, he said, people and businesses alike are hungry for safe public spaces during the pandemic. 
"We know that our businesses and our visitors and our residents are responsible, and they want to do the right thing," D'Amico said at the Feb. 16 Regular Meeting. "They want to make sure that people don't get infected and keep social distancing, and so we feel confident that an area like this that is planned well and used by businesses will really accomplish what the county was unable to do for the past year, which is sort of chart a course through this pandemic that allows businesses to succeed and stay open."
The city has mulled over the idea of closing down Robertson to vehicle traffic for nearly a decade. The City Council first examined the possibility in May 2012, but the plans were scrapped due to concern by surrounding businesses about access to nearby parking.
But in a time of outdoor dining and restricted indoor capacity, cities around the country have begun to reevaluate their use of the outdoors—a space dominated by cars in urban settings. West Hollywood also anticipates an increase in pedestrian activity as large nearby developments come to completion, including West Hollywood Park Phase II, Robertson Lane, a new commercial building on La Peer, a mixed-use building at the site of the former Palm Restaurant, and Melrose Triangle.
Particularly in Boystown—a hub of nightclubs, bars, and restaurants at the heart of nightlife in West Hollywood—the tension between pedestrians and vehicles is most acute. This problem has only grown in recent years alongside the rise in ride-sharing services like Uber and Lyft, which often ensnare traffic down Santa Monica. "At peak times, the sidewalks are overflowing with pedestrians, and vehicles often have difficulty maneuvering through the crowds," notes the staff report compiled for the Feb. 16 meeting. "Besides personal vehicles, this is a popular pick-up and drop-off location for taxis and rideshare vehicles, which causes more slowdowns."
With this in mind, the closure includes drop-off and pick-up zones on both the Santa Monica and Melrose sides. Also, in consideration of the parking concerns held by nearby businesses, the city designed the closure to still give access to public parking lots. From a bird's eye view, the shape of the closure resembles a knife, with the handle pointing toward Melrose. The space underneath the handle leaves Anawalt Lumber accessible to cars over the weekend. Other businesses like The Abbey and Bossa Nova can extend operations into the street during the busy weekends, in addition to nearby businesses that may lack the space otherwise. 
Early estimates of the cost compiled by staff show a price tag of $25,000 to $60,000 for potential street work or paving, which can be covered by existing funds budgeted for street and sidewalk repair. Additionally, staff estimates a cost of $5,500 for new signage to alert motorists of the closure schedule and indicate the location of the drop zones.
The proposal drew a mix of support and opposition from residents eager for more pedestrian-friendly spaces and others concerned about possible traffic spillover into local neighborhoods. Some commenters said that the current proposal did not go far enough and should make the closure permanent. 
Even residents from Beverly Hills took note of the initiative. "Although I do not live in West Hollywood, I live nearby in Beverly Hills. I patronize your businesses and restaurants frequently and prefer to do so by bicycle, or foot," Dr. Sharon Ignarro submitted to the Council. "Your beautiful city is an innovative leader, and we have much to learn from your example."
But the move also had its detractors who worried about the impact on nearby residential areas and felt that it sent the wrong message during an on-going pandemic.
"As it is, we have non neighborhood traffic utilizing our street to skip main streets," wrote Elizabeth Kim, who identified herself as a resident on nearby Norwich Drive. "We are also one of the streets without speed bumps and there are many cars and delivery trucks that speed down our small street. This will negatively impact us by increasing traffic down our small streets (with many small children and family on our street)."
The city will reevaluate the status of the program after three months to take stock of its successes and failures. At that point, city staff and the Council will weigh whether to continue the program through the summer, to expand the program's footprint, and to begin the closure earlier on Friday evenings.