Los Angeles County moved into the less restrictive red tier on March 15 as part of the state's Blueprint for a Safer Economy. The move allowed certain businesses, including restaurants, to resume limited indoor operations. Though occupancy limits apply (25 percent capacity or 100 people, whichever is fewer) and tables must remain at least eight feet apart, the move to the red tier was welcome news after months of prohibitions. 
"This transition presents a promising future for our City as we continue to work together toward fully reopening," said Mayor Lester Friedman in a statement this week.
"The phones haven't stopped ringing. The anticipation is very high," Giorgio Sease, General Manager at The Grill on the Alley told the Courier. 
The exact reopening date at The Grill is still to be determined, said Sease. "All our employees are calling to see when they can come back. But we want to first make sure everything is safe. Stay tuned. We will be back soon, just as we were. Once again we will be the top power lunch venue in all of Beverly Hills."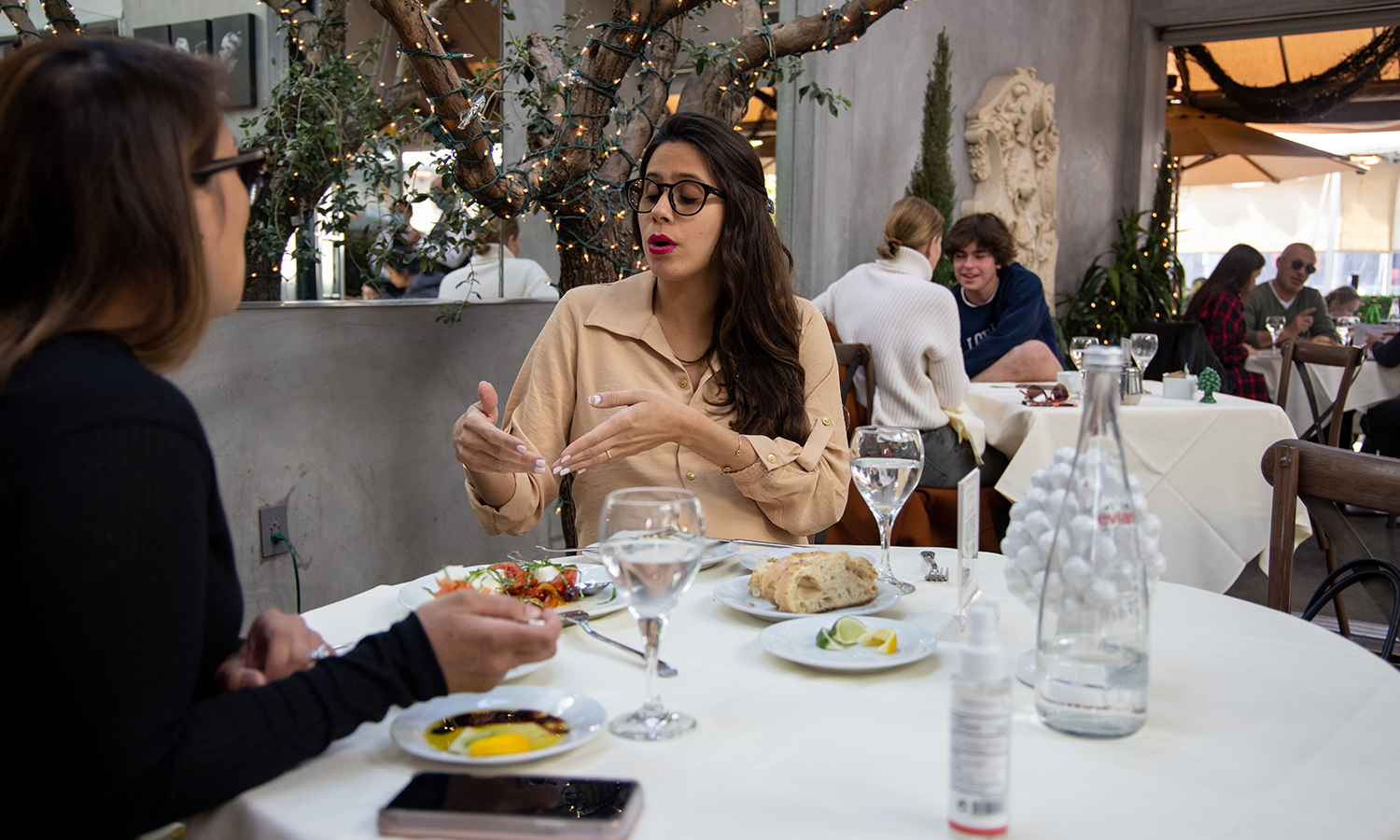 Il Pastaio Manager Carolina Drago surveyed the scene at the Canon Boulevard mainstay the day after dining reopened. "Of course, we are very excited to have the inside and more of our regulars coming in. But the feeling was very intense yesterday. It was a good feeling, a beautiful feeling. It's been one year to see everything empty and then to see people sitting inside was beautiful. … We are so grateful. Beverly Hills for us is like a home," Drago told the Courier.
The city's hotels have been especially hard-hit by the pandemic. As restaurants have expanded outdoors with parklet space, hotels have also made creative use of outdoor space for dining. 
"We have been able to welcome our Beverly Hills community to the beautiful Avec Nous al fresco dining space over the past few weeks," said Scott Berger, General Manager of Viceroy L'Ermitage Beverly Hills. "Not only will it be nice to see life and energy back inside our interior dining rooms, but it will also create more opportunities and hours for our staff to engage with guests," noted Berger.
At the Beverly Hilton, a new outdoor dining experience called Sant'olina has debuted on the rooftop. The venue, in conjunction with the prolific h.wood Group, offers Mediterranean and Israeli cuisine infused with a Southern California flair.
"We've transformed the space upstairs. Sant'olina is beautiful, both day and night. We're excited to be able to offer some indoor dining there in a couple of weeks. We think it is going to be very popular because of the views and the space up there," the Beverly Hilton's General Manager Sandy Murphy told the Courier. 
The Beverly Hilton recently completed a $35 million property-wide hotel renovation. The venerable main dining venue, Circa 55, is still under renovation. It will reopen in the next few months, said Murphy.
At Waldorf Astoria Beverly Hills, Jean-Georges Beverly Hills is reopening for indoor (and outdoor) dining on March 19. The lounge area will offer a small a la carte menu designed for pre-dinner or post dinner cocktails and bites.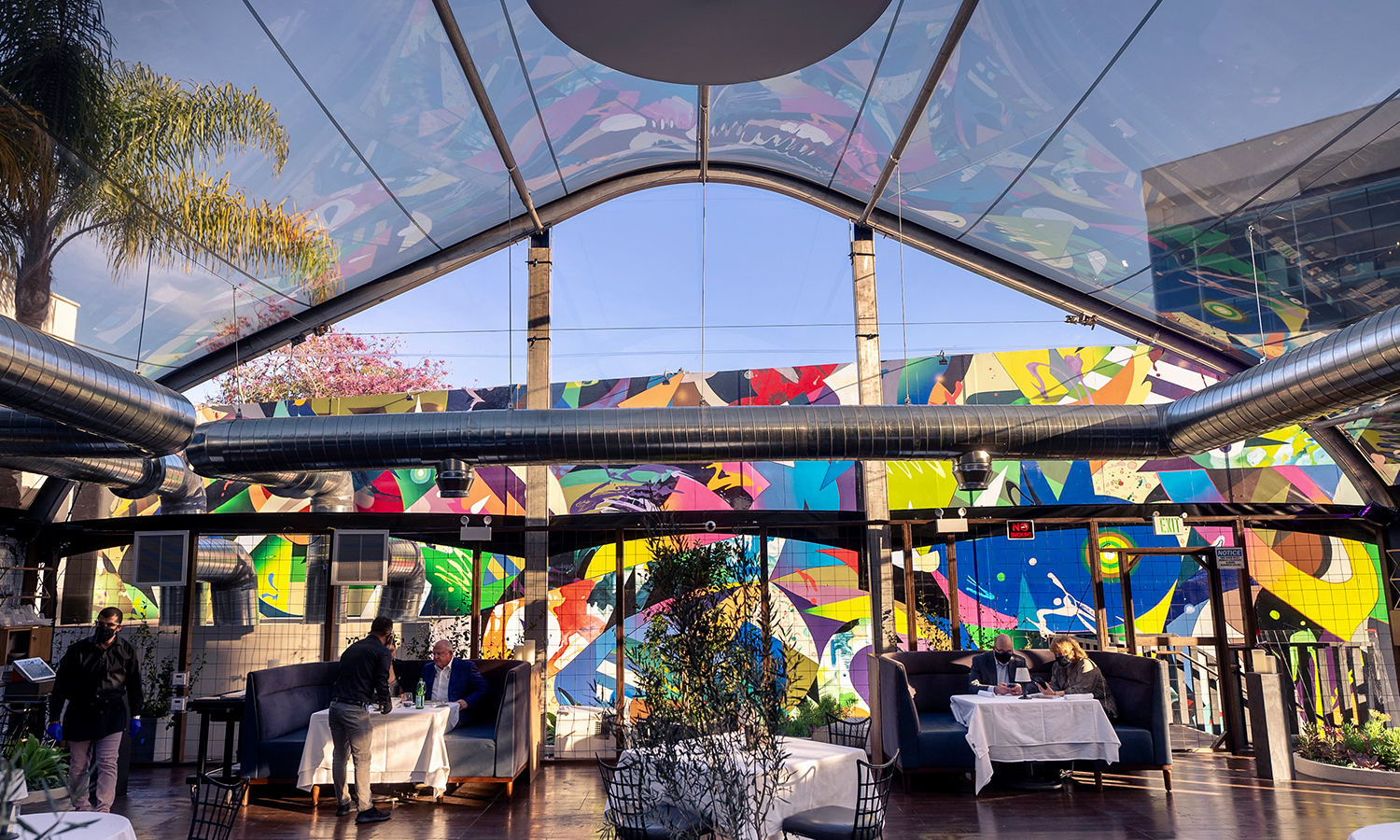 "I am thrilled that indoor dining is able to resume at Jean-Georges Beverly Hills with our special six or eight-course tasting experience offered Thursday through Sunday evenings from 5:30 p.m. to 10:00 p.m. We cannot wait to welcome guests back into the award-winning restaurant after many months and will do so in a safe and socially distanced manner," Vanessa Williams, General Manager at Waldorf Astoria Beverly Hills told the Courier.
Safety, of course, remains at the top of the reopening conversation. Barbara Lazaroff, ASID, Co-Founder and Co-Owner of Spago, Beverly Hills and Co-Founder of the Wolfgang Puck brand told the Courier that her staff keep an eight-foot-long pole handy, to mark required distances between tables. 
"It is a great thing that we are opening up. For those who chose not to participate in OpenBH or those that didn't have the space, obviously the ability to open somewhat indoors is a blessing. But it is not a panacea for people to believe that things are fine and restaurants are now all well and good. Twenty-five percent still doesn't work for a lot of restaurants. Can you imagine if you have a small restaurant, and you can only open up 25 percent? That might only be a few tables," said Lazaroff. 
At Spago, the new red tier rule means they can use their inside patio and perhaps a portion of indoor dining space. But for now, operations are concentrated on the 120′ X 50′ clear outdoor dining tent dubbed Spago L'Exterieur. The city approved the erection of the tent outside Spago, against the muraled Metro construction wall on Canon Drive. 
"I worked very hard for the wall. We are happy about it. I appreciate the city, all the stakeholders and everyone who took a lot of effort with us to get it. It is festive, it is doing what we hoped it would do. It's allowing us to generate some profit to keep the restaurant viable. But, until restaurants open up at least 50 percent, most or at least some cannot sustain themselves," said Lazaroff. 
As for the vaunted Spago name, Lazaroff said she hopes to "one day be back to the business we once were. We want to be an asset to Beverly Hills. We want to continue to help the city with projects they have, and to help support all of our guests' charities."
For the past 37 years, Spago has raised funds by holding a Passover Seder to benefit MAZON, the Jewish hunger charity. 
"Last year we did it on a to-go basis. Our guests were incredibly generous. We were able to generate $10,000 for MAZON. The challenge this year is that we don't have the staff in place and we still can't gather for events. So, we are going to put some Passover items on our menu March 27 and 28. I'm hoping people will consider what they did last year and make a donation to Mazon.org. Next year, we hope to be back. But we have to be careful on every point. We can't run until we learn to walk. We're just learning to walk again."
With Samuel Braslow