Community News | Education | Sports
UCLA Win Sparks Risky Revelry
"After COVID for a year and a half, we all just want to celebrate," a student who identified himself as John told the Courier.
BY Samuel Braslow April 1, 2021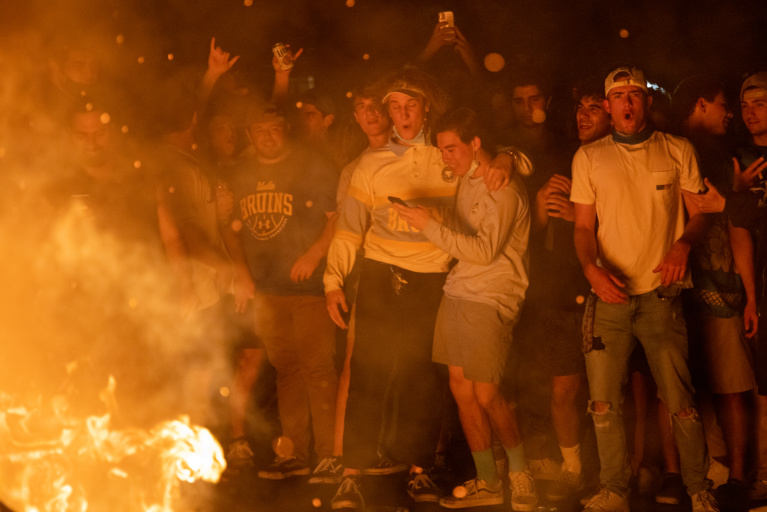 Reading Time:
3
minutes
Students from UCLA poured onto campus the night of March 30 following the school's shocking victory against the University of Michigan in the NCAA March Madness tournament. A large and mostly unmasked crowd gathered on Roebling Avenue, a frequent party spot in normal times, to revel in the school's win. But in the context of an on-going pandemic, the congregation violated county and school COVID-19 public health restrictions—an outcome that may repeat come Saturday's match against Gonzaga University. 
"After COVID for a year and a half, we all just want to celebrate," a student who identified himself as John told the Courier.
"We just knew to come here. No one organized it or anything," another student said.
In response to a request for comment by the Courier, UCLA condemned the events of the night. 
"While the whole Bruin community is excited about the men's basketball team advancing to the Final Four, we are disappointed that some members of our community engaged in misconduct and disregarded L.A. County Department of Public Health guidelines and our own campus pandemic protocols on Tuesday night," Katherine Alvarado, Assistant Director, Media Relations for UCLA told the Courier.
In UCLA's COVID-19 Public Health Mitigation Requirements, students are instructed to "follow all requirements for events and gatherings" issued by the Los Angeles County Department of Public Health (Public Health). Those requirements stipulate the wearing of masks "when you are around people who don't live in your household." Public Health guidelines permit for small outdoor gatherings of people from up to three households, provided that participants socially distance and wear masks. The guidelines do not allow large gatherings.
Alvarado added that the Dean of Students Office and Student Affairs Leadership is "actively engaging with leaders of student organizations that may have been involved in the misconduct." The school could not disclose individual disciplinary actions for privacy reasons, but violations could result in "additional training to interim exclusion from housing and/or the campus, and referral to the formal disciplinary process for potential sanctions."
The Los Angeles Police Department (LAPD) and Los Angeles Fire Department (LAFD) arrived on the scene on the 30th to extinguish a burning couch in the middle of the road. Although LAPD officers wore riot gear and carried less lethal munitions and zip cuffs, they did not declare an unlawful assembly. The crowd eventually dispersed of its own volition.
The game that incited the revelry was a match-up of Biblical proportions. David versus Goliath. The underdog, UCLA, against the favorite, University of Michigan. In a stunning upset all the sweeter for its surprise, the Bruins toppled over the Wolverines 51 to 49 on Tuesday night, sending themselves to the Final Four for the first time in 13 years. Gonzaga is viewed as the overwhelming favorite. 
"When an upset like this happens, it's unbelievable, it's crazy," said a man who identified himself as Tj. 
Along with schools across the country, UCLA has struggled to enforce its COVID-19 safety protocols among its increasingly stir-crazy students. After Halloween, UCLA announced that a group of at least 20 students had tested positive for the virus, according to the Daily Bruin. The students had all attended the same gathering. Reporting shared on Twitter by journalist Emily Holshouser documented a trend among UCLA's Greek life of skirting COVID-19 rules with few reprisals for violations.
"It's my alma mater and I'm ashamed," one onlooker in his 50s who declined to give his name told the Courier about the scene on Roebling.
Even with the relaxing of COVID-19 restrictions, UCLA cautioned, "The recent limited easing of COVID-19 restrictions comes with a great deal of responsibility and we must do everything we can to slow the spread of the virus and consider the impact of our actions on friends, family, neighbors and UCLA community."