After a year marked by closures, uncertainty, restrictions and dramatic losses in revenue, the businesses climate is looking up. As evidenced by the 20 new restaurants, bakeries, coffee shops and retailers that are set to open or already have, Beverly Hills remains an attractive city for business owners. The influx comes at an opportune time, as the county readies to move into the less restrictive orange tier on April 5, as part of the State's Blueprint for a Safer Economy. Starting Monday, grocery and indoor retail stores will jump from 50 percent capacity to 75, and restaurants, movie theaters and places of worship will also be allowed to increase their indoor capacity from 25 to 50 percent or 200 people, whichever is less. Under the orange tier, bars that don't serve food are finally able to open outdoors with tables spaced eight feet apart, with a maximum of six people from three different households at each table, no live entertainment and hours of operation from 11:30 a.m. until 10 p.m. Breweries and wineries without meal service may remain open outdoors and reopen indoors with a maximum occupancy of 25 percent or 100 people, whichever is less. 
"Businesses generally succeed in Beverly Hills," Todd Johnson, President and CEO of the Beverly Hills Chamber of Commerce told the Courier. "There's some that don't for different reasons, but, for the most part, it's the safest city in the country. Regardless of what's taken place, we're still extremely safe, extremely friendly and walkable."
Each year, the Chamber, in partnership with the city, travels to New York City in the fall and San Francisco in the spring to scout new businesses to bring into Beverly Hills. The trips are made by Todd Johnson, who is accompanied by the Mayor, Vice Mayor, and the City Manager. 
According to Johnson, the Japanese sportswear brand Onitsuka Tiger, which opened in February at 474 N. Rodeo Dr., came as a result of the Chamber's trip to New York in the Fall of 2019. The Rodeo Drive location is Onitsuka Tiger's third brick-and-mortar store and its second flagship in North America. "We were pretty intricate in helping them get through the process of opening," Johnson told the Courier. 
To celebrate the Beverly Hills opening, the 2400 square foot Rodeo Drive location will carry exclusive limited-edition items including sneakers with "Beverly Hills" embossed on the side. The Rodeo Dr. store is also the first to sell the Onitsuka Tiger brand's children's collection.
"When prospective businesses reach out to us, we put them in contact with real estate guys that can help, landlords and that kind of thing to help them find exactly what they're looking for," Johnson said. "We're in talks with probably a half a dozen other businesses, including a lot of restaurants that are in New York who are interested in coming out here."
The city's efforts to help restaurants expand their outdoor dining capabilities manifested with the OpenBH initiative, which allows businesses to temporarily expand to adjacent areas such as parking lots and the public right of way. However, even with OpenBH, new restaurants looking to obtain an Open-Air Dining Permit must still pay hefty fees. "Any restaurant is able to obtain an OpenBH permit free of charge, but permanent outdoor dining continues to be subject to the City's normal application process and associated fees (with the exception of the lease fee)," Ryan Gohlich, Director of Community Development, told the Courier. "The City has always charged a fee for these types of applications, and the fees are based on periodic fee studies that are conducted to ensure that the City's fees are in-line with the cost of providing services and the staff hours associated with application processing."
On South Beverly Drive, six new establishments are opening, including the upscale bakery Sweet Lady Jane (214 S. Beverly Dr.) and a new 100 percent grass-fed Wagyu steakhouse called Mat? (239 S. Beverly Drive), founded by the group behind Sugarfish, where Panera used to be. 
"There are some vacancies on South Beverly, but it's also a very walkable neighborhood and walkable," Johnson told the Courier. "It's also just a little more affordable than up in the triangle."
Total Body Nutrition, a sports nutrition shop, recently opened at 193 S. Beverly Dr., and San Francisco-based coffee chain, Philz Coffee (233 S. Beverly Dr.) is slated to debut soon. SBE's affordable to-go sushi spot, Krispy Rice, and Ben and Jerry's ice cream shop are also opening soon on the 200 block of South Beverly.
After a slew of slow months and incalculable losses, existing retailers on South Beverly are excited to have new neighbors and hope for more pedestrian traffic.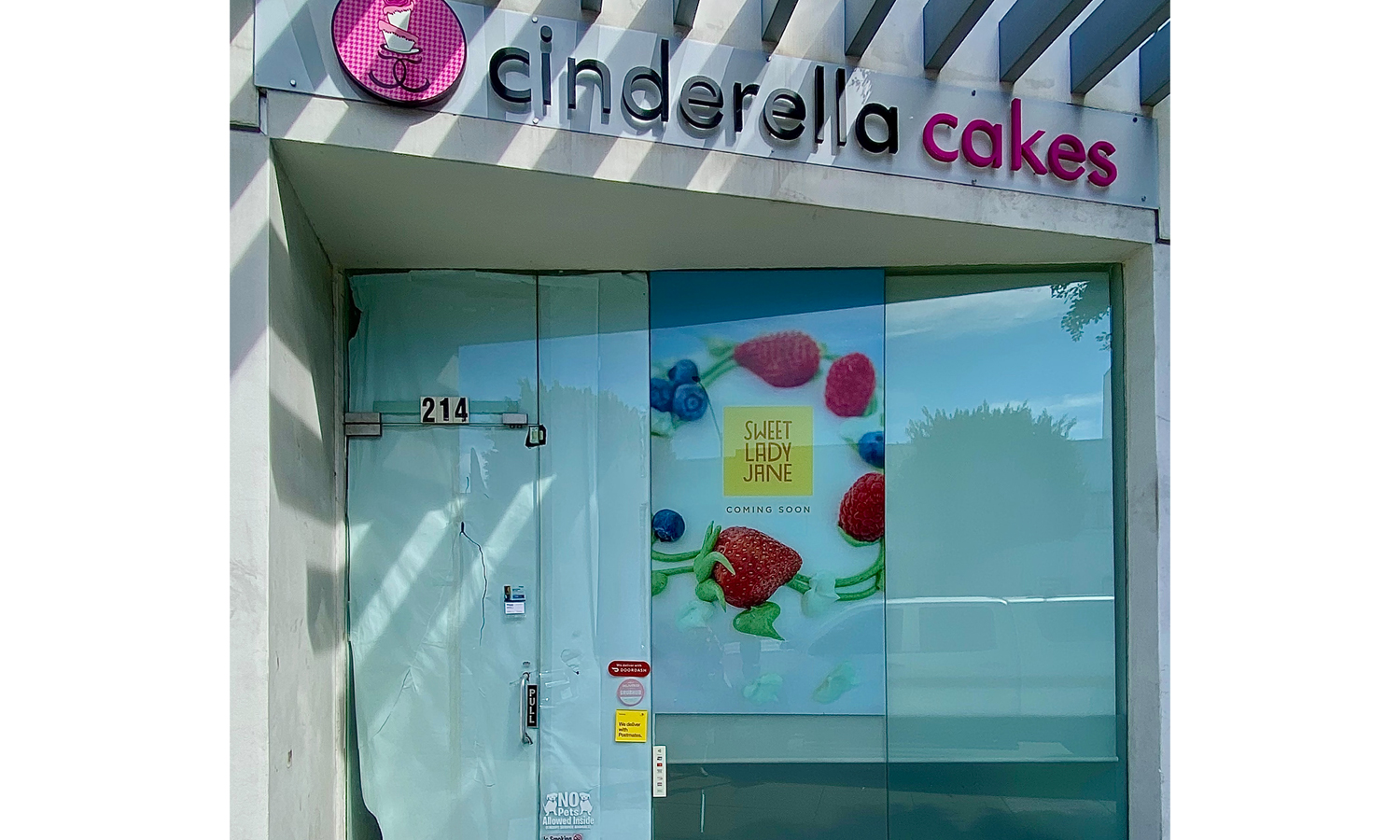 "Things are slowly picking back up," Adriana Caras, owner of LeSwim (238 S. Beverly Dr.) swimwear boutique told the Courier. "And now, suddenly, it's like a surge. I have been busy all day. So now with everything opening, I'm kind of on the fence if we should extend our lease past April and stay longer."
"I'm honestly very excited about having all these restaurants open up," Jenny, the manager at Peruvian retailer Cottoniere (245 S. Beverly Dr.) told the Courier. "It's been super dead here, we almost had to close. We're hoping that when the new restaurants open, more people will come through."
On Canon Drive, Nusr-Et–a new steakhouse helmed by Turkish chef Nusret Gökçe, known globally as the "Salt Bae,"–is expected to open on April 30 next to Spago. Spanish restaurant Tatel (453 N. Canon Dr.) is also opening at the former Nic's Beverly Hill location, but has yet to announce a date. Jennifer Fisher Jewelry, a celebrity cult-favorite jewelry brand, recently opened its door at 450 N. Canon Dr. Christian Louboutin, known for luxe, red-soled shoes, also opened a Los Angeles flagship at 477 N. Rodeo Dr. in March. 
With the advent of the parklets and more outdoor dining, the business triangle has been vibrant with new energy and crowded streets. As a result, some retailers have even started staying open later, as more people are out shopping and dining.  "We've always been wanting a little more energy and nightlife, because Beverly Hills kind of rolls its street up at 6 p.m.," Johnson told the Courier. 
Coming soon to North Beverly Drive is the popular salad chain, Sweetgreen (245 N. Beverly Dr.) as well as Erewhon Market (399 N. Beverly Dr.), the upscale health-food store known for its organic, locally sourced and sustainable groceries.
Taking over the former Roxbury Café location, Impasta (459 N. Roxbury Dr.) is offering fan-favorite pasta dishes with zero and low-carb noodles options. "I wanted to open Impasta in Beverly Hills not only because there is a certain type of prestige and notoriety associated with it," Harrison Litvack, owner of Impasta, told the Courier. "But from a business standpoint, it's central geography in the greater Los Angeles area allows people to access our yummy and nutritious food more easily." While the physical restaurant space hasn't opened yet for patrons looking to dine-in, Impasta began taking to-go orders in February. 
At 434 N. Camden Dr., Beverly Bar restaurant is also gearing up to open, with a menu focused on American-style food. J Watson Fine Art will be opening at 9410 Dayton Way, enticing art collectors and enthusiasts with the gallery's collection of limited-edition paintings by artists such as Pino, Vidan, G. Harvey, Morgan Weistling, Antoine Blanchard, Peter Max, M.& I. Garmash and more.
In perhaps the sweetest news of all, John Kelly Chocolates chocolatier boutique opened at 9523 S. Santa Monica Blvd. Their specialties include truffle fudge and walnut-caramel clusters. 
In addition to the new storefronts, Johnson pointed to other projects underway in the city.  "You've got the One Beverly Hills project coming, the Chanel store remodeling, the LVMH hotel… and Saks has big plans for that little section down on Wilshire where Barney's used to be. I think we have so much to look forward to over the next year."