"Standing on the corner of Santa Monica Boulevard and Rodeo Drive is 'Takeaway Man' by Tom Friedman. No one can pass this corner without smiling. That is the power of art," said Arts and Culture Commissioner Michael Smooke. 
Beverly Hills certainly understands the power of art, its ability to stimulate, entertain, and enhance. Long known for its public and private support for the arts, Beverly Hills is committed to providing access to diverse public artworks. "Throughout the years the city has established different committees and commissions to provide recommendations on the best way to advocate and support the Arts," Director of Community Services Jenny Rogers told the Courier. 
"In the early 80's, the Beverly Hills Fine Art Committee was established to support art exhibitions, performances and to formalize the installation of art and ornamentation throughout the city. In 1992, the City Council renamed the Fine Art Committee the Fine Art Commission. The Fine Art Commission developed, expanded, and promoted a notable public Fine Arts Collection to enhance the city's cultural image and to provide a dynamic and enriching experience for residents, visitors and businesses in the city. The Commission helped acquire all the artworks that comprise the existing Fine Art Collection," added Rogers. 
In 2019, the Fine Art Commission was expanded to include cultural arts and was renamed the Arts and Culture Commission. This Commission presently has the responsibility for acquiring and/or accepting donations or loans of fine art. Despite the setbacks of a tumultuous year, the city's commitment to the arts has never wavered. The Arts and Culture Commission is currently "moving into projects that are artistically and culturally diverse to expose them in more temporary ways than before" to allow for a "truly fantastic summer of art," Commissioner Stephanie Blackmore Vahn told the Courier.
The Arts and Culture Commission has created "Fine Art Walking Tours" that provide different walking routes throughout the city. Residents and visitors can partake in a self-guided tour of the Fine Art Collection, utilizing a downloadable map available at https://lovebeverlyhills.com/walking-tours.
This summer is the perfect time to experience the more than 50 notable works in the city. For those interested in more in-depth exploration, the Courier has compiled a guide to 13 of the most notable pieces.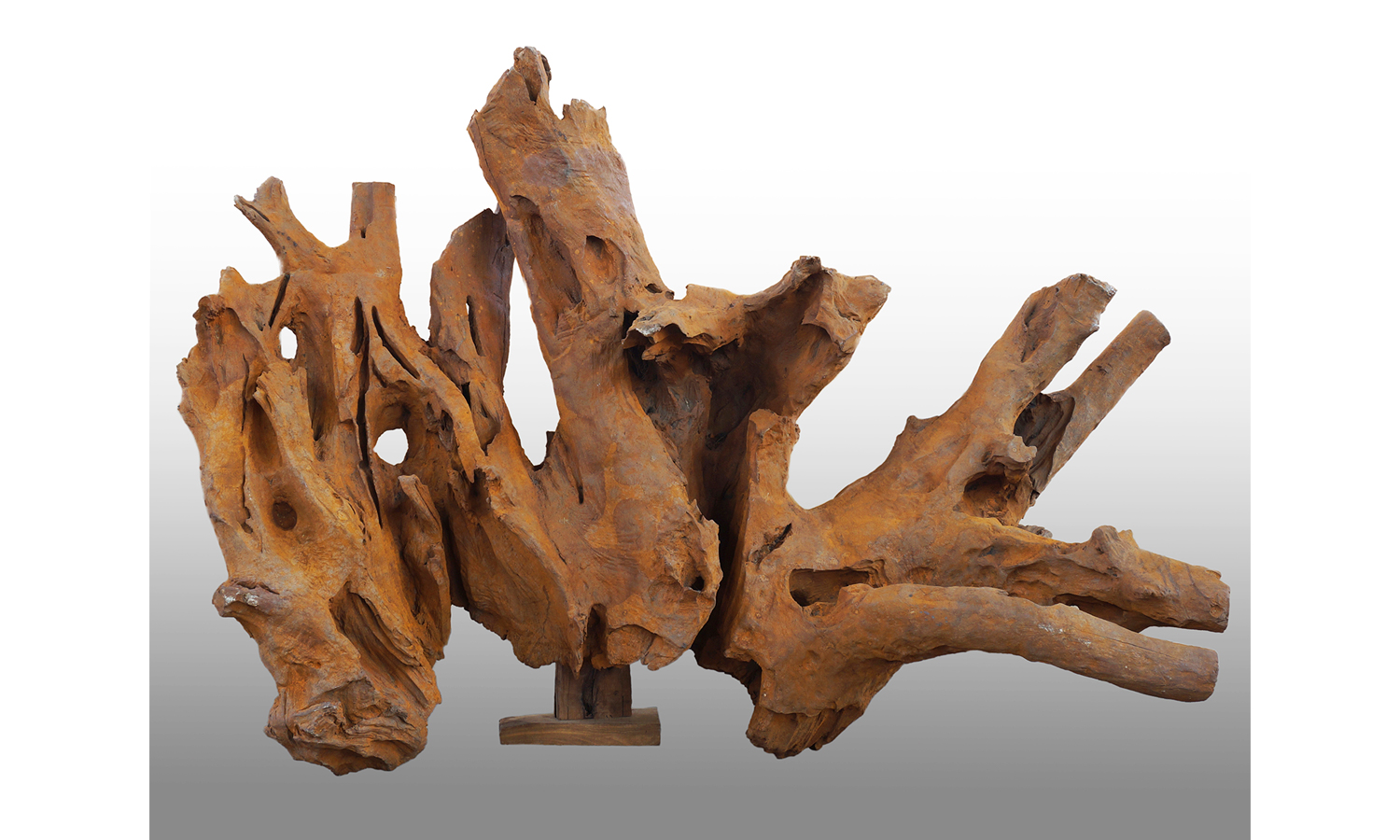 "Iron Root," 2015, Ai Weiwei (1957-)
The orange-rust patina of "Iron Root" provides a natural appearance on first impression. But, the beauty and craftsmanship of the piece, modeled from the roots of the Pequi Vinagreiro tree from Brazil, soon gives way to a sense of uprootedness.
After spending time with local artisans and communities in Brazil's Bahian rainforest, Chinese artist Ai Weiwei, internationally renowned and appreciated for his advocacy and artistic genius, became unsettled by the largely bygone way of life usurped by industrialization and modernization. He responded with "Iron Root" in various iterations. Ai's artworks fuse an appreciation for the natural world with a purposeful political conviction, one so sharp that he was arrested by the Chinese government in 2011 amid a campaign against dissent. (Government officials raided his studio, detained him for 81 days, and held his passport captive for nearly four years.) "Iron Root" exemplifies Ai's ability to create a poignant visual cue, luring one in through surface level appreciation and fascination then disclosing an intentional deeper message. The spontaneous nature of the roots placed within the polished city exudes a sense of displacement and ignites questions on the extent that progress creates environmental degradation.
"Iron Root" arrived in Los Angeles in August 2020 with a donation by Andy Cohen in honor of Richard M. Cohen. It is located at the corner of Santa Monica Boulevard and Crescent Drive. The Arts and Culture Commission hopes to host an in-person dedication later this summer when public gatherings are allowed.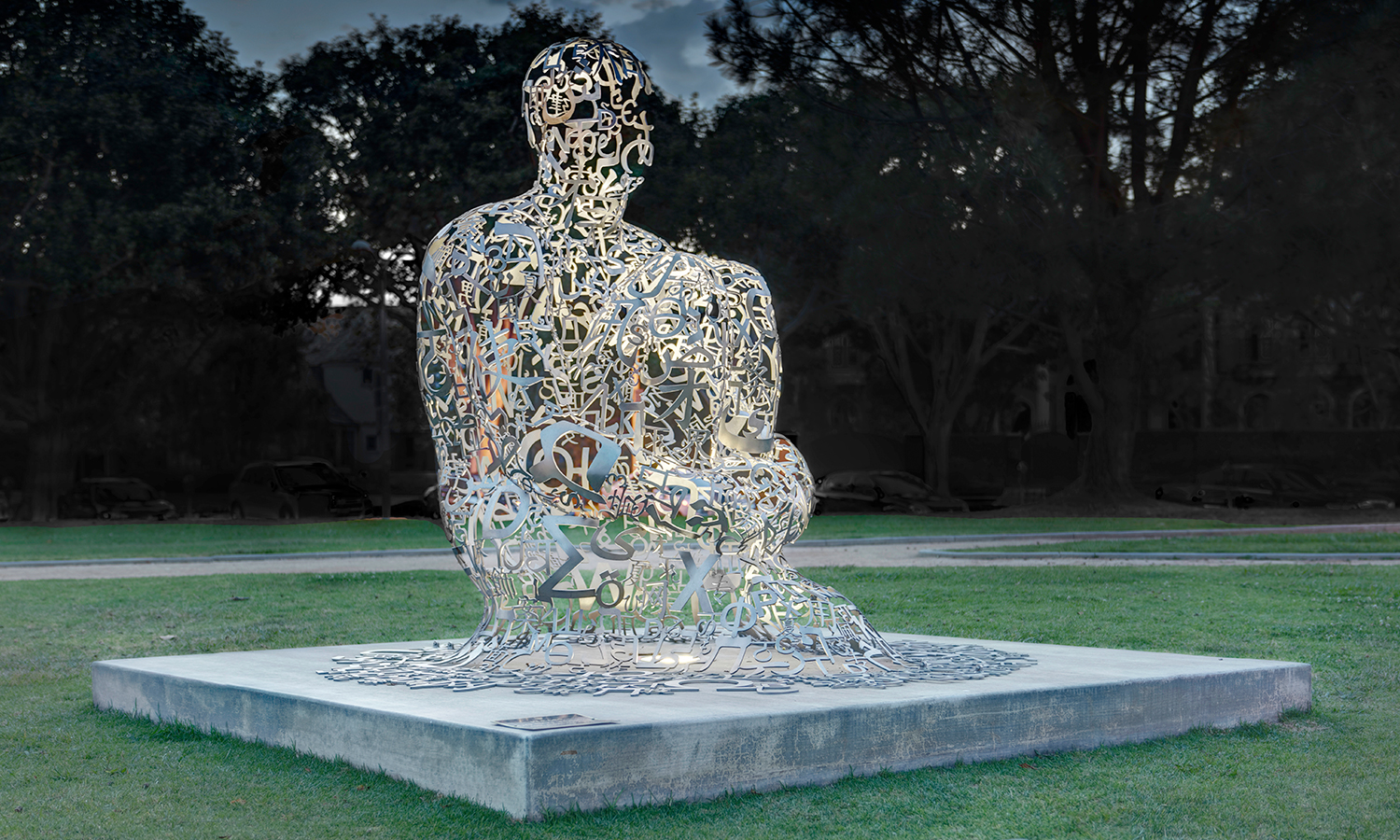 "Endless V," 2012, Juame Plensa (1955-)
Gleaming in the sunlight at seven feet tall, "Endless V" exemplifies internationally acclaimed Spanish artist Juame Plensa's ability to weave together an intriguing idea of collective memory while alluding to the duality between the concrete and the intangible. In recent years, Plensa's works have become increasingly abstract, as he unites characters from diverse lexicons to suggest a rich multiculturalism of society. "Endless V" empathetically appears lost in thought, yet his muscles are coiled and tensed as if ready to spring into motion, embodying both a dream and desire for future action. The figure in the work sits draped in a blanket of symbols and characters from various languages, providing visual dimension and texture through the conflicting shapes, which, despite their contrasting histories, are all made from the same material–a source of relation for all. "Endless V", a work that could be endlessly pondered for its contemporary portrayal of humanity, creates a scene of solidarity and reflection amid the traffic on Santa Monica Boulevard. 
"Endless V" was acquired by the Fine Art Commission in 2012 for $350,000 and dedicated to the city in January of 2013. The work is in Beverly Gardens Park on Santa Monica Boulevard between Beverly Drive and Rodeo Drive. 
"Erratic," 2007, Roxy Paine (1966-)
East of the Beverly Hills sign and Lily Pond, one can find New York born painter and sculptor Roxy Paine's 7′ x 15′ stainless steel sculpture of a swollen, bulbous rock "Erratic." To Paine, humans are an extension of nature, yet their impact on the natural world is one of transformation. In geology, "erratic" refers to stones and rocks that were carried by a glacier then left behind once the glacier melted, often used by scientists to determine ancient glacier movement. The Beverly Hills "Erratic," created with the most contradicting material to the rock's organic form, juxtaposes nature through the lens of the industrial process. "Erratic's" glistening exterior creates an ominous visual interruption, reinforced as one realizes the rock is devoid of natural history like its geological inspiration. "Erratic" is a bit awkward, much like its message: society struggles to find balance between the natural and the artificial. 
"Erratic" has been situated in in Madison Square Park and Brooklyn Prospect Park before being purchased by the city in 2010. The sculpture is located in Beverly Gardens Park, North Santa Monica Boulevard and Rodeo Drive.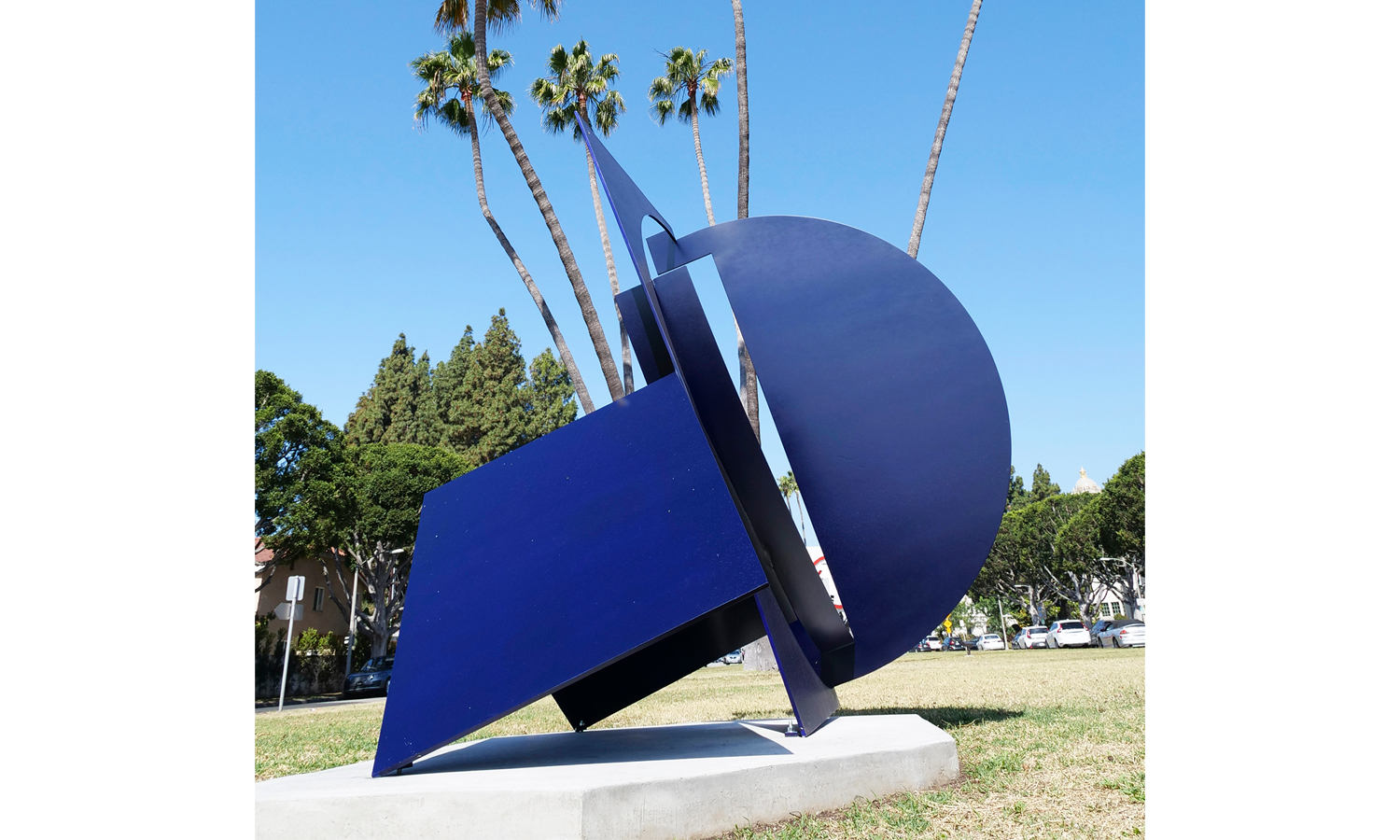 "Folded Square–Alphabet G," 1980, Fletcher Benton (1931-)
Resting between motion and collapse in the middle of Beverly Hills, one can stumble upon "Folded Square–Alphabet G" by Fletcher Benton, one of the country's most inventive and consistently challenging artists. Is it stable? Is it moving? The steel, royal blue sculpture boldly demands inspection as it creates its own language through sculpture with a sense of dynamism and ambiguity. Through a creative artistic evolution of the letter G, Benton addresses language and abstraction in an eye-catching way. The piece can be viewed from all angles, defining new constructivism through a fluid adaption of geometric form, while its unstable position abstractly reveals forms of nature, geometry, and human activity with a hint of humorous confusion.
"Folded Square–Alphabet G" was donated to the city of Beverly Hills by the Louchheim Family. The piece is located at the intersection of North Alpine Drive and Burton Way.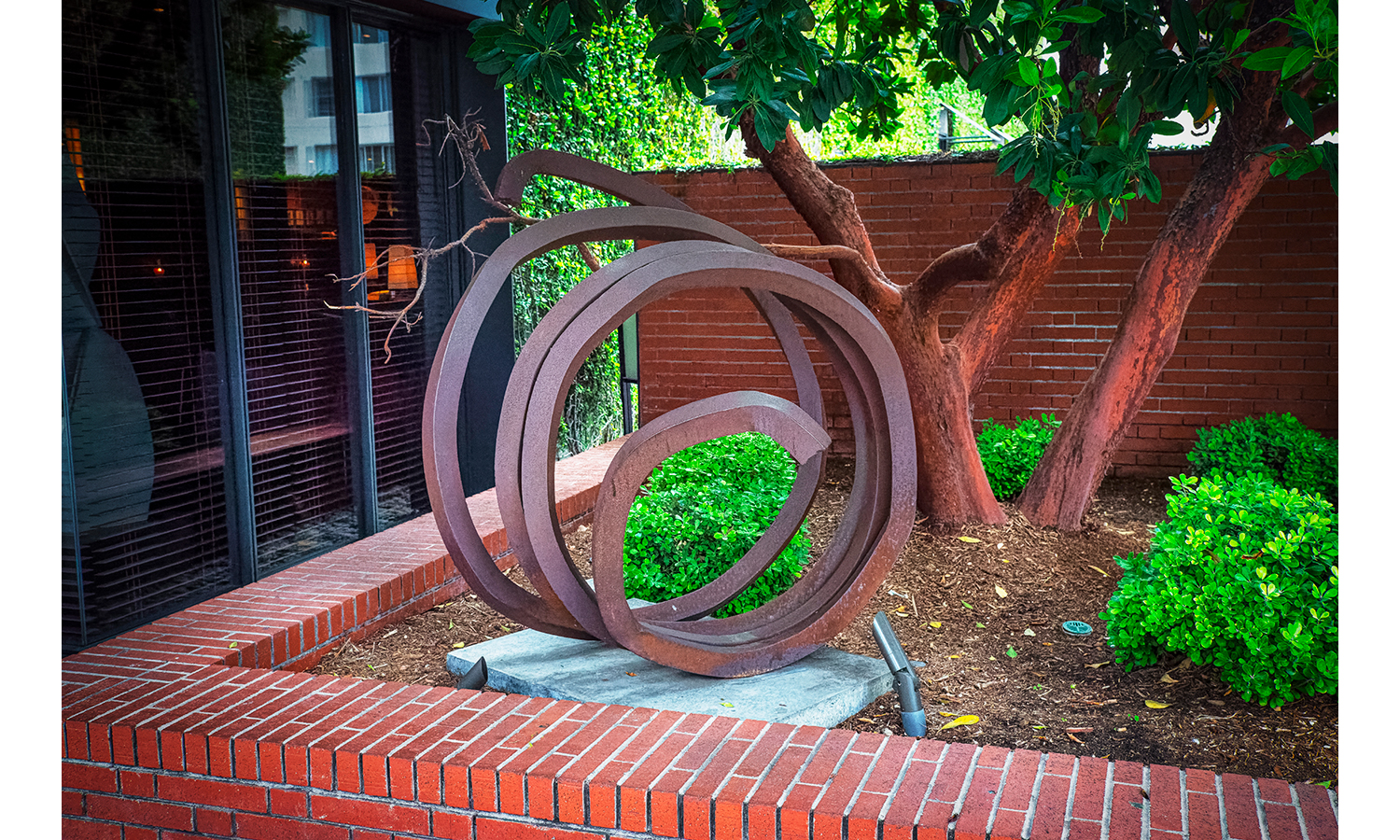 "Indeterminate Line," 1979, Bernar Venet (1941-)
 "Indeterminate Line," resting south of Wilshire Boulevard on S. Beverly Drive, continues Bernar Venet's, one of the most internationally recognized French artists, lifelong investigation into the mathematical and philosophical implications of the line. Visual tensions echo off the steel sculpture as it begins to coil in real space then abruptly stops, giving off a subtle notion that it could spiral at any point. Its neutral color makes the work possible to overlook, but, once acknowledged, the lively form starkly contrasts the angular, linear forms of the surrounding buildings, as if to bring a sense of unpredictability to the presumed stability of Beverly Hills. "Indeterminate Line," a symbol of future potential, "opens a doorway to fundamental principles such as indeterminacy, chance, accident, unpredictability, chaos and, even, incompleteness," shares the artist. 
"Indeterminate Line" was acquired by the city in 2015. The sculpture is located at 122 South Beverly Drive.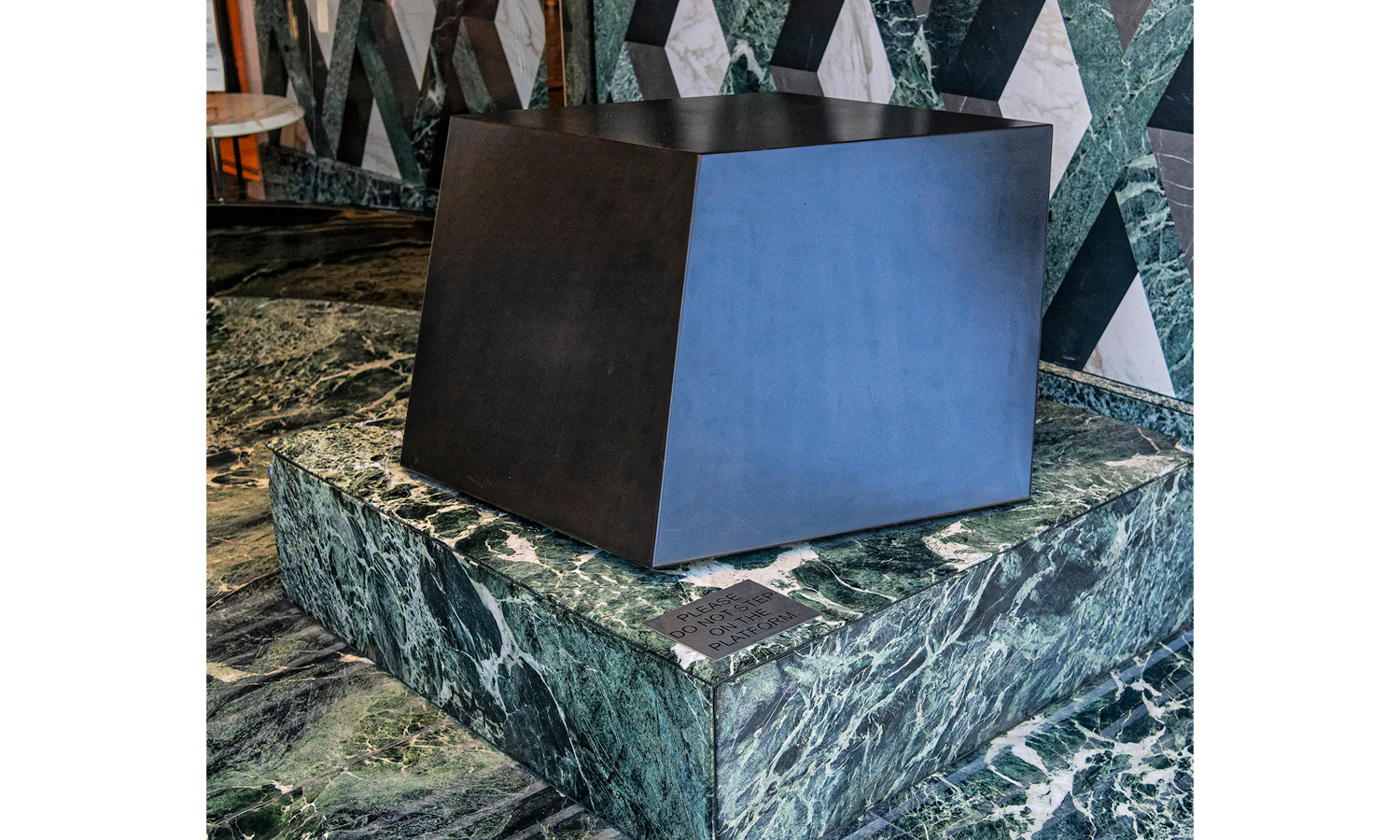 "New Piece,"1966, Tony Smith (1912-1980)
Often cited as a pioneering figure in American minimalist sculpture, Tony Smith's work is created with a mathematical precision. Though, his artworks are not as simple as they appear. Smith incorporates slight geometric discrepancies that forces the viewer to look beyond the object's literal nature. "New Piece," placed outside the entrance to Gucci on Rodeo Drive, appears as a simple, uninteresting, hexahedron–unproblematic by name and form. Most viewers would not think to take a second look. When viewed head on, "New Piece," a bronze work painted in black patina, appears a non-threatening form, slightly tipped, shorter than most viewers, and tilted backward as if to avoid confrontation. Once viewed intentionally, the work possesses a potential energy, potentially preparing to pounce. The assumed simplicity of "New Piece" is its great illusion, not demanding anything and not calling unwanted attention. But, to those willing to investigate, "New Piece" creates a surprising sense of urgency as the brave viewer questions the work's increasingly disquieting sensation.
"New Piece" is number four of six editions and was acquired by the city in 2018. It is located at 347 North Rodeo Drive.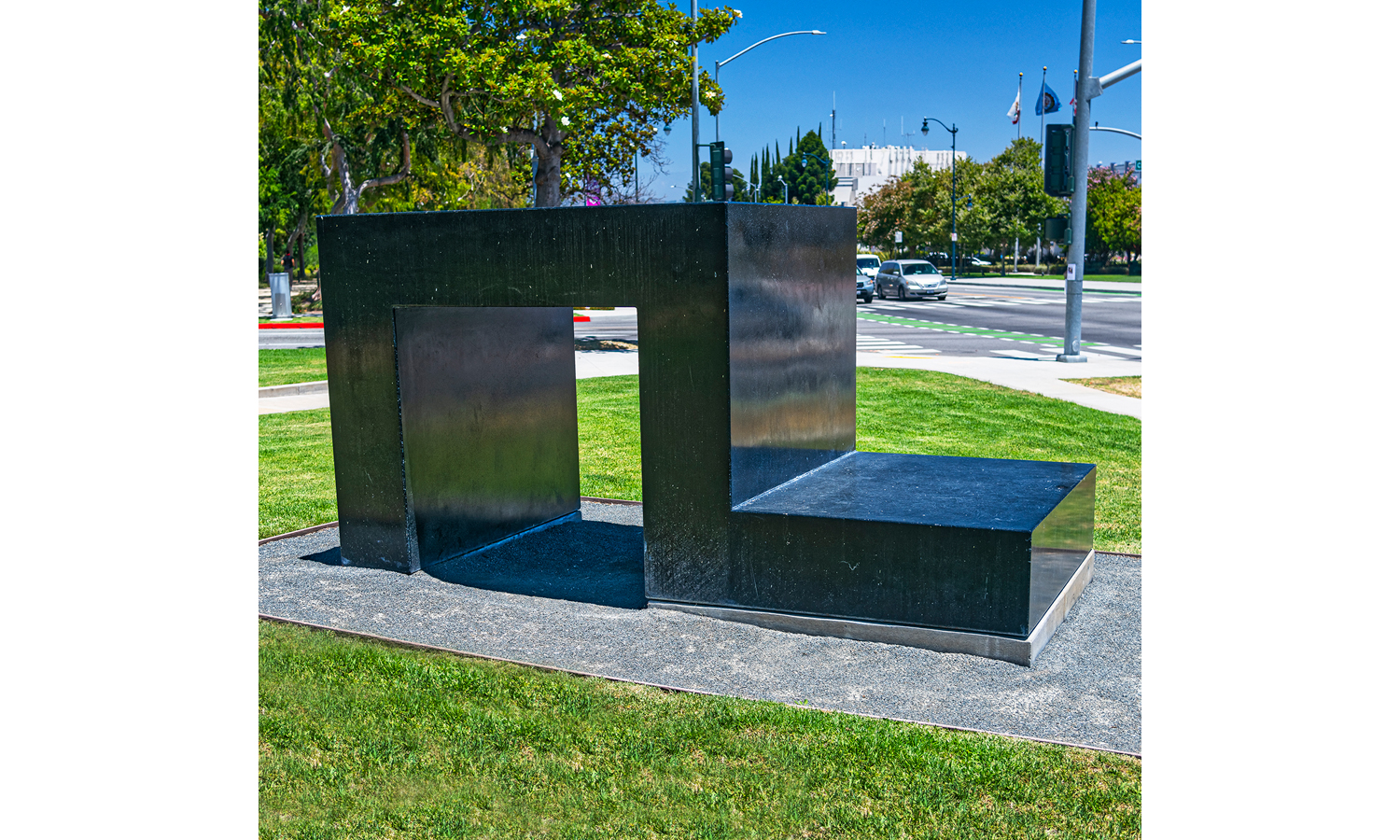 "Playground," 1962, Tony Smith (1912-1980)
 "Playground," the first Smith sculpture acquired by the city, is united to "New Piece" through the concept of a deceptively simple form representing complex decisions that demand examination. "Playground" steers away from the daunting visual complexity of "New Piece," though. Instead, it toys with the concept of negative space to ignite a playful nature. At first, the five-foot tall, painted black, welded steel "Playground" is cold, as it appears hard, firm, and reminiscent of the integrity and strength of ancient architectural buildings. Yet, the irony of the piece rests in its use of simple, geometric negative space and its ironic name, requiring more than a passerby glance. "Playground" calls upon the child-like detective and participant in all viewers. Can I climb on this? Am I going to get in trouble? The scale, form, and name of this sculpture invites its unrestricted audience to explore by crawling through its tunnel and peeking over the top. "Playground" evokes the inner child, the curiosity and excitement, in all onlookers. 
"Playground" was acquired by the city in 2004. It is located in Beverly Gardens Park at the intersection of Santa Monica Boulevard and Crescent Drive.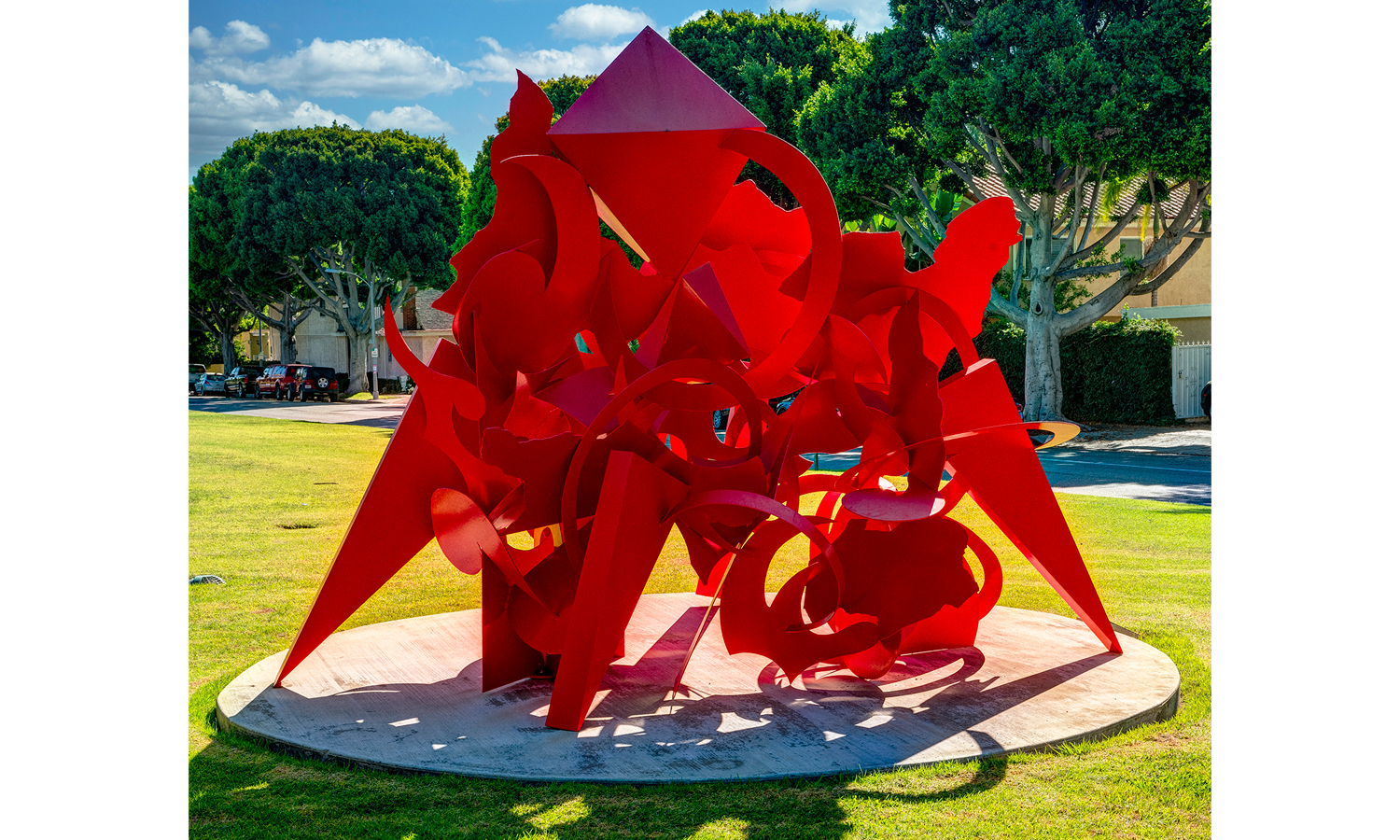 "Sisyphus," 1985, Alexander Liberman (1912-1999)
Russian American legendary creative Alexander Liberman's extensive eye for detail repeatedly defined and redefined contemporary magazine culture through his commercial experience at Conde Nast, Vogue, and Vanity Fair. Not wanting to limit himself to a single form of expression, Liberman created minimalist paintings and sculptures, predating the minimalist movement by more than a decade. 
Liberman's monumental "Sisyphus," facing the municipal court building, disrupts the median on Burton Way with its fiery, red-painted steel, profound size, and swirling points of tension against its urban backdrop. The title refers to a king of Ephyra, in Ancient Greek Mythology, who, punished by the gods for his deceitfulness, was fated to endlessly roll a boulder up a mountainside. Ironically juxtaposed by a nearby "no parking any time" sign, "Sisyphus" serves as a culmination of Russian Constructivism and American Industrialization through an avant-garde lens, which slyly offers an unspoken exploration of Greek mythology. Impossible to ignore, Liberman visually explores Sisyphus' never-ending story through an arresting presence that makes viewers pause at its detail, hesitate at its shape, feel a bit confused, and think through its possible intention.
Liberman's public sculptures can be seen in over 40 cities around the world, including three in Los Angeles. "Sisyphus" was donated by Murray Pepper, the husband of the city's former mayor, Vicki Reynolds. The work is located on the median Intersection of Burton Way and Civic Center Drive.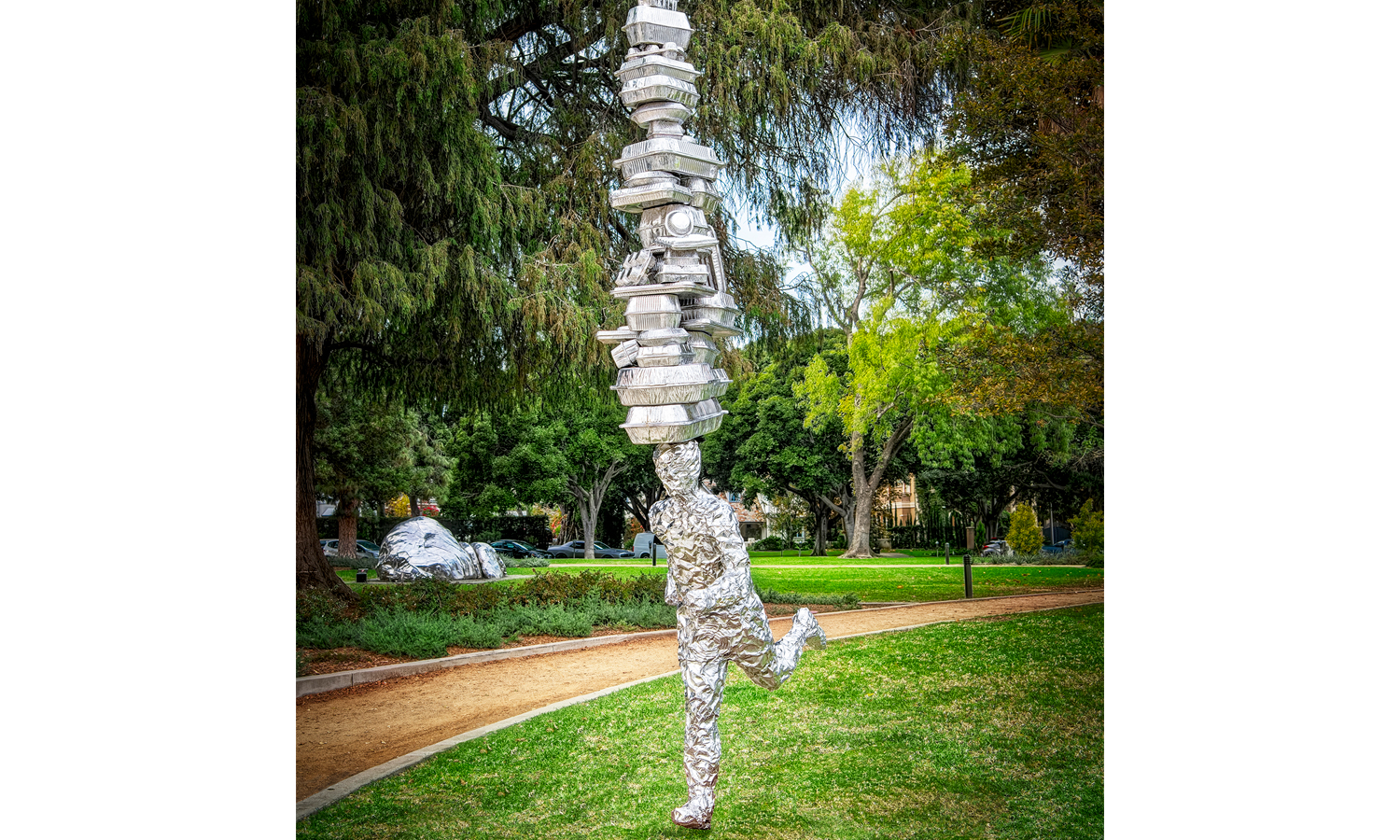 "Takeaway," 2018, Tom Friedman (1965-)
In a playful and empathetic manner, "Takeaway," matches the hustle and bustle of Santa Monica Boulevard as a lively symbol of the strenuous demands many are defined by today. Since the early 1990's, Contemporary American sculptor Tom Friedman has created a whimsical, heterogeneous body of work that playfully explores the relationship between reality and illusion. Using strenuous, labor-intensive methods, Friedman pushes the envelope of what is art, what is reality, what is satire and what is truth.
The nearly 14-foot stainless steel "Takeaway" portrays an individual running while precariously balancing an overload of take-out containers in equilibrium on his head. An ode to the click-culture of food delivery, the work uses a sense of excess to acknowledge aspects of the gig-economy prevalent in modern society. The figure's urgency recalls a rushed yet determined mindset that's seemingly become norm. "Takeaway" is easily enjoyed by anyone, both intellectually and aesthetically, and easily entertains viewers through its simple beauty and craftmanship, yet it leaves a possibility to dive into a deeper discourse about life and art. Perhaps an appreciation, perhaps a critique, the ambiguity of the work allows viewers to decide their own takeaway.
"Takeaway" was dedicated to the city on January 3, 2019. It is located in Beverly Gardens Park at the intersection of Santa Monica Boulevard and Rodeo Drive.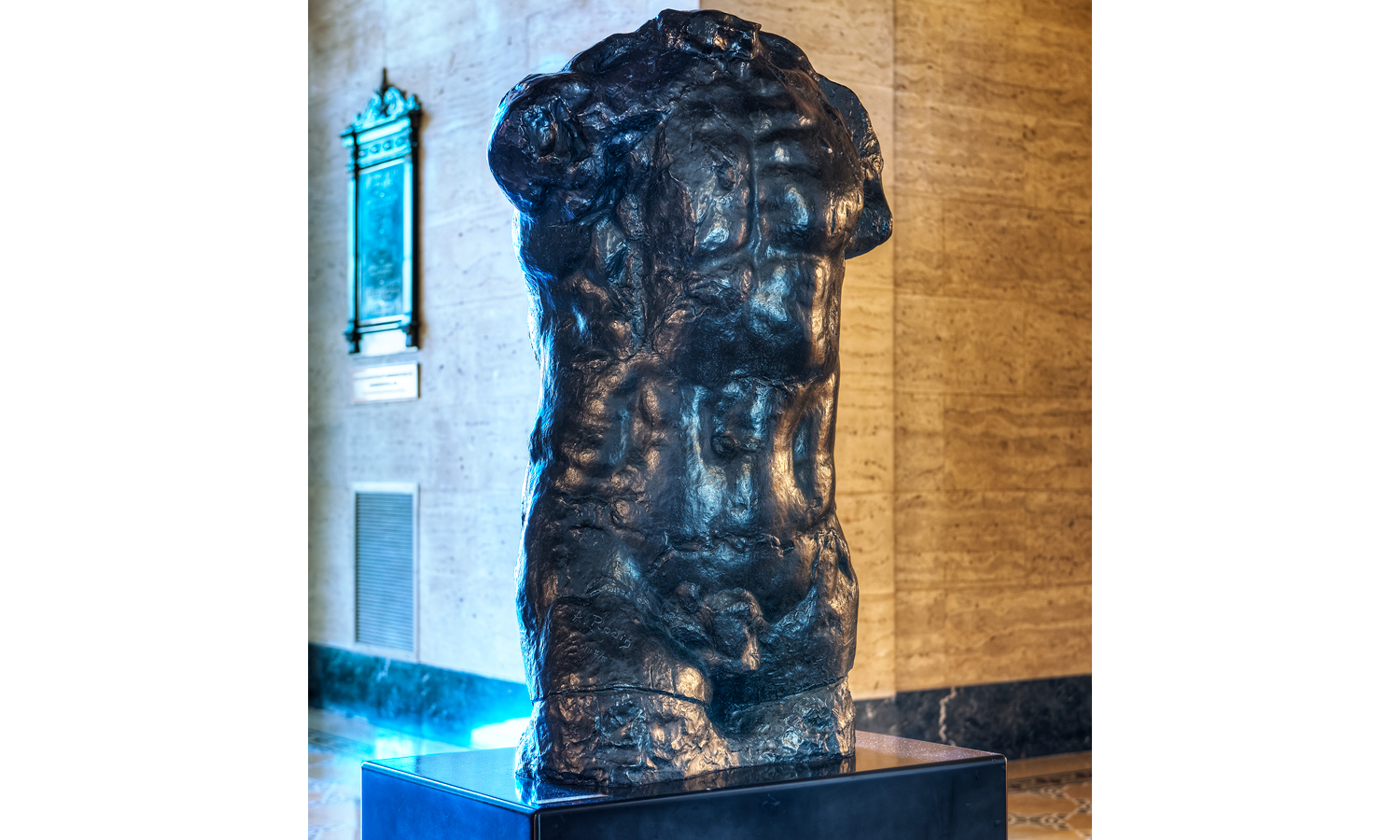 "Torso of a Walking Man," 1879, Auguste Rodin (1840-1917)
"Torso of a Walking Man" could easily be defined as a work in progress–a missing head, missing limbs, missing personality. But that is conceivably its strength. And a hallmark of its creator, widely considered the father of Modern sculpture, Auguste Rodin. The torso's artistic details are incontestable, the rippling muscles that create dynamism, the strength of the form exuding a sense of potential, the opportunity it leaves for the viewer to define its purpose. Through reflection, "Torso of a Walking Man" becomes a man in progress, one of vulnerability with capability, though incomplete. Through this, debatably unfinished, masterpiece, one is reminded that criticism is, simply, an opinion and that no one defines an unfinished work of art apart from the artist himself. 
"Torso of a Walking Man" is displayed in Beverly Hills through a donation from the Iris and B. Gerald Cantor Foundation. The sculpture is located in City Hall at 455 N. Rexford Drive.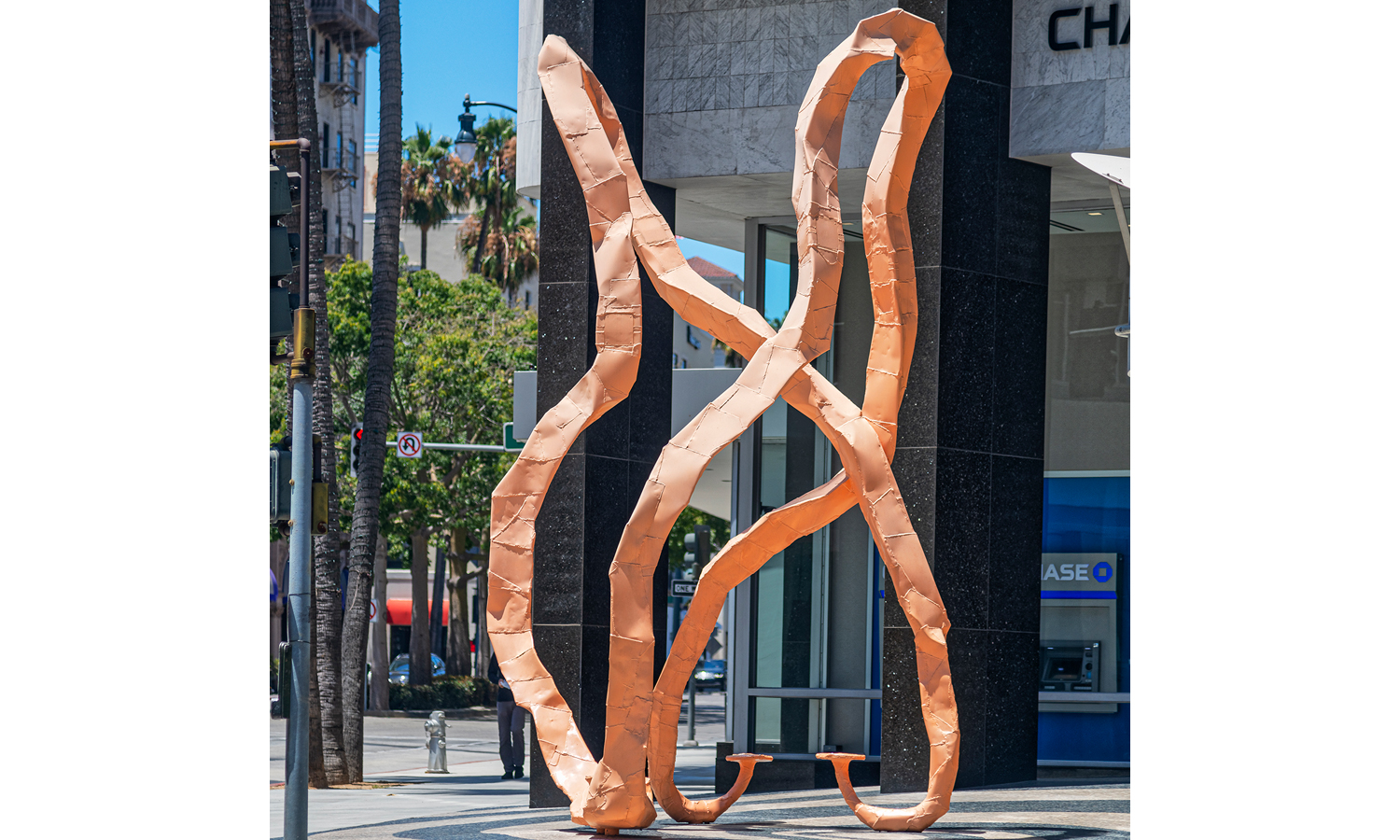 "Unconscious," 2010, Franz West (1947-2012)
Demanding you pause and take a seat, the towering, lacquered-aluminum sculpture "Unconscious" waves attention as it spirals out of Wilshire Boulevard. Inspired by Actionist and Performance Art of the 1960's and 1970's, Austrian artist Franz West's artwork eradicates the divide between viewer and artwork by allowing viewers an opportunity to involve themselves within his work. Friendly and endearing, "Unconscious" is like a neighbor, as its three built in seats invite the passersby to rest, contemplate, enjoy. The sculpture's impulsive, ribbon-like shape was created with unrestricted intention, as it seems to mirror the freedom of the unconscious mind, while its muted, blush-color and quiet motion creates a perfect space for singular or shared thought. The welcoming sculpture redefines artistic engagement and allows viewers a space to explore what minds do when thoughts navigate without bounds. 
"Unconscious" was commissioned by George Comfort & Sons and installed in 2010. It is located at the Northwest Corner of Wilshire Boulevard and Beverly Drive, at 9465 Wilshire Blvd.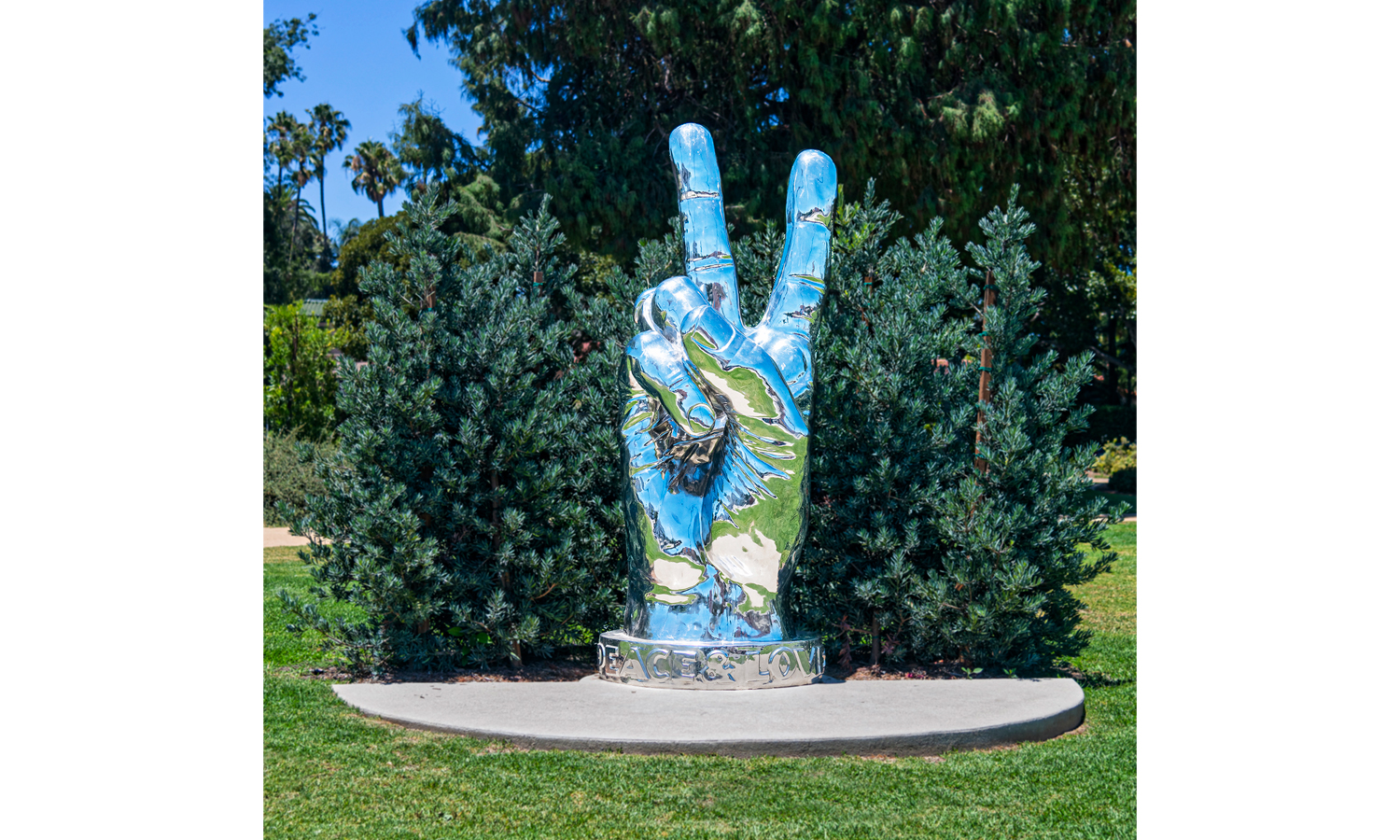 "Peace and Love," 2019, Ringo Starr (1940-)
The impact of "Peace and Love" lies heavily in its artist. A giant peace sign sculpture could be considered cliché or redundant, but Ringo Starr is the epitome of a peaceful and loving artist. His artistic titles include singer, songwriter, drummer, collaborator, producer, actor, author, photographer, painter, and sculptor, and through each endeavor lies a single message: peace and love. 
Forever associated with unity and endlessly donned by Starr, the peace sign is to the idea of peace and love as Ringo Starr is to music: symbolic. Starr arguably personifies peace and love, as all his public actions exude positivity, enthusiasm, and playfulness, and are often closed with a verbal "peace and love" along with a flash of the hand sign. Standing eight feet tall and weighing over 800 pounds, Starr's polished stainless-steel sculpture replicates the hand gesture he first adopted in the 60's. Through its simple yet historic form, "Peace and Love," endearing and approachable, makes one feel nostalgic about  the past and optimistic for the future. Its form shines amidst Beverly Gardens Park in a subtle yet unignorable message of positivity to passersby. "Peace and Love" plants a light-hearted reminder of hope and harmony within Starr's home of Beverly Hills as a reminder that there can never be too much peace and love. 
"Peace and Love" was donated to Beverly Hills by Ringo Starr and installed in 2019. It is located in Beverly Gardens Park across from City Hall.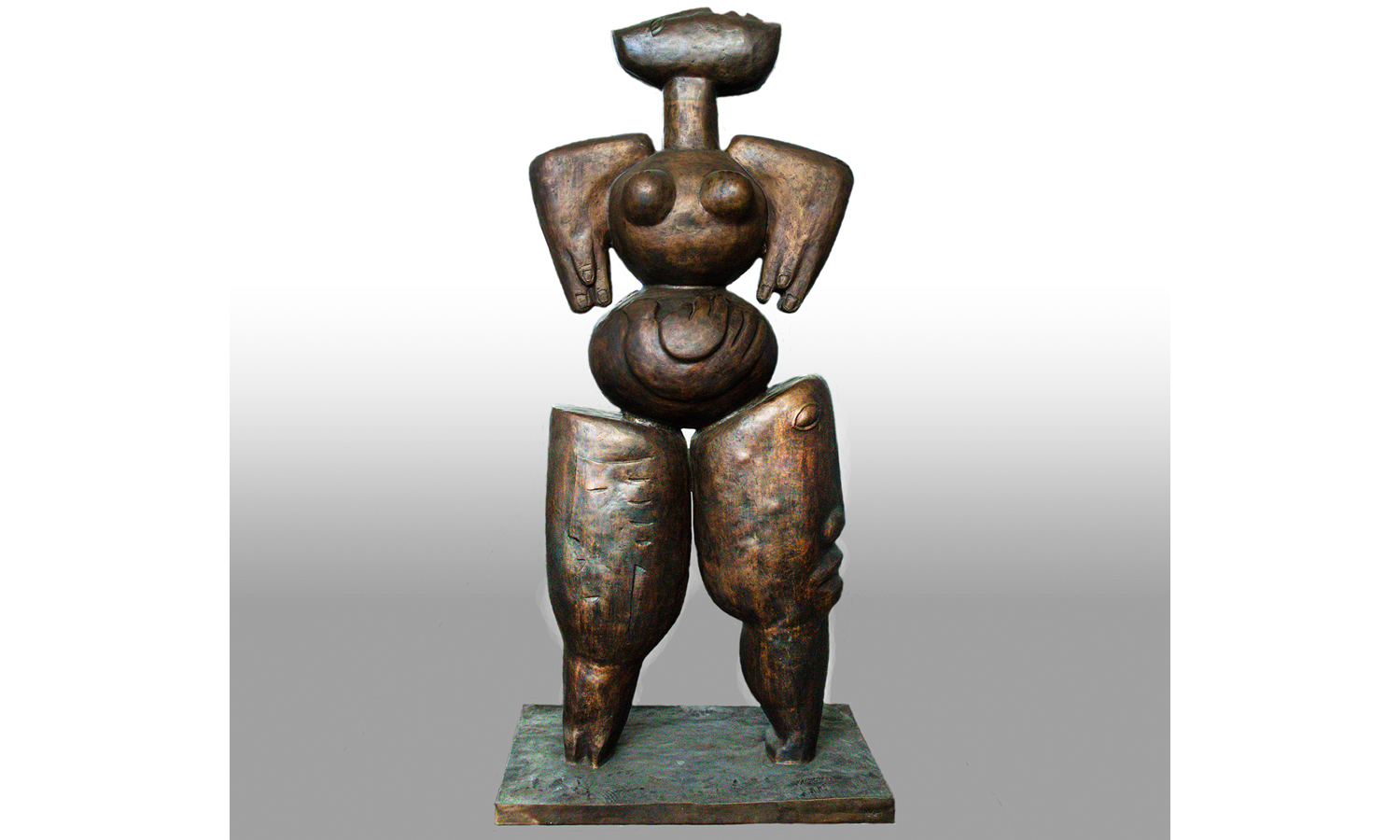 "Love Anatomy," Alexandra Nechita
 "Love Anatomy" calls upon admiration for the protecting, the disciplining, and the stable women in everyone's lives. World famous Romanian American artist Alexandra Nechita, whose works have been collected by Oprah Winfrey, Ellen DeGeneres, Alec Baldwin, Whoopi Goldberg, Calvin Klein, and more, creates a unique artistic style as a source of storytelling. "Love Anatomy" reflects the love and appreciation she holds for the women in her own life as it inspires all to appreciate their own. The 8-foot-tall, thousand-pound, bronze sculpture is stylized through Nechita's signature neo-modernist manner and abstractly creates a female form that simultaneously ignites appreciation and, lighthearted, familial fear. The figure's strong stance and independent placing exudes an imposing sense of female authority, while the viewer feels a need to check if their shirt is tucked in. "Love Anatomy" seems to transform, to broaden and deepen, the whole idea of power; a woman no longer must disregard her femininity to portray strength but is instead empowered by her female nature that unites all. Having been so many years defined by bodies, Nechita's work stands as an inspiring symbol of unity as it symbolizes female power and the love, expectation, and progress that it brings. 
"Love Anatomy" was installed on April 29, 2021. The work stands on the west side of the Burton Way median, facing three other existing sculptures ("Sisyphus" by Alexander Liberman, "World On Its Hind Legs" by William Kentridge and "Folded Square – Alphabet G" by Fletcher Benton). The Arts and Culture Commission hopes to host an in-person dedication later this summer when public gatherings are allowed.
Notable Art Exhibits This Summer:
"Ai Weiwei: Trace," Now through Aug. 1
"Ai Weiwei: Trace" at the Skirball Center seeks to illuminate the power of resistance. Created in 2014, when Ai Weiwei was on house arrest in China, the exhibition highlights activists, prisoners of conscience, and global free speech advocates.  The exhibition is made up of portraits that were hand assembled from thousands of LEGO bricks. 
https://www.skirball.org/exhibitions/ai-weiwei-trace
"Banksy: Genius or Vandal" Sept. 22
Celebrate Banksy, the master of the streets, in Los Angeles. A world-renowned mystery man, the graffiti artist, painter, activist, filmmaker, and all-purpose provocateur was listed as one of Time's 100 most influential people in 2010.   
Additional reporting by Kathy Silverman