City of Beverly Hills | News
Service Spotlight: The Beverly Hills Firefighters' Association
That is a 1928 Ahrens-Fox fire engine. That was built for the city of Beverly Hills back in 1928, so we've had that fire engine since it was brand new and in service for the city.
BY Michael Wittner July 1, 2021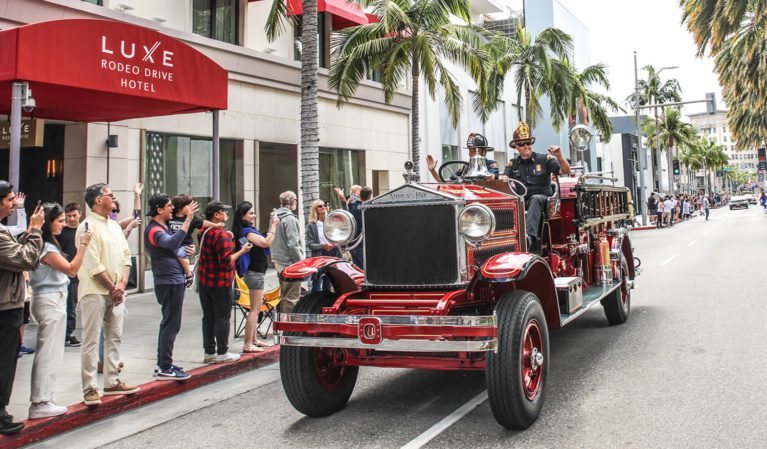 Reading Time:
5
minutes
During a difficult year, nonprofits helped countless people pull through. To highlight the incredible work that organizations in and around Beverly Hills are doing for the community, the Courier is starting a new Q&A feature called Service Spotlight. For our first edition, we spoke to Victor Gutierrez, a Beverly Hills firefighter and the president of the Beverly Hills Firefighters' Association. Since 1939, the BHFA has provided funds and support to Beverly Hills firefighters, and partnered with the Beverly Hills community to effect change.
What is the Beverly Hills Firefighters' Association?
We're not the union, but we are the labor representatives for the members of the fire department. That entails contract negotiations with the city on pay and benefits, it includes obviously community outreach and our involvement in the community, along with kind of partnering with the department on a lot of those things.
Also, any relief efforts as far as any firefighters that have any undue hardship or family death or illness or something like that that they need help dealing with, either work issues, family issues, monetary issues that could possibly come along with those events, and also any grievance or disciplinary process that may happen with any of our members – [we] represent them to make sure that the process is followed and both sides are following the labor codes and the rules established.
Who are the members?
We currently have 89 members. We do have 100% membership [among the BHFD], but it's not mandatory. We have five executive board members that are on two-year cycles for election.
Before we get into the work you do, can you tell me about the vintage fire truck that was part of the Tour d'Elegance?
That is a 1928 Ahrens-Fox fire engine. That was built for the city of Beverly Hills back in 1928, so we've had that fire engine since it was brand new and in service for the city. Back in the early to mid-80s, it got a full restoration, and since then we've maintained it. We've got a couple of our engineers that have put a lot of time over the years to maintain it and keep it running.
Is it normally part of the Concours d'Elegance? 
It normally has been, yeah. The Concours is a fixed event down Rodeo, so it has been parked on Rodeo in past years, and this year when they decided because of the pandemic to do the tour, we had to kind of make sure the fire engine was up and ready to go, and like I said, a couple of our fire engineers, Amy Horst and Selvin Sotello, took point on working on it and getting it running – it's running about as good as it's ever run right now…On the day of the Tour, Amy was driving, and Greg Barton the fire chief was riding with her.
The Firefighters' Association and the Beverly Hills Police Officers Benevolent Fund both received $5,000 checks from the Tour. Is this the first time that's happened?
This was the first time we've gotten that donation from them, which was incredible. It was so thoughtful and generous of the committee to think of us and the police department – that was amazing. Through the fire chief, they reached out, because Bruce Meyer is kind of the lead for the Tour, and so he's a big supporter of ours and has been a friend of the fire department for decades – he reached out to the fire chief and said that the tour committee wanted to make these donations to us and the police department, and so Chief Barton had passed that along to us, and obviously we were ecstatic to receive and more than happy to be involved and be a part of the event. 
What will you do with the $5,000? 
More than likely that $5,000 will go to our medical trust to help bolster the funding for the retired firefighters' medical costs.
Can you talk about the other work you do with the community? 
So, in the community, we're really involved, and have always been involved – that's one of the staples of the things that we teach to our newer members is hopefully you have a great, healthy, 30-year career here, so that means you're going to spend a lot of time in this city, so we are a part of this community, so we've always made a point to be involved. We've been involved with several high school programs, we do a scholarship for Senior Awards every year, we are involved with the Every 15 Minutes program to educate the high schoolers about the risks and dangers of drunk driving and driving under the influence, and we've been involved with that program for 10-15 years. We're involved with Tower Cancer Research Foundation, and support them during Breast Cancer Awareness Month, and we wear pink t-shirts to help raise awareness, and any of the proceeds we get from selling our t-shirts, we donate to our cancer research foundation. We are involved with the Beverly Hills senior group; we provide a Thanksgiving luncheon to them every year. The Monday before Thanksgiving down at Roxbury Park we do a big luncheon for them as a thank you for their support over the years. We've been involved with Beverly Hills Little League, the Maple Counseling Center, and Chiron Counseling Center, the Vahagn Setian Foundation….also we support our own Beverly Hills police officers' association, and their foundation as well. 
How exactly do you support all these organizations? 
Some of it is we do provide financial donations to those organizations, and some of those organizations, like Beverly Hills Little League, their opener for the season, they'll have a big event, it's a big fundraiser for them, and so we have a trailer we have outfitted with a barbecue, it's basically a hot dog trailer that we roll out to some of these events. We'll volunteer our time and we'll cook hot dogs and hamburgers and whatever food items they might be providing for the day, and any proceeds we donate back to those organizations. We've done that for a number of the schools, the school carnivals at El Rodeo School, we've done some at Horace Mann, and Hawthorne, they'll have a fundraiser, and we'll bring the trailer out. 
How are you funded?
Basically, it's all donation based. On our website, we have a donation page there. Some of those donations will go to a relief fund that we have basically for any firefighter or their families who are having any kind of hardship, and if they need any kind of financial support, we're able to do that through this relief fund. We have a scholarship fund for the children of the fire department, and that helps provide scholarships to college-age students. And we also have our Post-Retirement Medical Trust, which is sick leave for retired firefighters, and to supplement any out-of-pocket health care costs. Our big fundraiser every year, which is the Backdraft Ball, which is July 8, we're doing a virtual event, and we have an open online auction right now, so all the proceeds from that event go to fund the medical trust. 
Can you talk more about the Backdraft Ball? 
For the past 27 years, we've had a big event, we've had it at the Hilton International Ballroom, and we'll have 500-600 guests come, along with all the fire department personnel and their families, and it's basically a black-tie event – that's our main fundraiser each year. We typically raise somewhere in the neighborhood of $300,000 every year… [this year] it's going to be kind of a Zoom-style virtual event on July 8. There will be sort of a host, but no named host, it's going to be kind of a shorter program because of the nature of it, and we'll have the online auction, that's already opened, will be going online that evening, and around 10 p.m., that auction will close. 
For more information, visit beverlyhillsfire.com.