Imagine a bike ride around busy Beverly Hills – from a future Metro station on Wilshire, up to the Business Triangle, all the way up to Sunset Boulevard, to describe just one possible far-ranging route – completely free of fear.
It may sound far-fetched, but on a cool, breezy Sunday morning, the city took a step in that direction by inviting the community to test out a protected bike lane along Roxbury Drive, right next to Roxbury Park. Starting at 10 a.m. on July 25, about 50 cyclists sped along the bike lane, which was buffered by delineators running along Roxbury Drive from Olympic Boulevard to the city limit near Peck Drive. The city hosted the event to hear what its residents thought of the protected lane. While survey results have not yet been tabulated, residents so far seem impressed. 
"It was fabulous – it was a real kick," Beverly Hills resident and Health and Safety Commission Chair Cathy Baker told the Courier. "Being able to come down this proposed designated bike lane on Roxbury and feel protected: there's nothing like it."
That's good news for the city's Transportation Department, which is proposing a "Holistic Bikeway Network" as part of the Complete Streets Plan, a comprehensive vision the City Council approved in April that aims to make the city more accessible to cyclists and pedestrians. 
"We heard overwhelmingly that the community wants to see bike lanes that are more separated from vehicular travel lanes, since that makes people feel so much more comfortable when they're riding in the streets, so this is one of the ways we can implement the Complete Streets Plan and try to bring more of these bikeways to Beverly Hills," Transportation Planner Jessie Holzer told the Courier, right behind a tent full of questionnaires and leaflets about safe biking, held down to the table by rocks painted "Bike BH." 
Currently, Beverly Hills has bike lanes along sections of Burton Way, Crescent Drive, and its entire stretch of Santa Monica Boulevard. According to a report in the Complete Streets Plan, the city has 3.6 miles of striped street lanes designated as "Class II," (Burton Way from Rexford Drive to eastern city limits; Crescent Drive from Sunset Boulevard to Park Way; North Santa Monica Boulevard (from western city limits to Doheny Drive); and a half-mile of Class III lanes (Crescent Drive from Park Way to Wilshire Boulevard and South Santa Monica Boulevard from Crescent Drive to Rexford Drive), which have markings known as "sharrows" that let cars know it's a shared bike lane.
For many city cyclists, these markings are not enough. "Every time I go on a bike ride, I'm always afraid I'm going to get hit by a car," Beverly Hills native Abigail Rothstein told the Courier. "I don't think that there's a mutual respect between drivers and bike riders."
In 2016, as many as four bike collisions were reported on major roads of the city. In 2012, nine collisions were reported along Wilshire Boulevard, according to a report by transportation consultant Fehr & Peers.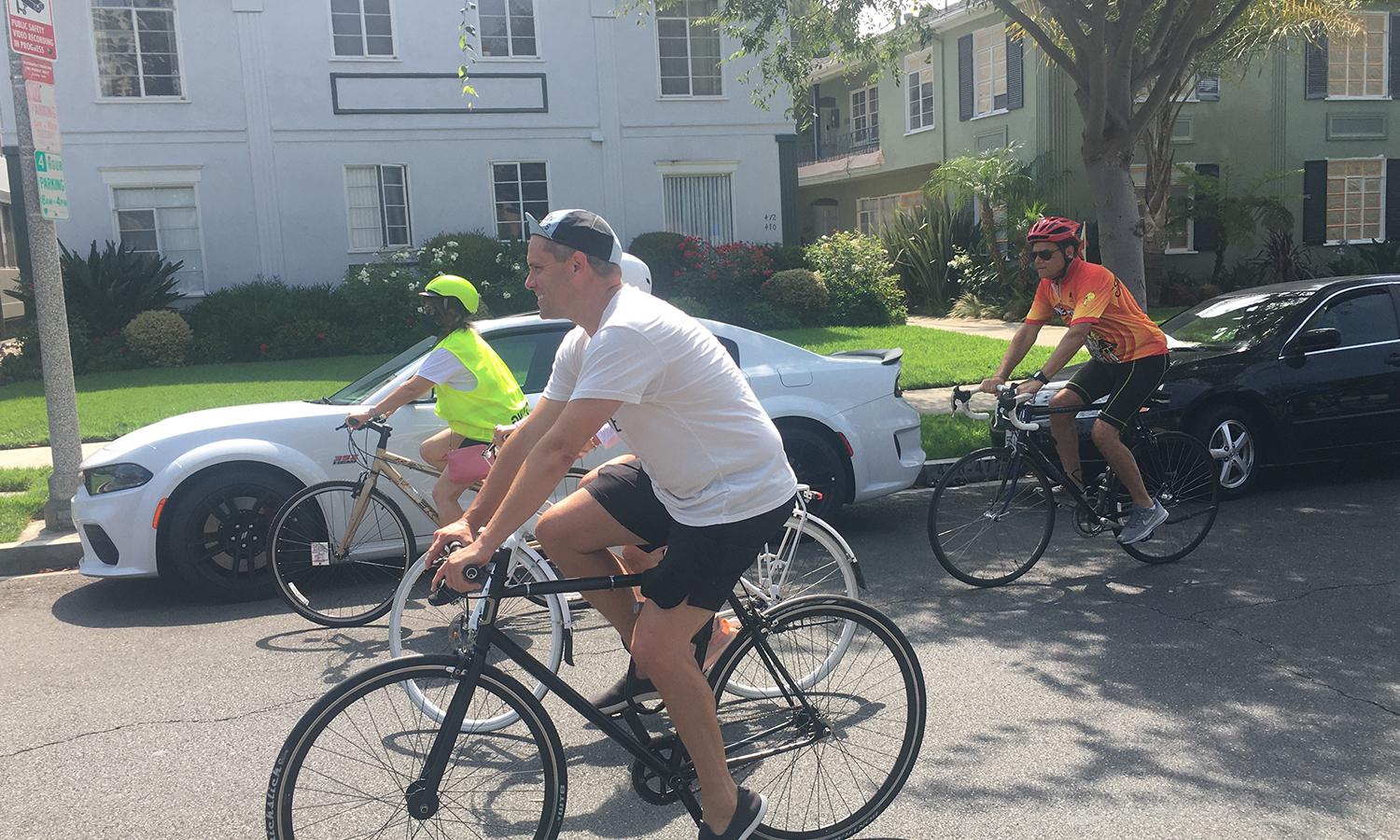 "I don't always feel safe, and that's part of the problem: that's one of the reasons we need these protected bike lanes wherever we can," Councilmember John Mirisch told the Courier after coming off a two-mile bike loop led by Mayor Robert Wunderlich. "Motor vehicular traffic is sometimes very fast."
Vice Mayor Lili Bosse, who also attended the demonstration, told the Courier that while she feels safe riding in the city, she tries to stick to existing bike lanes and remain "very aware of my surroundings." 
Wunderlich agreed with Mirisch, telling the Courier he does not feel Beverly Hills is a "sufficiently bike-friendly city." 
"The possibility of bicycling on city streets shouldn't just be for the hardcore bicyclists," he said. "To allow people to use their bikes, they really have to feel safe doing it, and so a protected bike lane is the way to make that happen." 
City staff chose the stretch of Roxbury Drive because the street was wide enough to build a 6-foot-wide lane without removing any existing lanes or parking spots. Eventually, the lane will be protected by the row of parked cars moved six feet out. After a one-year pilot program, the department is also aiming to make the lane sidewalk-level to make it completely separate from the street, Holzer told the Courier. 
On Aug. 5, after feedback from Sunday's event is synthesized, the Traffic and Parking Commission will review the plan and decide whether or not to recommend it to the City Council. If it passes muster, the plan will go to the City Council at some point in the fall. 
Some preliminary Traffic and Parking Commission reviews are in. "I think they've done it in a smart way for a temporary lane," Commissioner Sharon Ignarro told the Courier. "I think that if it becomes a permanent lane, it would be nice if it were a little bit wider, and they had perhaps a stripe in the middle so people could go each direction – right now it's a little bit uncertain who should go which way." While the lane will be one-way, Holzer told the Courier that bikes may be able to pass one another, depending on their size. 
If the City Council approves the plan, the one-year pilot program will test out the efficacy of both the southbound protected lane, and a Class II unprotected northbound lane on the other side of the Roxbury Drive. During the pilot year, the lane will be separated by more permanent barriers like planters. The Transportation Department will also complete several traffic studies and solicit more community feedback. 
If all goes according to plan, the sky's the limit. The Holistic Bikeway Network proposes protected lanes along Sunset Boulevard from Whittier Drive to the eastern limit at Phyllis Street; Beverly Boulevard from Santa Monica Boulevard east to Doheny Drive; Burton Way from Rexford Drive east to Robertson Drive; Charleville Boulevard from Lasky Drive east to the future Wilshire-La Cienega Metro station; Gregory Way from Spalding Drive east to San Vicente Boulevard; and Beverly Drive from Santa Monica Boulevard south to Whitworth Drive. 
Protected lanes along Roxbury Drive, Burton Way and Beverly Boulevard all link to existing bike lanes in Los Angeles. 
Class II lanes are proposed along Whittier Drive from Sunset Boulevard south to Wilshire Boulevard; Roxbury Drive from Sunset Boulevard south to Olympic Boulevard; Beverly Drive south from Sunset Boulevard to Park Way; San Vicente Boulevard south from Clifton Way to Wilshire Boulevard; and the stretch of Moreno Drive in front of Beverly Hills High School.
Class III lanes are proposed on Elevado Avenue from Whittier Drive east to Doheny Drive; Rexford Drive from Sunset Boulevard south to Whitworth Drive; Palm Drive from Sunset Boulevard south to Civic Center Drive; Crescent Drive from Wilshire Boulevard south to Whitworth Drive; Clifton Way from Rexford Drive east to San Vicente Boulevard; and Brighton Way from Roxbury Drive east to Crescent Drive, among several others.
"The ultimate goal is to build out the network so people can get from one side of the city to another and beyond by bicycle," Holzer said.