City of Beverly Hills
Council Reviews Wildfire Assessment, Demands Action
"The report has many elements of an action plan, but I don't think it really is a fully-fledged action plan," Mayor Robert Wunderlich said at the end of the meeting.
BY Michael Wittner July 29, 2021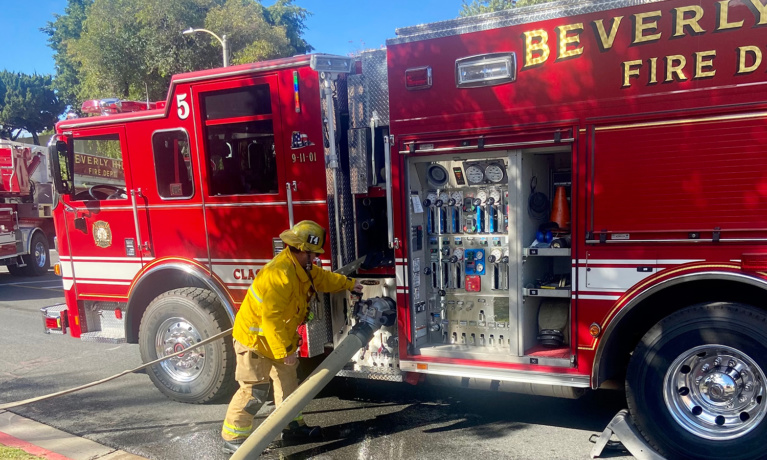 Reading Time:
5
minutes
After returning to in-person meetings for their July 15 session, the Beverly Hills City Council returned to a virtual format on July 27. The Council spent the majority of time at its Regular Meeting reviewing the Wildfire Assessment Report. The 57-page report on the city's fire risks and responses was released July 9. After discussing the report in detail with Beverly Hills Fire Chief Greg Barton, Director of Public Works Shana Epstein, Urban Forest Manager Ken Pfalzgraf, and four expert consultants, Councilmembers praised the report's thoroughness, but questioned what exactly will come of it, and when. 
"The report has many elements of an action plan, but I don't think it really is a fully-fledged action plan," Mayor Robert Wunderlich said at the end of the meeting. "It has recommendations, it has assessments, but an action plan would get more specific. The report has many tactics, but it's really not an action plan that's prioritized in terms of, let's start with doing these things, and we'll get these things accomplished by certain time periods." 
The report, which offers recommendations on everything from evacuation routes to vegetation removal to home hardening, was written by Wildfire Management Consultant David Shew and J. Lopez, former Assistant Chief for LA County Fire Department's Forestry Division. It is not yet finalized, and the timeline of its finalization is unknown. Since its July 9 release, Barton, Shew, Epstein, and wildfire expert Shea Broussard answered questions about the report in two public meetings on July 12 and 13. According to Barton, there are no plans to present the plan to any city commissions, but the team will go before the Council with plan updates at an unforeseen date.
"We will continue to work with private agencies to evaluate the most vulnerable locations using advanced fire modeling to identify areas where we can improve fire safety," a city website devoted to the report says of its finalization process. "We will make recommendations and take action to make incremental improvements and identify emerging trends as the vegetation landscape continues to change."
Still, some concrete action steps are forthcoming. Both Barton and Shew said that they will immediately begin working to reconfigure the Beverly Hills chapter of the Firewise USA program, a national volunteer-based fire safety and prevention program, into smaller neighborhood groups around the fire-prone neighborhoods north of Sunset Boulevard.
Barton also told Vice Mayor Lili Bosse that he plans to start virtual evacuation drills in two months, and in-person evacuation drills around the first of next year, COVID permitting. Bosse asked Barton if that could be moved up, which he said he would consider doing. 
Barton also told the Courier that his team is currently taking steps to shore up evacuation routes, particularly in areas the report designates as very high wildfire intensity. These "choke points," as Barton calls them, are strongest around the northern part of Trousdale Estates, especially near the intersection of Carla Ridge and Loma Vista Drive. While every case is different, the report recommends a mixture of strict enforcement of restricted parking during Red Flag weather, improved signage, and vegetation clearance to keep the streets as clear as possible. 
To the surprise of many, the report recommended the removal of just 100 trees north of Sunset Boulevard, a far cry from the 1200 recommended by 2019's Urban Forest Management Plan report from environmental consulting firm Dudek. Thanks to new modeling technology, the newest report identifies tall trees along Loma Vista Drive and Carla Ridge that it says pose very high risks for obstruction and flammability.
Removing any number of trees has exposed sharp divisions in the Trousdale community, even though the fire department says it plans to eventually replace them with more fire-resistant species. Of the nine public comments on July 27, five people were in favor of getting rid of the trees, and four were against it. 
"I don't care what anybody else says: those trees are a danger, and every day when I drive down Loma Vista and I look at those trees, I see how big they are, I see all the brown pine needles that fall: it's a danger to all of us, and I'm concerned for the community," Trousdale resident Alan Iezman said.
"Healthy, rooted, watered pine trees, no matter how old or tall they are, will not fall down, and I also feel that perhaps some trees are more flammable," said Tina Sinatra, another Trousdale resident. "I ask everybody to stay calm – let's not rape a neighborhood. We don't want to be bald and look like a tract development, which is how we started – that's what Trousdale was, and nobody wanted to live here, but the trees made it better."
Councilmembers generally seemed in favor of removing the trees. But the designated trees belong to the city, and many wondered what to do about the many trees on private land that could burn just as easily.
"Is doing landscape managing on public property sufficient, or if we really want to do what we're saying, is it equally important and maybe even more important to be able to increase what we do on private property as well?" Wunderlich asked, referring both to fire prevention and ensuring clear evacuation routes. 
The answer is yes, staff said, and addressing that is no easy feat. One of the best methods is public education and neighborhood outreach campaigns, like the Firewise Neighborhood Councils, to work with homeowners to harden their homes and alter their vegetation if necessary. "It not only requires a change in people's paradigm in what they consider to be attractive landscaping and things like that, but it also requires a new understanding of our knowledge and explanation as these fires continue to get worse," Shew said.
The Beverly Hills Fire Code already requires homeowners in Very High Fire Hazard Severity Zones to comply with many fire safety standards, like keeping any dead, dry, and hazardous vegetation at least 200 feet from any structure, and requiring that no leaves hang below a certain point, depending on the height of the tree. Barton said that he is hoping for a future ordinance to grant the city the rights to trim leaves hanging out from private property. 
Although virtual modeling showed that treeless streets might reduce overall fire intensity by 22.5%, insurance companies are still canceling policies of residents in the affected area. Many of the Trousdale callers said that they had been dropped by their insurance companies and can't find any others willing to take them on. When Vice Mayor Bosse asked what could be done, Barton said his team has located some companies that were willing to look at homes individually and the actions they're taking to prevent fires, rather than as part of a geographic bloc. Still, Barton said insurance companies are trying to "cut their losses and get out of California."
"We're trying to educate the insurance companies on what the city is doing to help the residents," he said. "By being a FireWise community that helps with some insurance companies like USAA and State Farm, but we're doing everything we can to get residents insured." 
Another big topic was water, and whether Beverly Hills has enough to withstand future fires. Unlike the rest of the topics, the answer was fairly straightforward: yes. The city has three-four days of water storage, according to Director of Public Works Shana Epstein. Epstein also told Mayor Wunderlich that the city has a continuous connection with Metropolitan Water District, and if that is disconnected, the city has an emergency connection with LADWP at the Woodland Reservoir. The BHFD also has agreements with the Los Angeles Fire Department and LA County Fire to activate additional water-dropping resources, according to Barton. 
Tobacco Hardship Appeal
Where there's fire, there's smoke. Just before their marathon review of the Wildfire Assessment Report, the Council voted 3-2 to refer the appeal of a gas station owner's tobacco hardship exemption back to an Administrative Hearing Officer, rather than hear the case themselves.
Morris Poulder, the owner of a 76 gas station at the intersection of Olympic Boulevard and Beverwil Drive officially known as Beverly Hills Oil, Inc., applied for a 19-year exemption from the city's 2019 ordinance banning gas stations and convenience stores from selling tobacco products. In December 2020, a hearing officer whittled the initial request down to just two years. Two weeks later, Poulder appealed the decision. Wunderlich, Bosse, and Councilmember Lester Friedman voted to send the appeal back to the Hearing Officer, citing due process. Councilmembers John Mirisch and Julian Gold voted for the Council to hear the appeal. After the vote, the Council asked to be informed of the Hearing Officer's decision.