The Beverly Hills area has been experiencing a restaurant boom with European imports, award-winning chefs, rooftop havens and a seductive cigar lounge–with more to come before 2022.
The spirited party shores of Ibiza are a long way from the well-heeled streets of Canon Drive, but Spanish import TATEL, has finally arrived from a slew of MABEL CAPITAL partners headquartered in Madrid. They include Manuel Campos Guallar, Abel Matutes Prats, Rafael Nadal and other high-profile athletes from Cristiano Ronaldo to Pau Gasol. 
Count on being entertained from the minute you walk through the doors, with a front bar that features live music nightly and luxe décor that was inspired by the roaring 20s. 
This type of supper club was missing in the area and the owners had solid reasons for opening their U.S. flagship in this location. "Beverly Hills is a great food and beverage spot where the best restaurants are," U.S. Director, Brando Juris told the Courier. "There is a synergy [with our brand] and a high standard here."
Chef Luigi Fineo has brought over a dozen signature dishes, including traditional paella with prawns served tableside to the finest Iberico ham (with a special slicer). The Spanish tortilla comes covered in shaved truffles, as an add on for the 90210 crowd.
Every hour, a 20-minute performance takes place, so it's not too invasive for diners. Selections might include a roving jazz trumpeter, violinist or a singer on the main stage near the bar. Order a flaming Belvedere coconut cocktail or choose from an outstanding global wine list and enjoy the show.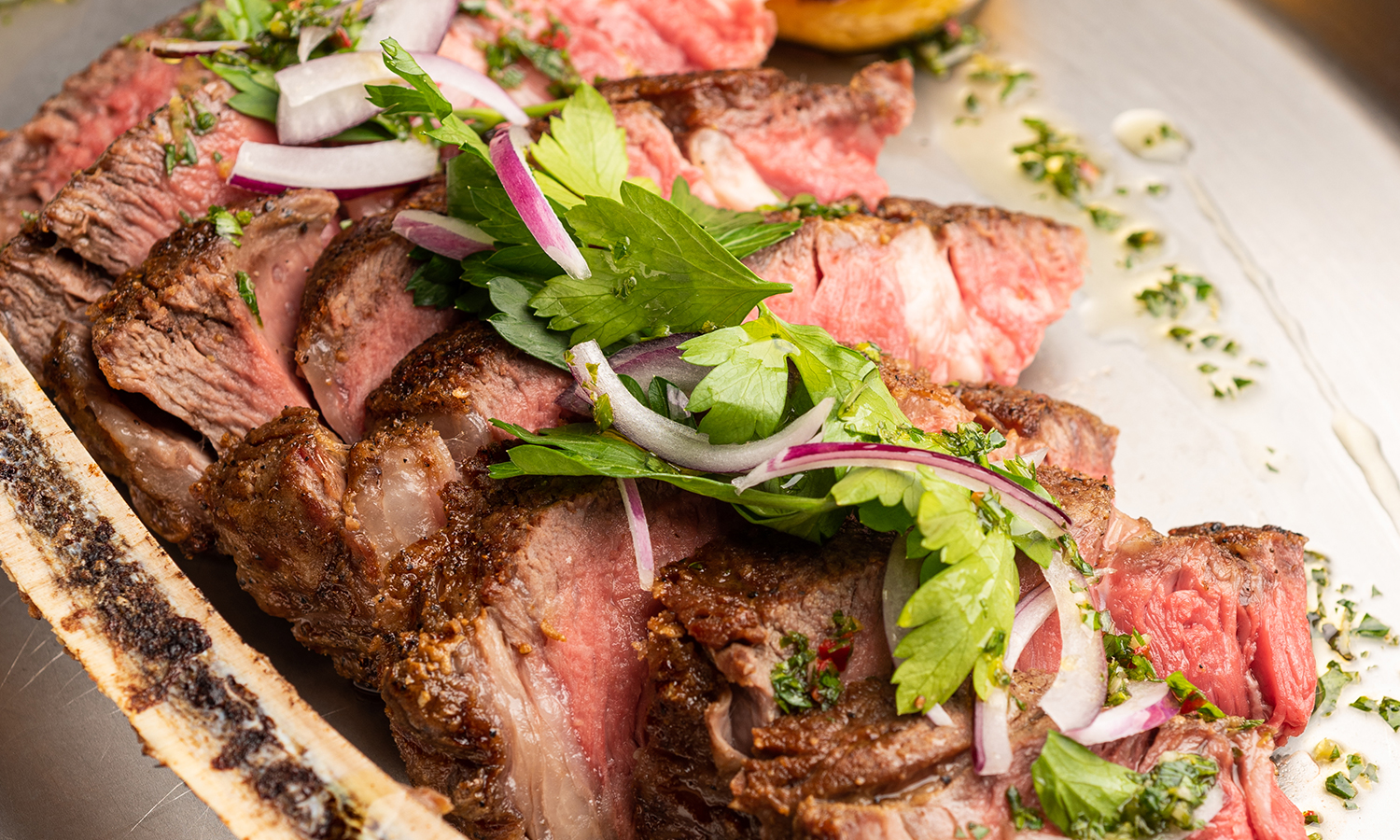 Bringing the West Bank to the Westside, Walter and Margarita Manzke of the beloved Republique on La Brea, recently opened French-themed Bicyclette Bistro on Pico right behind Mr. C's hotel. Just like its sister restaurant, it can be challenging to book a table at Bicyclette. But the owners are expanding soon to an upper level of the building for a fine dining tasting-menu concept. For now, top dishes include the Burgundy escargot en croute, caramelized onion tarte tatin (that takes four hours to prepare) and an earthy duck breast with barley and cherries. The cocktail list is a mini book that you can flip through while tearing off pieces of crusty baguettes to enjoy with salty Normandy butter. 
For a nightcap, The Maybourne has flipped the old Ten Pound space upstairs from the main restaurant into a Cigar and Whisky Bar. The program showcases whiskey from around the world, including Scotland, Ireland, Japan, Taiwan and Canada, along with a small-bites menu. The built-in humidor houses up to 3,000 cigars from The Caribbean and Central America.
For another cool rooftop, The Melrose Umbrella Company owners (who also consult for Bottega Louie and sbe) have brought a trifecta of new concepts to the Sixty Beverly Hills Hotel. The Umbrella Social Club on the roof is a public bar and bites space with fireplaces, city views and piña coladas. The Umbrella Swim Club is an invitation-only lounge concept by the pool, but the downstairs is where the new Umbrella Supper Club will welcome diners in the old Caufield's space. 
"This place has really good bones and a little bit of an edge for Beverly Hills," co-owner Austin Melrose told the Courier. The previously dark space is now enveloped with a cheery white décor, a sleek central bar with vintage photography and guitars on display. The food will feature a California-centric sustainable organic and vegan-friendly menu (along with pasta, fish and steak) and a wine shop with natural options such as hard Kombucha to-go. "Leave it to a global pandemic for people to care about what they put in their bodies," said Melrose. Soon they will add live music and a Sunday jazz brunch. "Beverly Hills is becoming hip and cool, it's a movement," he added.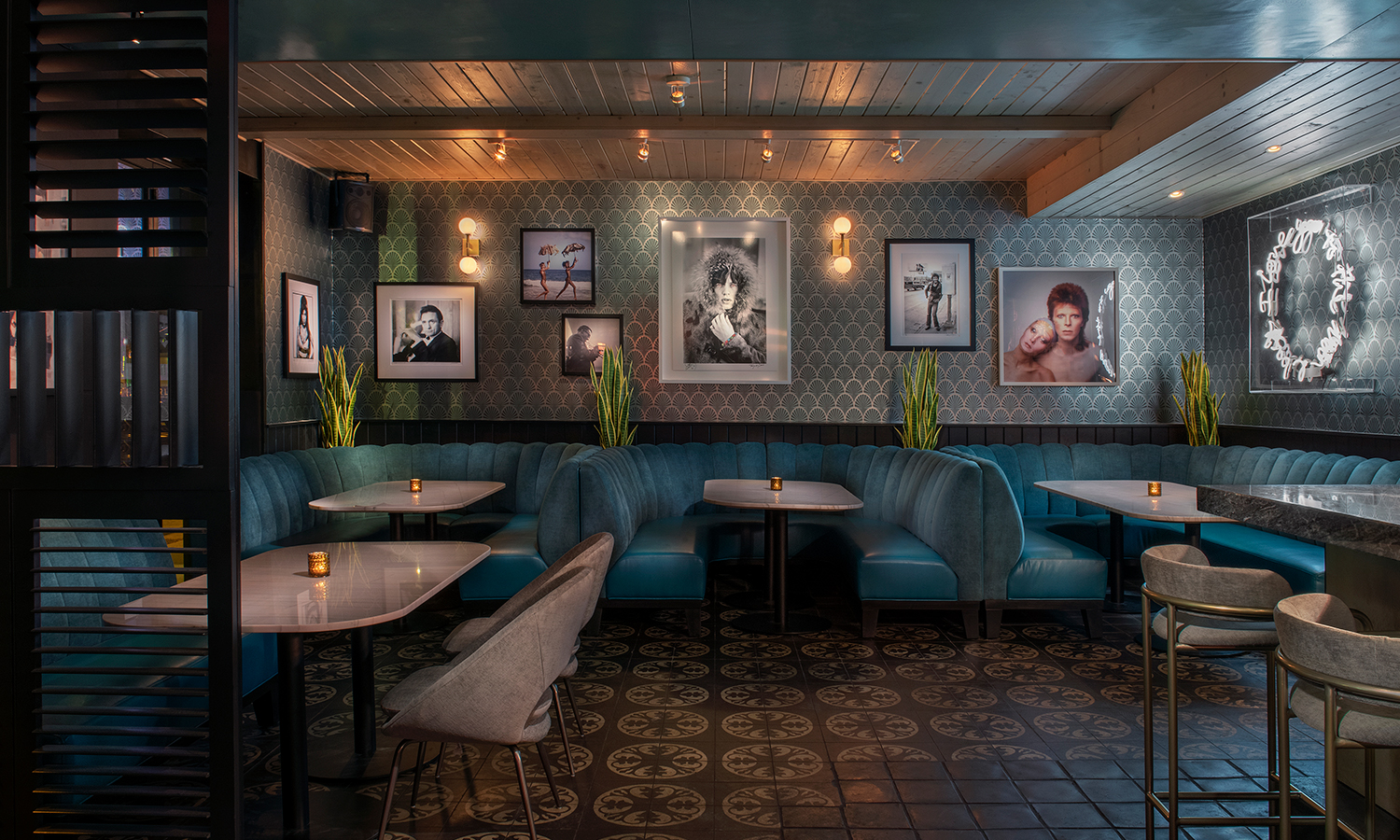 Nearby, globally acclaimed star of "Iron Chef" Masaharu Morimoto has opened pan-Asian Sa'Moto on the ground floor of the Doheny Room in a partnership with DRG (Disruptive Restaurant Group) and founder and CEO Sam Nazarian of sbe. This is an ideal location sandwiched in between two Santa Monica Boulevard institutions: Dan Tana's and The Troubadour. 
The focal point of the dining room is a central bar flanked by plush banquettes and a small sushi bar in the back of the house with a rotating photography screen. You can expect sushi roll options but there are also steaming bowls of chicken wonton noodle soup, duck tacos and panko fried dishes that make great bar snacks. A showstopper is a trio of smoked ceviche in small domes that pairs with a yuzu, sake, plum wine cocktail. After dinner, head upstairs to a lively nightclub. 
Keeping the lively spirt going, the team behind Olivetta on Melrose Avenue is now firmly planted (from pop-up status) as the new flagship restaurant, Issima, at Kimpton La Peer. The Mediterranean beach club feel features grilled whole fish, pastas and salads by the pool and on the roof with a DJ booth for late-night cocktails under the stars.  
Over on W. 3rd Street, the latest project from the duo behind Sherman Oaks' renowned Sushi Note and Augustine Wine Bar, Andy Paxson and Dave Gibbs, have opened cozy Melanie Wine Bar. The goal is to encourage guests to explore new wine regions and varietals with a focus on French and Italian offerings by the glass that are reasonably priced from $12-20. Jansz Brut Rosé from Tasmania, Australia is a rare find and complements the small plates that include Spanish octopus, stone fruit toast and steak frites.
Another opening in the news is Fanny's at the Academy Museum  of  Motion  Pictures, with Executive Chef Raphael Francois (from Tesse on Sunset) and mixologist Julian Cox bringing an old Hollywood sensibility. And, even with these additions, there are still notable openings to look forward to. Among them, the legendary Daniel Boulud, who is coming to Beverly Hills, as well as the steak-centric Maple + Ash from Chicago whose sister restaurant Etta just opened in Culver City.  Bon Appetit!