City of Beverly Hills | Community News | News
Council Grapples with State Water Crisis
The Beverly Hills City Council confronted the dire water situation facing California and the city at a Nov. 16 meeting.
BY Samuel Braslow November 22, 2021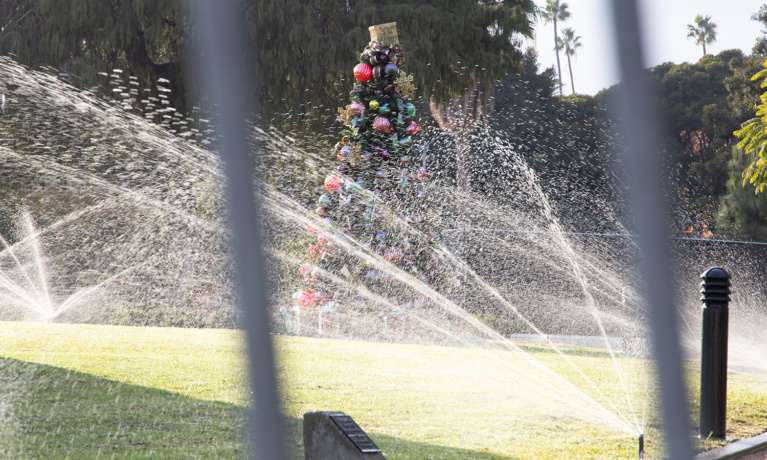 Reading Time:
3
minutes
The Beverly Hills City Council confronted the dire water situation facing California and the city at a Nov. 16 meeting. Even with anti-drought measures taken in the past, the takeaway was clear: we will need to do more with less in the era of climate change.
In October 2020, only 36% of California was categorized as experiencing severe to extreme drought conditions. By October 2021, the share of the state experiencing extreme drought conditions had risen to 83%. According to Utilities General Manager Rob Welch, as of September 2021, California was registering its third driest year in more than 100 years of recorded data. And while late October storms brought a deluge of needed water to the state, "the only area that saw a change in the drought designation was the area in Northern California," Welch told the Council.
"So the message is we're not out of the woods," he said.
Gov. Gavin Newsom included Los Angeles County in a drought state of emergency in July and called on water suppliers to implement water shortage contingency plans, which ask for a voluntary 15% water use reduction as compared to 2020 amounts. By August, state figures showed that residents had only reduced water use by about 5%.
The call changed little for Beverly Hills, in practice. Since 2017, Beverly Hills has remained in Stage C of the city's water conservation plan, which calls for a 20% reduction in water use from 2013 numbers. The stage also establishes days and times for irrigation (recommended two days a week in the fall and winter either before 9 a.m. or after 5 p.m.).
"We are experiencing climate change, and it's something we all need to be aware of and do our best to conserve water as best we can," said Councilmember Lester Friedman.
On Nov. 10, the Metropolitan Water District of Southern California, a water wholesaler to large swaths of the Southland, declared a state of emergency. The declaration of a state of emergency cited the ongoing water crisis, pointing out that 2020 and 2021 were the driest two years on record for precipitation in the state.
"We need immediate action to preserve and stretch our limited State Water Project supplies," board Chairwoman Gloria D. Gray said in a statement. "Southern California on average gets about one-third of its water from Northern California via the state project. Next year, we'll be lucky to get a small fraction of that."
The city offers resources and advice through bhsaves.org for both residents and businesses. Still, the Council pressed staff on how they planned to reach more people within the city with the information. The city's Water Conservation Administrator Debby Figoni told the Council that the city would expand outreach efforts.
"We always contact our customers when we see water issues, whether they be continuous flow issues or excessive irrigation," she said. "We're going to start doing signs all over the city."
Figoni added: "We know it's not sexy, but toilets are the number one cause of water issues. And so for people to keep an eye on that is so important."
To that end, Mayor Bob Wunderlich highlighted the city's free water tracking program, accessible through bhsaves.org. "You get to be able to monitor your water usage," Wunderlich said. "You can compare [usage] versus other time periods and you can see those instances in which perhaps your toilet has started to leak, because you can see the additional water usage. You can see the spikes in water usage for landscape irrigation."
"Record dry year, record rainfall in one day," Wunderlich said. "We really have to recognize the reality that climate change is influencing things already."