When Beverly Hills teen artist, The Cubist, told her mom she needed 100 Rubik's Cubes for an art project, her mom was skeptical.
"I said for what, what are you going to do with it? And she said, 'Please, please just get it for me,'" The Cubist's mom, Nicole, told the Courier. "So I did and she pleasantly surprised us."
For the young artist, who keeps her name private in the tradition of Banksy and other street artists, the idea just seemed like a fun project at the time.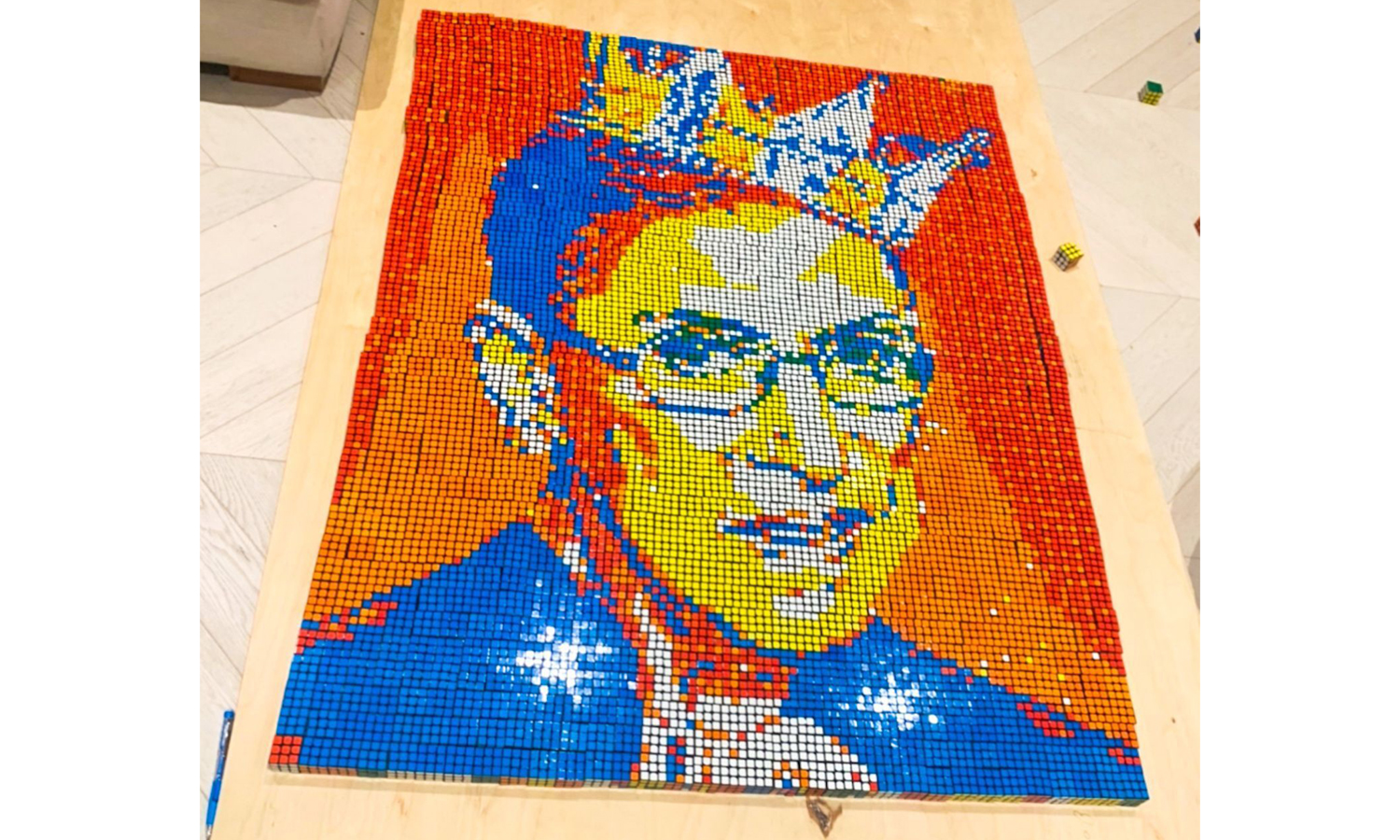 "I saw a digital picture one day, and I was like, wow this would look really cool with Rubik's Cubes," The Cubist told the Courier during an interview at her home on North Rexford Drive in the flats of Beverly Hills. She admits her first mural wasn't her best work, but finishing it proved to her and her mom that she could make real art with the cubes.
That was about three years ago. Now buckets of Rubik's Cubes are stacked in their family room which has been taken over by the 15-year-old artist and turned into an improvised studio. About a dozen of The Cubist's large-scale murals crafted out of the cubes are also packed into the studio, some still in progress, some already sold.
"I don't have a choice," said The Cubist's mom when asked how she felt about her family room being taken over. "I don't mind because she's enjoying it so much. I'd rather have my kids doing art than be on the computer or out in the streets."
True to the 1980's pop spirit of the Rubik's Cube, The Cubist's colorful art recreates popular images like celebrity portraits, smiley faces, sneakers and the Rolling Stones tongue logo. Many of the pieces are several feet tall and use up to 2,000 cubes, others are the size of a dinner plate.
"I started out doing small things like those smiley faces," said The Cubist. "Then we started an Instagram account and gained a lot of popularity. And now it's become like a serious thing and it's really taking off."
As a young child, The Cubist said she liked solving puzzles and word games. She said Rubik's Cubes and her art are an extension of that early fascination with problem solving. Now she can solve a Rubik's Cube in about a minute.
"If I practiced I could probably do it really fast," she said.
As if solving one cube was not a challenge enough, The Cubist uses each colored square of the cube like a pixel to create images. That means each cube has to be uniquely solved to put the right color square in the right spot. "It takes a lot of work to get it right," The Cubist said.
Drawing Inspiration from street artists like Mr. Brainwash, The Cubist has started experimenting with adding paint and LED lights to her Rubik's Cube murals. Some of these have a social justice message, like her "No Hate" mural which spells out the word "hate" with the cubes and slashes it out with an LED bar. This piece recently drew a crowd and was sold at the Beverly Hills Art Show Oct. 16 and 17.
"It's not so pop," said The Cubist about adding paint and lights to her work. "I know this is still really pop and bright, but you can express more this way."
She is also starting to study fashion and she is experimenting with making furniture. Her first attempt at making a table did not work and the table broke, but she is determined.
"That's something that I really want to do," The Cubist said about making furniture. She said she has a really great idea for her next piece of furniture.
When she is in school, it takes her about four weeks to complete one of the large murals. When she is on break from school it only takes about two weeks. The Cubist is also open for commission from people who want portraits of family members and pets. For commissioned work she can deliver a mural in 6 to 8 weeks.
"She does it with a passion," said her mom. "She loves it and she's an artist in every way. It's not just with cubes. With her fashion, with her painting, she kind of does a little bit of everything."
With recent shows at Greystone Mansion and a popup show at the Alice + Olivia shop, The Cubist's challenge now is balancing her art career with school work. College is about three years away, and she is now starting to think about which art school she will attend.