The once vacant storefront windows at 445 N. Canon Drive debuted a new art exhibit on Dec. 2 with seven paintings hanging by American contemporary artist Kevin HEES. The windows display works from his latest MUSIC! series, which pays homage to musical genres, tempos, and rhythms. HEES' work is known for his use of colorful circles, geometric shapes, and his signature circle and three lines of marks that represent the number seven, symbolic of the ingredients for life and art.
The temporary installation is part of the "Visions of the Future" program, a collaborative effort between the Next Beverly Hills Committee and the city's Arts and Culture and Human Relations Commissions that is intended to activate public spaces with vibrant, visual pop-up art experiences. This is the second installment of the pop-up, which is expected to be on display to the public for one month. In 2020, his work appeared in shows at the Wynn Fine Art Gallery in Palm Beach and he contributed to the Norton Museum of Art's 80th anniversary art auction with Sotheby's. This is the artist's first public showing on the West Coast.
"I believe that music has the power to guide you home," HEES told the Courier. "Not your home on the outside, but your home on the inside, what I refer to as the silence center. That is the place where you hold your energy, your clarity, your growth, your insight, your freedom, your power, and your creativity. No matter where I am in the world or what's going on in my life, good or bad, if I put my headset on and listen to my music, I can always find my way home. And that's actually what this show is about."
Each piece has its own color scheme, incorporating words like "Opera," "House," or "Pop," with quotes that inspired HEES like Shakespeare's "If music be the food of love, play on."
"So, there's lots of quotes and lots of thoughts and lots of ideas about music and how music effects the human experience," he told the Courier. "I'm inspired by all kinds of music. You'll see on these paintings they say gospel, disco, rock, country–it's a celebration of all music. Even the universe has a hum."
HEES came to his career as a painter by way of photography. HEES began his career as a painter, makeup artist, photographer, brand consultant, and producer working with brands like Ralph Lauren, BELK, STILA, Kevyn Aucoin Beauty and E! Entertainment. He has photographed household names such as Justin Timberlake, Kelly Clarkson, Annie Lennox, and Christina Aguilera. After being diagnosed with prostate cancer in 2013, painting became the centerpiece of his life. However, it wasn't until the end of 2019 that it became his professional focus and personal outlet.
The two artists who inspired the body of work MUSIC! were American singer-songwriter, Stevie Nicks, known for her work on Fleetwood Mac and American actor and singer, Steve Kazee, known for his Tony Award winning role as Guy in the musical "Once."
While HEES doesn't play the guitar, his guitar, named Stevie, features prominently in his paintings. The guitar was purchased as a gift for Kazee, who HEES was planning to photograph a few years ago. "Then the shoot didn't happen, and so I brought the guitar to Palm Springs and then I photographed the guitar," HEES told the Courier. "And it became the beginning of what is now the music project."
"I took the guitar and I put it in the paintings as a way to join the two projects together: my photography and my painting," he said.
His next exhibit, titled the Cage, will be, in part, a performance art piece with seven paintings. The cage features a 60-foot-long wall of fencing with three paintings hung on both sides, and a 10-foot high and 12-foot wide cage coming out in the center, forming a T. HEES himself will be inside the cage, painting the seventh 6×7 foot piece of the series, on an already primed, prepped, and painted canvas.
"The Cage is about the situation that caused me to stop shooting as a photographer," HEES told the Courier. "I went through a really bad lawsuit where it became very clear to me, based on this experience, that I had no rights over my work. So, I have tried to try to turn that dark experience into a positive statement about standing up, stepping forward, and speaking out."
"The only thing that I'll do in the cage is the writing. and all the pastel work where I can write I don't have to have water," he added. "Turn your pain into power, that's the kind of messaging."
To learn more about HEES, visit https://heesart.com/.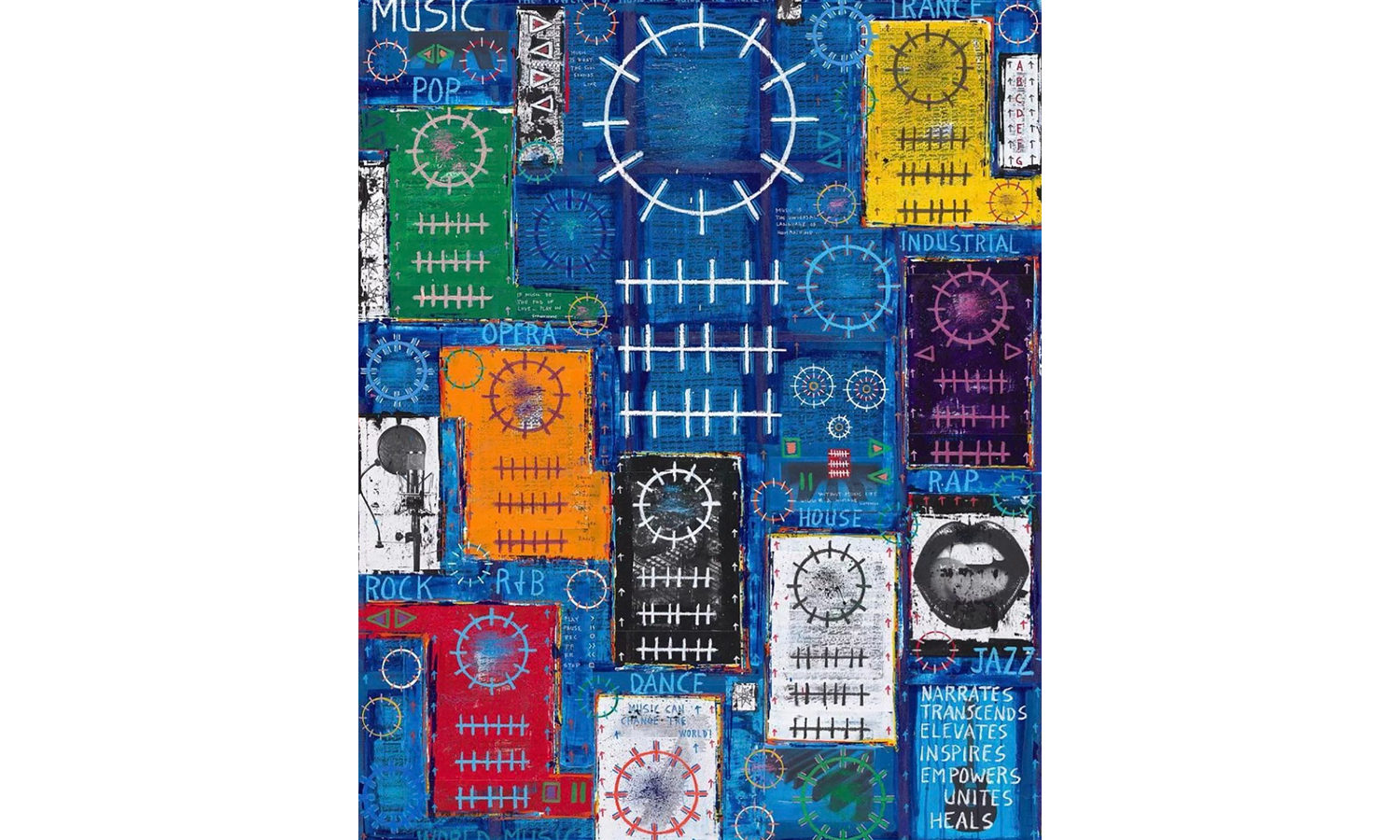 Share Post