Art | Museums & Galleries
Frieze Sneak Peak
Frieze Los Angeles unveiled a selection of art expected to appear at its upcoming Beverly Hills exhibition during an exclusive preview event at the Academy Museum of Motion Pictures in Los Angeles on Feb 3.
BY Carl Robinette February 5, 2022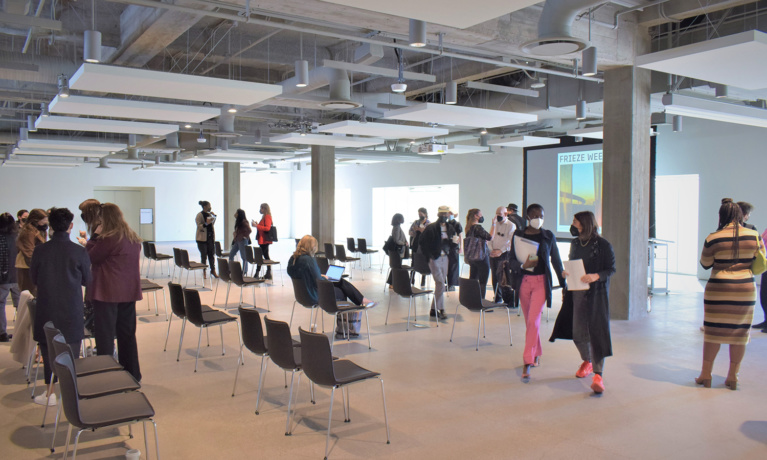 Reading Time:
3
minutes
Frieze Los Angeles unveiled a selection of art expected to appear at its upcoming Beverly Hills exhibition during an exclusive preview event at the Academy Museum of Motion Pictures in Los Angeles on Feb 3. The preview discussion highlighted Frieze Focus LA, a section at Frieze that will showcase LA's emerging artists.
Curated by Amanda Hunt of the Lucas Museum of Narrative Art, Focus LA will feature 11 galleries from the LA area that have been open 15 years or less. Focus LA galleries participating in the fair for the first-time include Baert Gallery, Garden, Gattopardo, In Lieu, Luis De Jesus Los Angeles, Marta, Stanley's and Stars. Returning participants include Bel Ami, Charlie James Gallery and Parker Gallery.
"Los Angeles is a city teeming with creativity, from our renowned institutions to our artists, our curators and our educators," Frieze LA and Frieze New York Director Christine Messineo said during the event.
Outside of the Focus LA section, Frieze brings more than 100 art galleries from 17 countries to Beverly Hills. Notable among exhibitors is local gallery Gagosian, which will showcase "Dreamer's Folly," a large-scale architectural sculpture by the late Chris Burden. Burden is known locally for the famed "Urban Light," a collection of streetlamps outside the Los Angeles County Museum of Art.
"Given the disruption of the past couple years it feels particularly special to welcome collectors and galleries back to the fair and continue to champion the City of Los Angeles," said Messineo. "The new space [in Beverly Hills] has given Frieze the ability to expand the footprint of the fair and welcome over 100 exhibitors."
The much-anticipated Frieze Sculpture Beverly Hills was canceled in January due to supply chain and staffing issues, according to a statement by a Frieze spokesperson. The public sculpture garden was previously planned to be installed in Beverly Gardens Park until May. It would have marked the West Coast premiere of Frieze Sculpture, a popular feature at previous Frieze art fairs in London and New York.
The news of its cancellation came as a disappointment to Beverly Hills as the City has been working with Frieze since September to host the garden event, granting organizers fee waivers and temporarily amending the city code to allow structures in the park. The City Council also negotiated with organizers to promote the weeklong festivities around the exhibition as "Frieze Week in Beverly Hills," a promotional name change that is only active in Beverly Hills.
The cancellation is the latest blow for Frieze organizers as the mega-event has faced significant challenges during the pandemic. Frieze Los Angeles 2021 was first postponed and later canceled entirely due to COVID-19 social distance guidelines. Frieze was unable to hold the fair at its previous location at Paramount Studios in 2022 due to impacts of the pandemic at Paramount. The exhibition was then moved to Beverly Hills.
Despite the garden exhibit's cancellation, the formal art fair is expected to attract an estimated 35,000 visitors to the city who will spend a projected $15 million on hospitality and $7 million on food. Most of this spending will happen at businesses within walking distance or a short drive of the main fair, according to organizers.
Local hotels, the Peninsula and the Beverly Hilton, reported increased room bookings for the weekend of Frieze, during a City Council Liaison Marketing Committee meeting Feb. 1. Beverly Hilton General Manager Sandy Murphy told the committee that the new location of the fair has created a noticeable spike in bookings compared to previous years when the fair was held in LA.
"Traditionally we did not see significant bookings over Frieze," said Murphy. "Being so close to the event now we are seeing, obviously, significantly better results than we typically would have."
She said many of the bookings for the weekend came late as omicron case rates began to drop. "So, it just seems as if the excitement is just happening. I just think everybody was waiting because of omicron," Murphy added.
The Frieze art fair will be hosted Feb. 17-20 under a large-scale tent at 9900 Wilshire Blvd. near the Beverly Hilton hotel.