In her April 5 address promising "a new chapter in the story of Beverly Hills," Mayor Lili Bosse announced several initiatives geared towards public safety, local businesses, and government accessibility.
"My passion and purpose on the City Council has always been to provide a safe and healthy city for the people and businesses of Beverly Hills," Bosse said. "Healthy people, healthy economy and a healthy government."
To that end, Bosse announced the rollout of BHPD alert, a text message system that communicates "information directly from our Beverly Hills Police Department immediately as events occur in our city."
"It has become very clear to me over the last few years that timely, accurate information from our police department about events in real time is incredibly important," Bosse said. "In this era of social media, apps, and neighborhood chats, information has a way of spreading quickly, but often it's not accurate or helpful."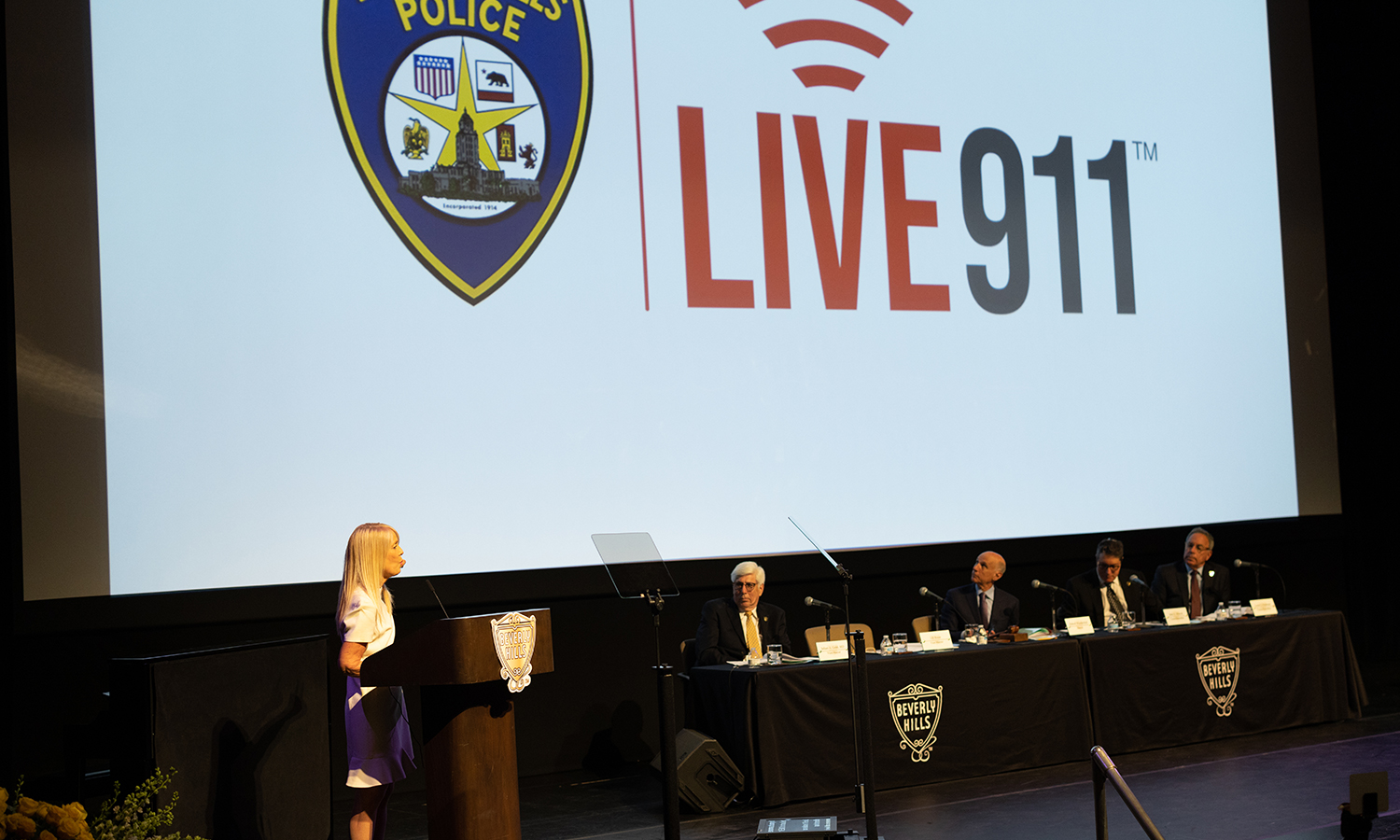 The system builds on the city's existing alert network, Bosse said. She led the audience through the steps to sign up for notifications, telling the crowd to take out their phones and text BHPD alert to 888777.
Bosse unveiled a new Real Time Watch Center to monitor the city's sprawling surveillance network, which includes its massive number of CCTV cameras, automatic license plate readers (ALPRs), and a new drone program. The Watch Center will "ensure live monitoring" of the city's 2,000 cameras, in addition to coordinating the "seven-day-a-week" drone coverage and ALPRs.
"The center will incorporate available technology to proactively identify threats before they strike and reduce crime," Bosse said.
Bosse did not specify the location of the Watch Center, nor the costs and resources it will require. The City Council will discuss all the initiatives at the April 12 meeting, where Chief Mark Stainbrook "will share his action plan to get these programs implemented quickly," Bosse said.
Another public safety initiative presented by Bosse, Live 911, will enable officers "to hear emergency calls live in the field as they come in, allowing them to immediately respond without having to wait for instructions from dispatch."
"In an emergency, every minute counts," Bosse said. "And while we have some of the fastest response times in the country, we will be taking steps to make them even faster."
In line with her longtime support of women, Bosse touted a goal for the BHPD to reach "30% sworn women personnel by the year 2030," otherwise known as the 30 by 30 program.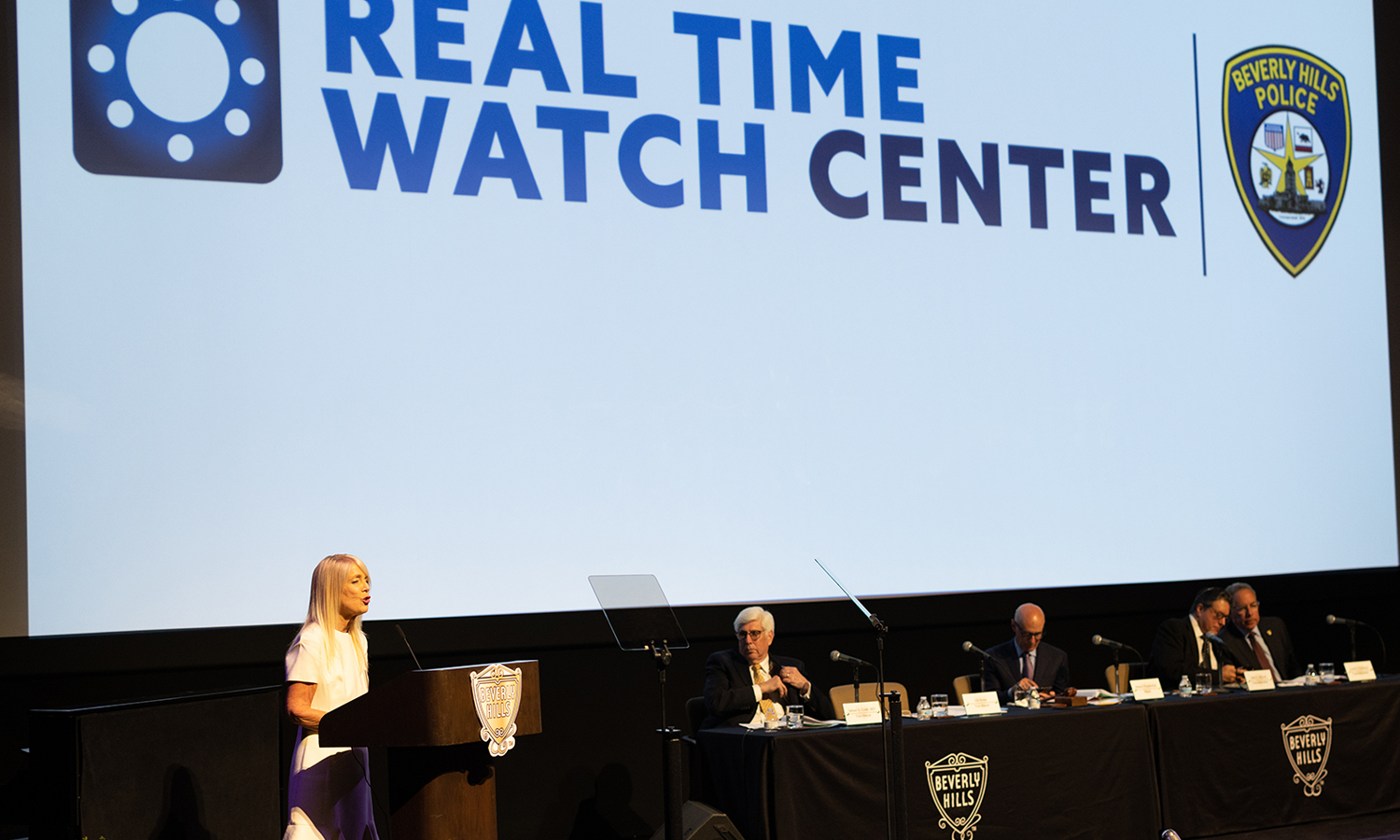 Moving from public safety to public health, Bosse said she would focus on the "mental wellness" of the community and previewed future collaborations with Dr. Deepak Chopra and Dr. Edith Eger. 
Chopra, a popular New Age figure, led two hour-long meditations open to the public in 2017 as a part of Bosse's SOUL (Seek Original Unique Learning) initiative. Eger, a psychologist and Holocaust survivor, specializes in the treatment of post-traumatic stress disorders and has written intimately about her own struggles coping with the trauma suffered at the hands of Nazi Germany. 
Bosse said that the city would partner with the two "to help heal our community" through programs. 
Additionally, Bosse vowed to "again place an item on our council agenda to consider the creation of our own local health department."
"It's time for us to lead the way in public health and decide what's best for our city," she said.
The matter first came up before the City Council in December 2020, when the Council balked at restrictions on in-person dining issued by the County Department of Public Health (Public Health) in November. Executing the proposal would likely come with a steep price tag. Only three cities in the entire state operate their own health departments, including Pasadena, Long Beach and Berkeley.
"A healthy city is also a healthy economy," said Bosse, announcing initiatives aimed at supporting the business community, including Business with Bosse.
"Every other week, I hope you'll meet me at one of our local businesses to celebrate all they bring to our city," she said. "It will be an opportunity to see the city's newest restaurants, talk with old friends, meet new ones, all the while tasting incredible food," she said.
The first business she will visit is Tommy's of Beverly Hills on April 25 from 6:30 to 8 p.m.
A returning initiative, 60 Second Shout Out, uses the bully pulpit of the mayorship to highlight one local business at each City Council meeting. Bosse teased next week's Shout Out, spotlighting Impasta, a low-carb and gluten-free pasta business on Roxbury Drive.
Anyone can nominate a Beverly Hills business for Business with Bosse or a 60 Second Shout Out by emailing a suggestion to businesswithbosse@beverlyhills.org.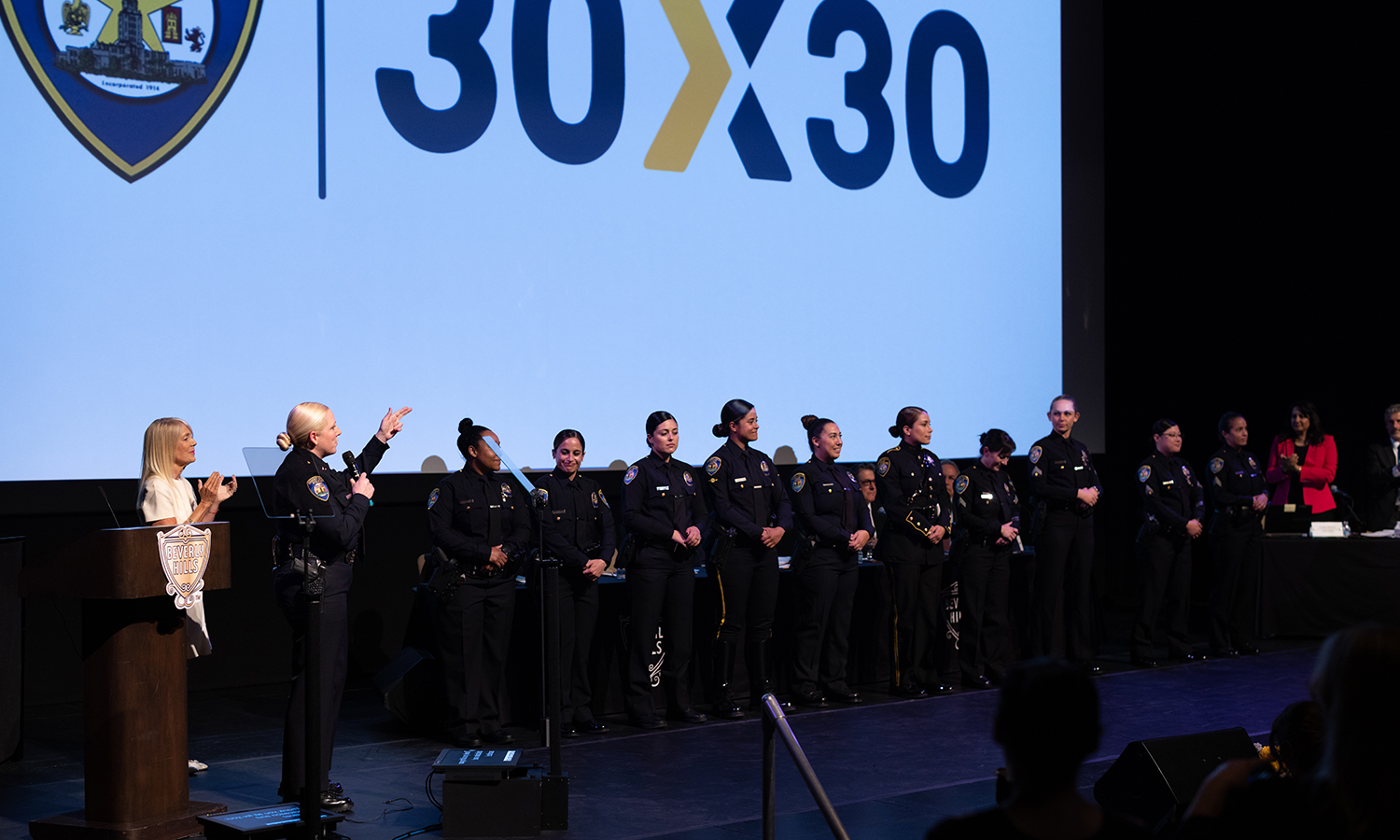 Bosse next focused on ideas to improve government transparency and accessibility. She announced that the city would begin posting simplified agenda summaries on social media that highlight upcoming items of discussion before the City Council. Additionally, to "make it easier for you to participate in the public comment portion of our meetings," the broadcast feed of City Council meetings will prominently display the phone number and email addresses for submitting public comments.
Bosse said her final initiative, Live with Lili, will give residents the chance to dialogue with the mayor every month in a "live, televised town hall-style meeting."
"It's a casual conversation where you can ask questions and we can find solutions together," she said.
The first Live with Lili meeting will take place on May 9 from 7 to 8 p.m. at the municipal gallery at City Hall. The event will also air live on Spectrum Channel 10 and stream on the city's website at Beverlyhills.org/live.
"One thing I've learned over the years is there's always something new and exciting on the horizon in Beverly Hills," Bosse concluded. "And it's the honor of my life to be on this journey with all of you."