City of Beverly Hills
Lili Bosse Installed as Beverly Hills Mayor
"We are the lucky ones," Gold said. "There are many, far too many, who have not been so lucky. Let's never forget them and keep those lost to COVID, and recently the despicable evil that's happening in Ukraine, in our thoughts and in our prayers."
BY Samuel Braslow April 7, 2022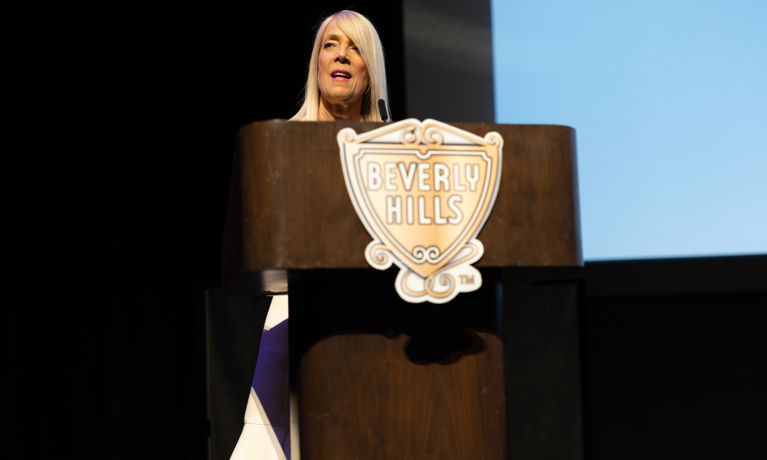 Reading Time:
6
minutes
The Beverly Hills City Council held its annual reorganization meeting on April 5, installing Lili Bosse as mayor and Julian Gold, M.D. as vice mayor. The ceremony at the Wallis Annenberg Center for the Performing Arts included poetry, song and dance. The celebration was especially significant, as it marked the first time in two years that the event took place in person. It also ushered in Bosse's third term as mayor, having served previously in 2014 and 2017.
The festive atmosphere of the evening was juxtaposed by tacit and explicit acknowledgements of the trauma and trials of the last two years. 
"We've experienced the suffering and loss from a global pandemic," said Bosse. "COVID has taken the lives of over 42 members of our own Beverly Hills community. We have witnessed theft and violence in our street, hate filled antisemitic flyers dropped on our doorsteps, and we have dealt with the trauma and loss of not being able to just be together when we needed each other.
"But tonight starts a new chapter in the story of Beverly Hills and we're going to write it together."
Bosse laid out a laundry list of new initiatives meant to kick off that new chapter. Please see companion piece for coverage.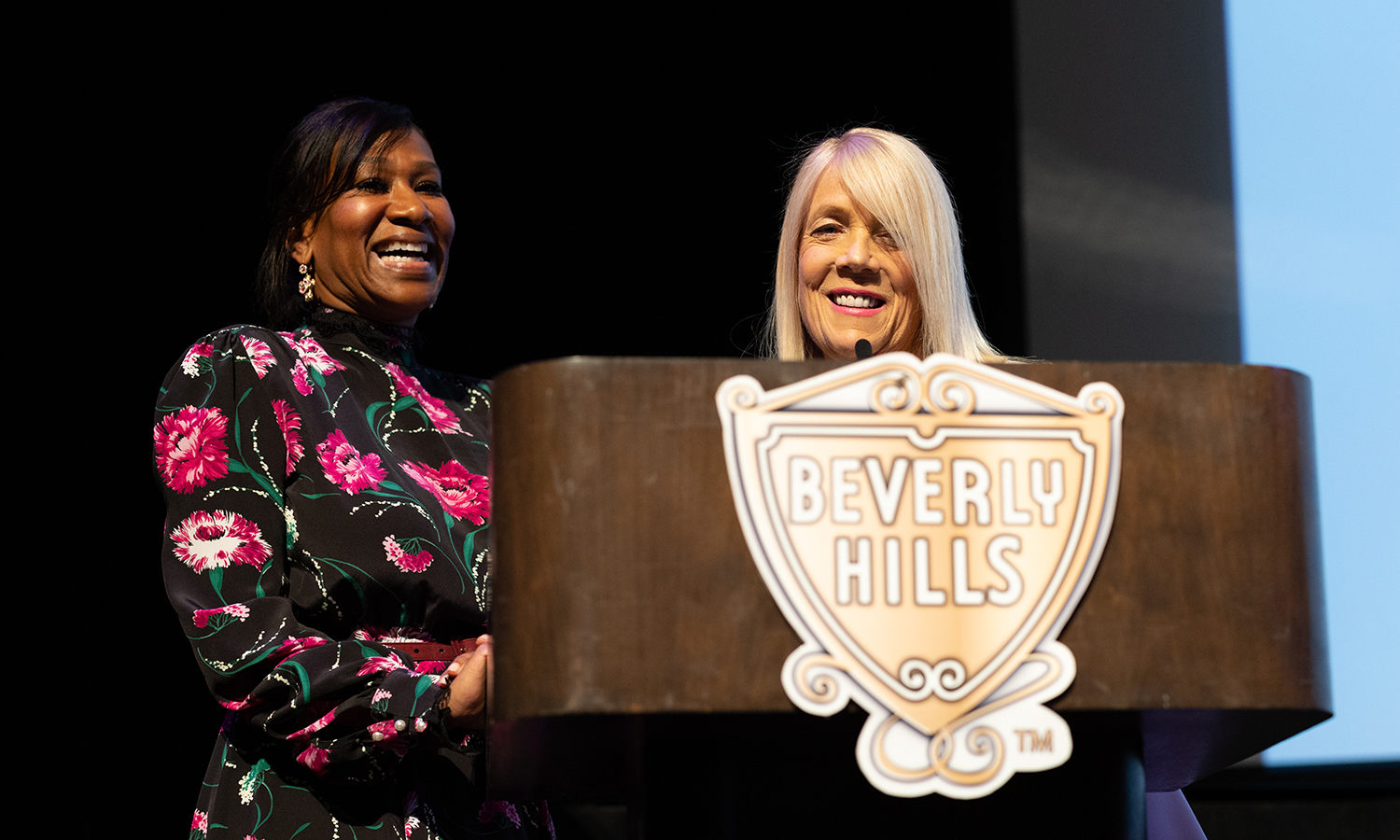 Gold, the only medical doctor on the Council, also noted the hardship of the pandemic in his speech.
"We are the lucky ones," Gold said. "There are many, far too many, who have not been so lucky. Let's never forget them and keep those lost to COVID, and recently the despicable evil that's happening in Ukraine, in our thoughts and in our prayers."
The fact that the Council could share these words with a packed house at The Wallis represented a potential return to normal —"or, at least, the new normal," Gold said with crossed fingers, "much of which we probably still have to define, but which will hopefully see COVID under control, law and order reestablished and peace restored here and everywhere."
Customarily, incoming mayors select a member of the clergy to offer an invocation. In a move that highlighted the theme of unity, Bosse invited nine faith leaders from across the city to each give their own innovation.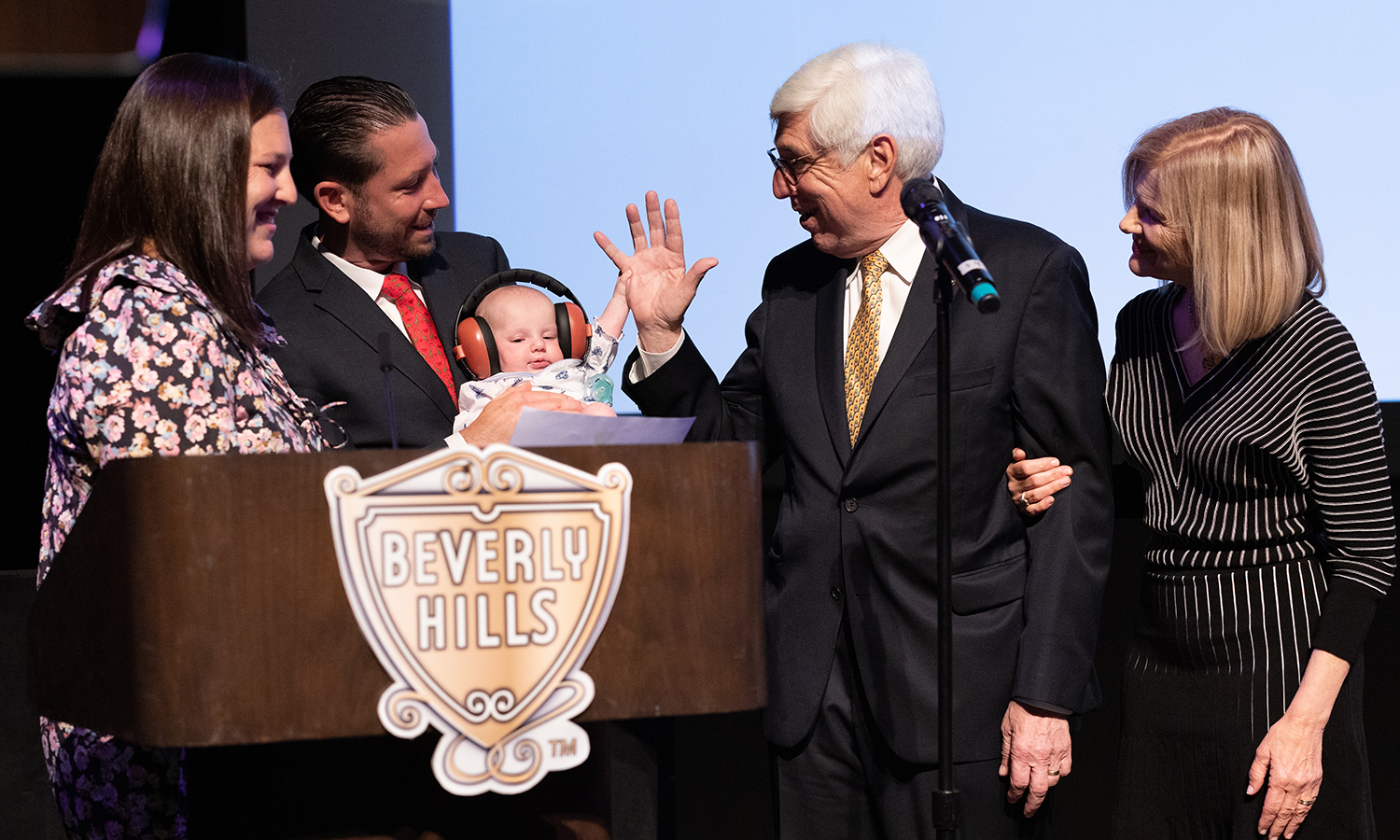 Highlights of the evening included musical performances by Beverly Hills resident and vocalist Kandace Lindsey, who sang the national anthem, and recording artist Ty Taylor, who performed two original numbers. Dancers with the Debbie Allen Dance Academy also took the stage during the night. And poet and author Cleo Wade read an original poem written for the occasion.
In a nod to one of the most tragic events in the city's recent memory, Bosse's oath of office was administered by Ambassador Nicole Avant, daughter of murdered philanthropist Jacqueline Avant and a personal friend of Bosse.
Clarence Avant, husband to Jaqueline and a titanic figure in the music industry, also attended the ceremony, along with Nicole's husband, Netflix co-CEO Ted Sarandos.
Speaking about Nicole, Councilmember John Mirisch said, "The nightmare that she and her family had to endure was also a community tragedy and represents one of the worst moments in the history of Beverly Hills."
Nicole shared with the audience that Bosse had repeated four words to her since the day of her mother's death.
"Her four words that she has said to me every day since Dec. 1 are, 'You have my word.' And it was in emails, texts, phone calls — voicemails, when you couldn't get through — and I just want to say thank you in front of everybody, because those four words carried me through to this moment, and I couldn't be more proud to be your friend," Nicole said.
Crime and security featured prominently in speeches throughout the night, with multiple council members blaming Los Angeles District Attorney George Gascón for the rise in certain types of crime.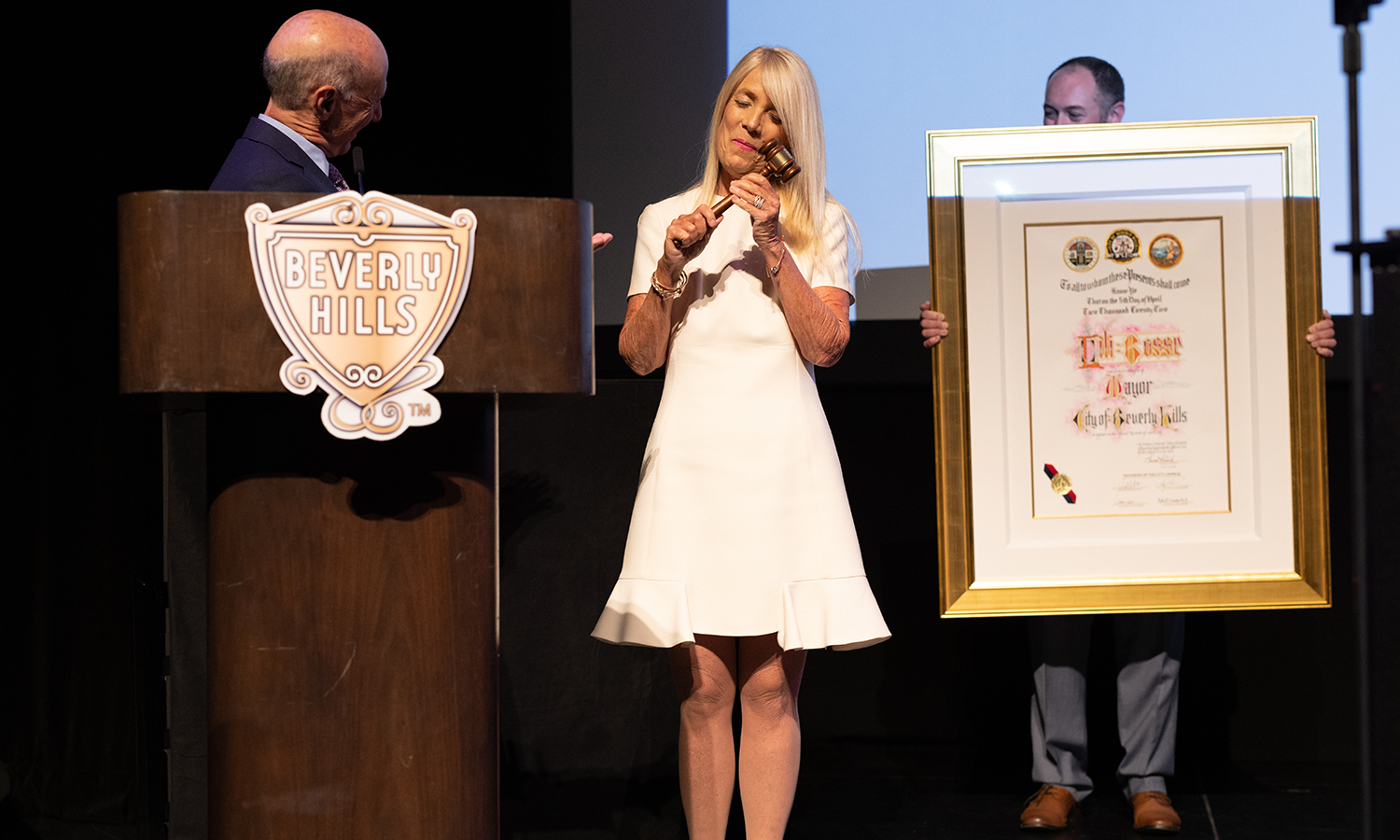 "Despite the extraordinary efforts of our police, we have policies that were put in place by the District Attorney in Los Angeles County that place our safety at risk," said now Councilmember Robert Wunderlich. "There must be consequences when people commit crimes. If people are arrested for crimes but are quickly released without regard to the threat posed to the public, only to be arrested again, the job of our officers becomes never ending."
Bosse, who described herself as "one of the leaders in the effort to recall" Gascón, called for others to join her in ousting the prosecutor.
"Dangerous policies are resulting in more criminals on the streets, and if there are no consequences to crime, we live in chaos. We live in Gotham City. And I ask that you sign a petition and help get signatures," she said.
Two canvassers with the Recall District Attorney George Gascón campaign stood outside The Wallis gathering signatures for the recall. One of them, Rachel Minkoff, the field manager for the westside, told the Courier that she and her partner had gathered dozens of signatures throughout the night.
In his outgoing address, Wunderlich ticked through a list of accomplishments from his year as mayor, declaring that the city was "emerging strong from the pandemic."
"Our property values remain high and even increased. Retail sales are back to pre-pandemic levels. Our hotel occupancy is returning. Our streets are more vibrant than they were pre-pandemic," Wunderlich said. "For our residents, we provided protection from the financial impacts of the pandemic and from challenges that exist unrelated to the pandemic."
Wunderlich concluded, "We've done a lot and there's more to do. I'm proud of what we've accomplished during my year as mayor and I'm confident of our path forward."
West Hollywood City Councilmember Lindsey Horvath showed her support for the outgoing and incoming mayors, making the only public comment of the night.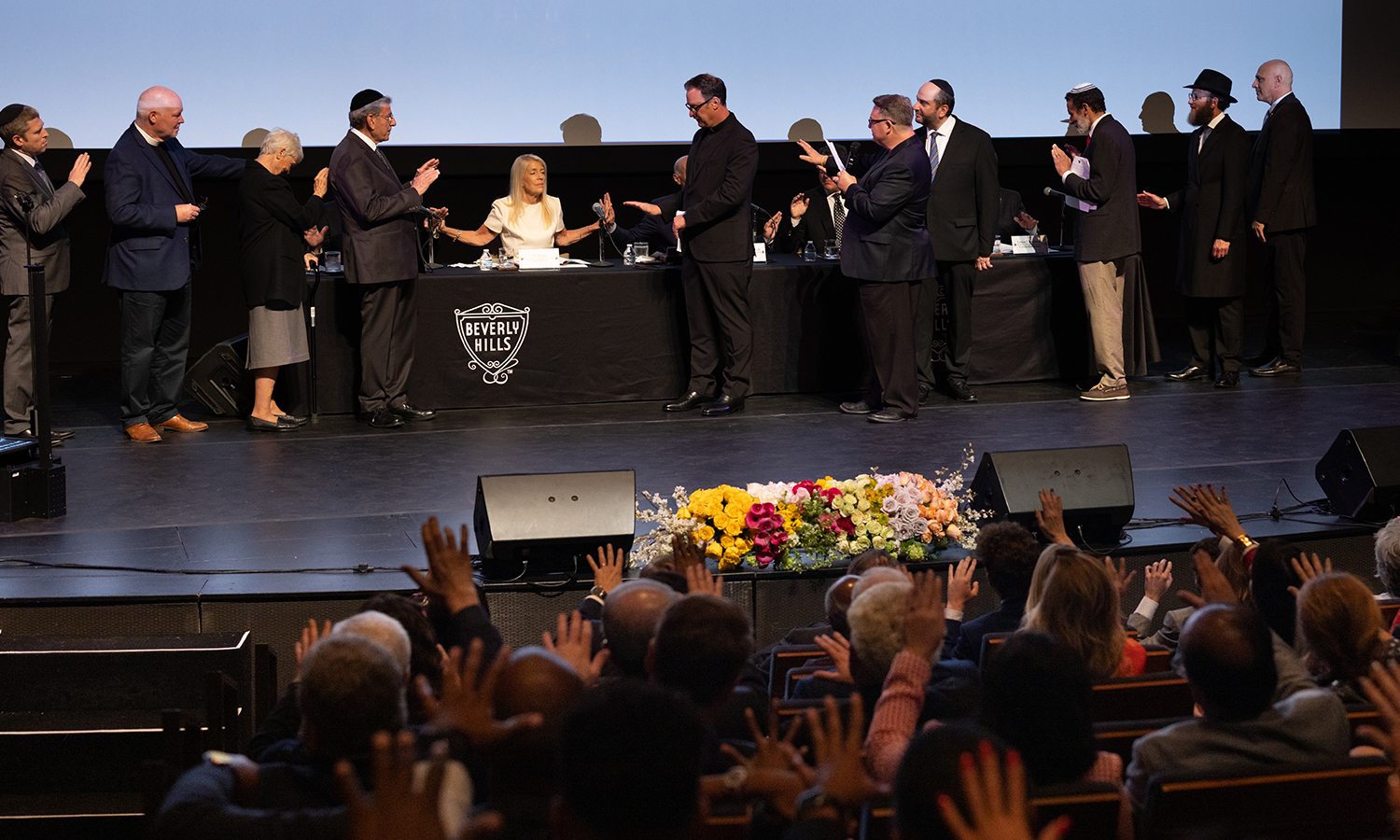 "To our outgoing Mayor, thank you very much for your leadership, for your dedication to the City of Beverly Hills and for being a great partner and an ally in serving our communities. You have served well and with respect and dignity and we thank you," she said. "To our incoming mayor, Lili Bosse, your joy, your radiance, your grace, your light are exactly what we need in this moment, but especially your soul filled leadership. I know your community will celebrate your leadership this year, and in the years to come."
Wunderlich's colleagues on the Council also offered praise for his stewardship over the last year, with Bosse drawing appreciative laughter for her description of his humility. 
"I think you're probably maybe the only person I know who went to Harvard and never tells anybody," she said. "I can assure you, had I got into Harvard, you would know about it."
Councilmember Lester Friedman, whose entire term as mayor took place remotely, shared how Wunderlich gave him the opportunity to preside over his only in-person City Council meeting—only to have the meetings return to a remote format for another year. 
"I was so touched by your willingness to share but then again, that is what you are: a compassionate individual that considers everyone," Friedman said. "You were the right person to bring us through the initial stages of our recovery from the pandemic. Your analytic skills and positive approach have provided all of us on Council with a roadmap for recovery."
The program, which lasted some
2.5 hours, was followed by an outdoor reception.