All artists use their work, regardless of the medium, to communicate, to convey thoughts, emotions, and ideas. But for 26-year-old Nicholas Kontaxis, his paintings are his only way of communicating to the world. At 15 months old, he had his first seizure; they would progress throughout his life, sometimes over 20 a day, eventually eroding his ability to speak, write, and even process thoughts in a clear, linear fashion.
Despite his severe limitations, Nicholas, drawn to painting large format pieces from a young age, has found tremendous success in the art world. His work has been showcased in sold-out solo shows in Palm Springs, Atlanta, New York, Chicago, and London. His work hangs on the walls of Hollywood industry insiders. Eric Schmidt of Google and Los Angeles Chargers owners Dean and Susie Spanos are also amongst Nicholas' list of collectors.
On June 3, an exhibit of Nicholas' work entitled "Catch Me" will be on display at the UTA Artist Space in Beverly Hills. It will run through July 2.
The title of the show comes from Nicholas himself. It's one of the few utterances he has made over the years, each one collected like precious gems by his mother Krisann Kontaxis, who often uses them as titles of her son's work. "Catch me," in particular, was a phrase Nicholas used to be able to say at the start of a seizure. It was a primitive early warning measure to alert those nearby of a seizure and a potential fall. The fits, caused by an inoperable brain tumor, have taken their toll. They've left him with broken teeth, broken bones, bruises and cuts from falling when their sudden onset took over him.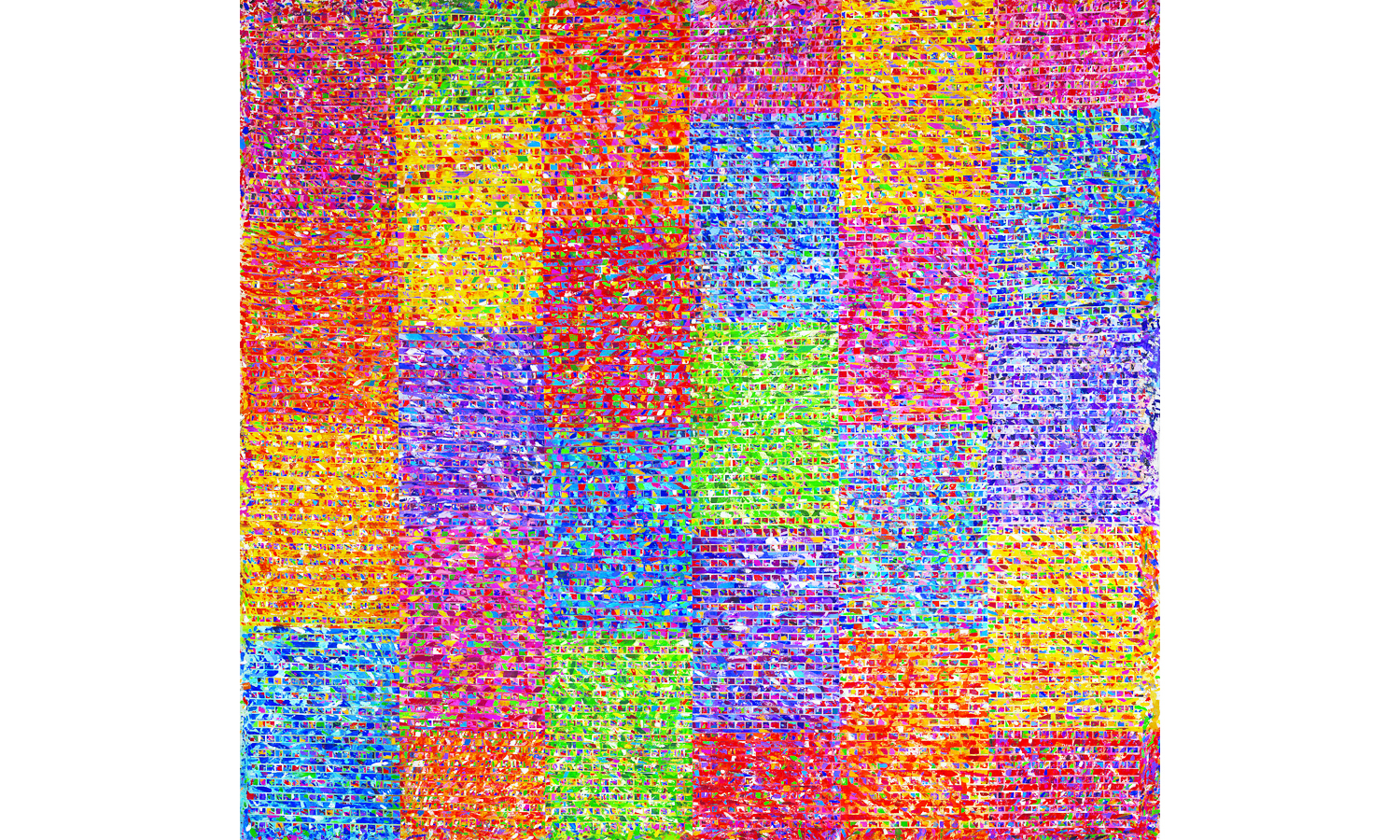 Two years ago, Krisann was perusing a salvage shop in downtown L.A., and she happened upon a retired safety net, one used by countless police and firemen to aid in rescues. She knew she had to have it.
"When I saw this lifesaving device, there was such a correlation between all the people whose lives had been saved by it and the people that have helped Nick, who are there to save him from falls– all through school, all through everything, in his studio still today. I knew he had to paint it," she said.
Nicholas took a year to paint the net. Entitled "Catch Me," it's the cornerstone of the upcoming UTA gallery show. Other works on display have equally evocative titles such as "Heaven's Real," "Don't Change Me," and "What's Next"–all pulled from Nicholas' own shorthand lexicon. The large-format works, painted during the pandemic, feature what has become his signature style – layers of three-dimensional vibrant paint. The broad brushstrokes and the movements of the palette knife are visible, creating an abstract mosaic or a visual Morse code of thick lines and dashes.
The show was curated by Arthur Lewis, Partner and Creative Director of UTA Fine Arts/Artist Space, and Nicholas' talent agent. "Right now, collectors are drawn to the expressions of young artists and configurative art, in particular. Nicholas' work is the perfect balance, straddling the line between abstract and configuration," said Lewis. "I'm excited to see what the art world has to say about his work upon seeing the show. I'm sure there will be lots of comparisons between his work and those of the great Masters, but Nicholas' work is his own, entirely his own voice."
Nicholas Kontaxis' "Catch Me" exhibit runs from June 3 to July 2 at UTA Artist Space, 403 Foothill Road, Beverly Hills. For more information, call 310-579-9850 or visit utaartistspace.com.
An in-depth feature on Nicholas will be published in Summer STYLE and in the June 17 issue of the Courier.