Nicholas Kontaxis was born in 1996, a cheerful infant, developing normally in every way. When he was 15 months old he had his first seizure, his tiny frame trembling in his mother Krisann Kontaxis's arms. Alarmed, Krisann and her husband Euthym took Nicholas to the emergency room. A CT scan and EEG tests revealed Nicholas had a large mass, an inoperable brain tumor, at the basal ganglia.
Over the years, they kept watch on the tumor: it didn't grow significantly, but the frequency and intensity of the seizures did. While his intelligence was unaffected, the seizures began to erode his ability to speak, to articulate and to converse. They also took their toll physically, causing painful falls resulting in injuries–from cuts and scrapes to a broken leg and broken teeth.
As Nicholas progressed into childhood, his parents noticed how tactile he was and how he gravitated toward bright colors and complex patterns.
In high school, Nicholas' interest in art blossomed, along with his talent. He painted not landscapes or portraits like most of his fellow students but vibrant abstracts, which impressed his teachers. Part of the education curriculum involved students gaining real world experience in a job share program. Nicholas' seizures, which had by then become constant intrusions, prohibited him from working in the kinds of places, like Starbucks, where the others found placement. Krisann suggested Nicholas' art could fill the job requirement. Initially, the school rejected this idea on the grounds that Nicholas would have to be paid for his work to meet the program's guidelines. But when Nicholas made his first sale–a painting for his oral surgeon, in exchange for having his wisdom teeth pulled, they agreed to modify the criteria for him. "That was the seed, the turning point in what would become Nicholas' career," said Krisann.
By 2016, at age 21, Nicholas became a bonafide artist with his first sold-out show at De Re Gallery on Melrose Avenue. Krisann managed Nicholas' career, creating a website, organizing shows, and overseeing commissions and sales of his work. She set up installations at galleries across the country, in Idaho, Chicago, Atlanta, and New York and across the globe in London. Here in California, 1,200 people packed the renown Heather James Fine Art Gallery in Palm Desert to see Nicholas' work. He is in private collections in Spain, Greece, Ireland, Australia, Zurich, and Holland and part of the permanent collection at the National Hellenic Museum in Chicago. This month his largest solo exhibit, "Catch Me," is on display in Beverly Hills, at UTA Artist Space. It features never-before-seen works, all created during the pandemic.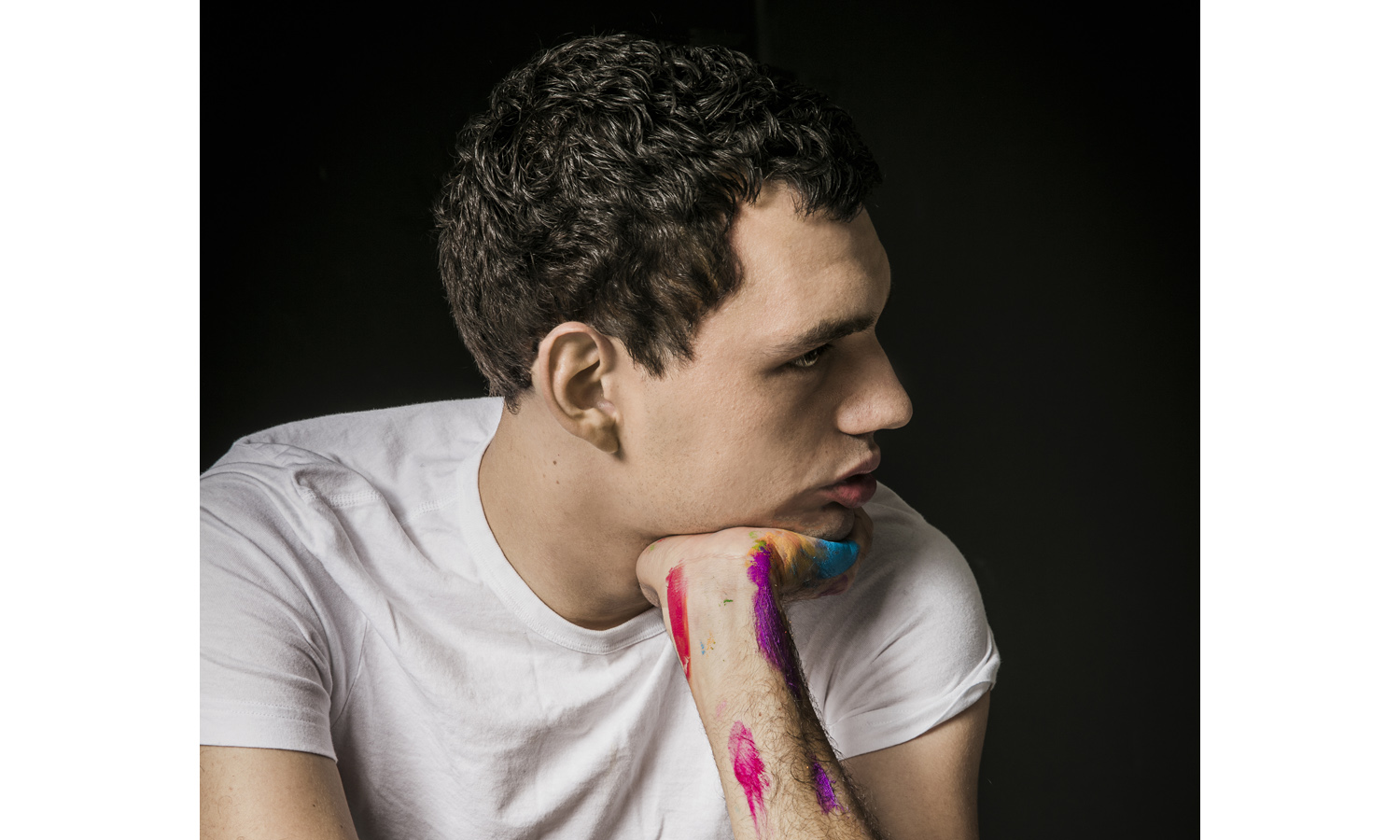 The show was curated by Arthur Lewis, Partner/Creative Director at UTA Artist Space. Last year, Lewis took on Nicholas as a client.  He had heard about Nicholas' work from colleagues and arranged a studio visit. Krisann was concerned that Nicholas' inability to articulate would affect Lewis' decision. It didn't. "I said he didn't need to talk, he is such an amazing abstract painter," said Lewis. "It's true that it is how the way the world is today with social media and self-promotion. And journalists love doing deep dives, diving deep into the feelings of the artist, the stories behind the works during interviews. But Nicholas' works truly speak for themselves."
Despite being essentially non-verbal, while painting Nicholas has surprised his family with short phrases, small glimpses, beyond his artwork, of his inner thoughts. Krisann started compiling a list of them. To her they are pure gold. All of the titles of Nicholas' artwork are pulled from her list. And so, they have such poignant titles as "Never Going to Get Invited" and "Take Me With You."
The paintings themselves are completely enveloping, due in part to their sheer size. The large format canvases, some nearly the size of billboards, are filled with striking colors applied with thick paint. "There is such a tactile nature of the work," explained Lewis. "There is one piece he had done where he had spilled spices like cinnamon and cardamom on the canvas. It happened in a very organic way. There's so much texture. You can get lost in every brush stroke, every stroke of the palette knife. They really invite you, or beg you, to sit in front of them in quiet contemplation. The paintings speak their own vibrant language."
Though they have drawn comparisons to Jasper Johns and Sam Francis, to Nicholas' neurosurgeons, Nicholas' paintings reflect his own inner neurology, specifically mimicking the neural pathways, firing of synapses, and explosion of vivid colors. Many who experience seizures report seeing intense bursts of color, or auras, during episodes.
"I thought the connection to his neural network was really fascinating, that Nicholas' art could reflect him in that way," said Euthym, who works as an emergency department physician and is the Medical Director of the Emergency Department at Eisenhower Health in Rancho Mirage where the Kontaxis family lives. "His art is very free form, but there's a structure in it. And that's very Nicholas."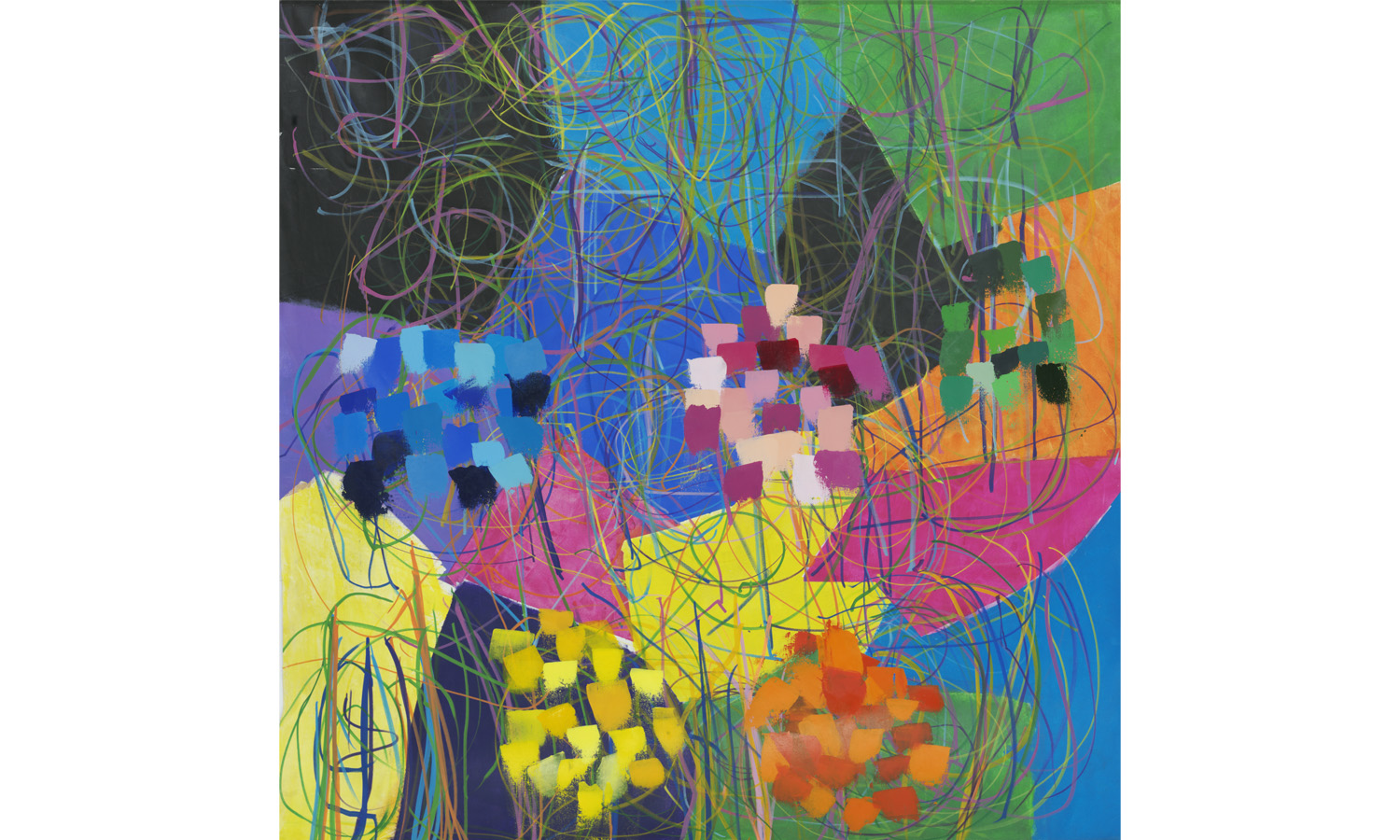 Euthym sees another comparison, Muhammed Ali. Nicholas is a huge fan of the legendary boxing champion, collecting his T-shirts and magazines. "We often make the analogy that Nick is a little bit like a boxer. He gets knocked down, and he gets up again–and again," said Euthym. "But his seizures are just a part of him, they do not define him. Nick is just a really sweet kid who loves everybody. He doesn't have any negativity towards anyone. He is very accepting and non-judgmental. He just paints and loves it. He listens to music and goes for it. We're all so grateful."
The love and support of this family is one of the things that struck Lewis the most. "His parents had built him this beautiful enclave to paint in," said Lewis. "And I watched how his family supported him. They were all in on it, and you could feel there was so much love there between all of them. It was extraordinary. It's so rare that you get to see, on that level, the physical manifestation of love. I was so moved, I started crying."
The expansive studio his parents built for him is Nicholas' domain. Unencumbered by time, Nicholas spends hours painting while listening to his music–everything from Justin Bieber and Bruno Mars to gospel and Byzantine chants. It was important to Krisann and Euthym that Nicholas have a space of his own, a place where he could explore and experience life where there aren't as many limitations.
"He has so many parameters," said Krisann. "And when so many doors are closed to you, you keep looking for doors to open. And sometimes that search brings you to places that some people won't often find."
Now, at 26-years-old, even after thousands of seizures, Nicholas continues to expand his world through his art. He has become one of the most sought-after young abstract painters today. He isn't just surviving; he's thriving.
"Art is transformative. It's a light," said Krisann. "You don't have to stay in the dark. You can move through it. Nicholas doesn't have to stay in the darkness of epilepsy, he moves through it, every day. Those paint strokes are moving him through it. And that is beautiful to me. The world offers us these tiny things to grab onto–whether it's a stroke of a paintbrush or a typewriter key–and those tiny things offer something intangible, they offer salvation."