"Within you there is a stillness and a sanctuary to which you can retreat at any time and be yourself." 
Those words, from Hermann Hesse's masterpiece, "Siddhartha," are a century old, but especially meaningful today. Two years of life interrupted by a pandemic has created countless opportunities for self-reflection and even reinvention. Self-care tended to slip by the wayside, though, as public health rules closed and then reopened favorite facilities. 
While the spa industry suffered at the peak of the pandemic, business is expected to rebound in 2022, according to projections from the Global Wellness Institute (GWI). "Hotel spas represent the fastest-growing segment of the business right now," Beth McGroarty, Vice President of Research for the GWI, told the Courier. 
With so many world-class spas in the Beverly Hills area, this summer is the perfect time to "retreat, seek stillness and sanctuary." The Courier reached out to 10 local spas, all but two located within hotels. Though specialties vary from ancient Asian healing rituals to high-tech biohacking, they all reflect the desire to weave wellness into the spa experience. And to some extent, all have refocused offerings to accommodate the values shift of the pandemic.
"Everything is moving outdoors, whether it is yoga on the rooftops or indoor-outdoor spa spaces," observed McGroarty. 
Indeed, many of the city's top spas adapted early on by offering massages outdoors, with masks. Some designated certain hotel room balconies for spa services. And HEPA filtration systems are now the norm in treatment rooms. 
Another trend is to bring nature indoors, either by décor or with actual foliage. Spas have also met the challenge of the last few years by pivoting to touchless technology, including light therapy, cryotherapy and chromatherapy. 
Of course, pent-up demand exists for traditional treatments, such as massages and facials. 
"People have been touch-starved for two years, through no fault of their own," said McGroarty. At The Maybourne Beverly Hills, Spa Director Holly Edgin sums up a common sentiment perfectly.
"We have seen an influx of clients who are simply happy to feel human connection again both in the form of physical touch with massages or facials, and the need for emotional connection," said Edgin.
With that in mind, here is what you should know to enjoy a perfect spa-cation close to home this summer.
Hotel Bel-Air Spa
Marble rain showers, velvet chaise lounges and cashmere throws are but a few amenities awaiting clients at the Hotel Bel-Air Spa. "We continue to hear guests voice how excited they are to return for their first spa treatment since pre-pandemic," Spa Director Nichole Hester told the Courier.
The jewel of the premises is The Enclave, a 570-square-foot private suite replete with a shower, tub, shaded patio and a soothing waterfall. "Perfect for couples or groups, The Enclave is ideal for those who wish to luxuriate in privacy and treat themselves to the ultimate in pampering," said Hester. Treatments, including the signature Vitality of the Stars Facial, feature Valmont's Luminosity collection, formulated with Swiss glacial water and essential plant extracts. New technology includes Theragun percussive therapy, offered as a massage enhancement to support stress reduction, sleep improvement, relieve sore muscles and increase mobility.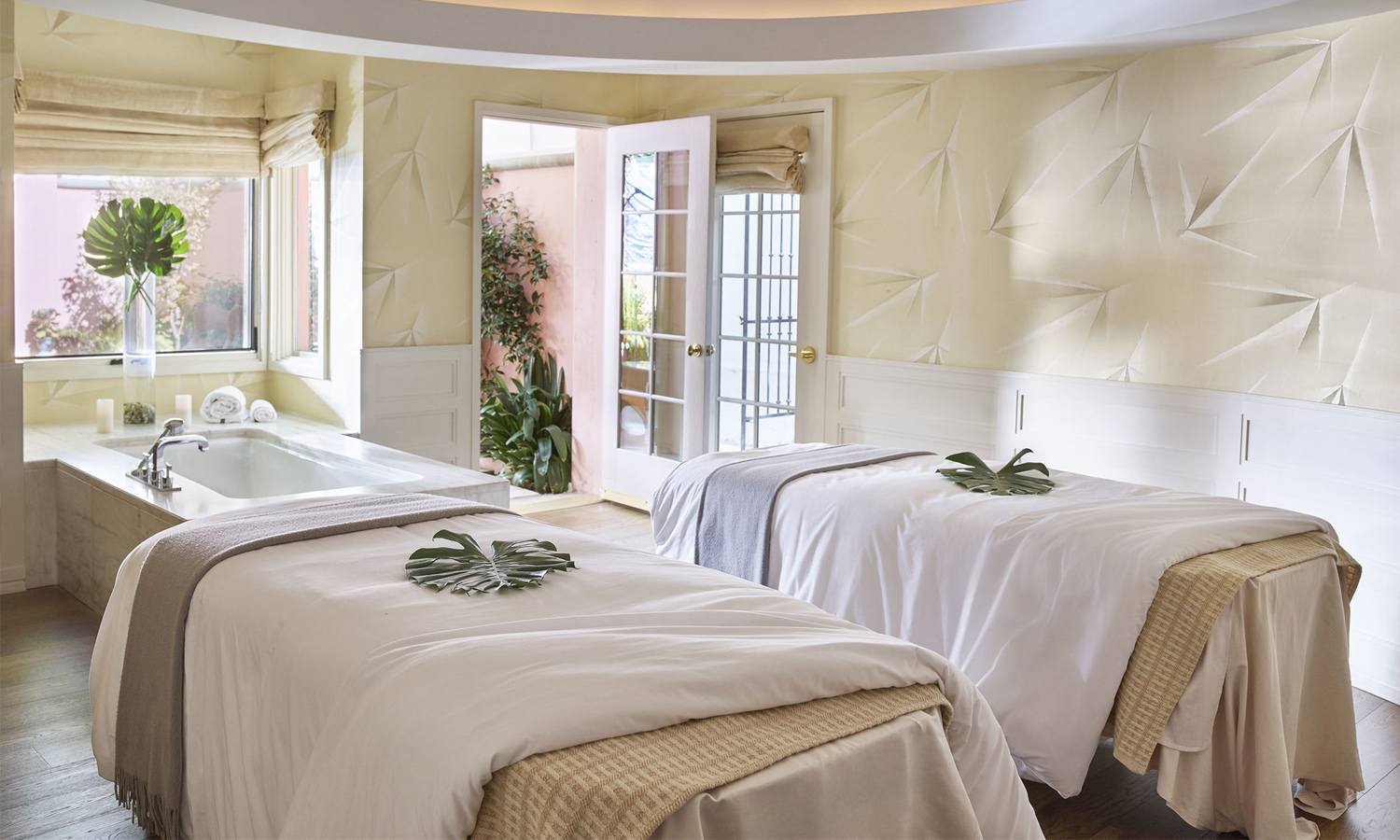 The Beverly Hills Hotel Spa
An icon in our midst, the Beverly Hills Hotel is celebrating its 110th anniversary. The Beverly Hills Hotel Spa is designed as an "oasis within an oasis," inspired by the flora and fauna of the Southland. At nearly 2,000 square feet, the facility features six treatment rooms, including two couples' suites, a relaxation room and steam rooms for men and women. 
If there is one post-pandemic trend that Spa Director Kristy Whitford is noticing, it's that clients are looking for a deeper sense of connection.
"Guests are looking for a haven to feel connected to the human touch and conversation in becoming well again. They are asking about how to bring more healing elements into their lives, through product recommendations or mindful experiences such as meditation and wellness practices," said Whitford.  
 New brand partners at the Beverly Hills Hotel Spa include LEEF Organics, Skin Authority, PHIA Labs, KNESKO, Salt by Hendrix, and more. A new 110th anniversary manicure package pays homage to the hotel's iconic design, with details such as pink and white stripes and banana leaf prints.  
"Our hotel is very special in the sense that our local guests came frequently prior to the pandemic, so the reunion of guest and their therapist was really special. It was like seeing family again," said Whitford.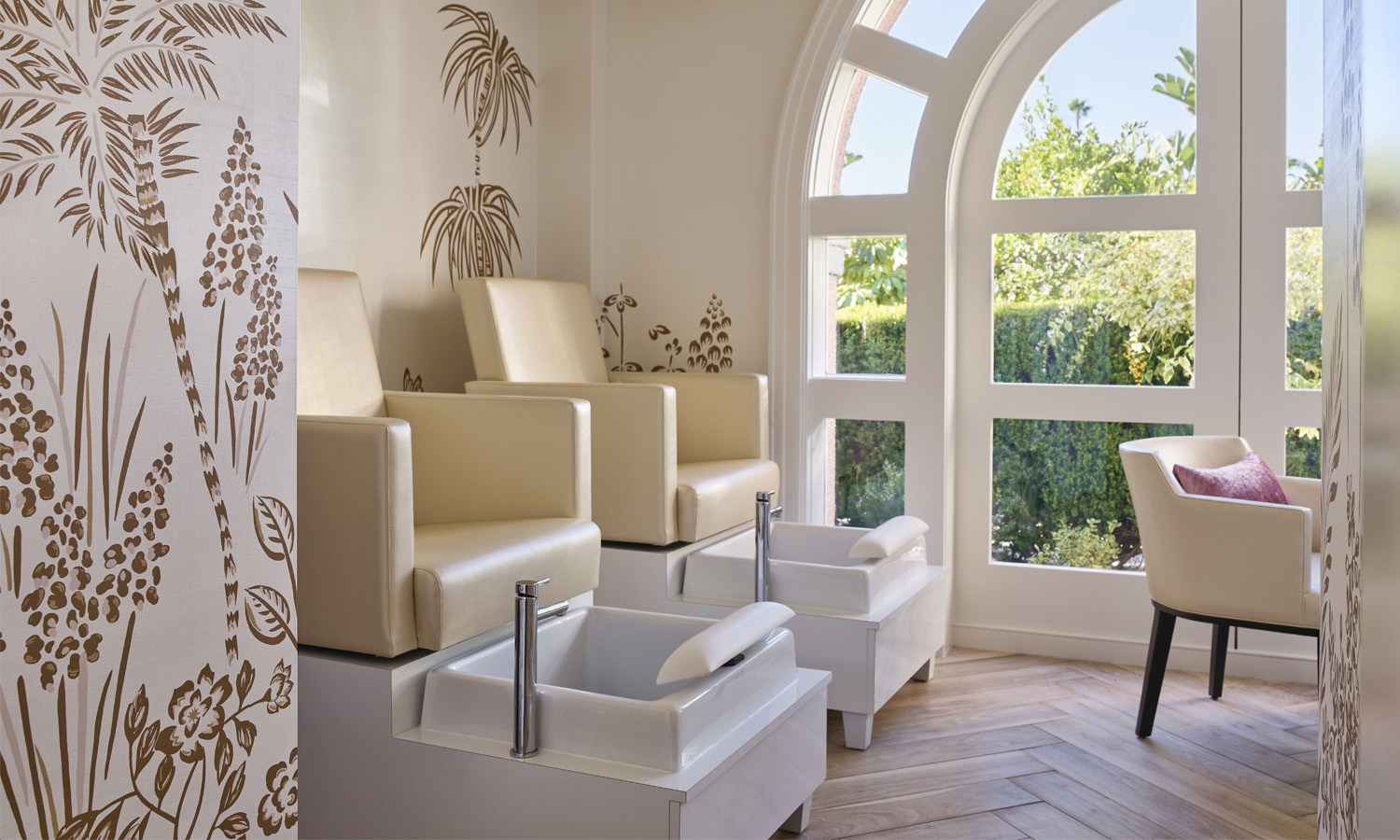 The Spa at Beverly Wilshire, A Four Seasons Hotel
Having earned the Forbes Travel Guide Five-Star Award for the sixth year in a row, The Spa at Beverly Wilshire, A Four Seasons Hotel is definitely doing something right. Nonetheless, change is underway, said Director of Spa Danny Silva. 
"This is a transformational year for us at The Spa at Beverly Wilshire as we are making a very intentional shift into the wellness market," Silva told the Courier. In addition to new product lines, the spa has introduced biohacking technology such as the LightStim LED Bed and Theragun, "to further assist guests with their wellness journey," said Silva. Some of those new biohacking and wellness-inspired treatments at the 8,500-square-foot facility include Therabody Cryotherapy Sports Massage and a LightStim LED Bed. The former combines a deep tissue full body massage with the power of super-chilled air and Theragun Percussive Therapy. The latter helps with arthritic pain, relaxes muscles and increases local blood circulation. 
A new signature Beverly Wilshire, A Four Seasons Hotel Facial as well as new body treatments feature the luxury German skincare line AUTEUR. And the Seed to Skin line from Italy is the centerpiece in the spa's new Holistic Detox Body Treatment. The service includes a mineral-rich, raw sea salt and a blend of spirulina, shea butter and essential oils designed to stimulate circulation, detoxify and to slough away dead skin cells. 
"Wellness has become more important than ever," said Silva. "We are seeing business increase month over month with return and new clientele."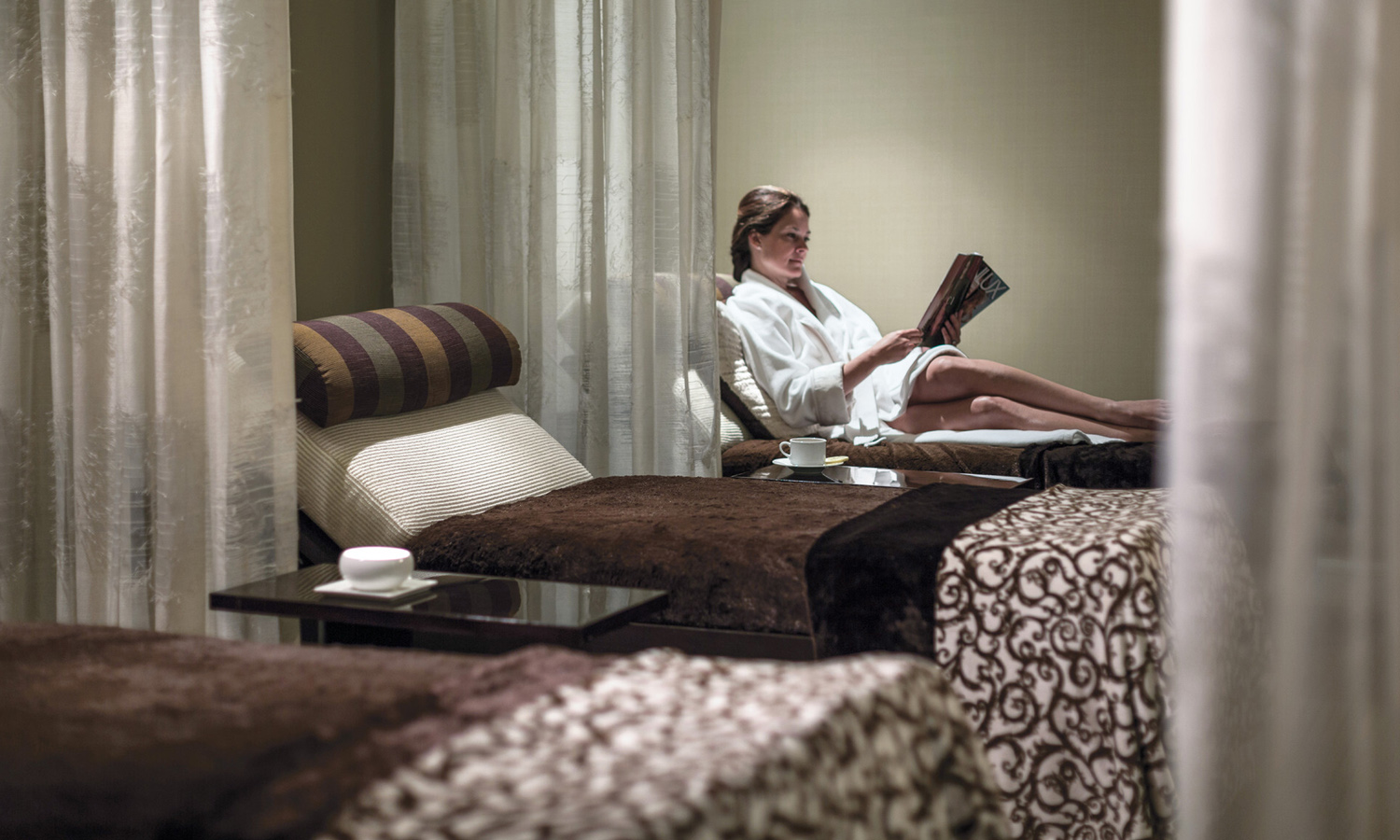 Fairmont Spa Century Plaza Hotel
Ever since the Fairmont Century Plaza Hotel reopened last fall after a $2.5 billion renovation, the Spa has shone brilliantly as one of its stars. The 14,000-square-foot facility features nine treatment rooms, heated marble seating, a Himalayan salt room, aromatherapy steam rooms, a hammam, and experiential rain showers. Spa guests also enjoy access to the hotel's fitness center.
"Not only are our guests eager to return to the spa for relaxation and to jump back into their skincare regimens, but we are finding guests are also choosing treatments that focus on reducing stress, improving sleep, and rejuvenating the mind and the body," Director of Spa Justi Kerekes told the Courier. "Wellness has become a ritual, and we've noticed guests making wellness a regular priority, whether that be a weekly biohacking session combined with a detox sweat in our sauna or monthly massages focused on mobility and recovery."
In addition to a biohacking program, the spa has incorporated technology throughout its massage menu. "We offer guests the option of high-tech and no-tech with certain massage treatments," said Kerekes.
Even no-tech offerings are delivered in modern form. The spa's Signature Sunset Treatment incorporates customized aromatherapy, vibrational sound healing and silken color therapy in a medium to deep tissue massage.
Kerekes points to one more aspect that sets the spa apart: "Our size offers the perfect setting to accommodate larger group spa parties for any occasion from bridal parties to birthday celebrations and more."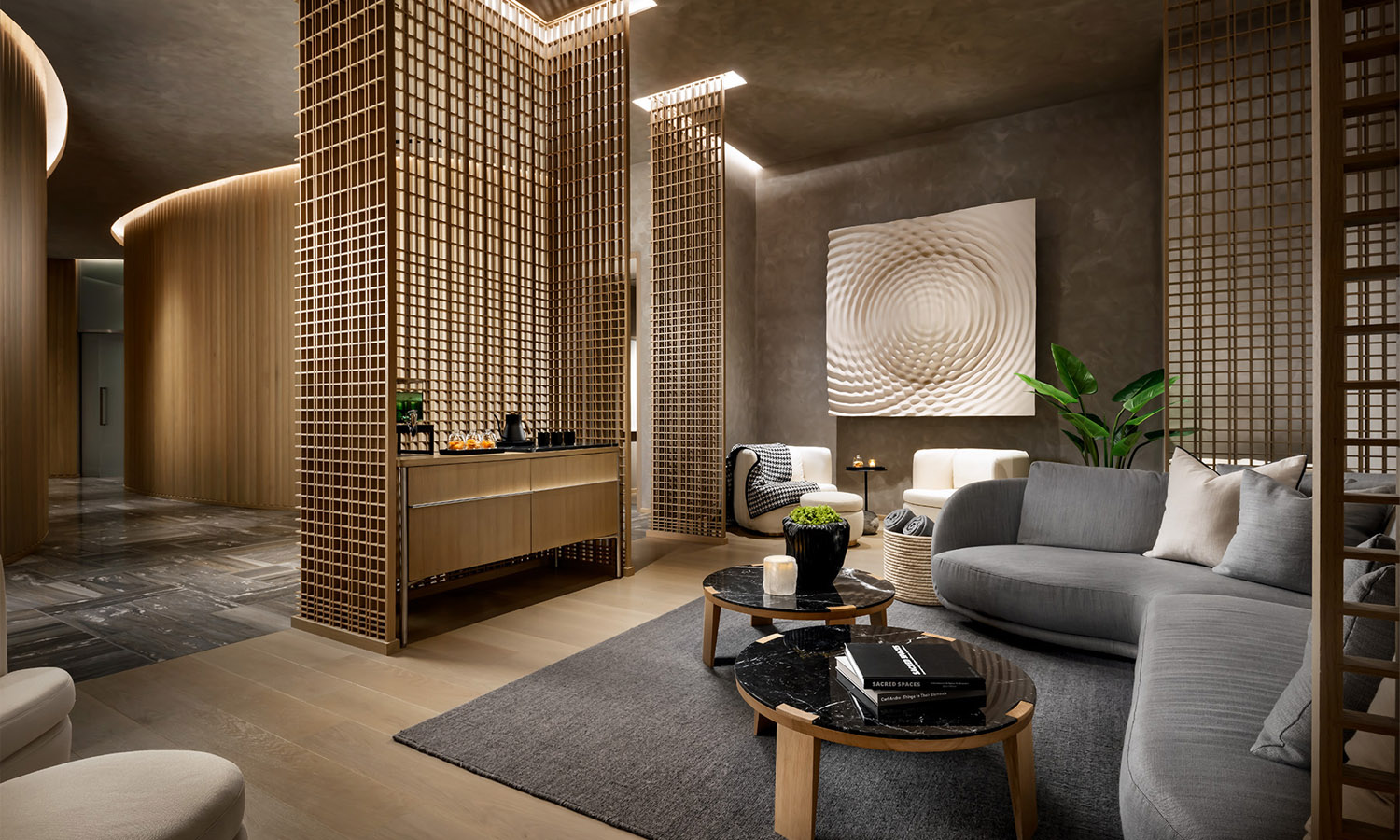 The Spa at Four Seasons Hotel Los Angeles at Beverly Hills
"People are so excited to be back in the spa, and we are making changes this year," said Gilma Linares, Assistant Spa Manager of the Spa at Four Seasons Hotel Los Angeles at Beverly Hills. 
"We used to carry many, many brands, but now we are focusing on luxurious, medical-grade products, sustainability and wellness," said Linares.
Reintroducing clients back to the spa is  "a bit like getting back to the gym," said Linares. She also finds that clients' work-related stress has returned with a vengeance. 
"We try to help everyone disconnect for a while. That's why we incorporate nature into the spa. We have live plants on the wall in one of the rooms. It helps clients breathe better and respond better," she said. 
Spa specialties include the MBR Gentleman's Facial and MBR Liquid Surgery Facial, described as a "non-invasive facial rejuvenation." A new Garden Zen Body Renewal Treatment is a plant-based treatment that begins with a Dead Sea salt body scrub. Additionally, because "people in L.A. are very big on detoxing," Linares recommends the Marine Algae Body Detox Body Treatment that uses the Dead Sea scrub and a marine algae clay body mask. And The Toning and Firming Body Sculpt Body Treatment incorporates a Hypervolt massage gun, along with the vegan La Natura Botanicals line.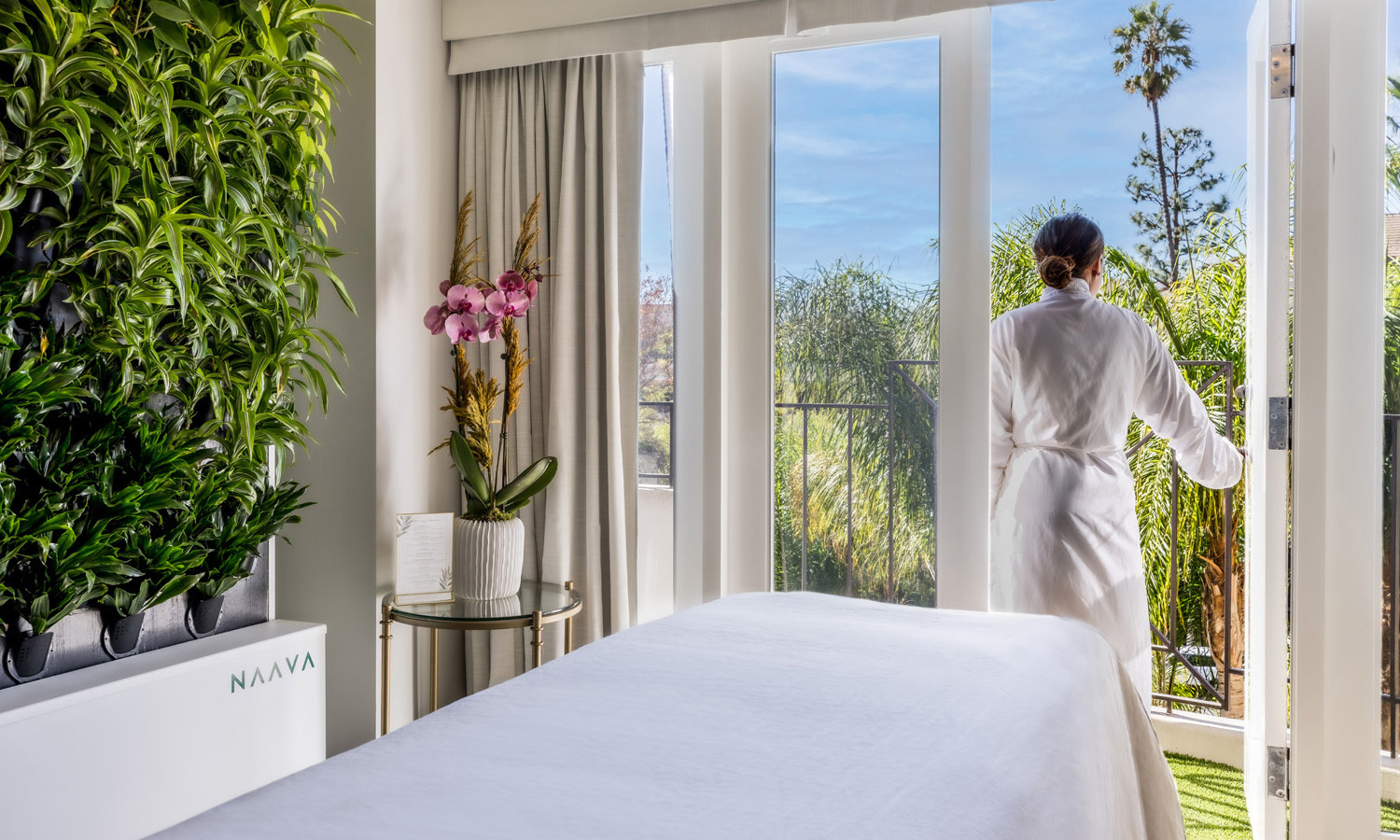 La Prairie Spa at Waldorf Astoria Beverly Hills
The Forbes 5-Star Award-winning La Prairie Spa at Waldorf Astoria Beverly Hills is known for its indulgent, Swiss-inspired treatments that incorporate caviar as an ingredient. Now, wellness is the word that carries the most weight. 
"We've been on an emotional and physical rollercoaster for the last two years. We're seeing wellness as a lifestyle choice that we are incorporating into all areas of the hotel," said Spa Director Amanda Raich.
To that end, the hotel is now offering 8:30 a.m. rooftop wellness classes for guests as well as locals. "After the pandemic, everyone needs to be outdoors. The view in the morning is fantastic,"  Raich told the Courier. 
The 5,000-square-foot La Prairie Spa is located on the second floor of the hotel and features six treatment rooms (one for couples), as well as men's and women's relaxation lounges and steam rooms. 
One popular standard throughout the brand is the Custom Waldorf Astoria Massage, which uses aromatherapy and hot stones. Other signature treatments include the Rejuvenating Platinum Facial. 
"Masks came off and people saw that their skin had become dull. So, we are doing lots of brightening facials," said Raich. 
New 6-in-one InSkin facial devices enhance the experience by offering everything from dermabrasion to light therapy to oxygen treatments. 
"We'd love for people to start their day with exercise, maybe get a new haircut, visit the the spa and leave ready to embrace the new normal," said Raich.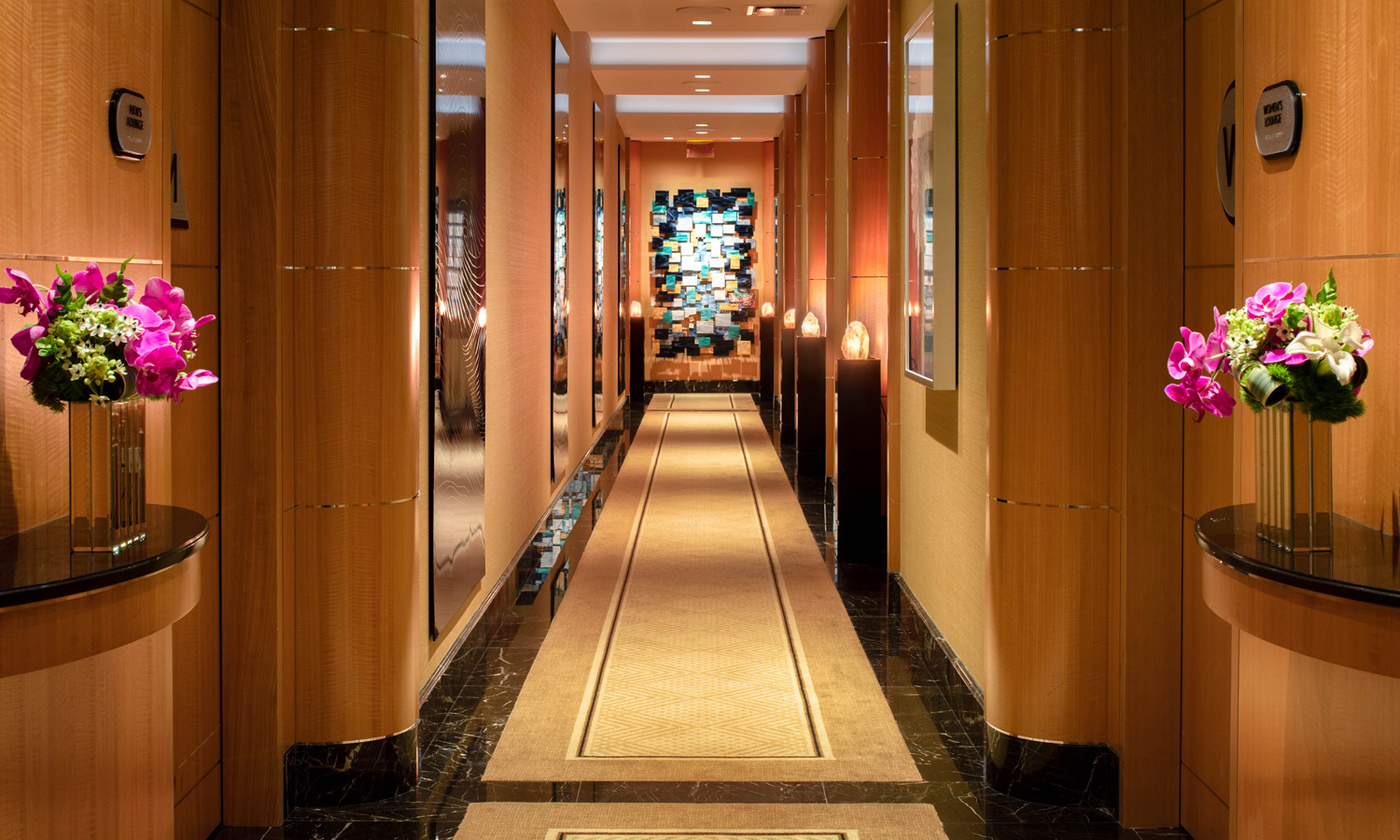 The Spa at The Maybourne Beverly Hills 
The Maybourne Beverly Hills is the first North American property from London's Maybourne Hotel Group. Over the past year, a "California meets Bali" revamp has added new flooring, fixtures, décor, colors, artwork, exclusive retail and vendor partnerships," Spa Director Holly Edgin told the Courier. 
At 20,000 square feet, the spa features an impressive 17 treatment rooms and separate mens' and womens' saunas and steam rooms. But its defining feature is a stunning mineral pool adorned with mosaics. 
A newly-launched spa concept features a menu of bespoke services.
Edgin explained, "Services are named after an affirmation that the guest would like to feel and manifest. We have two signature treatments. One of them is our 'I Am Beautiful' Facial with a high concentration of oxygen. It also features microdermabrasion and LED Light treatment. And, our 'I Am Comforted' Body Treatment is an anti-stress treatment using a coffee scrub, followed by a soothing, therapeutic wrap that uses CBD Moor Mud. It is a great way to detoxify."
The spa features the organic, plant and flower-based Ila brand, as well as  Evidens de Beaute. Both are useful for addressing common concerns of congestion and dehydration from masks, as well as overall stress relief.  
Guests of the Spa at The Maybourne Beverly Hills also have access to the new Fitness Center at the hotel.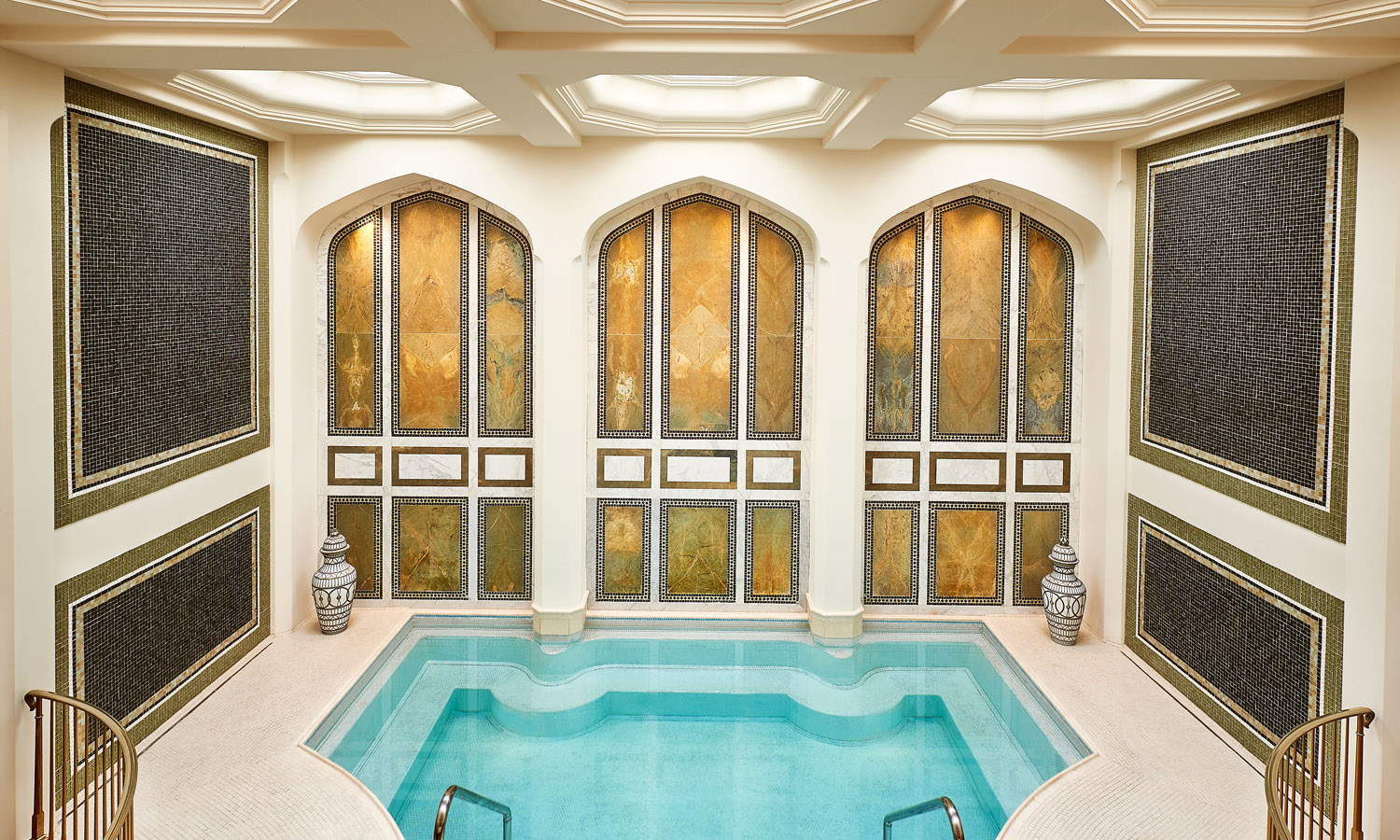 The Peninsula Spa Beverly Hills
"People want to get away from the hustle and bustle of the city. They find serenity in our space," said Melissa DeLeon of the roof garden facilities of The Peninsula Spa Beverly Hills. DeLeon is Director of Spa at the Forbes Travel 4-Star Award-winning facility. 
"We have seven treatment rooms, including a couple's room.  We also have a coed serenity lounge where we offer our honey ginger tea that people love, and our Himalayan salt sauna," she told the Courier.
Known for its wide array of treatments, a signature of the spa is The Best and Ultimate Liquid Surgery Rejuvenation, using the German line MBR. New for this year are three body treatments incorporating the French line Biologique Recherche. "It's a custom body polish that uses acids and mechanical exfoliation with a body glove specific to that line. After that comes a cream or lotion with active ingredients to help rejuvenate," said DeLeon.
Noting that some clients haven't been back for two years,  DeLeon noted, "the touch of a therapist  is very important right now."
Anything that detoxifies is also in demand. 
"Clients are asking for extra exfoliation after wearing a mask, being at home and not taking care of themselves in the same way. We're glad to see them back," said DeLeon.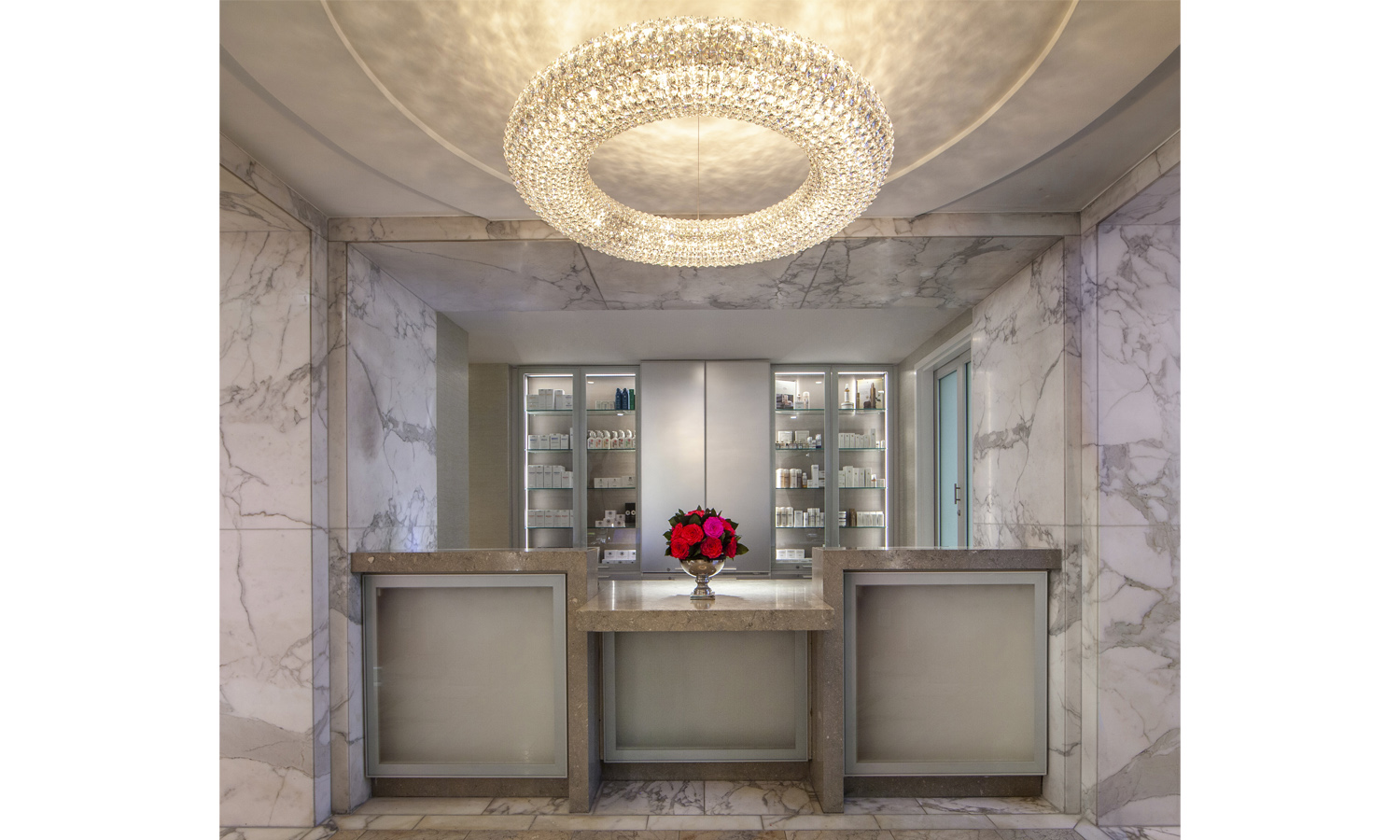 Tomoko Japanese Spa
Named for its owner, Tomoko Kurono, Tomoko Spa has been called "L.A.'s best kept secret" and "a revelation" in reviews in Goop and Allure. The minimalist, 3,000-square-foot facility on South Beverly Drive in Beverly Hills welcomes clients with soft slippers and an offer of tea in the pre-treatment room. The treatment rooms themselves are self-contained, with showers, closets and bath amenities. Two couples' rooms feature Hinoki Japanese Ofuro baths.
General Manager Kana Tran told the Courier that the spa has recently incorporated more traditional Japanese elements to further elevate the experience. "There are Japanese traditional obi in every treatment room and lounge, and our staff wears traditional kimono to welcome guests, making them feel like they are in Japan," said Tran. 
"We've seen a lot of return clients whose last visit was in 2019, and we've been so happy to welcome them again," she added.
In contrast to other spas in the city, men make up 50% of Tomoko's clientele. Signature treatments include the Tomoko Massage for individuals and the Japanese Experience for couples. Both apply pure sake to the skin, massaged in to promote blood flow and pain relief.  The new Hinoki Couples Treatment is a massage for those who would like to enjoy the private Hinoki bath. 
As for what  makes the spa so special, Tran replied, "The private zen atmosphere and Japanese omotenashi hospitality. Tomoko's mother sends us handmade paper cranes from Japan for us to use and give away to the clients as well. We put meaning into every small item of our spa."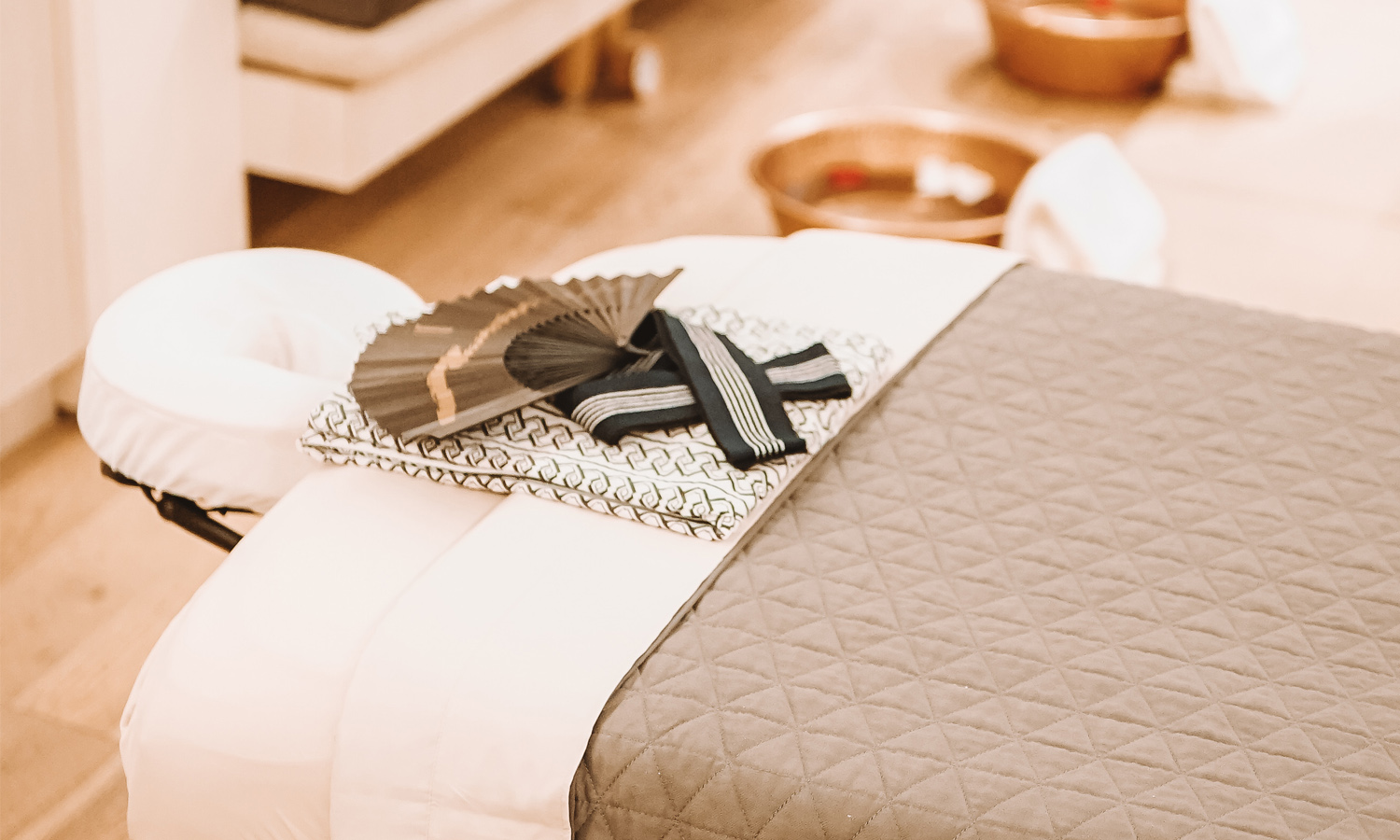 A Petitie Spa Experience: BAO Foot Spa
Can't get away for an entire spa day? Don't fret. You can still indulge yourself by visiting BAO Foot Spa. The boutique Chinese spa in Beverly Hills specializes in foot and body massage. Treatments utilize the ancient Chinese art of reflexology, which increases blood flow and rejuvenates the nerves of the body. Services at BAO Foot Spa range from 15 to 90 minutes. Body massage and reflexology treatments include a foot bath. 
Recently added to the menu are CBD foot baths and oils, which are "especially popular for clients who work out a lot and want to enjoy a sports massage for their feet," said owner Piran Zarifian.  
Located on South Beverly Drive, the spa offers a convenient respite from a stressful day.
"You don't need to take off your clothes or shower, so we find that a lot of people pop in during their lunch hour," said Zarifian.