City of Beverly Hills | News
Council Grills Southern California Edison Over Outages
Beverly Hills City Council members spent 90 minutes at their Oct. 11 Regular City Council Meeting excoriating Southern California Edison, the utility that provides electricity for most of the city's homes and businesses.
BY Matthew Blake October 13, 2022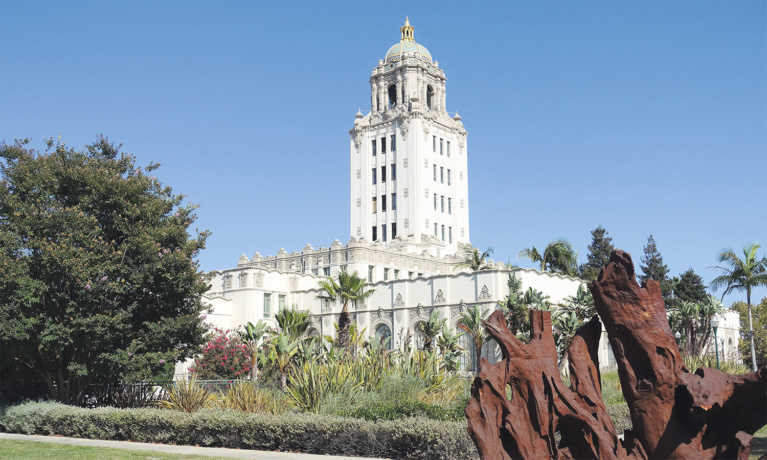 Reading Time:
3
minutes
Beverly Hills City Council members spent 90 minutes at their Oct. 11 Regular City Council Meeting excoriating Southern California Edison, the utility that provides electricity for most of the city's homes and businesses.
"To say this is a failure is being generous," said Mayor Lili Bosse to Kerri Rutledge, an Edison district manager. "I am absolutely mortified."
"I don't mean to beat up on you," said Vice-Mayor Julian Gold. "But as far as I'm concerned, this is a massive failure."
The Council's harsh criticism seemed due to a few factors.
First, members restated their anger over a 29-hour power outage in the Trousdale area between Sept. 9-11, which affected about 200 residents. 
Edison chalked up the outage to a cable failure in what is known as the Harratt circuit, one of about 50 of the company's power circuits located within Beverly Hills. Also, Aaron Smith, a director of construction and maintenance for Edison, faulted, "an unprecedented telecommunication problem" that prevented key Edison officials from knowing about the outage for hours. 
Councilmember Sharona Nazarian said she took in phone calls and emails from irate and even scared Trousdale constituents. "I assure you the complaints are overwhelming," Nazarian said, though no one from the public spoke at the hearing in person. (One resident did call in to express dissatisfaction.)
Edison representatives responded with contrition. 
"We have let you down," said Rudy Gonzales, principal manager at Edison. "We haven't met our own expectations."
But councilmembers also said that Edison has not done enough since the Trousdale outage. 
For example, they voiced offense at Edison's suggestion that affected Trousdale customers send itemized receipts for damages such as food spoilage from refrigerators temporarily not running. 
Bosse called the idea of people needing to itemize their losses, "insulting." 
Another complaint is that Edison apparently changed a timeline for when to replace the Harratt circuit. 
In an earlier meeting, Edison indicated that it could replace the current 4.16-kilowatt circuit with a 16-kilowatt system by December. However, Rutledge clarified at the meeting that the replacement would not be done until the end of March. The December deadline, she explained, was to be when Edison expected to receive the permits necessary to conduct the underground electrical work.
That answer did not satisfy Bosse. The Mayor repeatedly accused Edison of presenting "misinformation" about when a new circuit would come online.
Prior to the September outages, Beverly Hills has generally escaped electricity snafus, according to a 2021 Circuit Reliability Report from Edison. 
In 2020, for example, the average outage in Beverly Hills lasted for 52 minutes, compared to Edison's overall average of 201 minutes. There were also fewer total outages in Beverly Hills compared to nearby cities. 
City governments including Beverly Hills have no official jurisdiction over Edison. The company is regulated the Federal Energy Regulatory Commission and California Public Utilities Commission. It is unclear, then, how seriously Edison is taking the City of Beverly Hills' criticisms.  
Gold expressed frustration that no senior management from Edison was at the meeting. The Vice Mayor asked that Edison senior management write the City of Beverly Hills a letter, "Recognizing what happened." Responded Gonzales, "We can accommodate that request."
It was past 10 p.m. by the time the Edison discussion ended. But councilmembers were far from calling it a night.
The body proceeded with a discussion of an ordinance from City Attorney Laurence Weiner establishing procedures for when an approved planning project can be revoked. The ordinance is intended to develop a mechanism to apply if developers present patently false or misleading information about a project. However, councilmembers criticized the ordinance language as imprecise, and argued that a proposed four-member body to oversee revocations is flawed. For example, Bosse repeatedly raised the specter of deliberations ending in a 2-2 tie.
Members voted not to adopt the ordinance but left the door open for the Council or the Planning Commission to consider a revamped measure.
What looked to be the most consequential matter of the night — consideration of a development agreement for a sprawling Cheval Blanc hotel and private club on Rodeo Drive developed by LVMH Moët Hennessy Louis Vuitton — was postponedLocal land use attorney Deborah Quick, who is representing LVMH on the project, asked and received a request to defer consideration until a Nov. 1 Council meeting. Quick stated that negotiations with the city are ongoing.