The five candidates vying for one of two open seats on the Beverly Hills Unified School District (BHUSD) Board of Education in the upcoming Nov. 8 General Election participated in two forums this week, one hosted by the Chamber of Commerce and the other by students. At the Chamber's Oct. 17 forum, Farrah Dodes, Janessa LaVoice, Judy Manouchehri, Rachelle Marcus, and Michal Amir-Salkin answered questions about their platform, strengthening the relationship between students and the local business community, drug abuse and budgeting district funds. On Oct. 18, candidates gathered at the Jon Cherney Lecture Hall at Beverly Hills High School (BHHS) for a student run forum organized by the BHHS Interact Club and Teen Beverly Hills Education Foundation (BHEF) and answered questions related to budgeting priorities, construction delays, academic offerings, accessibility to students, and settling differences of opinion within the community. Marcus, who has taught at the district for over 50 years, is the sole incumbent. 
At the Chamber forum moderated by David Mirharooni, Chair of the Government Affairs Committee, Marcus was asked why she chose to run, again. The longtime Beverly Hills resident cited her institutional knowledge, history on the board, and longstanding commitment to students, adding: "During my four years on the board, I studied the issues and I've done my homework in order to make wise and thoughtful decisions…I will vote against the majority if I personally feel it's a wise thing to do."
Dodes, who is in her third year as President of the BHEF, has also served on several school advisory committees. Currently, she is the Communications Co-Chair on the Horace Mann PTA Executive Board and is on the Beverly Vista Middle School Site Council. "I am running because I've already been effecting change in the district," Dodes said. "I've helped choose the technology for our one-to-one student device programs. I've helped choose three of our current school admins, and I've helped adopt textbooks at both the TK-5 and middle school levels."
"I've seen a decline in quality of education with each student I've worked with throughout the year," LaVoice, who works as an Applied Behavioral Analysis tutor for children with special needs, said. 
When asked about their plans to bolster student body relationships with the local business community, candidates responded with various ideas.  
"I really would like to inspire by incorporating credit-based assignments with business in the community, whether it's marketing, advertising, or content development," Manouchehri said.
"I'd like to bring in high profile business leaders and motivational speakers to discuss their career paths and what it takes. I'd like to work on projects in conjunction with Rotary of Beverly Hills and the Chamber of Commerce, as well as for opportunities for philanthropy. And I'd like to partner with the Chamber executive board and other companies to create internships and training programs for vocations and other jobs."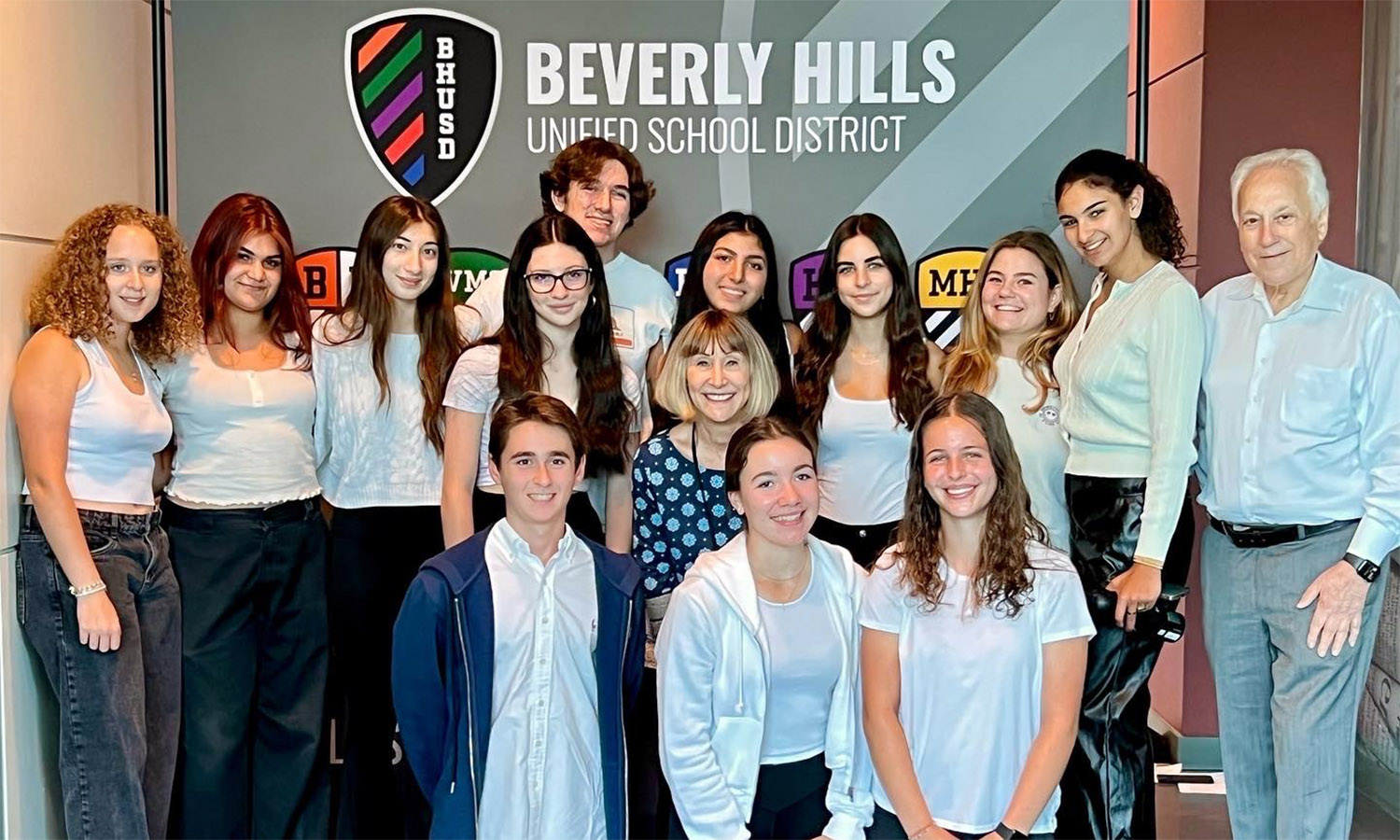 With several teen fentanyl overdoses in recent weeks at nearby schools, the crisis has become "impossible to ignore," Mirharooni said. Candidates were asked about mental health resources and how they would educate the BHUSD community about exposure to fentanyl. "I know that BHUSD puts kids on suspension for being caught with drugs," Amir-Salkin said. She also suggested establishing an Alcoholics Anonymous and Narcotics Anonymous club at school. Manouchehri spoke of the need for "a comprehensive fentanyl educational plan," and Marcus talked about the availability of the opioid antagonist Narcan at all school sites, with administrators trained in how and when to use it.  
Mirharooni also asked the candidates about fiscal responsibility and construction budget oversight. Marcus, who spearheaded the creation of the Facilities and Construction Oversight Committee, confirmed budgetary concerns. Still, according to Marcus, elementary students will be back at El Rodeo by 2024 and BHHS buildings B3 and B4 will be complete by 2025. While the board has since hired a new bond manager to correct course, problems remain. 
In contrast, at the Oct. 18 Teen BHEF and Interact forum, candidates were asked to identify what areas they feel are most in need of funding. Responses ranged from providing teachers with more support and having licensed clinicians at each school site. "I think right now where we really need to use our monies and focus our opportunities has to do with mental health," Amir-Salkin said. 
The sophomore representative for the Interact club, Oliver Shemtov, asked the final question: What do you think is the best way to address differences of opinion within the school board or between the school board and the community? 
"I have worked with many different families from diverse backgrounds, and I know how to set my ego aside and work as a team," LaVoice said.
"So, it really comes down to just simply treating everyone with dignity and respect," Dodes replied. "I think, especially in our current times, especially with social media, WhatsApp, things can devolve real fast into shouting matches." 
"In my practice, on a daily basis, I'm dealing with $5, $10, $15, $20 million deals, a lot of egos," Manouchehri said. "I am constantly making sure that there is clarity, consistency, and that we are all crossing the same finish line with respect and courtesy…I believe that I can bring that professional perspective and those tools to the board, and to this district, to really inspire us to communicate and arrive at decisions in a little bit more of a harmonious and collaborative approach."