For the first time in several years, there will not be a need for a COVID-mandated drive-thru only Halloween weekend. Here are a few dozen different ways to dress up and go out, celebrate with themed cocktails, eat plenty of candy, see a show, shop, take in an art exhibit, carve a pumpkin with your kids, bring your dog and give back too.
Pumpkin Carving
For a hands-on experience, the Waldorf Astoria Beverly Hills will be holding its first Annual Pumpkin Carving Contest at the Rooftop by JG. Taking place on Oct. 30 from 5-6 p.m., you and your family will be able to create a one-of-a-kind Jack-o'-lantern while taking in panoramic views of Beverly Hills. Winners will receive a grand prize, but everyone wins with 15% off for dinner on the roof afterward. The cost is $110 per group, up to 4 guests per pumpkin. Decorations, carving tools, and pumpkins will be provided for each family. Book this event via opentable.com.
Pumpkin Patch 
If you just want to pick up the perfect pumpkin to carve at home, Mr. Bones Pumpkin Patch in Culver City is the perfect spot. They have set up a complete Pumpkin Village with giant rocking horses for the kids. There is also a family petting zoo and a pumpkin decorating station if you'd rather be creative on the spot. While you hunt and play, expect live entertainment, food and drinks. Open until Oct. 30, visit mrbonespumpkinpatch.com for details.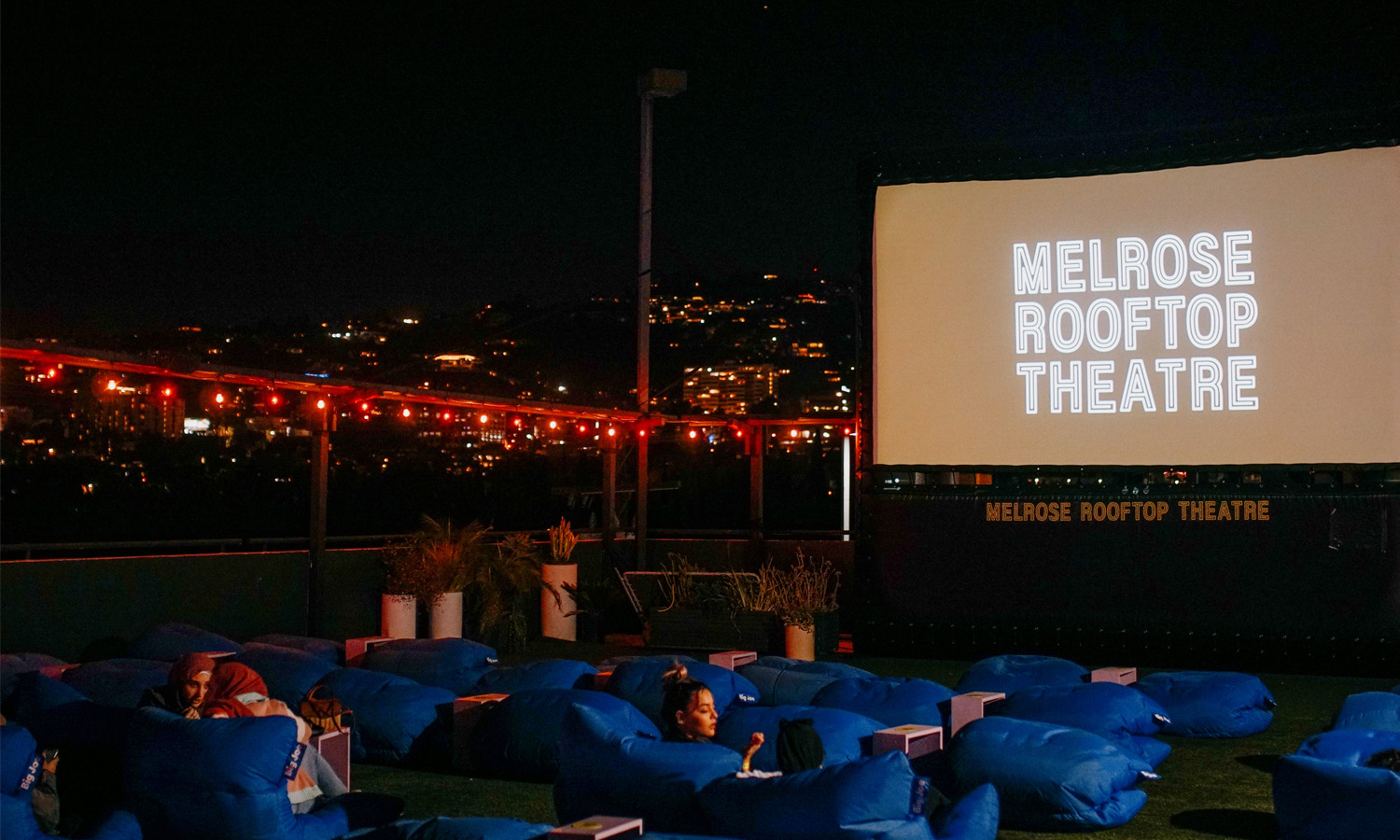 Movie Night 
It's time for the return of Scary Movie Month at Melrose Rooftop Theatre for the month of October. Throughout the month, grab your friends for the Halloween-themed line up featuring favorite seasonal screenings, including classics like?"Scream" (10/27), "Get Out" (10/21), "Nightmare on Elm Street" (10/25) and?"Hocus Pocus" (10/28 and 10/30). Together with a killer backdrop of the Hollywood Hills, a dinner-and-a-movie menu and specialty cocktails, this is a cool, only in L.A. outdoor cinema experience.
Choose between two viewing options: a general admission VIP seating ($30 per person), and a complete dinner and a movie VIP package?with a seasonally driven three-course tasting menu from E.P. Restaurant ($65 per person).
Screenings will begin at sundown with most films running from 8:30 to 10:30 p.m. In addition to the wireless individual headsets provided to guests to maximize the cinema experience via a state-of-the-art Da Lite 16′ x 19′ screen, the theatre offers a concession stand with all beloved movie snacks, including popcorn, candy, ice cream, and a cinema cocktail program to pair. Visit Melroserooftoptheatre.com for more information.
NFTs and the Metaverse
Deadfellaz, the global NFT ecosystem that has rapidly become one of the most culturally prominent projects born from the Web3 space, is hosting their biggest live event yet taking place on Halloween weekend: DEADZONE LA. The one-night, ticketed event is a celebration where the Deadfellaz community (known as The Horde, which includes Odell Beckham Jr., Reese Witherspoon and Lionel Richie to name a few) gathers for one big bash in the real world and the metaverse featuring a multi-sensory experience with DJs, immersive theater, live art, gallery art, food and beverages all curated by world-renowned party throwers EMO NITE. The event takes place Oct. 29 in L.A.'s Arts District at Skylight ROW DTLA. Visit tokenproof.xyz/events/deadzonela for details.
Downtown LA ART
Dia de los Muertos is a Mexican tradition that honors those who have passed like our elders, our community, and our heroes by welcoming them home for a day. Mexican culture believes death is a positive part of the life cycle, and this holiday is a true celebration of life. Traditionally, ofrendas (altars) are decorated with loved ones' favorite possessions, photographs, food and beverages, calaveras (sugar skulls), and many more meaningful items.
This year, FIGat7th is partnering with local artist, Dalila Paola Mendez, a first-generation queer Central American artist based in Los Angeles to build the ofrenda and carry on this beautiful Mexican tradition. Through Nov. 2, Dalila and FIGat7th's Dia de los Muertos altar will be on display for the community.  
The Natural History Museum of L.A. County in Exposition Park holds a Spider Pavilion where you can learn about some of nature's most fascinating and chilling creatures. The Spider Pavilion houses hundreds of orb weaver spiders that you can view in an open-air area. If being face to face is too close for comfort, try checking out the spider den where the spiders reside safely inside their little habitats. Open through Nov. 27, visit nhm.org for details.
Family Fun 
Head to Topanga Canyon for the festive Haunt 'O Ween where you will find trick-or-treating, pumpkin carving, face painting, carnival games and more. Children can explore the Pumpkin Tunnel and also concoct their own potions at the Moonlight Magic DIY Potion Bar. Food and beverage will be available throughout the whole evening. Event continues through Oct. 31, with details at socalhauntoween.com.
For colorful carved pumpkins and showstopping Halloween lights, head to the King Gillette Ranch in Calabasas for the 5th Annual Nights of the Jack and wander through a nearly one-mile journey. Children can travel through the brand-new jungle scene to have their favorite animals face painted and collect candy while trick-or-treating on select nights. Adults can pop by the Spookeasy Bar and the whole family can grab a bite to eat from the food trucks on site. Open through Oct. 31, details are available at nightsofthejack.com.
Take a spooky stroll through the L.A. Zoo in your best costume and visit the Extinct Animal Graveyard, the LAIR, the Weird and Wild and Wonderful Tour. The whole family can also watch the "Spooktacular Science" show and also go trick-or-treating for sweets throughout the whole zoo. This event is available now through Oct. 31, with details at lazoo.org.
Another favorite Halloween actively every year, the Los Angeles Haunted Hayride in Griffith Park will take you on a trip to the fictitious Midnight Falls town with multiple horrifying attractions, including the dead among the living. If that is too scary for the kids, trick-or-treat in Midnight Falls' town square, past the Midnight Mortuary and through the clown ridden Laughterhouse. Through Oct. 31, visit losangeleshauntedhayride.com for more details. 
Fun in the O.C.
If walking through a few spooky mazes is your idea of terrifying fun, Knott's Scary Farm will open the park where visitors will come face to face with creepy clowns, lurking ghosts and vengeful witches. Knott's Scary Farm is also putting on a series of Halloween-inspired live shows like the Carnaval Du Grotesque, which features scary carnival acts. Through Oct. 31 in Buena Park, visit knotts.com for more information.
If you're heading down to Disneyland, Black Tap Anaheim's October "special things" menu is featuring a Pumpkin Spice Burger throughout the month made with prime beef, brown sugar candied bacon, and a smokey pumpkin cream cheese sauce that is worth the detour.
Take a Drive Down the Coast 
From Oct. 25-31 the oceanfront rooftop bar Paséa Hotel & Spa in Huntington Beach will be transformed into a Haunted Treehouse lounge with tricks, treats, and festive fall décor. You'll be transported to a world full of tombstones, large overflowing cauldrons, and a ghostly fog that settles into every crevice of the bar. The centerpiece life-size tree will be festively decked out in lanterns, giant spider webs, and floating witch hats. Specialty cocktails will be available, including Trick-or-Treat Yo'Self – a fiery infusion of rye whiskey, garnished with candy corn, and Witches Cauldron with Syrah wine and vodka, among others. And don't miss the Paséa's Put a Spell on You Halloween party (21+) hosted by the Haunted Treehouse Lounge on Oct. 29.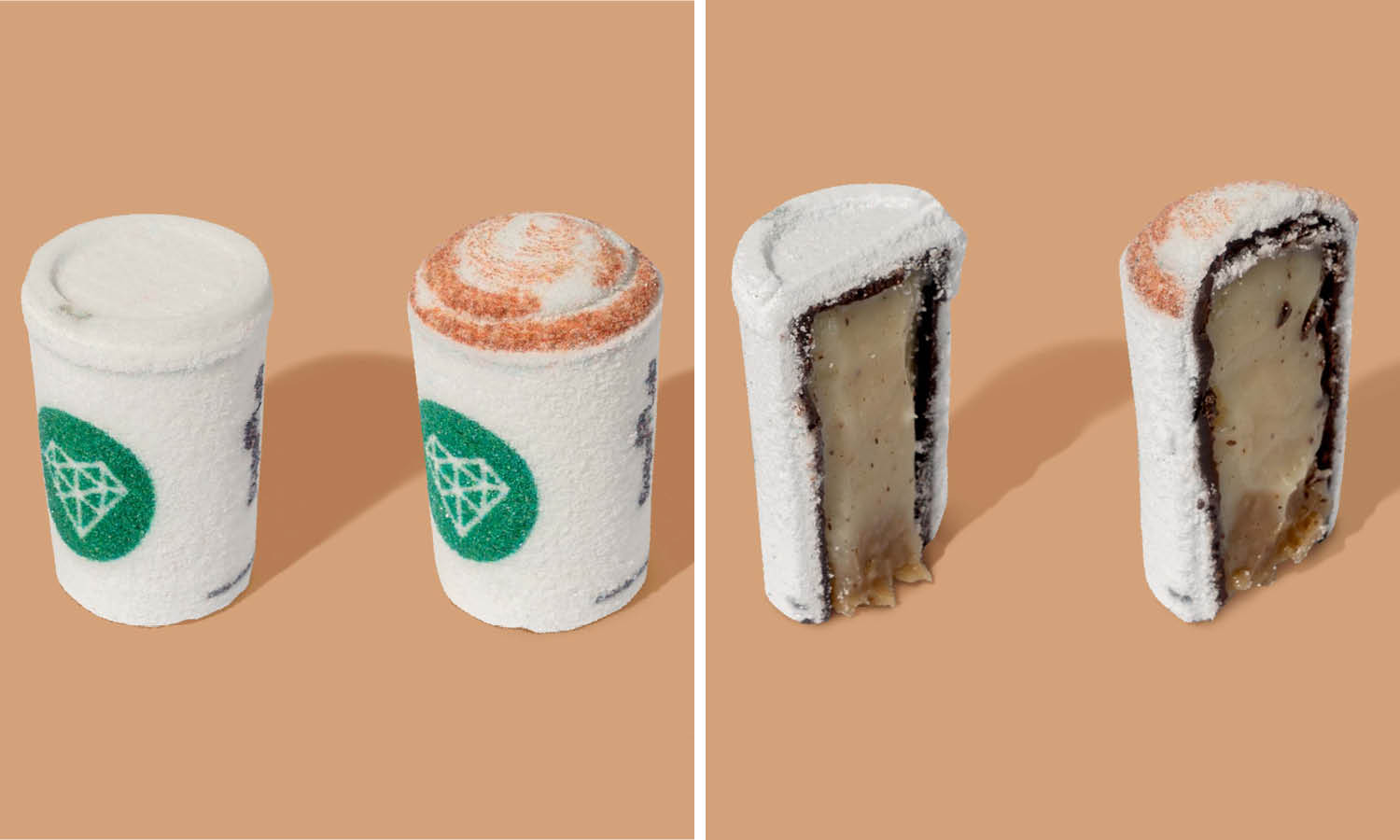 Ghoulish Treats in 3D
From Edelweiss to Sugarfina there are plenty of spooky sweets to be found for the Halloween holiday. For something a little more edgy, the tech nerds and crazy chefs at Sugar Lab have decided to "take back pumpkin spice" and 3D print it in the form of Pumpkin Spice Latte Chocolates. These 3D-printed sugar shells are in the shape of little paper coffee cups and filled with a pumpkin spice latte ganache made from real espresso. ($24.99 for 6)
The Sugar Lab printers have also created beautifully colored Day of the Dead Glitter Skulls ($21.99 for 6), which hook comfortably to the edge of any cocktail glass and, once you plop it into your drink, adds a touch of lime, sweetness and edible, sparkling glitter to any beverage. All of the confections are available online and ship nationwide. sugarlab3d.com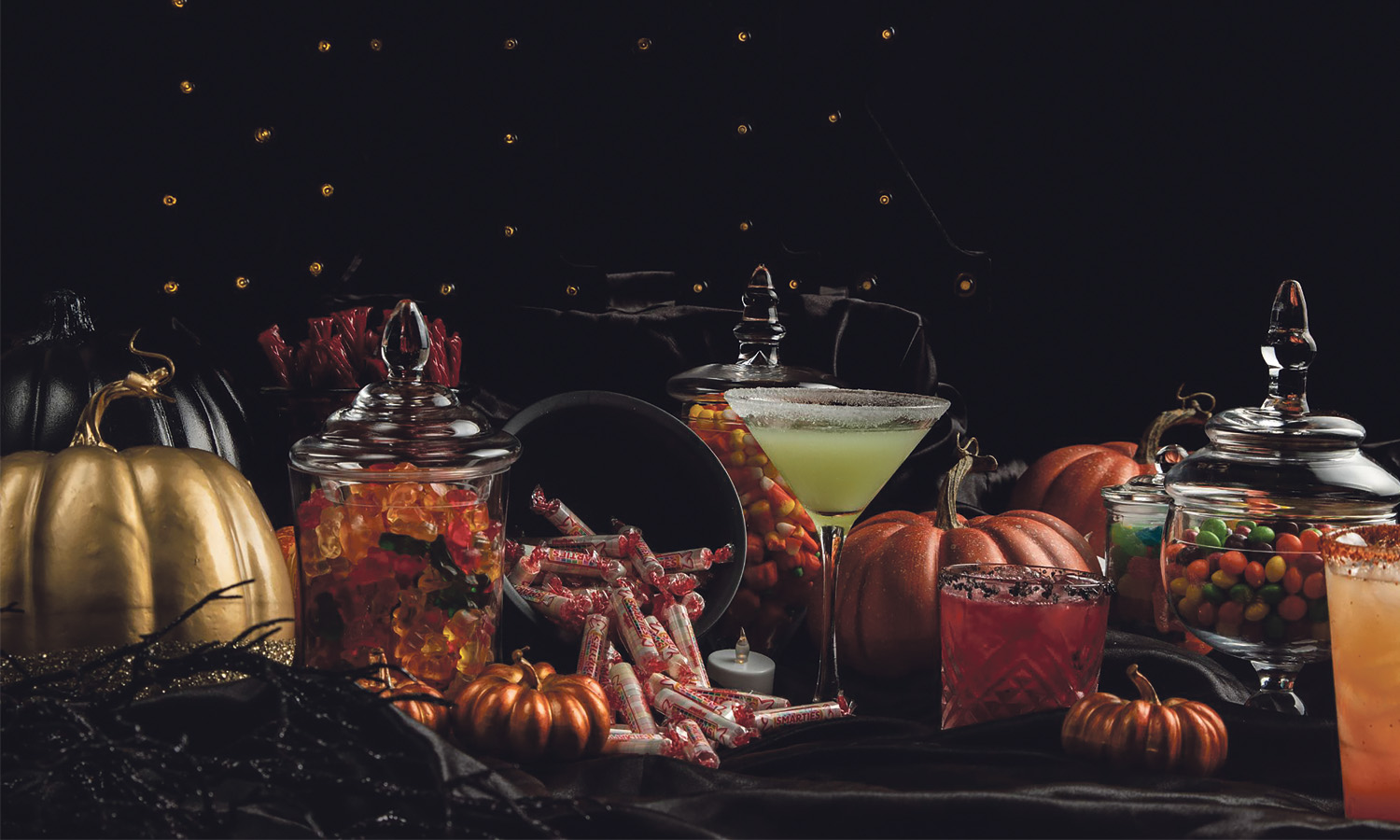 Local Imbibing 
Toast to the ghosts at the House of Spirits for a Haunted Cocktail Soirée. Enjoy games and music as you cross over into the spirit realm and witness a chilling tale of betrayal and intrigue. Converse with the spirits of the house, learn their stories and sip on themed cocktails. The event takes place Thursdays through Fridays until Oct. 31 at 1828 Oak St., Downtown Los Angeles. Details are available at houseofspiritssoiree.com.
The W Los Angeles in West Beverly Hills is offering a signature Spooky Holiday Cocktail, The Green Goblin, over Halloween weekend. This spirited libation is a refreshing vodka-based and slightly spicey drink available to purchase at the hotel's chic Living Room Bar from Oct. 28-31. 
Bring your Pooch
Grab your dogs and head to Wag Hotels in West Hollywood for the Annual Haunted Howl-o-ween Party on Oct. 27. This year, 100% of ticket sales and silent auction proceeds will be benefiting Hearts for Paws Rescue. You and your pooch can visit a haunted hotel, with tricks and treats. The event takes place from 6–8:30 p.m., and more details are available at waghotels.com.
Farmers' Market
The Fall Funtastic Harvest Festival at the Beverly Hills Farmers' Market will take place on Oct. 30. Wear your favorite costume for this family-friendly celebration with a Scarecrow Contest, Pumpkin-Carving and Decorating Contest, Arts & Crafts, Kids Zone, Petting Zoo and unique selfie opportunities. Visit lovebeverlyhills.com/things-to-do/view/beverly-hills-farmers-market for more information.