News | U.S. and World News
Rally Protesting Iranian Regime Draws More Than 1,000
Over 200 people have died and hundreds more have been injured in protests in Iran which have drawn tens of thousands of people and lasted for several weeks, according to the Human Rights Activists News Agency.
BY Emily Holshouser November 10, 2022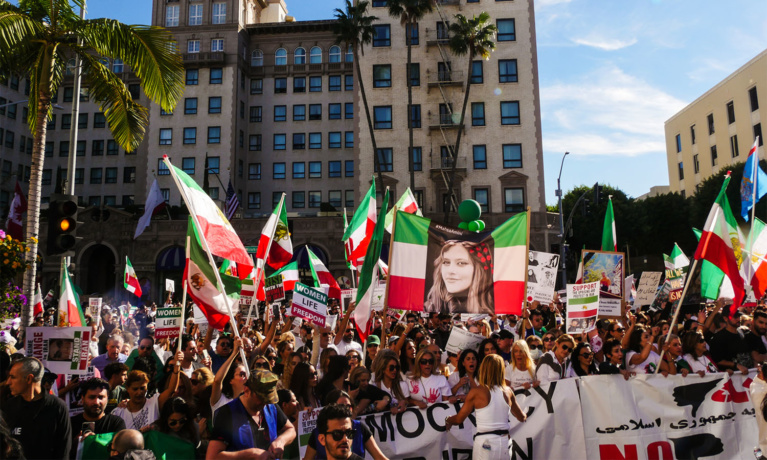 Reading Time:
4
minutes
A Beverly Hills rally protesting the death of 22-year-old Iranian-Kurdish woman Mahsa Amini drew an enormous crowd on Nov. 3. Shoppers and tourists stopped to watch as the crowd, estimated by the Beverly Hills Police Department (BHPD) to be more than a thousand people, marched over a mile from City Hall, bringing the Business Triangle to a standstill on a busy Saturday afternoon.
Amini died in police custody in Iran on Sept. 16 after the Iranian morality police allegedly arrested her for wearing her headscarf too loosely, violating the country's strict Islamic laws. Iranian authorities said Amini died of heart failure, which her family has denied. 
Over 200 people have died and hundreds more have been injured in protests in Iran which have drawn tens of thousands of people and lasted for several weeks, according to the Human Rights Activists News Agency. Here at home, a protest in downtown Los Angeles on Oct. 1 attended by Mayor Lili Bosse drew several thousand people. Bosse and the entire City Council also came to support the Nov. 3 rally. 
"In a true republic, the power rests with the people," Councilmember John Mirisch told the crowd. "Iran is not a true democracy, and it isn't a republic either, in any meaningful sense of the word. Iran is a brutal dictatorship."
The protest march began on the steps of City Hall, where several speakers energized the crowd before they marched from Santa Monica Boulevard to the heart of Rodeo Drive. The 400 block of Crescent Drive was closed for several hours during the rally with the help of BHPD. 
"We just stand with the people of Iran, and the women of Iran" actress Yasmine Aker said to the crowd. "Just as women in Iran are fighting for their lives to choose, women in America are fighting for the freedom to choose."
The Beverly Hills event was organized by a patchwork contingency of activists, families, and young Iranians who share a common goal: to inform the Western world of their country's struggle and encourage people to get involved.  At the helm of the organizers were Camyar Meshkaty and his mother Nooshin, who immigrated to Beverly Hills from Iran with her husband in high school. Nooshin is the former president of the Beverly Hills Unified School District Board of Education and former chair of the Traffic and Parking Commission.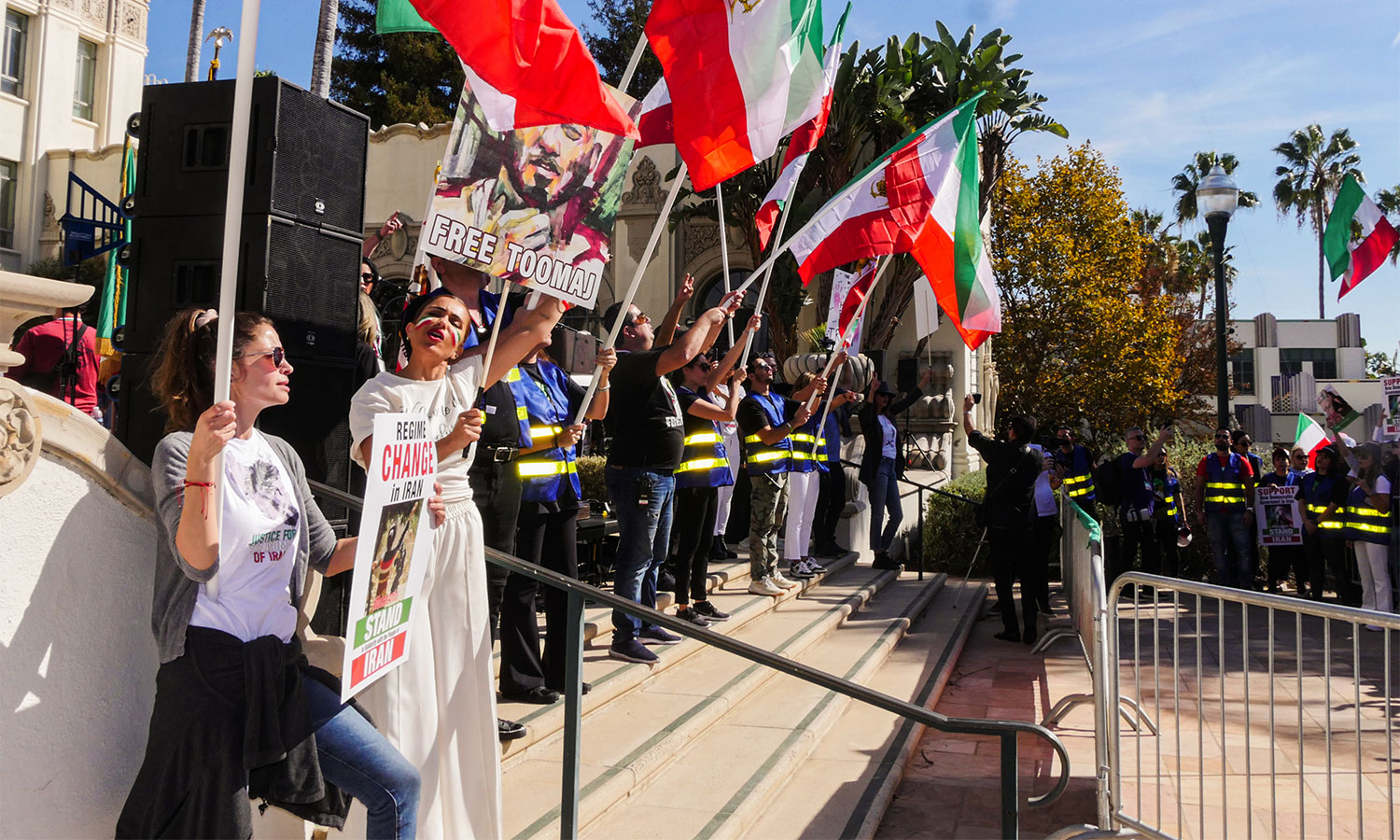 Nearly 70 people, including college students and community members from all over Los Angeles, volunteered at the rally.
Camyar believes that the rallies are a way to send a message and build a local community.
"There needs to be unity," Camyar said. "We as Iranians know what's happening. Without support from people who aren't Iranians, nothing will change."
Nooshin was enormously proud of her son's work and optimistic that it would help raise awareness.
"Just because something is happening on the other side of the world, that doesn't mean it's too far away from us," Nooshin said. "As we marched through the streets, we had visitors and tourists that were stopping us and asking us questions."
The Beverly Hills City Council has expressed unwavering support for the protests in Iran.
On Oct. 11, the Council passed a resolution condemning the actions of the Iranian government and imploring the United Nations and Iran's allies to act. The City Hall building has been illuminated with the words "Justice for Mahsa Amini" since Sept. 29.
When the march was over, the crowd returned to City Hall, where members of the City Council as well as Iranian entertainers and leaders such as Max Amini and Tara Grammy gave passionate speeches and implored higher levels of government to intervene.
"43 years of terror, torture, and lies," Emmy Award winner and Academy Award-nominated actress Shohreh Aghdashloo told the crowd. "43 years living under a religious tyranny that was forced onto us in 1978."
"There was such a sense of emotion I felt as we were marching through the streets of Beverly Hills," Bosse told the crowd. "We are with you. We are united. We need everyone across the world to learn from what we did here today."
The Los Angeles and West Hollywood City Hall buildings were also illuminated in red, green, and white — the colors of the Iranian flag — in October. Hundreds of people attended a candlelight vigil in West Hollywood hosted by the Iranian American Women Foundation.
Councilmember Sharona Nazarian, the first woman of Iranian descent to be elected to the Council, told the Courier that the event was an extraordinary reminder of the power community holds in difficult moments.
"It was amazing to see so many different people from around the community coming together," Councilmember Nazarian said. "We are all made of the same cloth."