In 2015, United Talent Agency (UTA), one of the largest talent agencies in Hollywood representing some of the biggest stars in the film industry, expanded with a Fine Arts division with Joshua Roth at the helm.  A year later, they opened the UTA Artist Space gallery in Boyle Heights. After a couple of years, the decision was made to move it closer to headquarters in Beverly Hills into a sleek, natural-lit building designed by Ai Weiwei. And in 2019, Arthur Lewis was brought in as partner and creative director.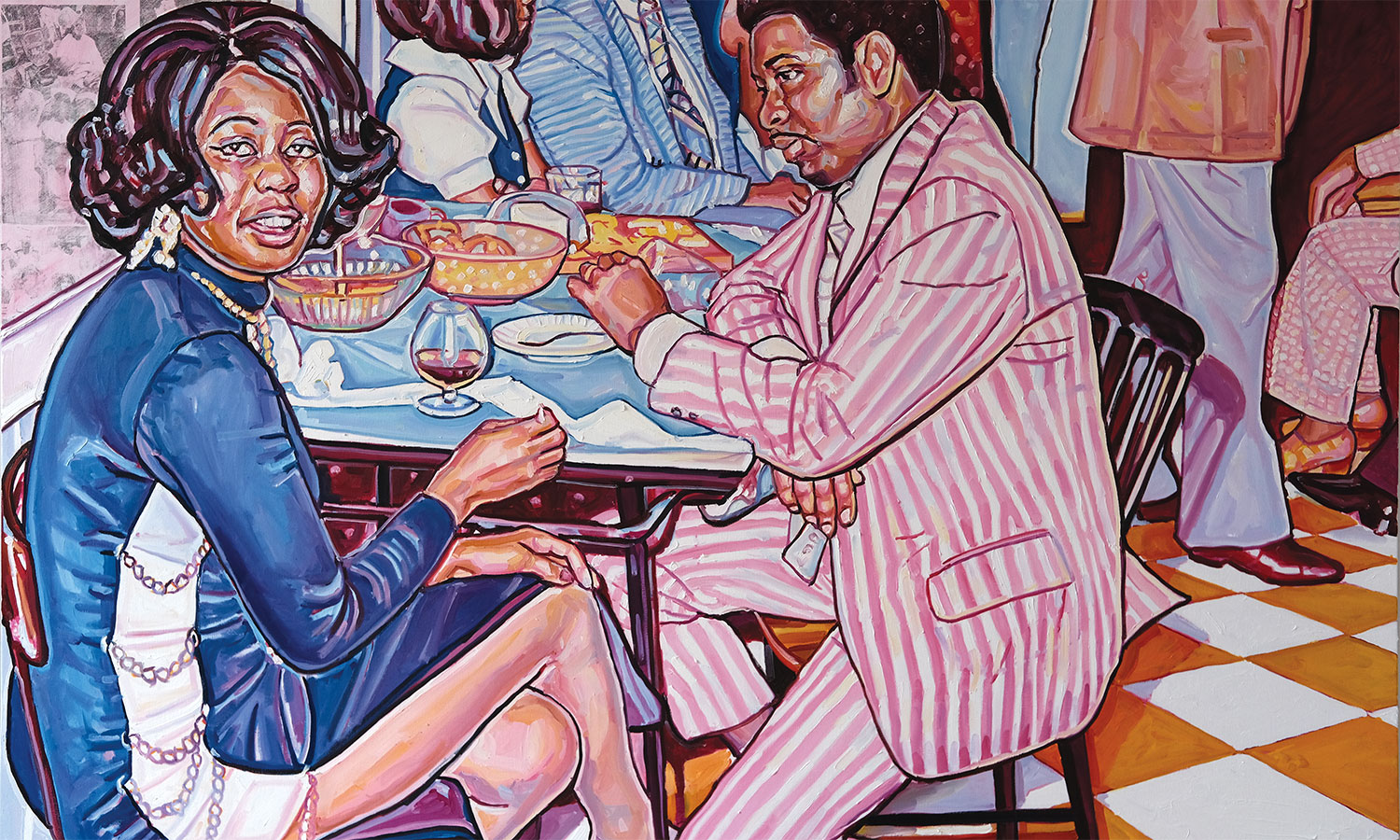 Since joining UTA Fine Arts, Lewis has lured some of the biggest and brightest new artists from around the world to Beverly Hills. During his tenure, the Artist Space has exhibited diverse showcases for artists, including Blitz Bazawule, Enrique Martínez Celaya, Ernie Barnes, and Mandy El-Sayegh. Lewis also serves on the board of major art institutions across the country. To his peers and the young artists in his orbit, he is a mentor, a collaborator and a stalwart supporter of the arts. 
But Lewis didn't tread the well-worn pathways toward a career in art. His was a circuitous route; a peregrination that had him crisscrossing the country on a detour through fashion. But along his journey, he witnessed firsthand how the two worlds often dovetailed.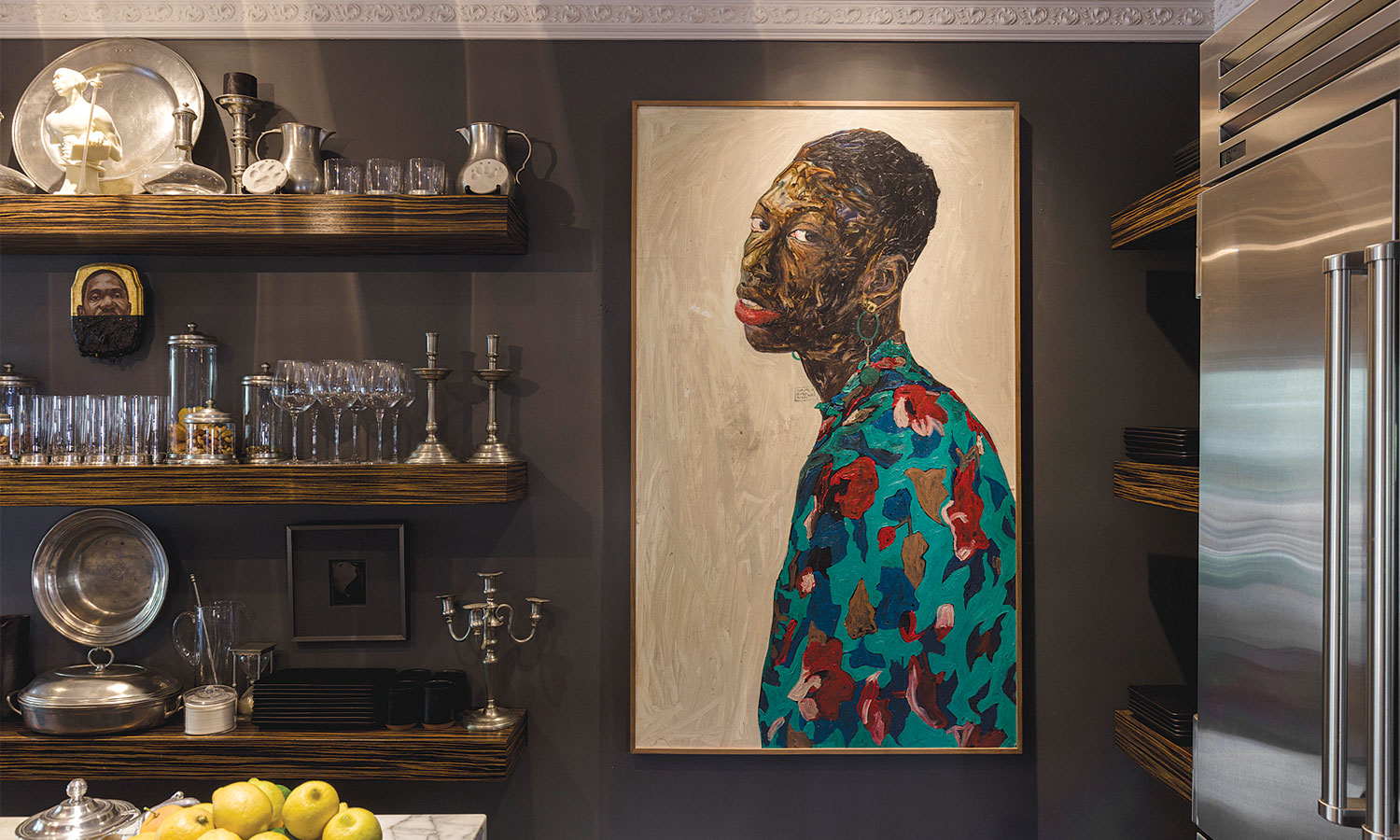 Lewis was born in New Orleans and relished his childhood in the land of étouffée, jazz clubs and the pageantry of endless parades. But it was the art museums of the Big Easy that called to him. While most kids spent Saturday mornings glued to cartoons, Lewis had his own ritual. He made a weekly pilgrimage to the New Orleans Museum of Art where he combed through the historic New Orleans collection and delighted in the traveling antiquities, like the King Tut exhibit, that arrived from far-flung lands. These little escapes and explorations of his youth would have a lasting impact. 
At 18, Lewis headed off to Morehouse College in Atlanta, Georgia where he studied political science. "None of that was for me," Lewis laughed. So, when it came time for a summer job, he didn't apply to a local politician's office; instead, he headed back to New Orleans and scored a position at Saks Fifth Avenue as a department manager. "And you know, honestly, back then I thought retail was going to be my whole life. That's the thing I wanted to do," he said. From there Lewis went to work at Armani Exchange. But he had impressed his bosses so much during his time at Saks that he was asked to join the team setting up the Contemporary Sportswear department at the store in Beverly Hills. He jumped at the chance and moved to the West Coast. A brief stint at Banana Republic in Santa Monica followed, and while there he met the company's then-President Maureen Chiquet. "She told me I was in the wrong job. She said I was a 'merchant.' I didn't even know what that meant," Lewis chuckled. "But I trusted her, and I took a new role altogether." That new role was in the merchandising department of Banana Republic in San Francisco. He rose up through the ranks quickly, landing the position of Senior Vice President of Merchandising at Banana Republic's sister company, Old Navy. Lewis would eventually move back east, to New York City for a job as Executive Vice President of Product Management and Design for Kohl's. But his time at Old Navy, where he said he "had one of the best runs in retail," left a lasting impression on him. Every now and then Lewis takes a trip down memory lane, Googling the ad campaigns he worked on while at the company. "What we were doing was crazy good," he said proudly.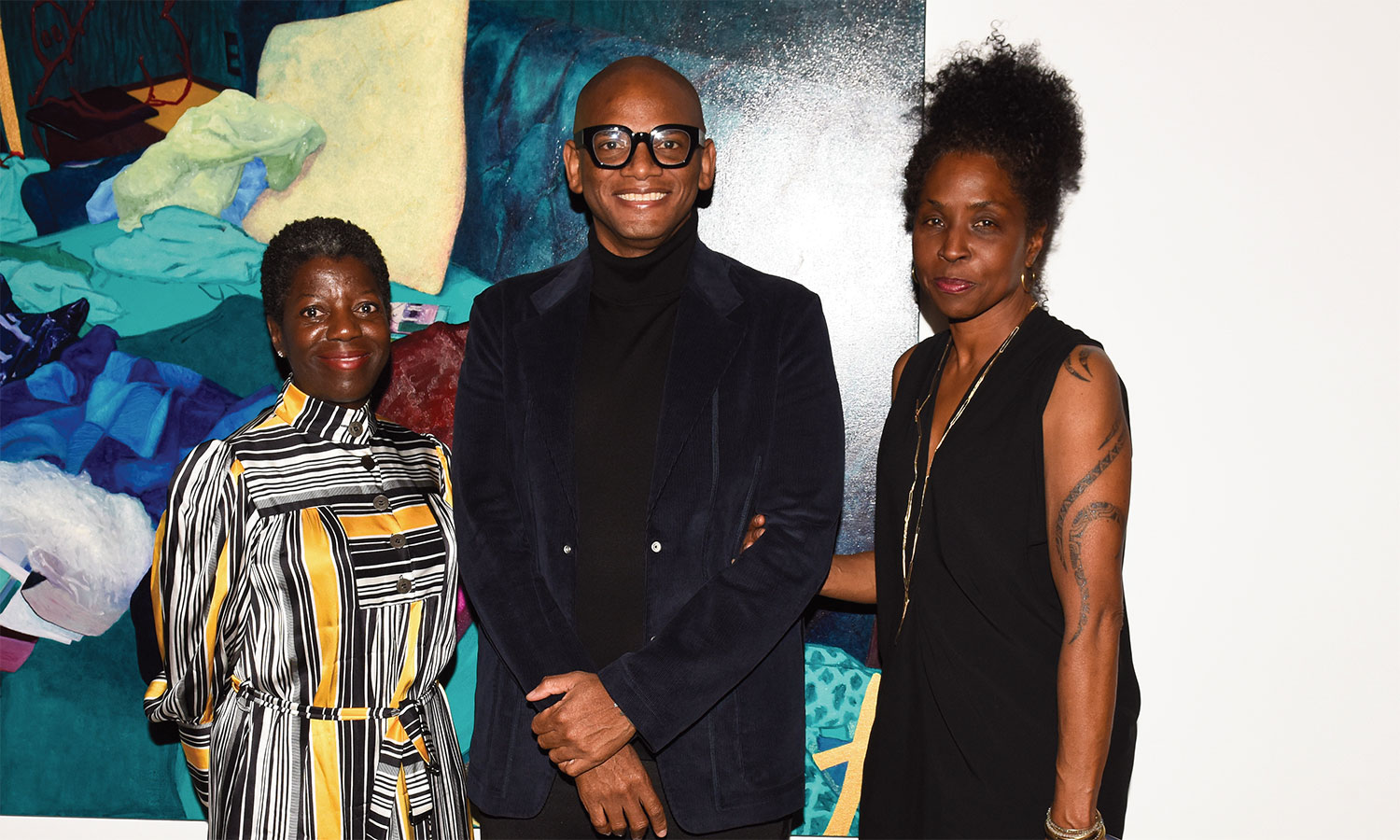 One of the things he loved about the job was visiting with the design team, especially when they came back from trips abroad, and watching their inspirations take form. Perhaps it tapped into that part of him that's still the kid from New Orleans slinking off to see sarcophagi in dusty museums. But it was the work of the graphic designers that began to excite him the most. These creatives drew heavily from the art world, whether it was a specific work of art or an artist's use of color. Lewis would get lost in the designers' mood boards. There, pinned in plain sight, he could see how artworks were deconstructed and reconstructed into articles of clothing. "One of my favorite all-time examples of this was this amazing painting from Damien Hirst," Lewis explained. "And we translated its colors into an argyle polo for men. Obviously, it was not a Damien Hirst polo, but it showed how these worlds just naturally intersected, even in bringing products to life. The whole process was just something I always loved, and it never went away." 
During his retail career, Lewis had become close to the co-founder of the Gap (Banana Republic's parent company), billionaire Donald Fisher and his family. "They were incredible to work for, and I don't think many people in the world know, but they have their own museum, and it's absolutely extraordinary," he shared. Lewis said it was Fisher's collection that first sparked his desire to become a collector himself. It wouldn't take long for his obsession to catch fire.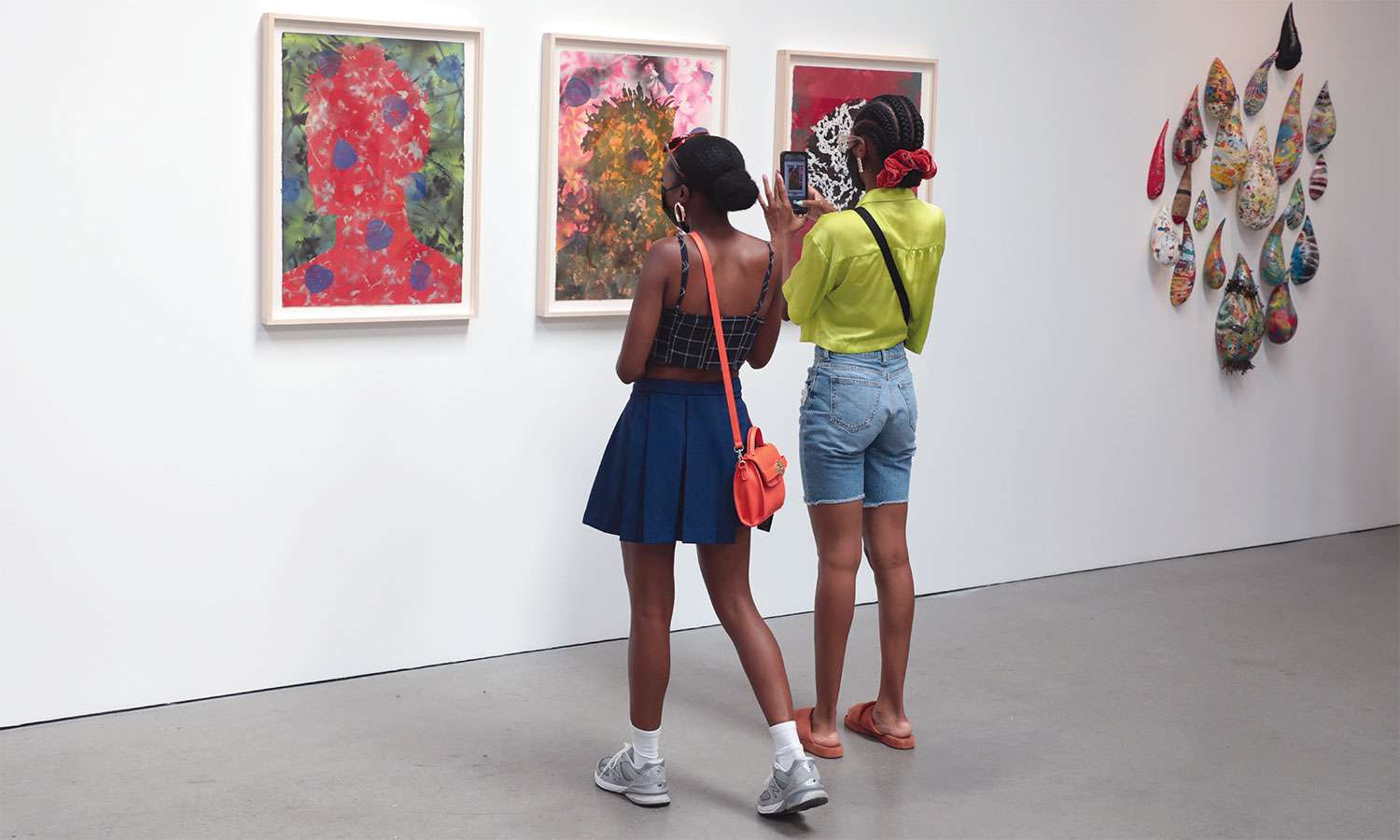 By the time he arrived on the West Coast, years later, Lewis had already amassed his own modest collection. "I moved into a little apartment in Beverly Hills. I was the youngest person in the building, and I made way too much noise," Lewis laughed. "I had no furniture, but I had amazing art on the walls." Lewis' obsession with Damien Hirst remained, and he purchased his work, as well as paintings by Paul McCarthy. "Because of my New Orleans' roots, I had a print of William H. Johnson from way back in the day of street musicians," he said. "And like every other person in America, who is African American, I had a framed poster of [Eddie Barnes'] 'The Sugar Shack' hanging somewhere. I held on to it forever." 
It wasn't until Lewis attended an art auction at the William H. Johnson Foundation here in Los Angeles that he realized he had officially become a bonafide collector. He found himself, almost compulsively, placing bid after bid. "My hand did not come down for anything. I was literally out of control," Lewis said. "One of my neighbors, who's a dear friend, literally yelled to me across the auction, 'You can't buy everything!' And I think that's the moment that I actually knew I'd crossed the Rubicon. And I don't think I've stopped."  
Being a collector is one thing—a patron of the arts, however, is something altogether different. Lewis is both. Beyond the transactional aspect of collecting—buying the works of artists and providing financial support through that avenue, a patron is largely considered to be someone who's made a lifelong commitment, on many levels, to champion the arts. Quite often that includes becoming an ardent advocate for art institutions. No one can deny Lewis' efforts on that front. He serves on the board at Otis College of Art and Design, amfAR, Prospect New Orleans and USC Roski School of Art and Design. He is a member of the National Advisory Committee for the New Orleans African American Museum and is a Global Council member for the Studio Museum in Harlem.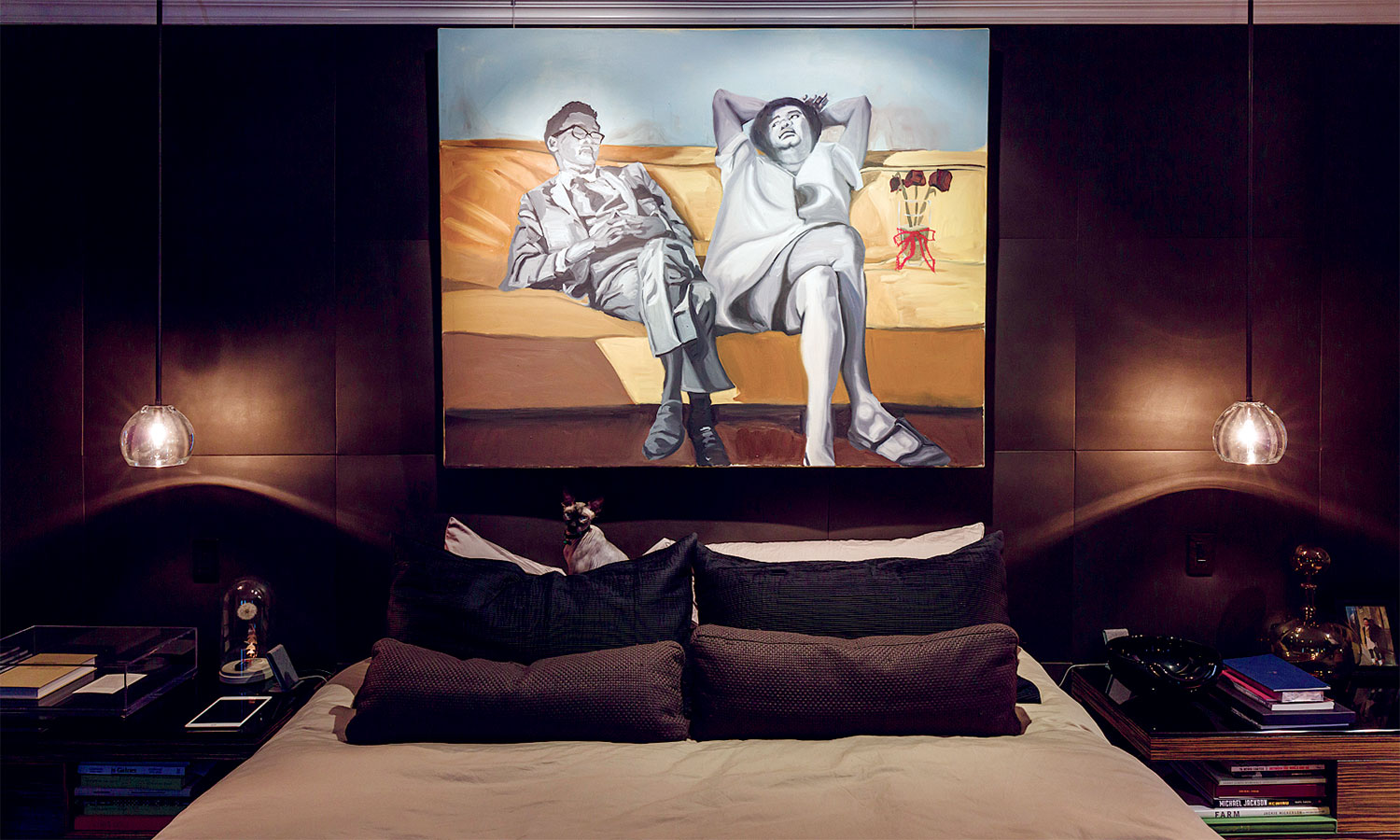 For Lewis, being a patron goes further than fundraising and acquisitions. "I think being a patron means you are fully committed to the community of artists themselves, to act as a sounding board for them whether things are going really great or not," he said. 
 "It's one of those communities that you slowly get invited into. And then once you're there, it feels like such goodwill that you can't step away from it. So, to this day, there's not a young artist who reaches out to me who doesn't get to have a conversation with me, because I recognize how important that conversation will be. And most times I leave really inspired, having learned something completely new that I didn't know before. I think art affords you an opportunity to discover more about humanity because artists tell so many different stories about their existence and what life means to them, and what their families meant to them, or how they view and see the world. I think being part of that journey and making sure that those stories are told, and supported, are the things that define patronage." 
In 2019, Lewis attended a dinner for the Hammer Museum. Across the table sat Jeremy Zimmer, CEO of UTA. They struck up a lively conversation, which largely centered around the arts. Zimmer had heard Lewis was an art collector and excitedly shared with him all of the upcoming projects UTA had in the works on the fine arts front. By the end of the meal, Lewis was hired for a job he didn't even know he had been interviewing for. At least, he thought he had been hired. "I remember going home, and thinking to myself, 'I think I just accepted a job, but I'm not really sure,'" Lewis recalled. "It's hard to say no to him. That's all I'm gonna say."  Shortly after that fateful dinner, they met up again, and Lewis presented a well-thought-out plan for the gallery space. Zimmer was more than receptive. "He listened and then just said something like, 'Great. Go! Run for it!'" said Lewis.  
Of course, signing on and launching an arts program at a new gallery space in the middle of a global pandemic was no easy task, but "run" Lewis did, or tried to. He battled COVID-19-related delays and the inherent complications of opening shows under shifting CDC guidelines. "Believe it or not, this is our first full year, with shows every month, which was always our vision," he said.   
This past June, Lewis arranged a gallery show for up-and-coming abstract artist, Nicholas Kontaxis at UTA Artist Space. Severely disabled and unable to communicate except through his art, Kontaxis' story and vibrant oversized paintings moved Lewis. "I knew that show was going to be good. I knew there was something really special there," said Lewis. "Then more than anything else, it was watching people's reaction when they walked in the gallery and took that work in and saw how amazing this young man is. I don't know that it gets better than that for me." Kontaxis' show sold out within hours on opening night. 
 "All of this year has been filled with so much great discovery and sharing of new ideas and new thoughts from artists," said Lewis. "And because our programming is so incredibly diverse and so dimensional, I feel like it's just cracked open this window into people not wanting to just come and see art, but to engage with it and to engage with their community in a very different way." 
Diversity is something that Lewis has decidedly leaned into. "I want to make sure that women, people of color, and artists who are not necessarily seen in broad markets, and those who might feel marginalized in some way, are seen again," he said. In September, the gallery showcased the works of Chloe Chiasson, a young queer artist from a small conservative Texas town. Her larger-than-life paintings combined with three-dimensional sculptural elements jumped off the gallery's walls.  
This month, the works of Chicago-based Afro-Cuban American artist Harmonia Rosales are on display. The series of paintings depict African deities (who had been worshipped for centuries, but the world has never seen) with the same reverence and iconography of the Christian gods and saints in the Renaissance paintings of the great masters. "When I first saw her paintings online, my mouth fell open. She paints like she's from the 14th century. They're insanely beautiful oil paintings," Lewis said. "I went to do a studio visit with her, and after about 10 minutes, I was sitting there thinking, 'what does she need me for because the paintings were so extraordinary?' After I left her place, I had to pull over to the side of the road to process what I had seen. They are not from this world."  
From Rosales' point of view, this first meeting with Lewis was a little intimidating. She had already read so much about him. "I greeted him at the door, and he was this tall, well-dressed man with an inherent dominant quality only emphasized by his deep, hearty laugh that completely stops you in your tracks, so it is safe to say the intimidation was not lulled," she shared. Well, not right away perhaps, but any nervousness she felt quickly dissolved as she sat down with Lewis and described her work and her vision for her next show. His receptiveness disarmed her. "He listened. I mean he really listened, and he loved it," she said. Rosales knew the concept for her show, entitled "Garden of Eden," would be an enormously ambitious undertaking. It reimagines the airy UTA Artist Space gallery as Michelangelo's Sistine Chapel, with a 25-foot-long upturned slave ship suspended from the ceiling. Within this ship, there are several paintings that tell the story of the African gods—from the creation of land, the birth of Eve, and Eve's life through the Atlantic slave trade. "It wouldn't have come to fruition until Arthur lent his resources. And he was glad to satisfy those ambitions," said Rosales. "He is a true nurturer to artists and always leads with love and respect for their art." 
Wrapping up the year's programming at the gallery is an exhibit by Justin Roiland, co-creator of the hit animated TV series, "Rick and Morty." It's the first time Roiland has ever shared his artwork with the public, and Lewis was uncharacteristically tight-lipped about the works, saying simply, "They're kind of baller, and I think people are going to be very excited." He wants to keep the details under wraps until the show opens. He did share that Roiland is an abstract painter and sculptor who's "taken his familiar television characters and placed them in an alternate universe." 
The lineup of shows and the breadth of the artists exhibited at UTA Artist Space illustrate the commitment Lewis has made to seeking out new voices with unique perspectives. "There's so much more in the art world than just one story," he explained. "I think we get to see lots of different stories now. And that is what's really exciting," Lewis said. 
There's a major development on the horizon that Lewis is also excited about—an expansion. A second UTA Artist Space gallery is set to open in Atlanta next year. They did a test run with a pop-up last month to see if they could engage with the community. On opening night, the valets had parked 275 cars. NBA players, rappers, filmmakers, and local patrons poured into the space. The show sold out in less than an hour. "Well, they were definitely engaged," Lewis laughed. "We saw it as an opportunity to be part of a community that is absolutely influencing culture around the world," said Lewis. "It was a pretty easy decision."
UTA is the only talent agency with a fine arts division, and the only one with a dedicated gallery space. Zuzanna Ciolek, director of UTA Artist Space, has worked alongside Lewis for the past three years. "He's been a wonderful mentor and very collaborative," she said. "He really allows everyone to spread their wings. And, he's just a great human being." Under the guidance and direction of Lewis, a rare hybrid—part art collector, part art historian, part businessman—uniquely able to bridge the two disparate worlds of art and commerce, UTA Artist Space has solidified its place as a major player in the art world. As a patron, Lewis has helped to change the lives of the artists and the art communities he's worked with. "And I couldn't ever imagine anything more fulfilling than that," he said.