Community News
Girls' Volleyball Team Makes Buckley School History
First time in Buckley's 89-year history, the girls' volleyball team, coached by Otis Glasgow and assistant coached by Rae Basmagian, went to the state finals.
BY Lisa Friedman Bloch November 27, 2022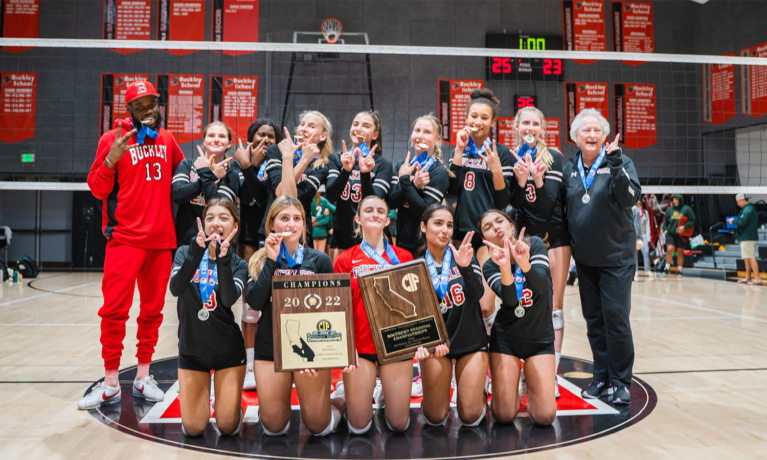 Reading Time:
< 1
minutes
For the first time in The Buckley School's 89-year history, the girl's high school volleyball team, led by Coach Otis Glasgow and Assistant Coach Rae Basmagian, went to the state finals. Winning the Southern Regional Division III, the team appeared in its first state championship at Santiago Canyon College on Saturday, Nov. 19. playing against Archie Williams High School of San Anselmo located north of San Francisco. Buckley easily took the first set, 25-16, but was unable to hold onto the momentum, and eventually lost in four close sets. Still the team finished proudly competing at the highest level for any sport in The Buckley School history.
It was a season of firsts. It was Glasgow's first year as head coach for the Griffins; first year they used social media culminating in 22.4 thousand followers, 16 million video views and 2.9 million likes on TikTok; first year Buckley made it to the southern section of state; first year they hosted a regional state tournament seeded number one, and finally, the first year they clinched the Southern section of California competing in the state finals.
"We have fun when we're together, on and off the court," Glasgow told the Courier. We've learned to trust each other to do what the team needs in order to win. He teaches not to look for the end result. "We don't play hard to win, we play hard, because that is just who we are."
As for next year, Glasgow has high hopes. With a roster of 12, only three graduating seniors and several good players in the pipeline, he offers, "We will definitely be back at state." Summarizing the season, he adds, "It was insane to watch how everyone grew tremendously, individually, and as a team, in all aspects, not just in volleyball."