On the second night of Hanukkah, the community joined members of the Beverly Hills City Council for the annual menorah lighting celebration at Beverly Gardens Park. About 100 guests of all ages gathered around a giant menorah near the Lily Pond to celebrate the festival of lights with song and heard from city leaders about the significance of the holiday and remembering the past while looking towards the future. While the atmosphere was joyous and festive, the evening was nonetheless colored by another recent antisemitic incident, in which a menorah was defaced on private property on Sunday night.
"This is a message to everyone that we are a city that embraces light," Mayor Bosse said. "We embrace miracles. We embrace kindness. We embrace hope. And tonight, as we proudly are standing by the menorah, and we wish everyone a Happy Hanukkah, a holiday of light, a holiday of miracles, a holiday of unity. We see this community together, and always know, that we are united, and our light will only shine brighter. Light will always overcome darkness. And I thank each and every one of you for being here tonight to bring your light to help illuminate the light of the menorah."
Bosse thanked the Beverly Hills Police Department (BHPD) for apprehending the suspect, making an arrest soon after. On Dec. 19, Eric Brian King from Dallas, Texas, was taken into custody and charged with felony vandalism and a hate crime. According to BHPD, "the initial investigation revealed that King carved Nazi symbols into the base of the menorah."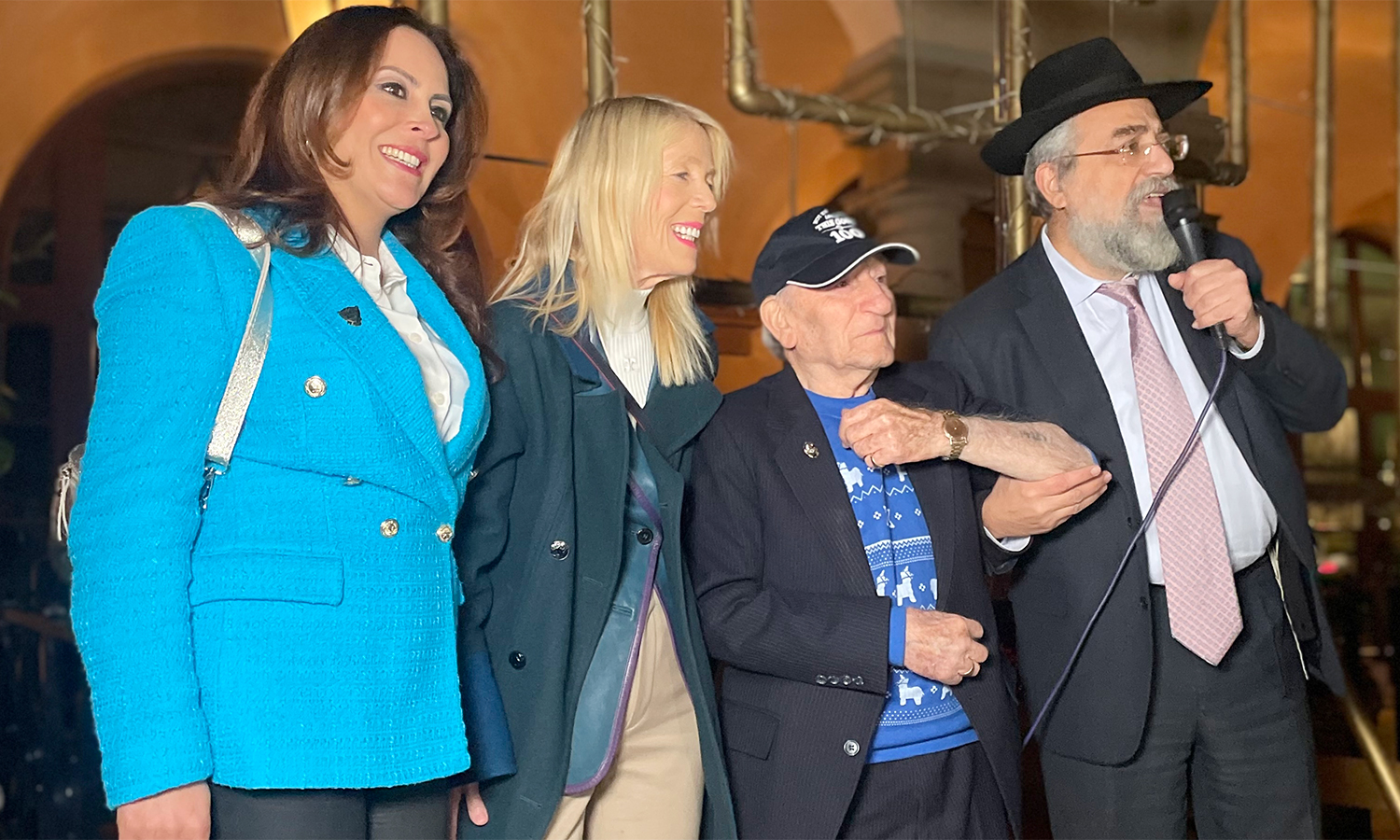 "The warmth of the Hanukkah candles serves to illuminate us and remind us of what freedom is," said Councilmember John Mirisch. "The fact that some loser would come to Beverly Hills to deface a menorah in our city is just despicable. But we cannot let that intimidate us. The proper response is more light. The proper response, from my perspective, is Jewish pride. The proper response is to celebrate who we are, to be inclusive, and to allow other people to celebrate that."
"The holiday also, in its core, is the story of miracles," Vice Mayor Gold said. "Oil, which was supposed to last for a day, lasted eight. And that's really a story of human endurance, believing, and it's a story which always builds hope."
The previous night, over 600 people gathered at The Maybourne Beverly Hills for the first night of Hanukkah for an event hosted by the JEM Community Center. The crowd gathered around a 10-foot menorah at Beverly Canon Gardens as Rabbi Hertzel Illulian welcomed community members, including Mayor Bosse, Councilwoman Sharona Nazarian, and Holocaust survivor, Joe Alexander. The evening included music, face painting, photo booths, fruit carts, gifts and traditional Chanukah gelt handed out.
"Throughout my most troublesome times in the camps I never gave up hope and never stopped trusting in G-d," Alexander, who recently celebrated his 100th birthday, said. "Today may be a tough day but tomorrow we hope will be a much better one."
"…right now, we are experiencing so much darkness like antisemitism and with what's going on in Iran," Nazarian told the crowd. "We pray together that the miracle of Hanukkah will continue to spread the light and we as Jews standing today are a miracle and are a perfect reflection of what Hanukkah is."