Beverly Hills prides itself as a popular destination for holiday celebrations, and this year is no exception. Beverly Hills City Hall is playing host to a holiday-themed 3D projection mapping show called "Unwrap the Magic" that has attracted residents and visitors alike since it debuted in November. The show runs every half hour from 6 – 9:30 p.m. and features a series of holiday-themed projections on the exterior of the City Hall building accompanied by festive holiday music. In between shows, an interactive kiosk gives guests the chance to control their own 
30-second mapping projection, choosing from 14 clips to display on the tower. From clips like a 60-foot-tall snowman, teddy bears, dreidels, and candy canes, it hopes to offer something for everyone. 
The city partnered with Utopia Worldwide, Inc., an event production and design company based in Burbank, to create the festive holiday projection show. After the sun sets, the exterior of City Hall is transformed into a magical gift, wrapped in seconds with red paper, and tied together with silver bows. The projection show adorns the building with colorful animations and intricate designs, featuring a wide range of holiday-themed imagery.
"We had been talking about doing a large-scale project for a while now," Utopia Production Coordinator Hailey Buck told the Courier. "The lily pond last year was a lot of fun, and they wanted to try to build on that kind of momentum." In addition to Unwrap the Magic, Utopia has worked on other projects with the city of Beverly Hills, including Lights on the Lily Pond, Glowing Gardens, Beverly Hills Holiday Bazaar, Next Night, Light the Night and more.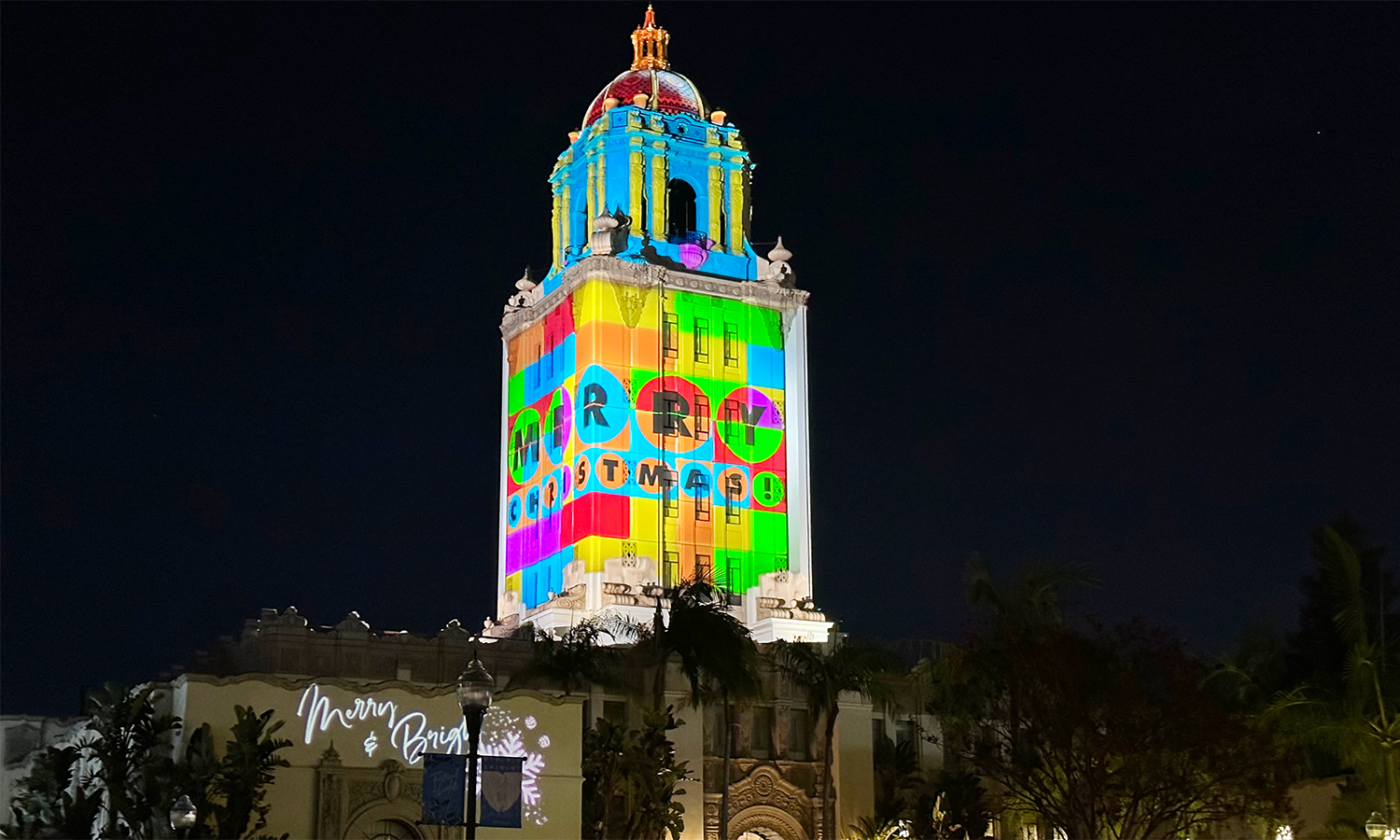 According to Buck, the idea for the projection show came from Norm Kahn, the owner of Utopia. "This idea had been floating around for a few years," Buck told the Courier. "But this year, we were given the go ahead. We assembled a little team with us, people from Beverly Hills, and the company that makes the show, NewMedia." 
Based in Madrid, NewMedia Creative Technology Studio collaborated with the Beverly Hills Public Works department and Utopia to brainstorm ideas and produce the projection mapping show. With its changing visuals and smooth transitions, the unique display is both eye catching and transfixing. "They wanted to make sure it was a holiday how, and we had a lot of representation of Hanukkah, Christmas, generic winter, and of course the Beverly Hills scene like the lily pond, fountains and palm trees," Buck told the Courier. 
The "Unwrap the Magic" show is free and open to the public, spreading holiday cheer in the city through Jan. 1, 2023.