The Jewish Federation of Greater Los Angeles (JFGLA) is countering antisemitism from a lofty vantage point. Billboard-high, in fact, in the form of a campaign launched on Dec. 22. Ten billboards positioned throughout Los Angeles are designed to spread love, hope and kindness. They are visible to drivers and pedestrians at destinations ranging from the San Fernando Valley to Culver City, Venice and the intersection of Olympic and Robertson Boulevards in West Los Angeles. 
The messages on the billboards bear phrases such as "A Little Bit of Light Dispels a Lot of Darkness," "Be Slow to Anger and Abounding in Kindness" and "Only a Life Lived for Others is a Life Worthwhile." Some of the words come from the ancient texts, others were penned by the organization's leaders. All are profound in a time that is complex and troubling in many ways. 
"We made sure that they were presented in a way that everyone would be able to absorb them. It's really important that everyone understand the message of kindness that we are trying to share," said Rob Goldenberg, the Federation's chief creative officer who spearheaded the billboard project.  
The campaign follows a spate of antisemitic incidents in the Los Angeles region, including in Beverly Hills. On the first night of Hanukkah, a Nazi symbol was carved into the base of a menorah in the city. A Texas man was later charged with felony vandalism.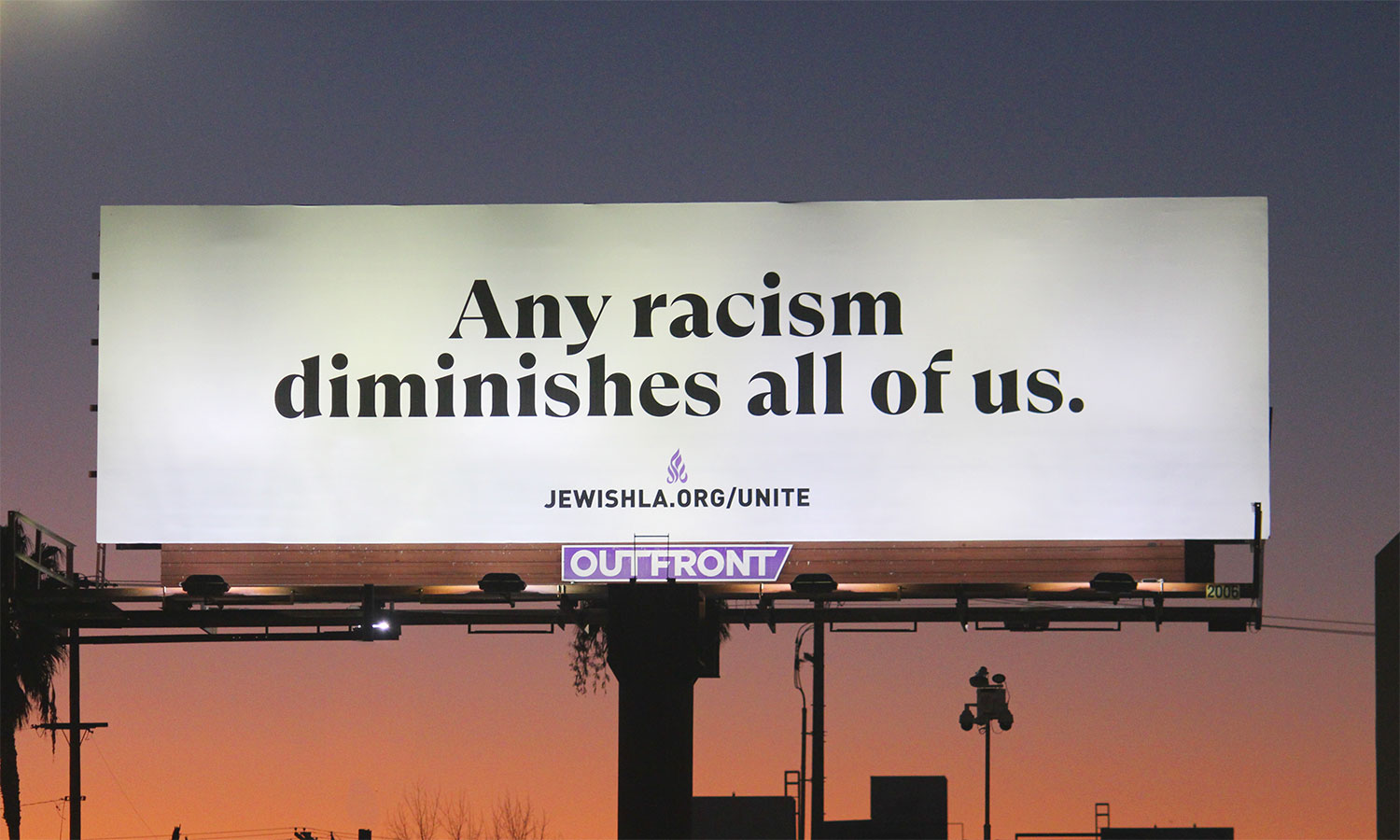 "The ugliness of antisemitism has revealed itself in many ways throughout our community and across the country in recent weeks," Los Angeles
County District Attorney George Gascón said in announcing the charges against Eric Brian King, 47, of Dallas. "I condemn it, and we must make clear that such hate will not be tolerated. The conduct alleged in this case is despicable, especially coming during one of the most joyous times of the year for Jewish people. We will always stand up against such hatred and hold accountable those who commit hate crimes in Los Angeles County."
In October, flyers blaming gun control on Jewish people were disbursed in Beverly Hills. Reports of those flyers came the day after seven activists with the anti-Jewish group Goyim Defense League draped signs on an overpass of the San Diego (405) Freeway in Los Angeles that read, "Kanye is right about the Jews" and "Honk if you know." Several of the activists were photographed making "Heil Hitler" salutes on the overpass. The sign was a reference to antisemitic statements made by rapper Ye, formerly known as Kanye West. According to a report by the county Commission on Human Relations, religion-based hate crimes jumped by 29% in 2021, with 74% of the offenses targeting Jews. 
"The constant antisemitism that Jews here in Los Angeles and around the country and world are seeing has had a devastating impact on our community," said Goldenberg. 
He credits the billboard company, Outfront Media, for making the campaign a reality. 
"A few months ago, someone vandalized a billboard near the Grove in LA. We reached out and asked Outfront to expedite taking it down. A few weeks later they called us back and said they would like to offer us the chance to put something positive out there," Goldenberg told the Courier.
www.jewishla.org/unite. 
The results have been overwhelmingly positive. Traffic to the JFGLA website has increased by 10 % and social media postings are praising the organization. Both religious and mainstream media have reached out about the billboards and the messages they contain.
Goldenberg has received thanks from well-known members of the Jewish community. Many personal tributes have affected him, as well. 
"My daughter's teacher, who is a cantor, said he wants to put a printout of the billboard sayings in the classroom. That was a goosebumps moment for me. I spent a large part of my life writing ads for Jack in the Box and Beats by Dr. Dre. But this is everything, to be able to put Jewish values and thoughts out there for the city to see. Not that Jews have a monopoly on kindness. But, throughout history, when Jews are faced with darkness, our mission is to be a light."
Additional reporting by City News Service